In France's sunny St. Tropez, François Matton's family has crafted rosé under the Château Minuty moniker since the 1960s—a markedly different era for Provençal rosé than the present day. "When my father first started making Minuty, his goal was to be the No.-1 rosé in the Côte d'Azur, because at the time that was the only place in the world where rosé from Provence would sell," says Matton, the second-generation owner and winemaker at Minuty. "The region wasn't famous, and it certainly wasn't appreciated by people living outside of the French Riviera." Now, that mindset has completely shifted, and Provence rosé is the pinnacle of a pink-hued category that's taking an increasing share of the wine industry.
In the U.S., growth in consumption of rosé outpaced that of reds and whites last year—albeit from a smaller base—with depletions up 1.3% to 18.1 million cases, according to Impact Databank. While rosé's ongoing popularity can be credited primarily to Provence, brands from elsewhere are making inroads; some are doing so by emulating their Provençal counterparts, while others are capitalizing on varietals and styles different from those traditionally championed by the French. And across the world, rosé producers are eyeing the category's prestige segment, where there's still plenty of room for growth.
Though future momentum for rosé remains uncertain, with 25% tariffs on French, Spanish, and German wines still in place and the coronavirus wreaking havoc on daily life in every corner of the globe, producers are cautiously optimistic that the rosé category—and the wine industry at large—will weather the storm.
Grenache Rules
After years of steady upward momentum, Provence's U.S. export growth streak finally came to a halt in 2019, with shipments falling from their all-time high of 2.14 million cases in 2018 to 2.12 million cases. This dip was part of a steep drop-off in total French wine exports to the U.S., which have fallen by 33% since tariffs were implemented in mid-October 2019, according to the French Federation of Wine & Spirits Exporters. Even so, the region's top producers all remain on the upswing. Longtime category leader Whispering Angel—which won Market Watch's Wine Brand of the Year award in 2019—leapt 18.4% last year to 490,000 cases, continuing a growth streak that has lasted upwards of six years. At the heart of these gains is a rosé style that's built upon one invariable varietal: Grenache.
"Right now, every country in the world wants to make rosé as we do in Provence, and most try to do so by using Grenache," says Minuty's Matton. "But that's why I like the wine business; if I plant Chardonnay in my vineyards, I can't make white Burgundy, just as I couldn't plant Cabernet and make Bordeaux. Here in the south of France, we have the perfect soil, weather, and sea influence for Grenache." Currently, Minuty owns nearly 200 acres of vineyards, the majority of which are planted to Grenache. Last year, the winery produced around 550,000 cases of rosé; of that total, 56,000 cases came to the U.S., an increase of 12.9% from the year prior. The lion's share of the winery's volume is in the core M by Minuty rosé ($21 a 750-ml.), which is a blend of Grenache, Cinsault, and Syrah.
As Matton observed, a wide number of vintners have turned to Provence as the ideal template for rosé success. In Paso Robles, California, Daou Vineyards & Winery debuted a new rosé in April; co-owners and brothers Georges and Daniel Daou made the wine as a direct homage to their French roots. "My brother and I grew up in southern France, where rosé has long been a part of life, not just a new SKU or idea," says Georges. "So being in Paso, we set out to make a rosé in the purest way possible, in the méthode provençale, which absolutely calls for Grenache—it's the best grape to make a rosé that is light in color and has the right citrus, fruit, and crispiness."
Daniel, who also serves as Daou's winemaker, adds that Paso Robles is an ideal growing region for Grenache. "We found vineyards throughout Paso that have chalky soils, much like those in St. Tropez, and discovered that a lot of these plots were already growing Grenache," he says. "In many cases, we've now partnered with these growers and they're harvesting Grenache just for us and this rosé." The Daou Discovery rosé ($22 a 750-ml.) blends 95% Grenache with 5% Sauvignon Blanc; Daniel notes that the addition of a white varietal into the blend is in line with the tradition in Provence, where winemakers typically use Rolle in the final blend. Daou also offers the Daou Reserve rosé, a higher end expression retailing at $40.
North of Paso Robles, Napa Valley-based OneHope Wine offers a number of rosés, the majority of which are from California. The winery's Provence rosé, however, is a bestseller within the rosé lineup, with co-owner Jake Kloberdanz pointing to the ongoing consumer embrace of Provence rosés and the Grenache-based blends that they're built on as key factors behind the wine's popularity. "Provence rosé stands out because people have come to know the region as having the best rosé style in the world," says Kloberdanz. "The salmon color and the freshness of the varietal blend, which can't be replicated anywhere else in the world, resonate with consumers."
Much closer to Provence's own backyard, Languedoc's Gérard Bertrand also swears by Grenache as the backbone of his rosé. "We grow Grenache Noir, Grenache Gris, and Grenache Blanc here," says owner and winemaker Gérard Bertrand. "Grenache is the best grape for rosé by far, and by making use of all three Grenache varietals we've defined the range with taste." He points to such different wines as Gris Blanc ($15 a 750-ml.)—made primarily with Grenache Gris, with a touch of Grenache Noir blended in—Côtes des Roses ($18), a blend of Grenache Noir, Syrah, and Cinsault, and Joy's ($25), a wholly organic blend of Grenache, Cinsault, and Syrah that launched last summer. As opposed to offerings like Gris Blanc and Côtes des Roses, Joy's is intended for pairing with meals, further differentiating the unique leanings of each wine, even as they often share the same grapes. "This is not so much a rosé for happy hour, but more for lunch and dinner," Bertrand says. "It's a wine with more structure, and that's why it's at a higher price point."
Stylistic Spin Offs
Though Grenache-based, méthode provençale wines dominate the rosé sphere, a growing number of producers are exploring different varietals and styles, with some finding more success than others. Among those winning with an alternative grape base is Deutsch Family Wine & Spirits' Josh Cellars, whose rosé first debuted in 2017 and has since amassed volume of 130,000 cases. Deutsch president Tom Steffanci notes that while Provence rosé is certainly worthy of admiration and investment—Deutsch markets its own Provence-based label, Fleurs de Prairie—Josh aims to place a brighter spotlight on the potential of California rosé. "When we went to introduce the Josh rosé, we weren't fans of the sweeter, more syrupy styles of rosé we'd seen elsewhere in California," he says. "So we set about creating a wine that had the higher acidity and lower alcohol of French rosés, but did it with a California bent—we use Barbera, and the varietal has worked wonderfully to set the wine apart from French rosés." Steffanci adds that in IRI channels, Josh rosé is outselling such French competitors as Whispering Angel and Gérard Bertrand.
Also from California, Delicato Brands' Bota Box rosé has skyrocketed to 300,000 cases since coming on stream in 2017. Delicato vice president of marketing Kathy Pyrce notes that the brand was the first 3-liter boxed wine to debut a rosé, giving it a head start against competitors, and that its success has made it the No.-2 rosé by volume in the U.S. The rosé is primarily based on Zinfandel, with Petite Sirah and other varietals supplementing the blend. Elsewhere, Delicato introduced a rosé of Pinot Noir within its Diora lineup in January, which Pyrce notes has been hugely successful thus far, playing at the higher end.
In South America, Domaines Barons de Rothschild (Lafite) is active in rosé with its Chilean label Los Vascos. Made in the Colchagua Valley, Los Vascos rosé is a blend of 50% Cabernet Sauvignon, 40% Syrah, and 10% Mourvèdre. Lafite chair Saskia de Rothschild notes that South American rosé has the advantage of being released extremely early in the season—the latest vintage debuted stateside in February—and generally carries more structure than rosés from other parts of the world. "With Syrah and Cabernet Sauvignon, we get a wine that's both fresh and acidic but also has good, strong structure," she says. "Our Chilean winemaking team values that structure, as well as a color that's a bit deeper than those found in Provence." While acknowledging that U.S. aconsumers are in the midst of an ongoing love affair with Provence rosé, she notes that Los Vascos has secured by-the-glass placements in a variety of on-premise accounts across the U.S. Last year, Los Vascos produced around 7,000 cases of its rosé.
At North Dakota-based Happy Harry's Bottle Shop, which has five storefronts across Fargo and Grand Forks, CEO Dustin Mitzel notes that even as Provence rosés remain a more alluring option to consumers, rosés from elsewhere have drawn interest. "When people buy rosé here, they're often looking for something more niche and boutique," he says. "While a lot of brands like that come from France, there are some Argentinian rosés made from Malbec and Spanish rosés that have drawn consumers in." Among the international rosés attracting interest is the Honoro Vera rosé from the Jumillo DO in Spain. Similarly, Louisville, Kentucky-based retailer Westport Whiskey & Wine aims to offer a wide variety of rosé labels, stocking blush-colored wines from Austria, Argentina, Croatia, Australia, and beyond. Owner Chris Zaborowski notes that Westport's bestselling rosé year-round is Barnard Griffin Rosé of Sangiovese ($13) from Washington State.
Varietal variations aside, the advent of rosy-hued sparklers has the category reaching an even wider array of consumers. Rosé bubbles, ranging from luxury Champagnes to American sparklers to Cavas, have proliferated in recent years, often serving not just celebratory occasions but happy hours and mealtimes as well. "Nowadays, you'll find more and more rosé Champagne by the glass at restaurants and bars—an impossible concept five to ten years ago," says Godefroy Baijot, export director at Champagne Besserat de Bellefon. "Younger generations prefer rosé over brut or other white sparkling wines, as it's fruity, has beautiful color, and is generally easier and gentler to drink than brut." He notes that while rosé Champagne accounts for just a quarter of Besserat de Bellefon's overall business, it's an extremely important offering, especially in the U.S. where it outsells the brand's Brut. And while its on-premise business has been temporarily stunted by Covid-19, Baijot notes that the brand is working diligently with importer Winesellers Ltd. to temporarily reallocate its Champagnes to more retail accounts.
Progress In Prestige
Champagne rosés like Besserat de Bellefon's are part of a developing prestige segment within the overall rosé category, which has gained a greater audience as of late thanks to the work of many top producers. Among those bolstering the luxury rosé sphere is Moët Hennessey-owned Château d'Esclans, producer of category leader Whispering Angel. The winery has not rested on the considerable laurels awarded by its flagship offering. Even as it stays vigilant in promoting Whispering Angel and the wine's recently debuted, more accessibly priced counterpart, The Palm by Whispering Angel ($15 a 750-ml.), such luxury expressions as Les Clans ($70) and Garrus ($100) are being given a brighter spotlight. "We sell out the top-end range as we do Whispering Angel," says d'Esclans winemaker Sacha Lichine. To encourage greater production of its high-end wines, d'Esclans recently purchased a neighboring estate that has 148 acres of vines, a move that almost doubles its current 183 acres.
Minuty has also been active in more upscale rosé, launching the Prestige cuvée ($30 a 750-ml.) in the U.S. for the first time earlier this year. The new wine supplements a preexisting luxury portfolio that includes 281 ($79) and Rose et Or ($40). "Prestige is a luxury wine that, in France—which is a more mature market for rosé than the U.S.—is enjoyed by the glass," says Matton. "We're bringing it to the U.S. now because we think American consumers are finally ready for even higher-quality expressions of rosé." In an effort to further support his luxury wines, Matton transitioned from the Treasury Wines Estates portfolio to that of New York-based importer Vintus at the beginning of this year; while he has high hopes that the new partnership will eventually bring Minuty greater exposure in the on-premise, the coronavirus has temporarily forced a pivot to retail, which has been done with some success thus far.
Part of the Louis Roederer portfolio, luxury rosé-led brand Domaines Ott has likewise shifted a great deal of its business from the on-premise to retail accounts as a result of the coronavirus. Though widespread on-premise closures have hit the brand hard, retail sales rose 40% in April, according to importer Maisons Marques & Domaines USA. Domaines Ott markets a number of top-tier rosés, including its namesake core offering ($47 a 750-ml.) and such estate-labeled wines as Château de Selle rosé ($54) and Clos Mireille rosé ($54).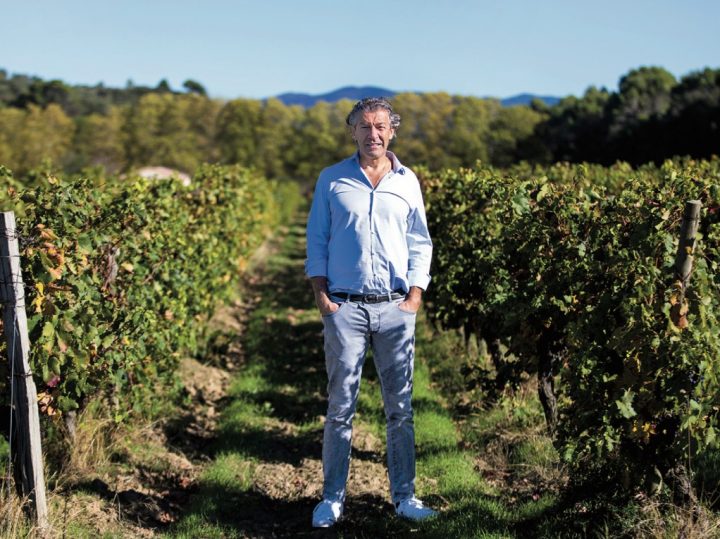 Gérard Bertrand is also betting on the luxury tier with the release of Clos du Temple, a passion project years in the making. "This rosé comes from one of the most expensive places in the world in regards to rosé production: Cabrières, a small village in Languedoc," says Bertrand. "There are incredibly old vines of Grenache, Cinsault, Syrah, and Mourvèdre planted here, and that's where we get our grapes. Ultimately, Clos du Temple is a rosé that heightens the entire category, and can compete with the best rosé Champagne and white wines out there." Bertrand is currently working on a winery for the brand in Cabrières, which is on track for completion in August. Production for Clos du Temple will remain tight, with just 300 cases of the $200 wine allocated to the U.S.
From Lafite comes a different luxury, Languedoc-based brand that's now dabbling in rosé: Château d'Aussières. "The d'Aussières rosé is a blend of Grenache, Mourvèdre, Cinsault, and Syrah from our estate, and it's destined to be enjoyed at the dinner table," says de Rothschild. She adds that the winery has been experimenting with stabulation—a Provençal technique wherein the juice is held at extremely low temperatures prior to initial fermentation—and exploring unique aging methods, chief among them maturing the wine partially in acacia barrels. "It's been an adventure for us, as we tend to be very classic in vinification," says de Rothschild. "The acacia barrels give the wine structure without overpowering the freshness we want to express." Currently still in nascent stages, the d'Aussières rosé is set to roll out to consumers with the 2020 vintage.
No matter the price point, rosé looks poised to continue as a consumer favorite long into the future. "There are a great many things to be explored with rosé, and it's a wonderful entry point into the wine category for individuals who may usually perceive wine as too pretentious or dusty," says de Rothschild. Despite the ongoing pandemic, a hopeful note on the prowess of rosé, and the wine industry at large, prevails among many. "Wine is central to life—it's a cultural product that brings people together," says Bertrand. "We've produced wine for 4,000 years, and we'll continue to do that now."