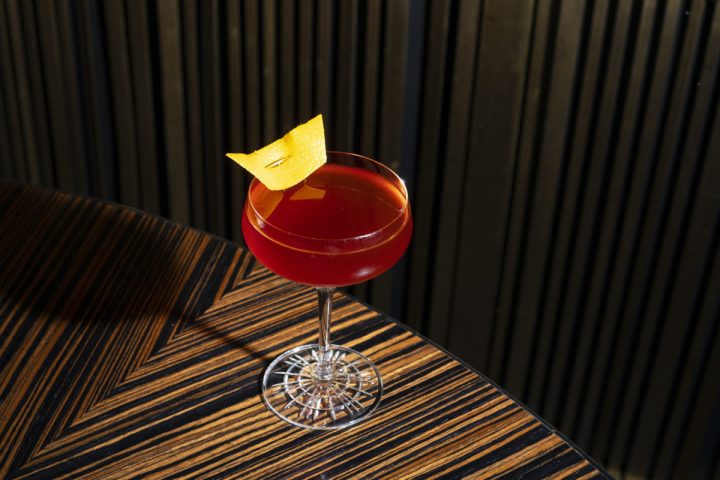 Some consumers still struggle with sake as a beverage, according to Chris Johnson, certified sake sommelier and national sales and distribution manager for World Sake Imports. "Sake sometimes gets a bad rap: I've had encounters where a guest will say 'I hate sake' and when I ask them more, they reveal they've only had it dropped in a beer or squeezed into their mouth by a chef at Benihana," he says. "I tell those people that what they drank was not the best version of sake, and to please give it another try. After all, most people don't say they hate beer after one skunked or bad one." Johnson adds that once guests try high-quality sake, they become fans—and now that bartenders are using sake more often in cocktails, even more drinkers are being introduced to the Japanese rice wine.
Trefor Davies, beverage manager at H Club in Los Angeles, notes that experimental bartenders have helped create a platform for consumers to be open to ingredients they may not have previously experienced or considered. "Gone are the days when one's only experience with sake was a warm shot in a sushi restaurant," he says. "I see more and more non-Japanese restaurants choosing to carry sake, and bar professionals choosing to highlight sake cocktails. I believe this has led to a greater array of opportunities to taste it and to expand consumers' palates."
As bartenders have embraced sake as a unique addition to a cocktail, their drink offerings have expanded and evolved. "Sake-based cocktails continue to transform organically as all things generally involving cocktails have," says Nahm Kim, lead mixologist at Sunda in Chicago. "As the ingredients and techniques—and their intelligent applications—exponentially grow, we have more options than ever to create drinks never seen before."
Kim adds that sake is a product that appeases drinkers of all kinds, hence its newfound popularity behind the U.S. bar. "Sake is a natural extension for the oenophile, the gin enthusiast, and the craft beer connoisseur," he says.
Mix It Up
Johnson of World Sake Imports recalls that sake cocktails started with the Saketini—a take on the Martini with sake replacing dry vermouth—in the 1990s, but didn't grow much beyond that for many years. "At first, sake cocktails were simple, most often sweet, and usually made with inexpensive sake," he says. "As the bartending community began to look back to old-school recipes, using jiggers and precise techniques again, we saw sake become an ingredient in quality cocktails. I've been working with bartenders and beverage directors to look at sake as a modifier, not just a main ingredient—it can bring great umami flavors and balance to a drink."
Gui Jaroschy, director of beverage programs and development for the Los Angeles-based hospitality group SBE, says that people are starting to appreciate the flavor and nuance that sake can bring to a cocktail. "I think in the past people were using it more to signify that their drink was Japanese-inspired, but now people are mixing with sake like they would a great Sherry or vermouth," he says. At SBE venue Katsuya, which has four locations in Los Angeles and two in Miami, Jaroschy's Giniro Vesper is a take on the classic Vesper, with sake used in place of the traditional blanc aperitif. The drink ($14-$17, depending on venue) features Stoli vodka, Hakutsuru Plum sake, and Roku gin. "I love plum sakes because they have just the right sweetness to replace a vermouth, but with minerality instead of bitterness," Jaroschy says. His Ume Manhattan ($14-$17) is also twist on a classic, comprising Bulleit Rye whiskey, Akashi Ume Japanese Plum whisky, Ume-Kanon Plum sake, Martini & Rossi sweet vermouth, and Angostura bitters.
Johnson agrees that sake is a great replacement for vermouths and aperitifs, noting that floral styles of sake pair well with gin, while more umami styles go well with whiskies. At Momofuku in Las Vegas, the Yuzu Negroni ($54, served in a 17-ounce flask meant to be shared among 2-3 people) features Joto Yuzu sake, Sipsmith gin, Campari aperitif, and Punt e Mes vermouth.
At H Club, Davies' Martini-inspired Harajuku Girl ($16) comprises Haku vodka, Fuku Chitose Junmai sake, Toro Albalá Fino Sherry, Takara mirin seasoning sake, and The Bitter Truth Lemon and Grapefruit bitters. "I lean toward junmai sakes because they're usually a little more rice-forward and have more acidity, body, and flavor than other styles, which allows them to stand up to dilution," Davies adds.
Jaroschy notes the importance of trying sake on its own before using it in a cocktail, because each style and brand is so different. "I use the Yuki Otoko Yeti Honjozo in my Genmaicha Milk Punch at Katsuya because of its light body but mellow rice flavor—it goes well with the savory notes of the genmaicha, which is a roasted rice green tea," he explains. The drink ($14-$17) blends the sake with genmaicha-infused Casamigos Tequila, Grand Marnier orange liqueur, house-made oleo saccharum, jasmine green tea, and milk. "You really taste the brewer's process and style in each bottle of sake," Jaroschy adds. "You can't just make a recipe calling for junmai sake because, unlike a vodka or even other white spirits, you might get a totally different result from one brand to the next."
At the Miami restaurant Kyu, Soto Junmai Daiginjo sake is featured alongside strawberry jasmine tea-infused Brugal Extra Dry rum, Fleurs de Prairie Rosé, house-made grapefruit oleo saccharum, and house-made Chinese bitters in the No Way Rosé ($17). At the Las Vegas venue Zuma, meanwhile, the Rubabu ($18) features Zuma's own sake brand—Zuma Fukukomachi Junmai Ginjo sake—that's been infused with rhubarb and mixed with Haku vodka, lemon juice, and fresh passion fruit pulp.
Johnson also appreciates the variety sake has to offer. "There are floral sakes, fruity sakes, herbaceous sakes, earthy sakes—it can be used in many different drinks," he says. "What's most unique is that it's not a distilled spirit: It uses only water, yeast, rice, and koji to produce a wide array of aromas and flavors that the bartender has at their fingertips to utilize in their creations. Sake is a great friend to the creative bartender."
Handle With Care
Though sake is indeed versatile, it also has nuanced characteristics that can be drowned out if not handled properly in a cocktail. "Because the flavors are often subtle, it's important not to pair sake with overpowering ingredients that can obscure the delicate flavor notes," H Club's Davies says, adding that lighter spirits play well with sake. His Tea Ceremony ($16) mixes Yoshinogawa Gensen Karakuchi sake, De Borgen Old Style genever, lemon juice, house-made ginger syrup, honey, and chilled oolong tea.
Vodka and gin are indeed often paired with sake in light and refreshing drinks. At Katsuya, Jaroschy's Katsuya Fresh ($13-$16) blends Belvedere vodka with Rock Junmai Ginjo sake, simple syrup, lime juice, and muddled cucumber. At the Miami restaurant Komodo, the Ginger Passion Fruit Mule ($17) features Mio Sparkling sake, Belvedere vodka, Domaine De Canton ginger liqueur, and yuzu juice. The drink was created by Karol Ansaldi, beverage director for Groot Hospitality, the Miami-based group that owns Komodo. "You want to keep the natural crispness of the sake, to emphasize clean and light flavors in sake cocktails," Ansaldi says. "Most sakes have melon in the flavor profile, so I try to pair those with ingredients like lychee, cucumber, and ginger." His Hidden Dragon ($17) comprises Soto Junmai Daiginjo sake, Absolut Elyx vodka, lychee and peach purées, Monin pomegranate syrup, and yuzu juice. The Catalina Wine Mixer ($15) at Etta in Chicago blends Hendrick's Orbium gin, Dassai Nigori Junmai Daiginjo sake, house-made cantaloupe-ginger syrup, lemon juice, Gratien & Meyer Crémant de Loire Brut Rosé, and mint.
"Sake is typically pretty understated so you want to be careful not to have it overshadowed by other potent tastes—anything over the top with acid or bitterness will probably drown out the more delicate characteristics of sake in a drink," Sunda's Kim notes. "A single violin will go unheard among a five-piece brass section." His Peared Sake ($15) features Grey Goose La Poire pear vodka, house-made sour mix, pineapple juice, house-made ginger syrup, and Gekkeikan Zipang sparkling sake, while Billy's Super Fresh Saketini ($16)—created by owner Billy Dec—mixes equal parts Grey Goose vodka and Tozai Living Jewel Junmai sake, plus simple syrup, mint, and muddled cucumber.
Take It Easy
Another way to make delicate cocktails where sake can really shine is to keep the abv low. Cocktails that are lighter on the alcohol content are trending across the industry, and since sake is naturally lower in alcohol content than its distilled spirits counterparts, it makes an ideal base for these session drinks.
"For years, sake cocktails have been a staple at Japanese restaurants and venues that want to serve mixed drinks but only have beer and wine licenses," says Tenzin Bajracharya, manager of the New York City restaurant Soba Totto. Now, even venues with full liquor licenses are embracing sake as a base as more guests request low-abv drinks. Bajracharya's Oh Summer ($14) is one such cocktail, comprising Hakkaisan Junmai Ginjo sake, Cointreau orange liqueur, orange and lemon juices, brown sugar simple syrup, egg white, and a splash of lemon-lime soda.
At the Los Angeles restaurant Inko Nito, the Inko Cobbler ($12) takes an already low-abv classic—the Sherry Cobbler—and gives it the Japanese treatment: The drink comprises Hana Lychee sake, Italicus Rosolio di Bergamotto bergamot liqueur, lemon juice, and house-made pineapple-shiso syrup. Although brewed, sake is often referred to as rice wine, and it pairs well with other wines in easy-drinking tipples. At Halifax in Hoboken, New Jersey, assistant general manager Maria Lovisetto's Masha Drinks ($14) blends Eiko Fuji Ban Ryu sake, The Crossings Sauvignon Blanc, house-made strawberry syrup, and fresh muddled strawberries, while the Ceres, Rayearth & Windham ($12) at Kaiyo in San Francisco mixes Joto Yuzu sake, Martini Bitter liqueur, and Anna de Codorníu Blanc de Blancs Reserva.
"I think the low-abv trend is here to stay, and sake is here to stay with it, as it's still strong enough to stand alone or to complement other flavors in a cocktail," H Club's Davies says, adding that he believes this trend will next extend to shochu, a Japanese distilled spirit that's typically lower in abv than other spirits. "Shochu has outsold sake in Japan over the last decade but hasn't really gotten much attention here yet," he notes. "It's great in cocktails and there are many different regional styles and types to play with. It has a stronger taste than sake but is similarly lighter than other spirits."
Johnson of World Sake Imports agrees that these Japanese beverages have a bright future stateside. "We as bartenders and beverage alcohol educators set a goal for ourselves to share knowledge and experiences with our guests, taking them on a journey through the flavors in the glass," he says. "I think both sake and shochu will be a part of that trip in the future."