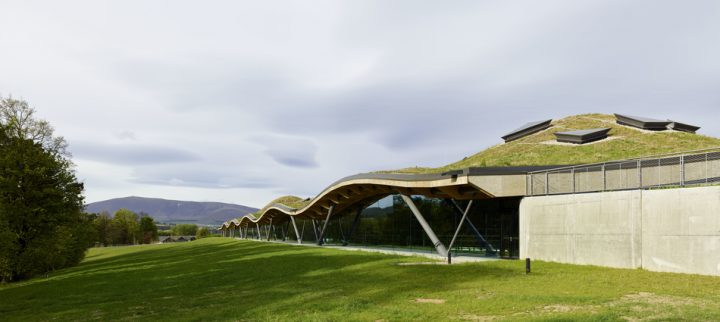 With millennial consumers recently surpassing baby boomers in wine buying, spirits marketers are taking note of this younger generation, known for its exploration and distinct lack of brand loyalty—and its spending power. For single malt Scotch, which once was perceived as your grandfather's drink of choice, this has meant focusing on innovation while also honoring tradition.
These efforts appear to be paying off, as retailers are seeing the demographics of single malt Scotch buyers slowly but surely expand. "You still have the people who've been drinking single malt their whole lives, but we're beginning to see people in their late 20s and early 30s with disposable incomes exploring different styles to see what they enjoy past the blended Scotch they started drinking once they turned of-age," says Tom Schneider, liquor buyer and manager of France 44 Wines & Spirits in Minneapolis.
Millennial consumers also don't shy away from spending more for top-quality products, which is a boon to a category that begins in the $40 range. "I would say $50 is the new $40 in our store," Schneider adds, noting that The Balvenie DoubleWood 12-year-old ($50 a 750-ml.) reigns supreme at France 44, selling about 25% better than any other single malt Scotch at the store.
"We're noticing that consumers are more interested than ever before in exploring whisk(e)y and have become more comfortable with various price points and taste profiles as a result," notes Greg Levine, marketing director of The Balvenie at William Grant & Sons. The brand passed the 100,000-case mark in 2016 and grew by another 5.5% in 2017 to 106,000 cases sold, according to Impact Databank.
Though total single malt Scotch sales remain dwarfed by the boom in Bourbon, the category has more than tripled over the last 20 years, growing from under 500,000 9-liter case depletions in 1997 to 1.67 million cases in 2017. From 2012 to 2017, all but one of the top ten brands grew, with several posting double-digit gains over that period.
Marketers are optimistic that this growth will continue—but not without significant efforts to expand the single malt Scotch fan base and win over Bourbon enthusiasts. "Our objective is to welcome more consumers into the Scotch category by making the experience at the shelf more approachable, while also continuing to give our connoisseurs and collectors offerings that expand their repertoire," says Stephanie Jacoby, vice president of Diageo North America's Scotch brands, including Oban—up 8.5% last year, according to Impact Databank—and Lagavulin, up 10%. "As so many consumers have come to love and appreciate non-Scotch whisk(e)y, we see a big opportunity to introduce them to the unique flavors of Scotch as well."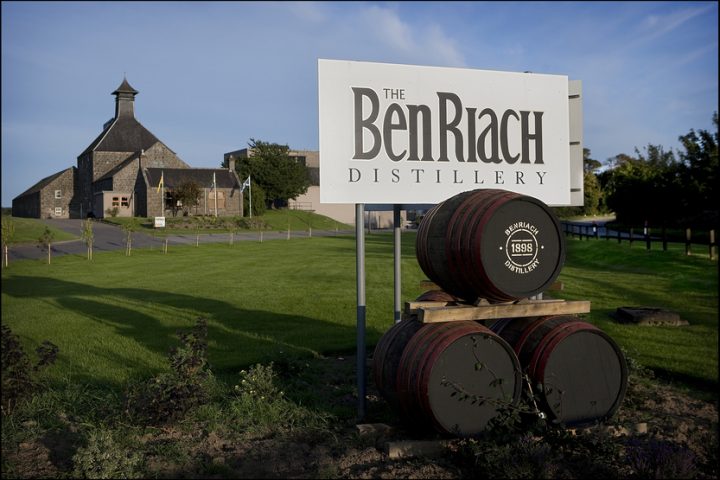 Encouraging Exploration
Despite competition heating up and the category being dominated by three major brands—The Glenlivet, The Macallan, and Glenfiddich made up over half of total depletions in 2017—Brown-Forman entered the single malt Scotch game in 2016 with the acquisition of BenRiach Distillery Co., which includes the GlenDronach, BenRiach, and Glenglassaugh brands. "U.S. consumers are open to different styles of single malt Scotch, like peated versus non-peated, and they're sampling brands from all terroirs rather than remaining only in one area," says BenRiach brand manager Diana Brey. "The road ahead is full of opportunities for growth." She notes that the company's current focus is on introducing the brands to a broad range of consumers through in-store samplings and tasting events, as well as adding to the core lineup. And innovation has been constant: The BenRiach Peated Port Wood Finish Single Cask 12-year-old ($110 a 750-ml.) was released in February and the BenRiach Peated Temporis 21-year-old ($265) in April, while the re-release of the GlenDronach 15-year-old ($90) is set for this month.
"The main difference in this category is that there are no real value players—it competes at the premium-and-above price levels," says Michael Giardina, director of Glenfiddich, which grew by 12.8% in 2017, according to Impact Databank. "That, of course, means the quality across the category is very high, so from a brand perspective differentiation can be very challenging. Engaging with and educating consumers without coming across as lecturing is important."
France 44's Schneider points out that while his younger single malt Scotch customers enjoy exploring different styles and brands, there are still plenty of older enthusiasts who stick to their staples. Brands and marketers are highly aware of this divide, and are shaping their strategies accordingly. "As competition stiffens, we see Scotch brands releasing innovative expressions that also tie back to larger heritage stories," notes Patrick Caulfield, brand director for category leader The Glenlivet, which eked out a 1.2% gain in 2017 to 419,000 cases, according to Impact Databank.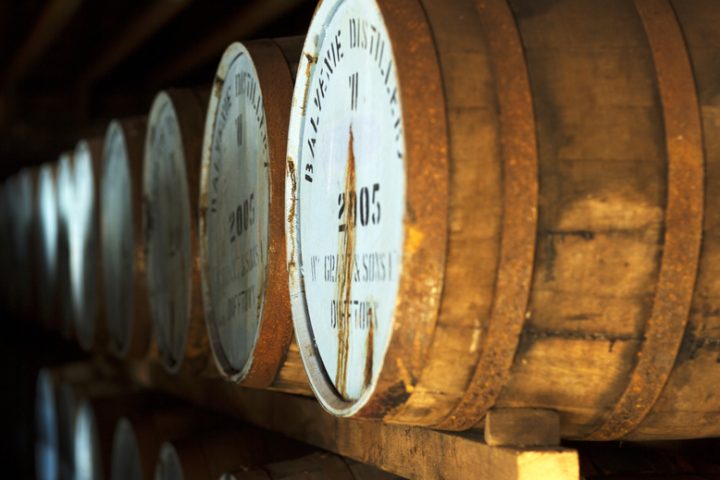 Caulfield adds that innovation is a predominant driver of the category. "Over the past three years, more than half of total single malt Scotch growth has been driven by new expressions," he says. In March, The Glenlivet announced the launch of its newest limited-edition expression—The Glenlivet Code ($125 a 750-ml.)—which tests consumers' knowledge of single malt Scotch through an immersive digital experience. "Our innovations have seen great success in appealing to both new category drinkers and existing consumers," Caulfield says. "We're dedicated to making The Glenlivet more accessible and approachable to whisky drinkers both old and new."
The Balvenie's Levine stresses that the brand has stayed true to its heritage over the years, citing its continued use of barley grown on-site at the distillery and traditional floor maltings. The brand also employs a coppersmith who works on-site and operates under the purview of David Stewart, who Levine notes is "the industry's longest-serving malt master." Even still, Levine says that innovation and experimentation have been vital to The Balvenie's success. Since the start of 2018, the brand has released a 25th Anniversary bottling of its DoubleWood 12-year-old ($55 a 750-ml.), a new 2003 vintage expression of Peat Week 14-year-old ($99), and Tun 1509 Batch 5 ($399). The newest release is the DoubleWood 25-year-old ($599), announced in August.
"Single malt Scotch is seeing a surge of innovation, which is fairly new for this category," says Samantha Leotta, brand director for The Macallan. "Brands are experimenting with different cask styles, maturing processes, and collectible whiskies at many price points." Macallan's newest releases include Edition No. 4 ($100 a 750-ml.), Masters of Photography: Magnum Edition ($3,500), The Macallan M Black ($6,995), and The Macallan 72-year-old ($65,000), which, when it is available in 2019, will be the oldest expression the brand has ever released. This summer, Macallan—which rose by 6.6% last year to 250,000 cases, according to Impact Databank—opened a new $255 million distillery and visitor experience to increase annual production by one-third.
Embracing Change
It's no secret that millennial consumers have led the Bourbon renaissance, and as they begin to branch out to new expressions of whisk(e)y, single malt Scotch is poised to reap the benefits. "Single malt Scotch growth in the U.S. market has been driven by consumers who have been recruited primarily through American whiskies," Diageo's Jacoby notes. "We see many new Scotch offerings that don't conform to the traditional look and feel of the category that are attracting a new generation of drinkers. We're excited about this momentum and the opportunity to modernize a category that's steeped in tradition."
Diageo itself is embracing this modernization trend. In July the company released three new bottlings of its Mortlach brand—a 12-year-old ($50 a 750-ml.), 16-year-old ($100), and 20-year-old ($200). The expressions replace Diageo's previous launch of Mortlach as a luxury single malt, priced more in line with competition in the category. Diageo is also aiming to attract a younger demographic through its partnership with HBO, which will see a limited-edition collection of eight single malts ($30-$65) with bottle designs inspired by the Game of Thrones TV series debut this fall.
Jura is a smaller player in the category and, though competition is tough, Christopher Watt, vice president of North America at parent company Whyte & Mackay, notes that the brand has a "clean point of differentiation" helping it continue its growth streak. "Jura offers a unique flavor profile in the single malt category—whereas Islay single malts typically are heavily peated, Jura's partly peated profile delivers just a pinch of smoke, making it truly well-balanced," Watt says, adding that the brand grew 47% from 4,300 cases to 6,300 cases between 2016 and 2017. The latest additions to the portfolio include Jura Seven Wood ($80), which is matured in ex-Bourbon barrels and six different French oak casks, and Jura 18-year-old ($125), aged 18 years in ex-Bourbon barrels and finished in Bordeaux Grand Cru red wine casks.
"Consumers are always looking for rare releases, as well as unique finishes or cask types," says Glenfiddich's Giardina, adding that new releases have helped keep the brand relevant and interesting to old fans and new drinkers alike in a fast-expanding category. "We've had a series of strong new releases over the past five years—one of our most successful has been the 14-year-old Bourbon Barrel Reserve ($50 a 750-ml.), launched in 2015 and designed as an ode to the dynamic American whiskey industry, as well as the American oak barrels that Scotland frequently uses."
Most recently, Glenfiddich released Fire & Cane ($50 a 750-ml.), the fourth expression in its Experimental Series that launched in late 2016 and was, Giardina says, designed to "push the boundaries of what a single malt Scotch whisky can be, without stepping on the great traditions of the category." Fire & Cane is a peated whisky finished in South American rum casks. The inaugural expression of the Experimental Series was the India Pale Ale Cask Finish ($70), the first Scotch finished in craft beer casks; other releases have included Project XX, a single malt created by a group of brand ambassadors, and Winter Storm, a 21-year-old single malt finished in ice wine casks.
At France 44, Schneider believes releasing more accessible single malt Scotches—both in price and flavor profile—is the key to success in the category. "There is and probably always will be a huge divide between people who love peated whisky and those who don't," he says. "Brands like Highland Park and Talisker, which have released lower-priced, non-age statement, and medium-peat level offerings in Magnus ($35 a 750-ml.) and Storm ($32), respectively, have opened the door for people to dabble without breaking the bank or the palate." Schneider predicts that non-age statement single malts in the $30-$45 range with unique qualities will become more prevalent as brands continue to court younger consumers.
Michael Cimini, president, CEO, and owner of the Shrewsbury, Massachusetts-based Austin Liquors, notes that major labels Glenfiddich 12-year-old and The Glenlivet 12-year-old (both $40 a 750-ml.) dominate sales in the category, but there are changes on the horizon. "The time and tradition required to create single malts makes radical change more difficult, so non-age statement offerings have increased significantly," Cimini says. He adds that while his Scotch consumers still skew older, he's noticing more trial among younger consumers as they experiment with brands outside of the go-to labels.
Trial and exploration among millennials is helping make room for smaller single malt brands to carve out space in the U.S. market. At the Whiskey Ward bar in New York City, owner Sandee Wright notes that several of these lesser-known labels are popular with her guests, the majority of whom favor the venue's whisk(e)y flights as a way to learn about different brands. Aberlour A'bunadh ($20 a 2-ounce pour), Ardbeg An Oa ($15), Glenflarclas 12-year-old ($14), Isle of Arran Lochranza Cask Strength ($24), and Bruichladdich Octomore Masterclass ($34) are among the most popular.
"U.S. consumers are becoming more knowledgeable about Scotch whisky, their obsession with age statements is slowly abating, and they're exploring the category for new and interesting brands," says James Wills, sales and marketing manager of the U.S. market for Kilchoman whisky. "We tick a lot of boxes in this instance. Being Islay's only farm distillery, there's plenty to discover from a production point of view. And on the distribution side, with other Islay brands being represented by larger companies, Kilchoman fills a gap in many portfolios as the only independent Islay distillery."
Wills forecasts around 20% growth for Kilchoman in 2018. The label introduced two new limited-edition whiskies to the U.S. this year: the Port Cask Matured 2018 Edition ($125 a 750-ml.) and the Oloroso Sherry cask-matured Loch Gorm 2018 Edition ($110). "There's huge competition for a brand like us—we're competing with multinational companies with seemingly endless budgets and an army of sales reps visiting consumers across the country, and as a category we're under continued pressure from both U.S. and Japanese whisk(e)y producers," Wills says. "But thankfully there are plenty of thirsty enthusiasts searching for honest and authentic single malt."