Small 50-ml. spirits bottles have become outlawed in Massachusetts due to a public policy resulting in a major litter problem. Now, the beverage alcohol industry is pushing back. "The government has taken a pass on this," says says Bob Mellion, executive director and general counsel for the Massachusetts Package Store Association (MPSA). "The industry is going to step in, and that's the way we are addressing the issue. We're hoping we lead by example."
Miniature 50-ml. spirits bottles have been in the crosshairs of Massachusetts' legal system for years. Known as "nips" in the Bay State, sales of the small bottles have been banned in several communities as government officials blame them for a littering dilemma. "They're trying to solve the problem with a thing that is the least cause of it—and they're not solving the problem," says Mark Ferreira, owner of John's Liquor Store in Falmouth, Massachusetts.
The MPSA is spearheading an industry response to tackle this statewide littering problem, which includes plastic bottles, fast food and candy wrappers, paper and plastic cups, napkins, and cigarette butts. Partnering with Keep America Beautiful, retailers are joining forces with industry wholesalers and producers to sponsor cleanups . "We're going to help finance a national public campaign in partnership with Keep America Beautiful to initiate a Massachusetts campaign aimed at attacking litter," says Mellion. "The state is not going to do it, and municipalities can't do it, either."
But officials in the Cape Cod tourist town of Falmouth recently voted to ban nips beginning in October 2021, stating that the small bottles are often disposed of on the ground, posing a littering problem.  "What's going to be next?" Ferreira says. "It's not going to do any good. People are just going to drink 200-mls. They will probably ban those next. Then it will be the pint size. They should have just enforced the litter laws."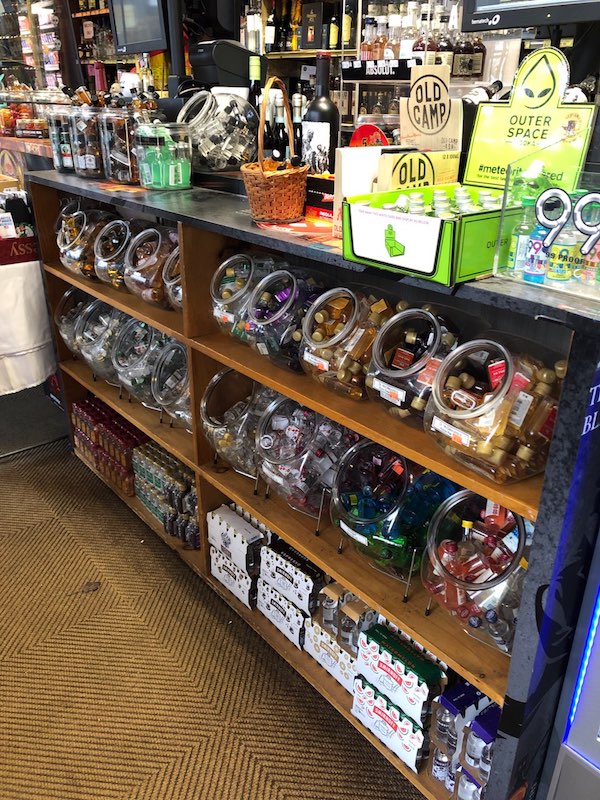 Like A Tasting
The best-selling nips at John's are Fireball cinnamon whisky ($1), Smirnoff flavored vodka ($1), and Baileys cream liqueur ($3). Patrón Tequila ($7) is also a popular option. "The ban is really kind of sad because in a tourist town like Falmouth, we sell a lot of nips," Ferreira says. "They want to come in and try this and try that. Producers keep the prices on nips down low so people will try them like a tasting."
Elsewhere in Massachusetts, miniature bottles are banned in Chelsea, and Attleboro officials are considering outlawing them. "We're doing a cleanup in November in Attleboro as our first attack at this," Mellion says. "There's a ton of litter out there. We're looking to address the litter problem itself, to educate and fill the resource void. Municipalities and the state are so strapped for revenue, it's going to be up to business to fill the void, and we are going to do it."
Massachusetts' littering problem stems, the retailers say, from the apparent shortfalls of the Pay-As-You-Throw policy, which encouraged removal of trashcans in towns, cities, and public parks. Mellion says that if people don't see a trash can to throw a piece of garbage away, they'll probably just toss it on the ground. "The convenience of throwing away stuff is gone," he says.