There's no comparison in the industry to what's happening with hard seltzer right now. Hard seltzer, a category that was practically non-existent not so long ago, has skyrocketed, dominating headlines and thriving as the pandemic shuttered on-premise venues. There's a risk of exhausting the supply of superlatives when discussing a category that has caught fire the way hard seltzer has. Instead, volume figures tell the story. Perhaps inspired by the younger generation's taste for La Croix and other seltzers around that time, early forays into hard seltzer production sold approximately 1 million cases in 2015. The next two years saw solid gains as total volume rose to 11 million annual cases by the end of 2017. 
Under normal circumstances, the strides made by hard seltzer in 2018 would be considered a major event. Volume nearly tripled the year prior and reached 28.5 million cases as brands like White Claw and Truly, both on the market in the U.S. since 2016, began to find purchase and garner word-of-mouth support, marking a turning point for the category. Conventional definitions of normal don't quite apply, however, and 2018's surge only foreshadowed what was to come. 
In many ways the summer of 2019 was the moment hard seltzer really stepped into the spotlight. Overnight, it seemed, everyone in the U.S. was aware of hard seltzer and probably drinking it. The slogan "Ain't no laws when you're drinking Claws" was ubiquitous, eventually leading to cease and desist orders from Mark Anthony Brands, White Claw's parent company, directed at people selling shirts online emblazoned with the slogan. The category grew by an astounding 50 million cases to reach 78.5 million cases overall that year. 
When Covid-19 reached the U.S. in earnest in March 2020, there was an open question regarding how things would affect hard seltzer. On the one hand, bar and restaurant closures are favorable to a category that does the vast majority of its business in the off-premise. On the other hand, hard seltzer is a highly social category, most closely associated with occasions like barbecues, beach days, or an afternoon with friends in the park, and the isolation of lockdowns put a major damper on the kind of congregating most conducive to the drinks. In a resounding endorsement, pandemic consumption only accelerated, rising by more than 100 million cases last year to reach an annual total of 197.5 million cases.
White Claw's World
More than any other brand, that incredible growth has been driven by White Claw (pricing varies by market), produced by Mark Anthony Brands. Its line of seltzer, which comes in fruit flavors including black cherry, watermelon, and mango, among an original thirteen, proved so popular that a national shortage made headlines in fall 2019. The 5% abv flavored malt beverages, whose parent company also notably produces Mike's Hard Lemonade, moved 3.5 million cases in 2017, its first full year on the market, and took off in earnest in 2019 when sales rose to 41.9 million cases. Amid the pandemic, sales rose 127% to reach 95 million cases last year. 
The brand has continued to innovate, recently launching Surge, a line-extension duo in April. Surge ($3 a 16-ounce can) comes in cranberry and blood orange flavors, both sold in 16-ounce cans and at 8% abv. Additionally, White Claw's standard line of 5% abv, 12-ounce can-packaged offerings will be bolstered by three new flavors: strawberry, pineapple, and blackberry, available in variety packs along with its bestseller, mango. 
"They did a great job with marketing and lifestyle," says Chad Holloway, director of beer at ABC Fine Wine & Spirits in Florida. "They were the first to market, arguably. White Claw came out of the gate swinging." 
ABC's senior category manager for beer Brian Thompson notes that White Claw struck while the iron was hot. "White Claw hit the ground running and seized the opportunity by being the first in slim cans and promoting aggressively," he says, adding that the brand was highly focused on market share from the jump and remains unrelenting in pricing and promotion initiatives designed to increase household penetration. "Our stores have buy one-get one free deals every month on seltzers."
In second place is Truly—originally named Truly Spiked and Sparkling—from Boston Beer Co. The brand, which follows initiatives from other alternative Boston Beer brands like Twisted Tea to diversify away from craft beer, debuted in April 2016 in Colima Lime, Grapefruit & Pomelo, and Pomegranate flavors. The original run came in a 6-pack of 12-ounce bottles, following the conventions of beer. Only four months later, Truly was rereleased in a 12-pack of slim cans, cementing the conventions of a new category. 
Truly has a robust and varied lineup that it augmented significantly last year. The Truly Hard Seltzer Lemonade line successfully launched in January 2020 and the brand has rolled out further line extensions since, including a range of iced tea hard seltzers early this year and Truly Extra, an 8% abv offering. Truly's growth has been eye-popping in its own right and, in a world without White Claw, would be an unbelievably dominant force in the category. It has not logged less than 100% growth since launching, reaching 20 million cases in 2019 before rising 139% in 2020 to reach 47.7 million cases. "They've done incredibly well," Thompson says. "They're taking share from White Claw right now and I think eventually they'll share pretty closely at the top of the category." 
Holloway agrees, noting the brand's success at keeping everything under the Truly umbrella. "There are so many different items out there so to disrupt a shopper coming in to purchase something else—the product has to be remarkable," he says.
Enter Anheuser-Busch InBev
Among the top ten brands—which account for 184.8 million of the category's 197.5 million total cases—three are produced by Anheuser-Busch InBev (A-B InBev). A-B InBev is the only company with more than one leading brand. Third overall, its top brand is Bud Light Seltzer, which launched last year to 18.2 million cases. 
Like its competitors, Bud Light Seltzer is at 5% abv and comes in fruit-flavored varieties which include Lemon Lime, Black Cherry, Strawberry, and Mango. The core offerings are now the jumping off point for a variety of line extensions including Seltzer Lemonade, which is available in Original Lemonade, Strawberry Lemonade, Black Cherry Lemonade, and Peach Lemonade varieties; the 8% abv Platinum Seltzer that comprises Wild Berry, Citrus, and Blood Orange flavors; Bud Light Seltzer Iced Tea, with Peach, Raspberry, Tangerine, and Apple varieties; and Bud Light Seltzer Out of Office, a tropical line featuring Watermelon Mojito, Classic Lime Margarita, Mango Mai Tai, and Strawberry Daiquiri flavors.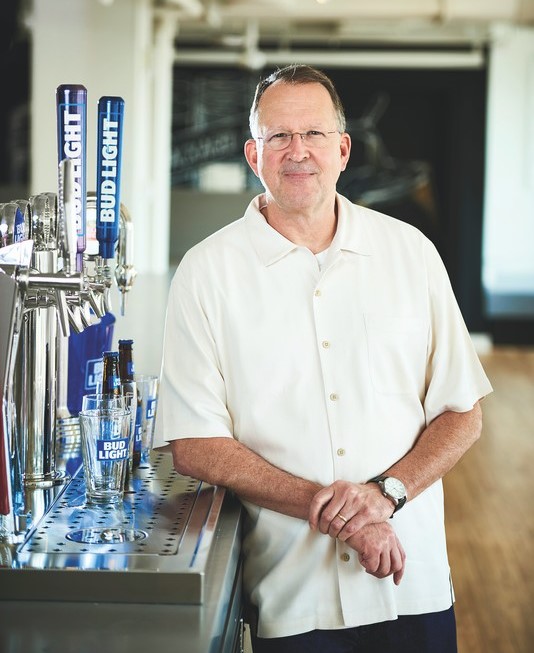 "In 2020, the Bud Light family of products had its best share performance across the entire category in 5 years in IRI channels, and much of this success is due to the launch of Bud Light Seltzer and its incrementality to the brand," says Bud Light vice president of marketing Andy Goeler. "Bud Light Seltzer earned more than 10% of the hard seltzer market within its first year. We launched Bud Light Seltzer in January 2020 and, at the time, had a very robust plan for the year. The pandemic required us to reconsider a lot of those plans, but leaning into our new innovations and our relationships within the retail and e-commerce space helped us maintain momentum. We also found new ways to connect with Bud Light and Bud Light Seltzer fans across the country. Through livestream concerts, virtual gaming competitions, and ongoing engagement with fans across our social media channels, we've been able to bring new experiences to consumers while they are home." 
Goeler adds that the Bud Light product line thrives on innovation. "Bud Light Seltzer has been one of the most successful innovations ever from Bud Light," he says. "We're continually evolving to bring Bud Light quality and great taste to our consumers in ways that meet their changing preferences. This franchise innovation approach, which includes Bud Light Seltzer, is working." 
A-B InBev's other two seltzer brands are Bon Viv and Natural Light Seltzer. Launched in 2019, Natural Light Seltzer grew to 2.4 million cases last year. Bon Viv, which has been around as long as White Claw and Truly, was the only brand in the top ten to lose volume last year, when it slipped from 2019's high of 4.5 million cases down to 2.7 million cases.
Exploring The Demographics
If there's a critique of the hard seltzer category, it's that the companies involved seem reluctant to acknowledge what is readily apparent to anyone who's encountered hard seltzer in a social setting; namely, that it's a phenomenon driven by women. Producers have resolutely trafficked in gender-neutral messaging and visuals, refusing to speak directly to their core consumers. While last year was a down year for Bon Viv, A-B InBev deserves credit for recognizing their clientele and tailoring a brand identity to them. 
"Bon Viv is a sophisticated hard seltzer option whose consumers are primarily women in their 30s living a bold and unapologetic lifestyle," A-B InBev senior director of marketing for beyond beer Kristina Punwani says. "Last year, we teamed up with Priyanka Chopra Jonas, who joined the team as our creative advisor, and have launched a number of women-focused initiatives." Together, Bon Viv and Chopra Jonas launched the #TogetherWomenRise campaign to give $100,000 to women and their businesses at the start of the Covid-19 pandemic, partnered with local retailers in key markets to curate gift boxes that encouraged consumers to celebrate small moments at home, and also released a Holiday Gift Box with women-owned company Helena Quinn to cap off the year. "Through each campaign, we wanted to connect with our consumers while they were in quarantine by providing them with everything they needed to make special moments from the safety of their own homes," Punwani says. The partnership with Chopra Jonas has also led to the latest flavor innovation for Bon Viv, Raspberry Dragonfruit, which is now available nationwide.
One brand in the top ten distinguishes itself by bucking the malt beverage trend and instead using real spirits as its base. High Noon Sun Sips, from E.& J. Distillers, reached 3 million cases last year as the only premium player of the bunch. The brand's various flavors are all made with vodka and flavors from real fruit. "With High Noon, we have a tiger by the tail," says Britt West, Gallo's vice president and general manager for spirits. "In IRI and Nielsen data, we're No.-3 after White Claw and Truly in a number of key retailers around the country. We looked at the space, and everything was malt or sugar beer-based. We saw an opportunity, by using a vodka base and real fruit juice, to attract a consumer who's willing to trade up to a premium offering. Almost 10% of any category is going to be premium, and hard seltzer is already a very big category, so we'll be happy to have that premium end." 
The rest of the top ten comprises new entrants to the field. Constellation Brands launched Corona Seltzer last year to an initial 7.5 million cases. The spin-off brand comes in 12-pack variety packs of slim cans that, like many of its competitors, feature fruit flavors including mango, cherry, lime, raspberry, and passionfruit, among others. Molson Coors' Vizzy brand also debuted in 2020 to 3.8 million cases, while Diageo extended its Smirnoff Ice and Smirnoff Spiked portfolio to include Spiked Sparkling, which rose to 3.7 million cases last year. Wild Basin, produced by Oskar Blues Brewery, reached the 1-million-case mark in a huge victory for a craft brewery directly competing with the industry's mega-players. 
Not everyone is pleased with seltzer's explosive growth however. "I think it's definitely eating into our business," said Böen Wines proprietor Joeseph Wagner at M. Shanken Communication's Impact Seminar in March 2020. "I find it interesting because it's at the intersection of health and wellness and authenticity, but you're looking at a malt beverage that has flavoring." The wine world, he added, needs to do a better job of courting a market that's looking for authentic products. Jim Clerkin, also speaking at the Seminar, sees hard seltzers as more than a fad. "I think they're going to be internationalized," he said, pointing to natural fruit flavors as a possible future for the category.