Tequila has taken over the cocktail world in recent years and its reign at the bar isn't ending anytime soon, notes Joe Doose, managing partner and general manager at Arbella in Chicago. "Agave cocktails have reached almost every cocktail menu that I've seen, and it seems that even the most basic, one-mixer drinks are called with Tequila now consistently," he says. "We've gone from most bars only having one or two types of Tequila on the back bar and maybe having a Paloma on their menu to Tequila being everywhere. What was formerly a tool to get the party started with shots is now it's a staple in the cocktail world—and deservingly so." 
Indeed, today's consumers recognize Tequila for the top-quality spirit it is. "Tequila is a more trustworthy spirit in consumers' eyes— for years most people associated Tequila with shots and getting wild, but today I'm seeing more and more people trusting a Tequila-based cocktail rather than shying away from it," says Kristine Brown, co-bar manager at Helen in Birmingham, Alabama. "Today's bartenders have done a fabulous job of ridding the stigma that comes along with Tequila and it's beautiful to see." 
It certainly helps that the Tequila available today is nothing like what many drinkers first encountered a couple decades ago. "Agave spirits as a whole have evolved significantly in recent years because of the boom of not only unique agave cocktails, but also offerings," says Mike Finn, bar manager at Adalina in Chicago. "There've been so many brands introduced to the U.S. market—we've become spoiled with the amount of terroir-driven agave spirits available today. Tequila cocktails these days are so much more than just working with the flavors of secondary spirits, syrups, and juices because of the amount of flavor that comes from the base spirit itself." 
With more Tequila brands available today than ever and more Tequila fans than ever, it's up to creative bartenders to keep drinkers interested while paying due respect to the classic Mexican spirit.
What Grows Together
Helen's Brown points out that with a terroir-driven spirit like Tequila, it's important to let the spirit guide you when mixing it in cocktails. "Every Tequila offers a unique flavor profile based on where it's grown, how it's harvested, whether it's aged, so try pairing a Tequila with the ingredients that grow around it," she says. "Mexico is known for delicious mangoes, prickly pear, all types of citrus, chile peppers, tamarind, and a lot more; grabbing produce that's grown around the agave you're using means that those flavors will meld well together." At Helen, Brown's co-bar manager Hannah Smarr created the Roxanne ($14), which blends Lunazul Reposado Tequila, Del Maguey Vida mezcal, Cappelletti aperitif, blood orange purée, lemon and grapefruit juices, housemade cinnamon syrup, and saline, while her Street Fighter ($13) comprises Lunazul Blanco Tequila, Del Maguey Vida mezcal, Rothman & Winter Orchard Peach liqueur, lime juice, and house-made corn orgeat, served in a glass decorated with the Mexican seasoning Tajín on the rim. 
At Easy Bistro & Bar in Chattanooga, Tennessee, bar manager Garth Poe's Black Magic Woman ($12) similarly features classic Mexican flavors and ingredients, mixing Olmeca Altos Blanco Tequila, Ancho Reyes chile liqueur, Gran Classico Bitter liqueur, house-made clarified lime cordial, blackberry cordial, and jalapeño tincture, and saline. Poe notes that the venue's most popular Tequila cocktails center around riffs on the Margarita. "You can go a little wild with modifiers and other ingredients and press the boundaries a little bit more if you can fall back on a cocktail that's relatable for your guest," he explains. "Most people understand what a Margarita is, so even if it's a very obscure take on one—like with our Flor Zapoteca cocktail—it seems to be easier for people to take the leap and try something new when it's based on something they already know." The Flor Zapoteca ($13) features Corazón Blanco Tequila, Träkál, Campari aperitif, blood orange purée, house-made pineapple, orange, and cinnamon cordial, lime juice, and a rinse of La Venenosa Sierra del Tigre del Jalisco raicilla, which Poe describes as a rustic Mexican spirit in the mezcal family.
"The challenge with this drink was to preserve the approachability of the inspiration behind it—the Margarita," he says. "How do you build a drink that presses the boundaries for those in the cocktail scene without alienating the guests that just want to enjoy a cocktail without too much fuss? We decided to incorporate the cordial to relieve some of the bitter and tart notes while bringing out some of the softer flavors in the cocktail. We also added Träkál, a Patagonian spirit that has an underlying anise-like herbaceousness, to the mix and at this point we had a really interesting cocktail on our hands with loads of complexity but it was still missing something. We added a rinse of raicilla to the glass and this tipped the scales—the savory smokiness added the perfect finishing touch to the cocktail." 
Christopher Reyes, partner and beverage director of Aldama and Ponyboy in Brooklyn, New York, notes that there have definitely been big changes in Tequila cocktails recently. "A few years back the majority of Tequila drinks kept the flavor pure and simple with just lime and agave, but now you can find the spirit in a wide variety of drinks." At Ponyboy, his Almost Famous ($18) includes the classic flavors in addition to other ingredients that keep things interesting: It features jalapenõ-infused Cazadores Blanco Tequila, Leblon cachaça, agave syrup, green bell pepper, pineapple, and lime juices, and saline solution. At Aldama, meanwhile, his Mount Fuji ($17)  leans into fall flavors, comprising Cazadores Reposado Tequila, Mathilde Poires Pear liqueur, Fuji apple juice, lemon juice, and cane syrup. 
At Arbella, many of the venue's Tequila cocktails feature citrus, as it's such a natural pairing with agave, but the addition of other more unexpected ingredients make the cocktails far from ordinary: Doose's If I Was Green I Would Die ($17) blends Gran Centenario Reposado Tequila, Du Bouchett Blue Curaçao liqueur, lemon and lime juices, simple syrup, oat milk, and egg white, while beverage director Eric Trousdale's Mexican Danceoff ($16) features Gran Centenario Plata, lime, grapefruit, watermelon, and blood orange juices, simple syrup, Squirt Grapefruit soda, plus a rinse of Soul cachaça. "I love working with Tequila because it offers such a large range of flavors: Think of all the different styles and then most of them come in a variety of age statements, and then there's Cristalino too," Doose says. "There are so many options that I feel like I could make cocktails all day with Tequila where sometimes with other spirits I feel like I hit a ceiling."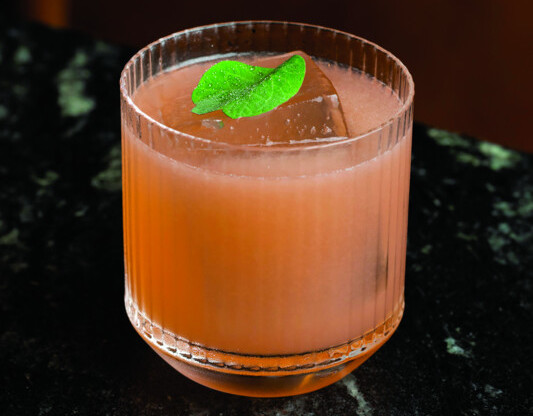 New Directions
Harrison Ginsberg, bar director at the New York City venues Crown Shy, Saga, and Overstory, notes that it's understandable that most Tequila cocktails in the past were very simple Margarita variations, but he's thankful that's changed. "In recent years we've seen a number of excellent, balanced, and interesting Tequila cocktails that break that mold—it's nice to have variety," he says. "I personally love Highball Tequila drinks; there's something about the green, herbaceous flavors in Tequila that work so nicely in a tall drink. I also really enjoy Tequila paired with a lighter style of Sherry like Manzanilla or Fino." At Crown Shy, Ginsberg's Radicle ($21) comprises cherry tomato-infused Maestro Dobel Silver Tequila, Lustau Manzanilla Papirusa Sherry, Giffard Rhubarb liqueur, lime juice, and house-made raspberry syrup, vanilla syrup, lacto fermented habanero brine, and sumac tincture. At Saga, bartender Chris Lemperle's Gemini ($24) blends chamomile-infused Arette Reposado Tequila, Viña Callejuela Manzanilla Fina Sherry, Fusion Verjus Blanc, American Fruits Bartlett Pear liqueur, Valdespino vermouth, cane syrup, and house-made woodruff tincture. Similarly pairing Tequila and Sherry, the Bad Reputation ($14) at Beretta in San Francisco—created by beverage director Caterina Mirabelli— features Tapatio Blanco Tequila, El Maestro Sierra Fino Sherry, Fiorente Elderflower liqueur, lemon juice, cane syrup, and The Bitter Truth Celery bitters. 
"Tequila has evolved tremendously in recent years: What used to be enjoyed as just a single shot, or purely in a Margarita, is now the leading spirit for a variety of different drinks, and has taken over other staples, even being used as replacement for vodka in an Espresso Martini," notes Milos Zica, partner and beverage director at Fandi Mata in Brooklyn, New York. "In my experience Tequila works very well with bitter, fruity, and floral flavors. For example, grapefruit or berries are always a great choice to mix it with, as well as spiced, bittersweet, and floral liqueurs." His Cool Runnings ($19) mixes El Tesoro Reposado Tequila, Milagrito Enmascarado 54 mezcal, Italicus Rosolio di Bergamotto bergamot liqueur, house-made hibiscus cordial, lime juice, and a splash of GT's Synergy Organic Gingerade kombucha. At J.Bespoke in New York City, meanwhile, head bartender Hernán Trujillo's Tru-Catalonia Spritz ($18) blends Casamigos Blanco, Giffard Crème de Pamplemousse Rose pink grapefruit liqueur, Cointreau orange liqueur, Soleil des Alpes rosé, and Codorniu Cava Clasico Brut. 
"I like working with Tequila because of its versatility—it can be sweet, fruity, earthy, vegetal, and more," Easy Bistro & Bar's Poe says. "This really opens the door to endless possibilities. You can lean into so many different expressions of the spirit and tell a different story with every drink." Lead bartender Manu Lauzon's Despacito ($12) comprises Altos Reposado Tequila, Silvio Carta and Punt e Mes vermouths, agave syrup, Angostura bitters, and Angostura Orange bitters, and his El Tlacuache del Sur ($12) blends Don Fulano Reposado Tequila, Amer Picon aperitif, Green Chartreuse liqueur, Averna amaro, agave syrup, and Angostura Orange bitters. 
Amari, aperitifs, and other bitter and herbal liqueurs are also very popular today, so it's only natural that star spirit Tequila would be mixed with them. At Beretta, Mirabelli's Strange Vine ($14) mixes Ocho Blanco Tequila, Cynar amaro, lime juice, and house-made gum syrup; At Helen, Smarr's Hey Good Lookin ($14) features Lunazul Reposado Tequila, Cappelletti aperitif, Luxardo Maraschino liqueur, Giffard Crème de Fruits de la Passion passion fruit liqueur, lemon juice, and house-made clove and pear syrup; and at Adalina, Finn's Perfect Pearing ($16) blends the venue's private barrel of Maestro Dobel Diamante Reposado Tequila, Luxardo Bitter liqueur, Cocchi Americano aperitif, St. George Spiced Pear liqueur, and Bittermens Scarborough bitters. 
"Tequila has so much structure that can stand up to a significant amount of different cocktail formats," Finn says. "In the past, Tequila was mainly combined with citrus and used to be a refreshing relief from a hot day, but today we see the spirit utilized in all sorts of modifications to very popular whisk(e)y cocktails such as the Manhattan, Old Fashioned, or Negroni." 
Indeed, Tequila-based Old Fashioneds are more popular than ever. At Arbella, Doose's Jalisco Old Fashioned ($17) comprises 1800 Anejo Tequila, Evan Williams Bourbon, Foro sweet vermouth, house-made pasilla mole syrup, and Fee Brothers Aztec Chocolate bitters; at Overstory, Ginsberg's Terroir Old Fashioned ($24) mixes toasted palo santo-infused Tromba Reposado Tequila; Domaine Benoit Badoz Cotes du Jura Vin Jaune, Yellow Chartreuse liqueur, house-made agave caramel, and sea salt; and at J.Bespoke, Trujillo's Agave Old Fashioned ($18) features 1800 Cristalino Tequila, Creyente mezcal, agave syrup, and Angostura, Regans' No. 6 Orange, and Bittermens Xocolatl Mole bitters. "The key behind the popularity of Tequila-based cocktails is innovation," Trujillo notes. "With more new ideas and the use of different ingredients, there will continue to be a rise in Tequila cocktails." 
Fandi Mata's Zica echoes this, noting that he believes mixology trends are based on the creativity, skills, and palate of bartenders. "Basically, it's up to us to deliver," he says. "Maybe we'll start making Dirty Tequila Martinis, where instead of olive brine and olives we use sea water and oysters. Who knows? Anything could happen." 
At Adalina's speakeasy the Rose Lounge, Finn does offer a Tequila Martini: His Astoria Martini ($48) comprises Maestro Dobel 50 Cristalino Tequila, Dolin Blanc and Dry vermouths, and The Bitter Truth Grapefruit bitters. "I look forward to seeing how much more Tequila can be utilized in stirred, spirit-forward cocktails—I love when the flavor of the Tequila shines through and I find that in stirred cocktails, it's much easier to identify the array of flavors," Finn says. "I put a Tequila Martini on our most recent menu at the Rose Lounge and although many people have scoffed at the idea, I use an incredible Tequila and I want it to be the star of the show."