More than a century ago, husband-and-wife duo Joseph and Esther Opici emigrated from Italy to New Jersey, where they began to sell imported wines they received from their friends back home. The operation, which became a small local business in 1913, grew steadily for years, only to be shuttered by Prohibition and then further stalled after Repeal by the Great Depression. But perseverance paid off, and the Opicis eventually returned to wine importing in a big way. What's followed has been a decades-long run of success for a company that now thrives under fourth-generation Opici family leadership.
Opici, which is based in Glen Rock, New Jersey, has been involved in every facet of the wine industry in its 100-year history. The company has been—and continues to be—not only an importer, but a producer as well. It has also become a major distributor along the East Coast, with wholesale operations in seven states and Washington, D.C. Opici Wines, the supplier arm, encompasses 35 wine brands and eight spirits labels, totaling roughly 700,000 9-liter cases and $40 million in revenue in 2018. Meanwhile, Opici Family Distributing represents 1,400 wine and spirits brands that have a combined 3.3 million cases annually and $350 million in yearly revenues. Growth is continuing at a rapid pace, especially for Opici Wines.
"We made a corporate decision to invest in Opici Wines, and our goal is to double our business over the next five years," says Don Opici, managing director of Opici Wines. He adds that in 2018 the company aimed for 12% growth and that it expects similar numbers this year. Historically, Opici put most of its resources into Italian wines, but that changed in 2010. "We decided to diversify the portfolio and become a global importer and supplier," Don explains. "We embarked on new relationships in Spain, France, and South America, and developed our own proprietary brands from California. I don't view us as an importer as much as I do a supplier. The growth of Opici Wines strengthens the corporation overall."
While imports are a key part of Opici Wines' business, the company has several proprietary brands, including LaLuca Prosecco, Julia James, Auspicion, Âme du Vin Côtes de Provence rosé, and Opici Family Authentic Sangrias. The company first started experimenting with winemaking in the early 20th century, focusing on Italian varietals and the growing California wine industry. Today, Opici Wines' proprietary labels make up roughly half of its total business, and Don says his team continues to search for additional opportunities that fit within its goals for quality and value.
"Opici Wines sources class-leading value wines from across the globe," Don adds. "Our development has expanded from Italy to include northern California, Marlborough, New Zealand, and France. We're quite proud of our heritage and are working to upgrade our proprietary selections for the next generation."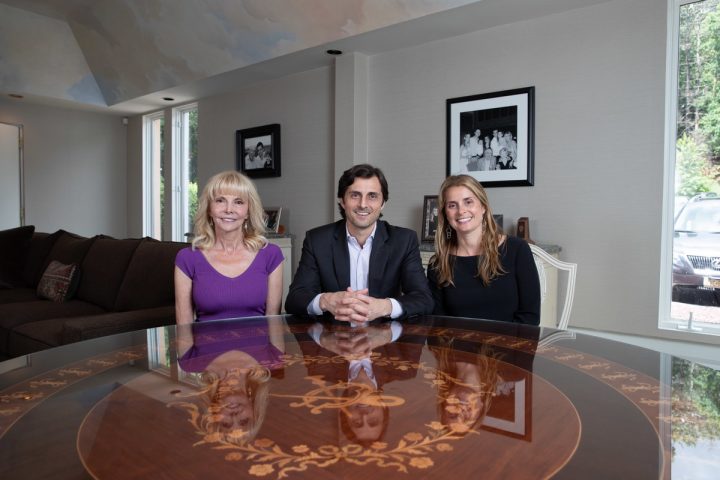 Wine Veterans
Wine is at the heart of everything the Opici family does. Even with the company's growth and diversification over the last decade, Italian wines remain the backbone of Opici's business. The company has relationships with Italian winemakers that span more than 50 years, and some of them have transcended simple business ventures. "We particularly value the relationships that started generations ago and continue today," Don says. "They're truly like family, and we look to emulate those relationships as we diversify the Opici Wines portfolio into France, Spain, South America, and New Zealand. Our foundation was and continues to be Italy."
Some of the company's more renowned Italian fine wine brands include Viberti from Piedmont, Vinosia from Campania, Cesari from Verona, and Carpineto, Luiano, and Fattoria di Magliano from Tuscany. The 2013 Carpineto Vino Nobile di Montepulciano Riserva clinched the No.-11 spot on Wine Spectator's Top 100 Wines list in 2018, and a few of Opici Wines' newer proprietary labels have also received notable accolades. Italy-sourced Alverdi Pinot Grigio and LaLuca Treviso DOC Prosecco were recently named Impact "Hot Prospect" brands, while French label Âme du Vin Côtes de Provence rosé was named a Top 100 value by Wine Spectator in its inaugural 2016 vintage. Upper-end labels Domaine Roux Père & Fils from Burgundy and El Coto from Rioja also often receive high praise, as do Argentinian brands Ruca Malen and Bodega Goulart.
"Diversifying the portfolio has made us a well-rounded supplier," Don says. "While our foundation will always be Italy, we can now fulfill a wide range of needs for our distributor network. Our history and mission have always been to source the highest-quality wines and spirits at the best price points, though we don't limit ourselves by price. We highlight unique brand qualities and consistently work to over-deliver on quality. We have a reputation that people can trust."
LaLuca Prosecco has surpassed 50,000 cases since its introduction a few years ago, and Don notes that the brand's 187-ml. mini-bottles are showing significant growth. The company also added the super-premium LaLuca Superiore Valdobbiadene DOCG Prosecco to the portfolio earlier this year. Italian labels such as Alverdi, Carpineto, and Viberti are all also on an upward trend. Elsewhere, the California brands Julia James and Auspicion have each grown to over 20,000 cases, and the company has high hopes for its new partnership in Rioja with El Coto, as well as for its renewed focus in Burgundy with Domaine Roux Père & Fils and in Sancerre with Domaine Fouassier.
"Our diversification and focus on developing our own brands in growing segments has helped to capture significant growth," Don explains. "Our California lifestyle brands Auspicion and Julia James, along with LaLuca Prosecco and Âme du Vin Côtes de Provence rosé, have accounted for over 100,000 cases of new business. We'll continue to enter growing categories while also representing our long-term agency partners."
Further cementing that family is a priority, several of Opici's proprietary wine brands bear the names of family members. LaLuca Prosecco is named for Don's first child and the Julia James label is named for his niece and nephew—the children of his sister, Dina Opici, who is president of Opici Family Distributing. The Villa Rosa label from Italy pays homage to Don's grandmother, Rose, the wife of Opici Wine Group founder Hubert Opici, who was the son of company forebears Joseph and Esther. Hubert passed away last fall at age 102. One of Opici Wines' newest proprietary labels, the Provence rosé La Maison de Rose, launched earlier this year and also bears the name of Don's grandmother. Rose and Hubert Opici's daughter, Linda, now serves as CEO of The Opici Group.
"Family has always been at the heart of the company," Don says. "My great grandfather, Joseph, was the ultimate entrepreneur and my grandfather, Hubert, was our patriarch and chairman. Our business has paid respect to them both over the years and will continue to do so."
Spirited Additions
The recent diversification of Opici Wines' portfolio also includes the addition of several spirits labels imported under the company's Market Street Spirits division. This group oversees eight spirits brands, led by Brinley Gold Shipwreck rum, a Caribbean spirit made in St. Kitts that includes White and Spiced varieties, as well as flavor extensions Vanilla, Coffee, Mango, Lime, Coconut, and Coconut Cream liqueur.
"The addition of quality spirits has added a new dimension and opened doors in both on-premise and retail accounts," Don says. "It's also made us more important to our distributor partners and has given them more reasons to work with us. We were seeing a lot of growth in craft spirits in our distribution company. As a supplier, we felt that we could offer the same opportunities to our wholesale network. The spirits business gives us more diversity and opportunity, along with additional revenue."
The Market Street Spirits division highlights craft labels. Along with Brinley Gold Shipwreck rum, the company's spirits offerings include the Meletti liqueurs portfolio, Distillerie Franciacorta grappas, the Highland Queen and Tullibardine Scotch brands, Rebellion American whiskies, The Temple Bar Irish whiskey range, and the pre-bottled Negroni Cocktail RTD brand. Don notes that the company aims to have a presence in several craft spirits growth categories and that it's looking into acquiring a Cognac brand next year. Additionally, Opici is considering the launch of its own proprietary spirits labels.
Expansion is imminent in Opici's wine portfolio as well. Don says he and his team members are always looking for new supplier partners and new winery entrants. They're also investing in new technology to better manage the business and increase efficiency. This includes a mobile engagement advertising strategy for the company's trade partners that will strategically connect consumers to the company's products in both retail and on-premise channels.
"We see the potential to build our Opici Wines business and have made it a corporate priority," Don explains. "We now have a team of 30, nearly double what we had in 2010. We've grown our presence nationally through greater sales coverage and a dedicated marketing team." Across the entire Opici business—including Opici Wines and Opici Family Distributing—the company has more than 600 employees.
The Opici Wines portfolio comprises approximately 15% of the total Opici Family Distributing portfolio. The distribution business—with operations in New Jersey, New York, Connecticut, Florida, Maryland, Delaware, Virginia, and Washington, D.C.—is run separately, though the divisions work together. "We operate hand-in-hand and provide a foundation for growth for each other," Don says. "While in many ways we have a typical supplier-distributor relationship, the shared ownership provides greater opportunity, priority, and focus for our business."
And as always, family comes first. "We want to be authentic and genuine," Don adds. "We're a family company with a long history and we represent mostly family wineries that span generations. But we're always looking at opportunities, whether it's from new wine appellations, emerging wine and spirits categories, or even alternative packaging. Any distributor could work with us and find anything they need, from world-class estates to trending new categories, all at relevant price points."