In the affluent St. Louis suburb of Clayton, Missouri, The Wine Merchant Ltd. plays host to more than 30 wine and spirits tastings and classes each month, with nearly half of them free to customers. Co-owned by Charles "Al" Prince and Jason Main, the store has adhered to this exhausting schedule since it opened in 1992. The program includes courses like "Intro to Burgundy," "Undiscovered Italy" and "Deluxe Single Malts," and most of them are taught by one of the The Wine Merchant's 14 employees. "There's no other store like ours in the country," says general manager Tom Nicholson. "Nobody else is this committed to education."
Indeed, The Wine Merchant's formula is so unique that it's difficult to replicate. In the 1990s, the company expanded with a couple of stores in nearby Ellisville and Creve Coeur, and both had closed by 2009. For now, additional expansion plans have been shelved. Main, who serves as vice president, oversees the day-to-day operations and says the business is probably destined to remain small and unique. "It's like a winemaker producing a great wine at 5,000 cases a year and then trying to make the same wine at 150,000 cases a year," he explains. "The wine will never be as good, and retailing is similar. You can't grow your business 10 times over and hope to maintain the same quality. We're committed to excellence, so we've given up our ambitions to open more stores."
Nicholson, who does all of the wine and spirits buying, draws another parallel in defending the aggressive tasting schedule at The Wine Merchant. "You wouldn't run a menswear shop and expect a guy to buy a sweater without trying it on first," he says. "Wine is the same thing. Let people taste it before buying, and your sales will be much better."
Competitive Market
Greater St. Louis, an area with a population of about 3 million, faces all the usual big box and national competition, including Costco, Sam's Club and Trader Joe's. Total Wine & More recently made its entry in the region with a store in Town and Country. The four-store Randall's chain, owned by Market Watch Leader George Randall, is a formidable foe, as is specialty shop The Wine and Cheese Place, which has a Clayton location. However, The Wine Merchant has carved out a connection with serious collectors and upscale wine and spirits lovers in the area. It's the destination of choice for consumers seeking rare labels like the 2011 E. Guigal Côte-Rôtie La Landonne from the Rhône ($450 a 750-ml. bottle) or the 2006 Méo-Camuzet Richebourg Grand Cru from Burgundy ($800).
Distributors love the place too. Jason Ledbetter—Missouri market manager for the Italian wine importer and wholesaler Tavolo Vignetto—spent a recent Saturday afternoon serving small pours to some 40 customers in The Wine Merchant's main tasting bar. "It's fantastic here," Ledbetter says. "I wish they'd invite me back to taste every Saturday."
Loyal employees rarely leave The Wine Merchant to work elsewhere. The company offers such benefits as paid sick days and vacation time, health insurance, and frequent trips to wine country. "Travel is an important part of wine retailing, particularly for a store like ours that does a lot of hand-selling," Main says. He's sensitive to his workers' shifting moods. If he detects that a salesperson is getting burned out, Main will offer him or her a different shift or a trip to Chicago for a wholesaler event. "People don't quit companies," he adds. "They quit bosses and managers who won't pay them fairly or allow them to advance their careers. We don't want employees to get jaded and tired. We try to keep them motivated and make this place fun."
Company Transitions
The Wine Merchant almost lost Main himself. Prince, a housing contractor with a background in construction and a passion for fine wine, founded the store in 1992 in a 10,000-square-foot space about two blocks from the current site. His minority partner, John Nash, ran the day-to-day business, while Prince came by twice a week to handle finances.
Main joined The Wine Merchant in 2006 to work the sales floor. He showed a flair for seeking out hard-to-find releases and establishing relationships with important customers. Three years ago, Main was about to move on to a management job at a wine bar when Nash cashed out his interest in the business, and Prince needed a replacement. He offered a one-third stake in the business to Main, who gladly accepted.
Main likes the arrangement. "Al trusts us and doesn't watch over us all the time," he says. Prince, who serves as president, is a ready source of capital and negotiated the move to a former bank building in the middle of Clayton. The Wine Merchant relocated in June, and the new store has 8,000 square feet of selling space on the main floor, 5,000 square feet of storage in the basement, and a second-level mezzanine for offices, tasting rooms and an event space.
Mixed Assortment
The Wine Merchant stocks 2,300 wine SKUs, 1,500 spirits SKUs and about 100 beers, most of them local craft brands. Wine represents 65 percent of sales and the selection turns over six times a year, while spirits total 20 percent, beer accounts for 7 percent, and cheese and glassware comprise the remainder. With a policy that calls for matching any competitor's price, the margins are modest. The gross markup for wine is 22 percent to 24 percent, and for both beer and spirits, it's 15 percent to 18 percent. A heavily promoted label like the 2014 Kendall-Jackson Vintner's Reserve Chardonnay is sometimes priced just $0.49 over the wholesale cost of $9.50 a 750-ml. bottle. Similarly, the 2014 Santa Margherita Pinot Grigio is priced at $17.99 and costs $17 at wholesale.
Nicholson concedes that profits are a challenge. "But we have to compete," he says. The Wine Merchant had sales of $7 million last year—a down period—but Main doesn't blame the economy or merchandising for that performance. "We had some poor vintages to sell in 2014," he notes. "The 2011 Napa Cabernets, the 2010 and 2011 Burgundies, and 2010 Rhônes were all only okay. We've sold through most of them by now." With the stellar 2012 California wines and 2012 Washington reds to sell this year, Main says 2015 sales have been trending up by 13 percent.
Wine ranges from $5 a 750-ml. bottle for the 2013 Cardiff Cellars Chardonnay from California to $8,000 for the 2012 Domaine de la Romanée-Conti. Offerings from the United States account for 30 percent of wine sales, with France comprising roughly 25 percent and Italy bringing in 15 percent. Missouri is home to a burgeoning wine industry, and local labels like the 2010 Chandler Hill Vineyards Old Bridge Chambourcin ($16) are well represented with a special end-cap display. But the company prominently features its high-end inventory. A California wine rack, located a few feet from the front door, holds the 2012 Peter Michael Les Pavots red blend ($180) and the 2011 Staglin Family Vineyard Estate Cabernet Sauvignon from Rutherford ($190).
Spirits range from $11 a 750-ml. bottle for Gordon's gin to $2,900 for the Louis XIII de Rémy Martin Cognac. Whisk(e)y takes up an entire wall, and the store's Bourbon sales have jumped 40 percent over the past four years. Some 200 spirits are kept open at all times for sampling. The selection includes Fireball cinnamon-flavored whisky ($19), four variants of Grey Goose vodka ($30), Ungava Canadian gin ($29) and the Bunnahabhain 18-year-old single malt Scotch whisky ($136). The best-selling spirit is Tito's Handmade vodka ($18 a 750-ml. bottle; $31 a 1.75-liter bottle). Beer, meanwhile, starts at $6.49 a six-pack of 12-ounce bottles for Bud Light and tops out at $20 a 750-ml. bottle for the barrel-aged Rye Day the 13th from Breese, Illinois' Excel Brewing Co.
Not surprisingly, The Wine Merchant gets its fair share of allocated products. However, rather than parceling out a bottle or two to its very best customers, the store will put the rarity out at a tasting event. For Pappy Van Winkle's Family Reserve 23-year-old Bourbon, The Wine Merchant stages a couple of special tastings a year. Events for sought-after whiskies like Pappy cost $35 and are limited to about 40. "You can sell one or two bottles and make one or two legendary friends for the store, or you can put it out for tasting and make 40 pretty good friends," Nicholson explains. "We think it's more profitable to take the tasting route."
Curated Approach
Service assumes an exceedingly high priority. Nicholson and the sales team will get virtually any label that a customer requests. The entire staff gets to taste products when distributor representatives visit on Thursdays, and each employee can suggest items for the shelves, though Nicholson makes the final decision. "With one buyer, reps know exactly who they have to call," he explains. "There's less chance of screwing up our financial planning. We can get better control over inventories."
The Wine Merchant has an email list of more than 10,000 names that it uses to promote in-store specials and new-arrivals. Yet the retail outlet doesn't offer e-commerce or display its inventory online. Main aims to avoid collectors who shop long distance and might snap up trophy bottles before his regular customers have a crack at them. Nicholson worries that there's too much competition online and plans to eventually pick around 100 "cool items" each month for selling on the website. "It could be an Amarone that we've discovered or a really tasty rosé from Provence," he explains. "We'd just do a very streamlined process that wouldn't require too much time."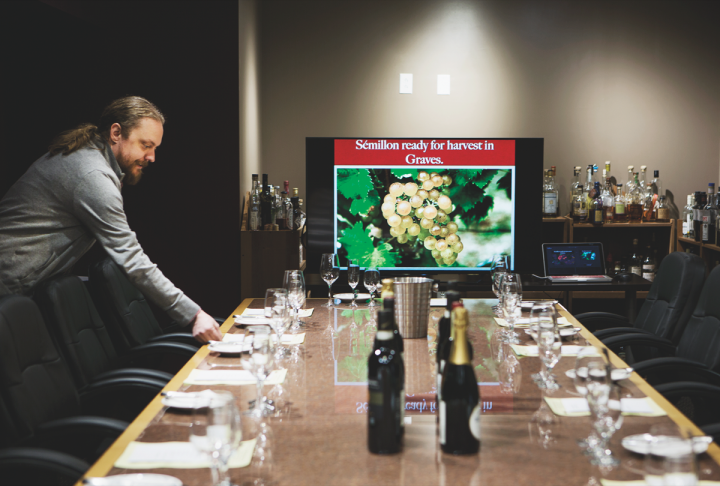 Main says the classes and tastings bring solid returns. The schedule is dizzying: During a single week in August, The Wine Merchant offered classes titled "Whiskey Primer," "France 101," "Chardonnay Showdown," "Oregon and Washington," and "Wine and Food with Mai Lee," which paired wine with Vietnamese cuisine. A few free tastings rounded out the lineup.
Most of these events take place in a conference room that holds 20 people. They run 90 minutes and always encompass at least a half-dozen bottles. The staff ordinarily does the teaching, although in some cases, winemakers will appear as guest instructors. Producers can also be featured via Skype using the store's video system. Class prices typically range from $25 to $40 a person and include cheese and other light bites.
The Wine Merchant periodically hosts pairing events as well. One featured Domaine Serene wines from Oregon in a five-course meal at the French bistro Franco in St. Louis. The menu featured dishes such as lièvre à la royale—rabbit with foie gras and black truffle accompanied by English pea purée and pommes dauphine—paired with the 2011 Domaine Serene Evenstad Reserve Pinot Noir. The wine retails for $63 a 750-ml. bottle at the store, and guests paid $85 each to attend the dinner.
Main admits that sometimes the return isn't immediate. "I've seen tastings where we don't sell a single bottle at the end of the night," he says. "But then a week or two later somebody who was in attendance will remember a label they liked and return here to buy an entire case."
Though densely merchandised, the new store has a better layout for customers than the old one. Main and his crew are quickly settling in, and business is improving. But with classes and tastings like "Burgundy vs. USA" or "Vintage Cocktails" to plan, there's hardly any time to relax. Each day is a blur of movement, and nobody takes anything for granted.