Premiumization has been a buzzword in all beverage alcohol categories for years, with consumers seeking quality even if it comes at a higher price. That trend has now spilled over into mixers. Once the domain of mass-market sodas, tonics, and juices, the mixers sector is exploding with high-end, crafted products designed to pair with spirits for an upscale drinking experience. Bartenders and consumers alike now care about every aspect of the drink—not just the spirit.
"If three-quarters of the drink is the mixer, then you should care about the mixer as much as you care about the spirit," says Charles Gibb, CEO of North America at upscale mixers company Fever-Tree. "People love to order their spirits by name, but as soon as you get that horrible soda gun out, you've destroyed a master distiller's years of work by not respecting the spirit."
Jaron Berkhemer, vice president of marketing for Q Mixers, shares this philosophy. "If you're going to think about better cocktails, better ingredients, and better living overall, a lousy mixer just doesn't make sense," he says.
Fever-Tree and Q are two standouts in a burgeoning market for high-end mixers, and many others are emerging. Some are recent entrants with plans for national distribution, some are established overseas brands looking to break into the U.S. market, and some are local players. Gibb notes that Fever-Tree is the market leader, but adds that the category still has massive potential. "Depending on which studies you look at, the premiumization of mixers is certainly less than 10%," he says. "It's probably between 6%-8%. And yet, if you look at the spirits market in the U.S., it's 45% premium spirits."
West coast retail chain BevMo has recognized the shift. "The lion's share of our mixers business still comes from budget-friendly brands, but there has definitely been growth in demand for premium labels in our stores," says buyer Alicia Harrell. "We did a reset of our mixer assortments this year, and one of our big initiatives was to introduce more premium mixers."
Among the emerging brands are Agalima, which offers an organic line that includes sweet & sour mix, Bloody Mary mix, and Margarita mix; Barsmith, which offers basic lime juice and simple syrup as well as cocktail-specific mixers for Dirty Martinis, Old Fashioneds, and more; and Owen's Craft Mixers, which carries flavor blends such as mint-cucumber-lime and ginger beer-lime, among others. "We're definitely open to new brands and innovation," says Harrell. "There's always room to accommodate the changing landscape."
Many of the new breed of mixers are formulated for specific spirits types. Q Mixers, for example, has an Indian tonic water in its lineup, separate from its standard tonic, that's designed for pairing with London Dry gins. The company also likes to pair its Spectacular Grapefruit soda with Brown-Forman's Herradura Tequila.
Fever-Tree takes a similar approach. The brand's Spiced Orange ginger ale, launched this year, is designed for pairing with Cognac and whiskies, while its Smoky Ginger ale complements mezcal and peated whiskies. Last September, Fever-Tree partnered with Patrón Tequila to release a citrus tonic water flavored with Mexican lime, tangerine, and bitter orange. "Innovation has always been a part of Fever-Tree's history," Gibb explains. "We look at what our spirits partners are trying to achieve and promote—as well as consumers' habits—and work to help them create delicious cocktails and exciting drinking experiences."
Competition Heats Up
The success of premium mixers in recent years has led to new initiatives by a number of producers, all seeking a share of this burgeoning sector. Affinity Beverages LLC started with Regatta Classic Bermuda Stone ginger beer and has since expanded its range to include Dry Citrus Sparkling tonic, Pacific Sea Salt club soda, and Royal Oak ginger ale. "The brand had such a strong history in ginger beer, but it was time to broaden the portfolio," says Affinity CEO Sam Zarou. "We see Regatta evolving in a few ways. First, we see ourselves going even deeper into our core on-premise business. Regatta has been a 'bartender's choice' in ginger beer for some time now. We'd like to build on that by supplying our accounts with other premium craft mixers to make their drink menus more interesting. We've also developed new products and packaging to expand our position at retail."
Diamond Importers, Inc. has been importing Three Cents sparkling mixers, a Greek brand with a multinational presence, for roughly two years. Diamond president and owner Ted Diamantis acknowledges that it's been a "tough introduction" but says the brand has gotten a lot of traction over the past eight or nine months. Three Cents is currently in about 20 states but the goal is national distribution. "Finding distribution is difficult, because our wine and craft spirits distributors aren't necessarily set up to sell non-alcoholic products," Diamantis notes.
Created by bartenders, Three Cents mixers feature "over-carbonation and less sweetness," Diamantis says. "We're creating flavor profiles so we're not simply competing as a commodity product. It's not just about being a mixer, it's about making a specific cocktail. For example, we have a pink grapefruit soda that is built for Palomas." The line also includes products such as Cherry soda, Sparkling lemonade, and Gentlemen's soda, which features bergamot, mandarin orange, and other flavors.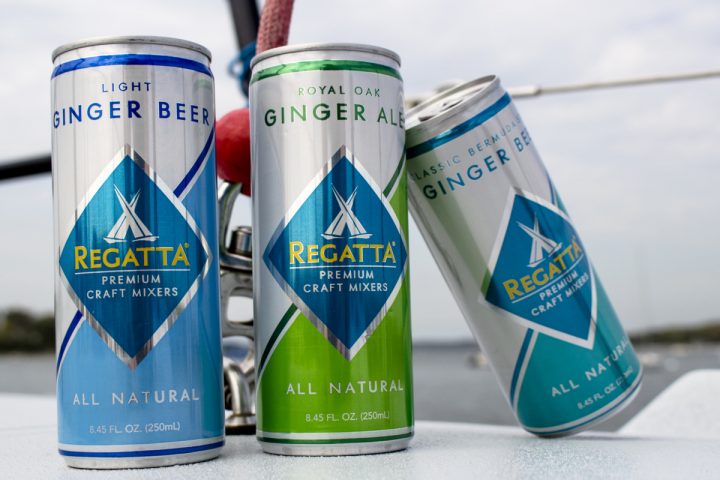 In a crowded field, name recognition could prove to be a plus. Jon Taffer, star of Paramount Network's hit series Bar Rescue, is getting in the game with his Mixologist brand, which was on the verge of a national launch at press time. The brand will target the off-premise before expanding into the on-premise, according to co-founder Jay McGraw. The line includes Bloody Mary, Cosmopolitan, Mojito, Piña Colada, and several Margarita variants.
Also up and coming is The London Essence Co.—originally founded in 1896 on the banks of the Thames and re-launched in 2016—which made its New York City debut this past March. Positioned mainly as an on-premise play, the brand has a presence in 12 states and is discussing further expansion, according to co-founder Ounal Bailey. "London Essence is the only premium mixer brand that uses the process of extracting signature distilled essences from the botanicals, highlighting the purest form of flavor in every product," Bailey says. "This method has allowed us to create a range of mixers layered with subtlety and depth, maintaining a flavorful and sophisticated taste without the use of any artificial sweeteners. Thus the London Essence collection is uniquely delicate and always lower in sugar and calories."
Trade Acceptance
There are, of course, many other brands vying for bartender and consumer attention. And thus far, the trade is open to the growing number of offerings. Jim Shpall, CEO of Applejack Wine & Spirits in Wheat Ridge, Colorado, is devoting shelf space to mixers in line with consumer interest. "We have a considerable amount of linear feet devoted to mixers, because we don't know what's going to entice people," he says. "We curate these brands, just like we curate wines. We bring them in, but sales dictate what remains and what's pushed aside." At BevMo, Harrell says customers are increasingly trading up. "We're seeing nice growth in the tonic and club soda set," she says. "That's because consumers are turning toward low-calorie and low-sugar beverages."
And while retailers such as Austin Keith, president and owner of West Texas beverage alcohol chain Pinkie's, are seeing a small uptick for premium mixers—especially Fever-Tree—it's a different story on-premise. "It's really growing in the on-premise more," Keith says. But the on-premise can be a tough sell, especially in cocktail-centric bars that lend themselves to artisan mixers. In more upscale venues, many bartenders prefer to make their own. Mat Snapp, beverage director for Fox Restaurant Concepts, which boasts more than 50 restaurants, is impressed with the quality he has seen emerge in the mixers sector in recent years. While he prefers to make his mixers in-house, Snapp says he uses Fever-Tree products fairly regularly.
"We started with freshly squeezed citrus everywhere, so that immediately eliminates an entire cadre of bar products," Snapp says. "We don't use a lot of flavored things. For the most part, we aim to make it ourselves. If we can figure out a way to make it ourselves and write a recipe that's clear enough and concise enough for people to duplicate, then that's what we do."
Scott Jenkins, beverage director for cocktail bar Hide in Dallas, takes a similar approach. "Some people use the mixers, and some people want to make their own," he says. "I personally like to make my own, but I've used some of the other ones. I like Fever-Tree and East Imperial tonics, in terms of quality." Despite his general reticence, Jenkins is open to new products. "If you're not, you'll miss out on something great," he says. One brand that recently came on his radar is Addition, a Seattle company making savory cocktail spices and beer sauces. "They have cumin, curry, garlic, turmeric—really cool stuff," Jenkins says. "You can take classic cocktails and give them a savory edge, or create new cocktails. In terms of commercial accessibility, these are nice because they're already done for you and they're really clean and concentrated."
One other potential roadblock of adding premium mixers to a bar program is the cost. "The quality of mixers is getting better and better," Snapp notes. "The issue that I run into is cost. For great ingredients in great packaging, sometimes that comes with the kind of a cost where if you're not careful, the mixer costs more than the spirits."
That might be an exaggeration, but producers are zeroed in on cost and, in general, feel that the premium price tags are warranted. "Price is something we watch closely," says Zarou of Affinity Beverages. "Today's consumer is more educated. They recognize that it costs more to deliver a product with high-quality ingredients, and they've shown that they are willing to pay for it. We try to strike a balance between making it attainable and profitable."
Fever-Tree's Gibb notes that, regardless of cost, a better cocktail can also ensure repeat business. "Obviously, when you're selling a higher-end product, you sell it at a premium," he says. "The cost is not being engineered out of Fever-Tree—in fact, it's quite the opposite. We spend a lot of money finding the right ingredients, sourcing them, and all the rest of it, and we charge a higher price. But people are willing to pay more for quality. A consumer will come back and have a second drink because they had such a great drinking experience the first time. In the end, it actually makes you more money."