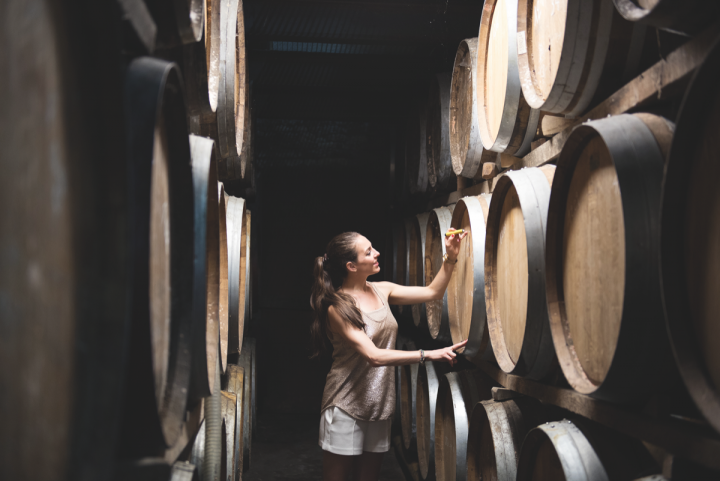 Two trends have dominated beverage alcohol in recent years: premiumization and the brown spirits boom. Both have converged in the rapidly growing niche category of world whiskies. Originating from outside the traditional whisk(e)y-producing countries of Scotland, Ireland, the United States and Canada, world whiskies range from single malts and single grains to blends. They're made in many types of stills and aged in an array of barrels for varying lengths of time. World whiskies don't have a uniform flavor profile—and that's one of the reasons for their growing popularity.
"These products aren't trying to emulate Scotch whisky," says Raj Sabharwal, founder and partner at Purple Valley Imports. The company imports single malt whiskies from The English Whisky Co., India's Amrut distillery and Australia's Tasmania distillery, which makes the Sullivans Cove brand. "They're doing their own thing," he adds.
Allison Patel, founder of the French single malt Brenne, agrees. "French distillers used to brag that in a blind test, you couldn't taste the difference between their whisky and Scotch," she explains. "I didn't think that area was the opportunity for world whisky." Brenne is made in Cognac using estate-grown barley and a Charentais alambic still. "When I first tasted Yamazaki 18-year-old Japanese whisky, I wondered whether I liked it better than other whiskies because of its terroir and started to ask if terroir existed for single malts like it does for wine," Patel adds. She began importing terroir-driven world whiskies before launching Brenne in 2012.
Retailers are seeing the benefits of the category's diversity. "The consumer's guard comes down for international whiskies," says Denis Lynch, general manager and spirits buyer at Vine & Table in Carmel, Indiana. "They're open to suggestions and aren't as focused on whether it's a blend or a single malt. Many customers expect higher prices and are willing to pay more for world whiskies." Lynch adds that shoppers have been receptive to Nikka Taketsuru Pure Malt ($64.99 a 750-ml. bottle). "We sell a lot of blended malt from Japan, but have a hard time getting people to drink a blended malt from Scotland," he notes. "It's the same with grain whisky. Nikka Coffey Grain sells well at $69.99, but the grain whiskies we have from Scotland sit on the shelf."
At Julio's Liquors in Westborough, Massachusetts, owner Ryan Maloney has also noticed openness to world whiskies. "People are willing to try something new if it comes from a place like Japan," he says. "They don't have preconceived notions about these products. When we let people try them, they get it." Maloney notes that blends and non-age-statement whiskies have generated excitement among consumers. "There are so many creative expressions," he says. "World whiskies have a whole new palette of colors to play with." Top-selling SKUs at Julio's include Hibiki Japanese Harmony ($69.99 a 750-ml. bottle) and Nikka Coffey Grain ($64.99), both from Japan.
Japanese Jump
The category's rise has happened quickly, and nearly everyone credits Japanese whiskies as the catalyst. "When Japanese whisky took off, it opened the door to the rest of the world," Brenne's Patel says. "I thank Japan for creating this opportunity in the consumer's mind. If people can get hip to Japanese whisky, they might be open to whiskies from other places as well."
Retailers have witnessed this evolution first-hand. "We had just a handful of world whiskies a few years ago, but now we have around 30 SKUs," says Lynch of Vine & Table. "Interest has increased exponentially." At Astor Wines & Spirits in New York City, spirits buyer Nima Ansari has had a similar experience. "It's been incredible to see the category emerge from relative obscurity to become a worldwide phenomenon," he says. "The recent success of Japanese whisky has made it easier for whiskies from other areas to gain acceptance. Consumers are realizing that the whisk(e)y world is much bigger than they thought." Some of Astor's best-selling world whiskies include Kavalan Classical single malt ($84.99 a 750-ml. bottle) from Taiwan and Shinshu Mars Iwai Tradition blended whisky ($54.99) from Japan.
The e-commerce website Caskers partners with 12 retailers nationwide to sell a variety of spirits, including several world whiskies. Cofounder and CEO Steven Abt says that Japanese whiskies are some of the hottest items on the site.  "The cost of Hibiki 12-year-old doubled in the past year, and it still sold out in five minutes," he explains. "Japanese whiskies are very well made, and people respect the craft that goes into them." Caskers sold its recent allocation of Hibiki 12-year-old for $89.99 a 750-ml. bottle. Abt notes that Amrut ($49.99 to $109.99) is another popular brand, and Caskers has a hard time keeping it in stock. "Amrut doesn't have a tremendous amount of name recognition, but it has sold very well," he adds.
At The Whisky Shop in San Francisco, whisky specialist Mark Cassidy has watched world whiskies develop from obscurity into hot-ticket items. "We started selling Japanese whisky seven or eight years ago," he says. "In those days, people hadn't heard of it and it wasn't expensive. It would sit on the shelf for weeks." These days, it's a different story. "We've had whiskies we could hardly persuade anyone to buy," Cassidy explains. "Then they win an award, the price goes up by $35 and people are ordering eight bottles at a time."
Indeed, awards and positive reviews often spur consumers to seek out particular brands. The Kavalan range of single malts has become popular in recent years after reaping numerous accolades. "Kavalan is growing at 250 percent right now," says Dennis Carr, president at brand importer Anchor Distilling Co. "The distillery is well-financed and has the resources to expand, so we're able to stay in stock on the core expressions." Anchor also imports Nikka's range of Japanese single malt, single grain and blended malt whiskies, which Carr notes is up 50 percent this year, despite the limited availability of several age-statement expressions.
Tight Supply
Allocations have become de rigueur for many world whiskies, especially those from Japan, but also for small-production brands that have gained notoriety. Sullivans Cove French Oak Cask was named "Best Single Malt" at the World Whiskies Awards in 2014, and Purple Valley Imports' Sabharwal says that set off a surge in demand that hasn't ebbed. "We can't get enough of any expression to supply the market," he explains. "People want anything from Sullivans Cove. Three years ago, I had 50 or 60 cases sitting in a warehouse because everyone told me it was too expensive. As soon as it won an award, everyone wanted it." Sabharwal has seen pricing for French Oak Cask on the secondary market top $1,000 a bottle and several hundred dollars for the brand's other expressions. "Unfortunately, there's no way to control secondary market pricing, but we get a spin-off reaction," he says. "Demand for the French Oak Cask drives sales of the other SKUs."
The halo effect of allocated whiskies has led to new expressions from producers eager to capitalize on market demand. Beam Suntory is mitigating its tight supplies of age-statement single malts with such products as Hibiki Japanese Harmony ($64.99 a 750-ml. bottle) and Suntory Whisky Toki ($39.99). Both are non-age-statement blends designed to introduce new consumers to Japanese whisky. "We want to have flexibility," says Suntory whisky brand ambassador Gardner Dunn. "Demand for our products is growing significantly and posing allocation issues. Blending multiple component whiskies, regardless of age statement, helps when adjusting to this rapid change."
As with in-demand Bourbon and Scotch, retailers have come up with different ways to spread their allocations of world whiskies. Some hold lotteries, while others maintain a VIP list of customers who get first dibs. At Julio's Liquors, customers who reach a threshold of purchases get a card, which they can enter into a lottery for an allocated product. Those who win get the chance to buy the product, while the others get their card back to use again in the future. "It's a little extra work for us, but it's the fairest system we could come up with," Maloney explains.
Even when customers aren't able to get their hands on a particular in-demand expression, Ansari at Astor Wines & Spirits directs them to alternatives. "As soon as one spirit disappears, there are multiple new and interesting things to fill the gap," he says. "We encourage people to try as much as possible. It's a big part of what's so exciting about the category in the first place."
Retailers and marketers agree that typical world whisky consumers are curious about new products. Many are millennials, often new to the whisk(e)y category. "They may have been drinking flavored whiskies and are now looking for something else to try," Maloney says. "We get a lot of converts from craft beer, as well as seasoned Scotch drinkers." At The Whisky Shop, Cassidy has also noticed whisk(e)y newcomers flocking to international brands. "People have heard that Japanese whisky is good," he says. "They may not know what they're looking for, but we try to introduce them to the products."
Sabharwal of Purple Valley Imports notes that world whisky consumers are open to new experiences. "They want to make up their own minds," he explains. "They don't want to be told what to drink. Part of it is the novelty of drinking something different, but it's also the attitude and willingness to try something unique."
Opening Minds
Consumer receptiveness helps, since education is key to the success of any new category. "We want people to recalibrate their expectations and taste with an open mind," Astor's Ansari says. "They shouldn't expect a single malt from India to taste like a Scotch. Once they get past that, they embrace these spirits."
Where legal, retailers often pour samples of whiskies for shoppers who aren't sure what to buy. Others host tastings and large-scale events. "We encourage people to taste without knowing anything about the marketing and then see where the conversation goes," says Lynch of Vine & Table. "Consumers want to know whether the bottle they're looking at will be as good as a bottle from a traditional whisk(e)y-making country. They're open to experimentation."
Blind tastings are a popular method for convincing skeptical consumers of the merits of nontraditional whiskies. Sabharwal of Purple Valley Imports pours six or seven single malts without revealing their age or provenance until the end. "Invariably, people are surprised that their favorite came from India, England or Australia," he explains. "It really opens their eyes." Maloney has had similar experiences at Julio's blind tastings. "Many consumers don't realize that great whisky can be made anywhere," he says. "We put Armorik Breton single malt in blind tastings to see people's reactions. They're blown away when they find out it's from France."
Carr of Anchor Distilling points to the importance of retail and on-premise accounts in educating the public. "So many of us were conditioned to think the best whiskies in the world came from Scotland," he notes. "Scotland makes great whiskies, but other places do too. We're trying to work with retailers, bars and restaurants that emphasize educating their customers. If a consumer spends $20 trying a whisk(e)y from a new country, their interpretation of what great whisk(e)y tastes like can change."
As producers gradually overcome allocation issues, new brands from a variety of countries enter the market and consumer  knowledge increases, the world whisky category will continue its dynamic evolution. Already, retailers are looking forward to offerings from new locales. "There's real excitement with brands from Europe," says Vine & Table's Lynch. "Distilleries are popping up here, there and everywhere. And when brands from Germany, Belgium and other countries start hitting the U.S. market, that's going to drive the business."
Brenne's Patel also sees great opportunity going forward. "We're just scratching the surface," she says, noting how many restaurant and bar menus have yet to list a section specifically for world whiskies. "The potential is so big, but it's going to take a lot more hard work, focus and continual education. We have to keep creating a space for people to be welcomed into whisk(e)y. Wine went through decades of consumer education in the United States, and I think whisk(e)y is having its moment now."