In a crowded and competitive beverage alcohol retail market like Florida, standing out from the pack can be a difficult task. But the owners of the Fort Lauderdale–based Crown Wine and Spirits have found a way to differentiate their stores by focusing on upscale products in a relaxed and personalized atmosphere that appeals to a wide variety of shoppers. The company, founded by Stanley Kassal in 1955, has grown and changed dramatically over the last 60 years. Liquor Management—which purchased Crown from Kassal's sons, Michael and Paul, this past January—has ambitious plans going forward, including rapid expansion throughout the Sunshine State.
Wine buyer Veronica Litton has worked at Crown Wine and Spirits for nearly 30 years. The wine guru learned her expertise on the job and now manages a multimillion dollar inventory for the company, which spans 13 units along South Florida's Atlantic coast. Crown's revenues reached $35 million this year, with 43 percent of sales coming from the wine category.
"This is the only job I've ever had," Litton says. "I started on the sales floor, became a manager and then graduated to head of the education program for the chain. About 10 years ago, I started training with the wine buyer, and five years ago, I became the sole wine buyer for the company. It's been extremely rewarding. This business is my passion, my career and my life. It's not work—it's what I like to do." For the company's longevity and for her dedication to the wine business, Veronica Litton has been named a 2015 Market Watch Leader.
Wine Immersion
Litton says she caught the wine bug early on. She took wine classes at Florida International University in Miami and earned a degree as a certified specialist of wine from the Society of Wine Educators. She also regularly attends industry events and visits wineries, and her husband works in the fine wine division for Republic National Distributing Co. in Florida. Litton founded the South Florida Women's Wine Association in 1996 and remains active with the group today, helping to coordinate luncheons and bring female wine professionals to the area.
"I've always been extroverted, and that's helped me a lot," Litton explains. "I love talking to people about wine. I spend a lot of time at the office and help furnish about 1,500 selections for our stores. I train employees and lead wine classes for consumers. I like to make myself available."
Crown Wine and Spirits offers between 1,200 and 1,400 wine SKUs in each store, and wine revenues top $15 million annually. The chain's units average 4,000 square feet in size. When Crown launched in the 1950s, it focused on discount labels, but as the company has grown, so has the wine selection. Today, fine wines and boutique labels make up a good chunk of the business. "We've grown by staying one step ahead of the sophistication of our customers," Litton says. "We've found a niche in hand-selling specialty products and we've seen a shift to more high-end wines. Our sales echo industry reports that say people are turning to more expensive specialty labels."
Litton organizes the chain's wine displays by region for Old World offerings and by varietal and then region for New World products. The stores use a mix of wine racks, shelving and case stacks, and they regularly change featured displays. Sparkling wines are performing well, especially American sparklers, and Litton says domestic Cabernet Sauvignon, Sauvignon Blanc, Pinot Noir and Pinot Grigio are also popular, along with rosés. Crown's top-selling wines include Santa Margherita Pinot Grigio ($18.97 a 750-ml. bottle), Veuve Clicquot Yellow Label Champagne ($43.97), Kendall-Jackson Vintner's Reserve Chardonnay ($11.97), Meiomi Pinot Noir ($19.99) and Stratton Lummis' The Riddler red blend ($21.99).
The stores emphasize established brands over proprietary selections, though they do offer a handful of private-label wines, including an Italian Pinot Grigio, a New Zealand Sauvignon Blanc, a Cava, a Prosecco and a few California offerings. Litton says familiar labels do better for the company, and she prefers to promote winery partners with history and credentials who also support Crown, such as Maison Louis Latour, Folie à Deux, Ferrari-Carano and Champagne Nicolas Feuillatte.
"I always tell our vendors not to bring me wines that sell themselves," Litton says. "We have wonderful employees who love the challenge of teaching customers about new products and regions. Our service is the key to our success. We know most of our customers and aim to be open and friendly when they come in. We constantly host events and tastings to engage consumers."
Crown holds casual in-store tastings weekly, usually sponsored by a supplier who has a representative on hand to talk about the products. The stores also host more formal monthly events that feature up to 50 wines at a time. Consumers pay $15 to attend these sessions and receive vouchers they can use on future purchases. At the high end, Crown offers ultra-premium wine tasting events twice a year for a $25 entrance fee that gives consumers access to roughly 40 wines priced between $50 and $100 a bottle.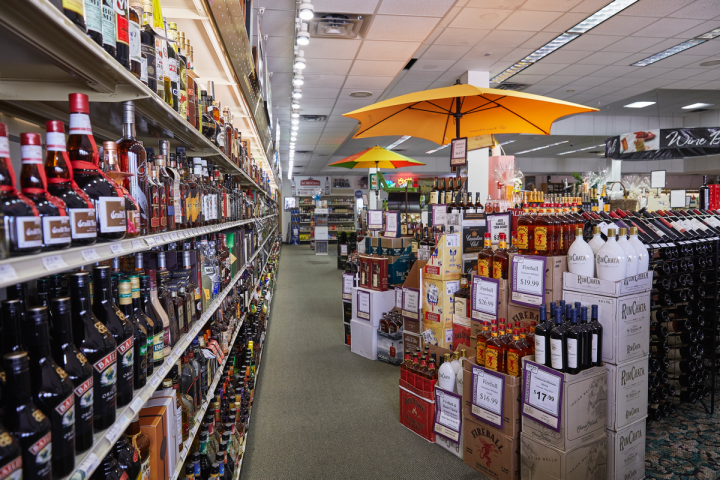 Premium Push
Upscale products do well at Crown Wine and Spirits because the stores are located in affluent neighborhoods. The company works hard to tailor each store to its geographic area, offering some products in only one or two locations. Along with upscale wines, the stores stock a range of premium-and-above spirits and craft beers, as well as gourmet foods, gift baskets and cigars.
"Our stores provide a gourmet experience," Litton says. "We sell add-ons and offer education so that we can always provide something new to consumers. People have us in mind all the time, and it makes us a destination."
Crown boasts 1,000 to 1,200 spirits SKUs at each store. Spirits comprise 40 percent of overall sales, led by vodka. Top-sellers include Tito's Handmade ($29.99 a 1.75-liter bottle), Smirnoff ($19.97), Ketel One ($38.99), Absolut ($29.97), Pinnacle ($17.99) and Grey Goose ($27.97 a 750-ml. bottle). Beyond vodka, Captain Morgan Original Spiced rum (21.97 a 1.75-liter bottle), Dewar's blended Scotch whisky ($29.97), Bacardi Silver rum ($19.97), Fireball cinnamon-flavored whisky ($16.99 a 750-ml. bottle) and Jack Daniel's Tennessee whiskey ($21.97) also do well.
"We've seen a tremendous shift toward upscale spirits products and a spike in high-end whiskies, brandies and Cognac," Litton says, adding that single malts, hand-crafted Bourbons, single barrel offerings and limited-release labels are all garnering interest. Crown keeps ultra-premium spirits in locked display areas within the stores and features cross-merchandising displays within the general spirits area. The company also hosts occasional high-end spirits dinners. A recent event featured Louis XIII de Rémy Martin Cognac and sold four bottles: three 750-ml. bottles at $3,000 each and one 1.75-liter bottle for $6,500.
Beer is a smaller contributor to overall sales, making up 6 percent of revenues, but Crown boasts a large selection of craft labels and highlight locally produced offerings by Florida breweries like Funky Buddha and Cigar City. Overall, the stores carry 600 to 800 beer SKUs in each store. Top-sellers include Corona Extra ($17.47 a 12-pack of 12-ounce bottles), Heineken ($16.97) and Stella Artois ($18.99), as well as Bud Light, Coors Light and Miller Lite (all $13.47 a 12-pack of 12-ounce cans).
Crown's gourmet food selection includes items like cheese, charcuterie, tapenades and baked goods, and the stores offer cigars as well. "We have a lot of regular customers who drive further to come to us, even if we're a bit out of the way," Litton says. "Florida is an extremely competitive market, but our gourmet items set us apart. We have fun in our stores and we work hard to make sure our employees have a good time. That attitude translates to the consumers."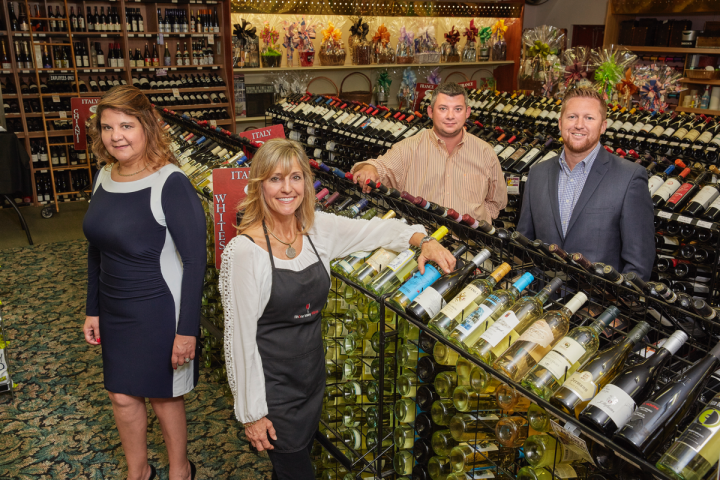 The company's retail success is due in part to its dedicated staff. Roughly half of the 140 employees have been with Crown Wine and Spirits for at least five years and more than 35 percent have over 15 years of experience. Each store employs five to eight associates, and the chain has a core team of 10 to 15 corporate staff members.
Crown boasts an extensive network of loyal customers, including roughly 80,000 card-holding members who receive multiple emails a week from the stores to notify them about sales, events and new products. Along with emails, the company is active on Facebook and Twitter and uses radio, billboards and flyers for promotions. The Internet is a vital tool and has grown to become an important component of Crown's marketing and sales arsenal. Litton calls the Web a great addition to the brick-and-mortar stores and says it's been a powerful aid in expanding the company's customer base. So far, Internet sales are only available to Florida residents. "We see potential for significant growth of our online business," Litton adds.
Growth is imminent for Crown Wine and Spirits. The company started in 1955 with a single unit in downtown Fort Lauderdale and grew to 10 stores within its first decade. By the late 1990s and early 2000s, the company operated 30 stores in six Florida counties, but in 2010, it restructured, sold some units and downsized to about 10 stores. "This year, we started in expansion mode again," Litton notes. The company's owners plan to reach 50 stores within the next five years. Some of the new units will be smaller offshoots, with a focus solely on boutique wines. "We have 13 stores and we have plans to grow to 50 stores," Litton says. "It's ambitious, but we're excited and ready for it."