It's not easy to maintain a business partnership for 35 years. But Stephen Downes, Jim Valentine and Jim Ransford—the owners of the four-unit CT Beverage Mart chain in Connecticut—demonstrate that shared commitment, business intellect and a sense of humor go a long way in ensuring a retail business' longevity. "We've been together since the 1970s, and after all that time, we still like each other," Ransford says.
The trio actually started out as restaurant and nightclub operators in New Haven, Connecticut, in the late 1970s, but by 1980, they'd expanded into the retail business with the opening of the first CT Beverage Mart in New Britain. At the time, the outlet was believed to be the largest package store in the Constitution State. In 1983, the partners launched a second store in Middletown and moved the license down the road to its current 15,000-square-foot location about 12 years later. A 17,000-square-foot store was added in Newington in 1991, followed by an 8,000-square-foot store in Wallingford three years later. By the mid 1990s, the partners had exited the restaurant industry in order to focus exclusively on the package store business. Today, Ransford runs the 12,000-square-foot New Britain store, Valentine monitors the Middletown location, and Downes oversees the Newington and Wallingford units. A fourth partner, Brigham Metcalfe, is responsible for company financials and human resources.
Total annual sales for the four stores fall between $15 million and $20 million, with growth averaging 3 percent to 5 percent a year. "It's a very stable business," Ransford says. CT Beverage Mart employs nearly 100 workers, and Valentine notes that some of the store managers have worked for the company since 1980. For their long and successful tenure in building one of the largest beverage alcohol retail chains in Connecticut, Stephen Downes, Jim Valentine and Jim Ransford have been named 2015 Market Watch Leaders.
Service And Selection
The trio's foray into retail beverage alcohol sales coincided with the implementation of Connecticut's bottle deposit law. But while other retailers resisted and made it difficult for consumers to return empties, CT Beverage Mart embraced the change. "Because we had the space, we promoted bottle returns, and it helped draw in customers," Downes recalls. Ransford agrees. "We took what was a major negative for every store in the state and turned it into the biggest positive for us," he says.
CT Beverage Mart stores have space on their side. The flagship Middletown location features 16-foot-high ceilings—allowing for inventory storage above product shelving—as well as wide aisles, a fine wine room and 22 cooler doors. "We were one of the first liquor stores in the state to have shopping carts because the spaces were so large," Downes says, noting that the units were designed with the female shopper in mind. "The majority of our shoppers are women. They buy a lot of wine and often don't want to go into a hole-in-the-wall package store if there's a nearby store that's bigger, clean and safe."
Ransford says wine is CT Beverage Mart's largest sales driver, accounting for about 40 percent of sales, while spirits and beer each comprise about 30 percent. The stores offer approximately 3,000 wine SKUs, ranging in price from $4 a 750-ml. bottle for Tisdale to $400 for the 2007 Hundred Acre Cabernet Sauvignon. But the overall sweet spot for wine is $10 to $15 a 750-ml. bottle. Top-selling labels include Barefoot ($7.99) and Cupcake ($9.99). Red blends are also trending at CT Beverage Mart, led by the 2013 Apothic Red Winemaker's Blend ($10.99).
While the stores have dabbled in private-label or exclusive wines in the past, the owners say they prefer to promote branded products. "Suppliers do their focus groups with new wines and then support them with advertising," Downes explains. "In that regard, they've done a lot of the work for us. We've found that private-label offerings really require your staff to push those wines. And if your employees don't like them, you're doing a disservice to your customers." Ransford emphasizes the importance of educating employees. "We take pride in a knowledgeable staff," he says. "Customers ask for recommendations, and we're able to provide them. That's very important to us."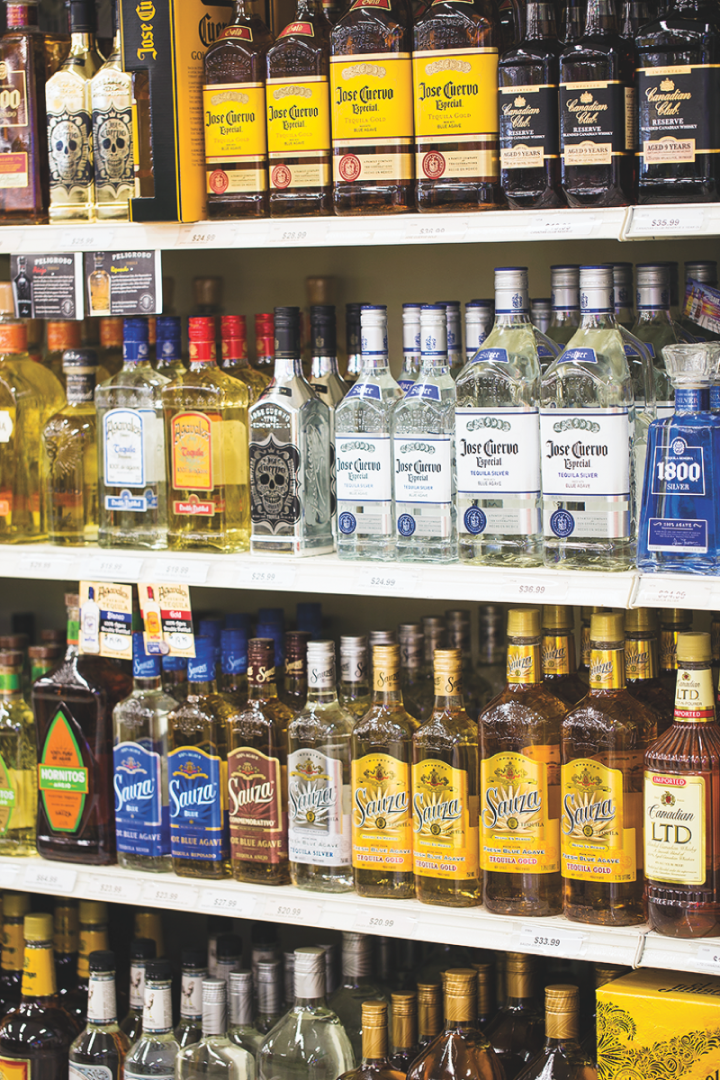 CT Beverage Mart typically stocks around 2,000 spirits SKUs, although the Newington store—the company's largest—can handle up to 2,500 SKUs. Spirits range from $7.99 a 750-ml. bottle of Dubra vodka to about $329 for The Macallan Rare Cask single malt Scotch whisky. Fireball cinnamon whisky ($34.99 a 1.75-liter bottle) and Tito's Handmade vodka ($30.99) are particularly popular. "Brown goods are certainly making a comeback," Valentine says, noting that high-end offerings are doing particularly well and flavored whiskies are gradually beginning to replace flavored vodkas. Craft spirits are also starting to have a presence at the stores. Downes points to Caledonia Spirits' Barr Hill gin and Barr Hill Reserve Tom Cat barrel-aged gin from Vermont ($39.99 to $54.99 a 750-ml. bottle) as niche products that are performing well.
Beer is a growing portion of CT Beverage Mart's sales, thanks to strong demand for craft offerings. Overall, the stores offer about 1,500 beer SKUs, generally priced from $9.99 a 12-pack of cans for Natural Light to $22.99 a 12-pack of bottles for Troegs Perpetual IPA. While crafts—particularly those from such local breweries as Two Roads, City Steam, Thomas Hooker and Stony Creek—are thriving, more mainstream brews still account for about half of the beer volume, Valentine notes. When Yuengling lager ($6.99 a six-pack of bottles) relaunched in Connecticut last year, it began stealing share from traditional and craft brews alike. "That brand changed the whole market," Downes says. Still, the trio is pleased with the margins craft beer offers. "With craft brews, you sell more six-packs and fewer cases," Downes adds. "But we get a better margin on a six-pack than we do on a case."
Sales Strategy
The three partners say their stores are known for five main attributes—selection, price, service, location and shopability. "We try to cater to everyone by offering a wide range of products and keeping prices low," Downes says. Valentine adds that they believe in providing an "aesthetically pleasing" shopping environment, where it's easy to access the products and information about them. Yet the service staff isn't too pushy. "A lot of people don't like employees hovering," Valentine says. "They just like to wander around and read about the different wines." Ransford agrees. "Our stores have a friendly environment," he says. "And they're all based in convenient locations."
In an effort to help customers feel comfortable and engaged while perusing the chain's offerings, CT Beverage Mart has put a big focus on in-store product tastings in recent years. The tastings are typically held on Friday and Saturday evenings, but the Newington unit recently hosted complimentary beer, wine and spirits samplings on four consecutive days. Pouring is handled by suppliers, and store staff is also encouraged to sample the products. "Consumers love it," Valentine says. "It's the best way to introduce a consumer to a product." The Newington location also sometimes hosts high-end Bourbon and Scotch tastings for groups of up to 50 customers who sign up in advance, Downes adds.
The in-store tastings, helpful staff, competitive prices and deep selection—along with a very loyal customer base—have allowed CT Beverage Mart to cut back on advertising spending. "We've done everything over the years, including print, television and radio," Ransford says. These days, the company sends out a weekly email to about 10,000 subscribers that promotes the chain's latest specials and tasting events. Digital support includes the company's website and Facebook page. CT Beverage Mart doesn't offer online sales.
Competitive Challenges
CT Beverage Mart has achieved longevity and stability in spite of the state's competitive drinks market. Connecticut grocery stores have long been able to sell beer, and they regularly seek legislation allowing them to offer wine. While a move to deregulate the state's minimum pricing law on spirits and wine didn't advance this year, the state legislature initiated some changes, including longer operating hours for beverage alcohol stores and an increase in the number of liquor permits an individual can own—from four to five—effective July 1st, 2016.
The company's owners say that Connecticut's existing regulations, which dampen prospects for large chains, have resulted in a plethora of brand options for the state's beverage alcohol consumers. "Connecticut is a market where the local retailer can pick and choose wine," says Valentine, who serves as vice president of the Connecticut Package Store Association, while Downes holds the title of president. "We have a great selection. If wine went into grocery and big box stores, you'd probably see a 50-percent drop in the selection of wines at package stores."
Valentine, Downes and Ransford aren't sure they'll extend store hours, noting that the addition of Sunday hours a few years ago didn't result in a sales gain. Downes adds that in time, they may start selling cigars. They're not planning on opening any new stores at this point either. "We're just sitting back right now," Ransford says. "We've shown growth for 30 years and we're still here."