Like the musician who hears his song on the radio, Chris Gallant says he still gets a thrill when he sees his beer's tap handle in a bar. "That will never get old," says the copresident and general manager of New York City's Bronx Brewery. And if trends continue as they have for the 6-year-old brewery, Gallant will be seeing more bar placement for brands like Bronx American pale ale.
Bronx Brewery's sales volume soared 40 percent last year to more than 12,000 (31-gallon) barrels, says Gallant, adding that the company is targeting growth of another 35 percent in 2017. He attributes this performance to enhanced distribution of the company's beers in its existing footprint, as well as the introduction of new brands.
Bronx Brewery has grown rapidly since its humble beginnings in 2011. Gallant, a former Heineken executive, and Damian Brown, a homebrewer with a Master Brewers degree from the University of California Davis (along with two other cofounders) launched the business with the goal of establishing the company as one that has fun with brewing and is an enjoyable place to work. In the early years, Brown worked as a "gypsy brewer," producing Bronx's pale ale at Cottrell Brewing Co. in Pawcatuck, Connecticut, then driving the kegs down to New York City in an old Red Bull truck and working with Gallant to self-distribute the beer to bars and restaurants. "It was very down and dirty," Gallant recalls. "But it was a fun experience."
By 2012, the company had hired its first sales person and enlisted the services of Union Beer Distributors of Brooklyn, a division of the national beer wholesaler Sheehan Family Cos. Before long, additional labels were added, distribution was expanded, and the entrepreneurs set their sites on producing beer at their own brewery. After an 18-month build-out of an 80-year-old warehouse space, the company opened the doors to its own South Bronx brewery and tasting room in late 2014. The brewery—once home to a lace factory—has an annual capacity of nearly 5,000 barrels, with additional volume now brewed at Shmaltz Brewing Co. in Clifton Park, New York. In 2015, Bronx Brewery entered into a partnership with Tenth Avenue Holdings, a family office investment firm, which took an undisclosed stake. The outside investment "has allowed us to do many more things," says Brown, including purchasing equipment and hiring sales and marketing executives. Today, Bronx Brewery employs 19 full-time workers and up to 10 part-time workers.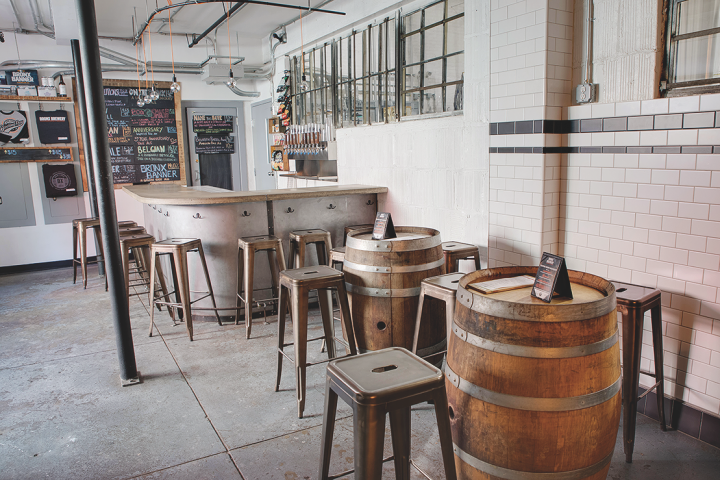 Ale-Focused Brewing
Bronx Brewery started out producing only year-round ales. "Pale ales are a great platform for creating balanced and straightforward beers," Brown says. "They fit with our founding values of producing approachable and communal beers." More recently, the company has expanded into golden ales and IPAs. Bronx American pale ale remains the brewery's largest brand, followed by Bronx Banner ale—described as a "golden easy ale" and introduced in 2016—and No Resolutions IPA, launched this past January. In addition, the company markets four seasonal brews, including Summer pale ale (available through September), which has received a warm response at seasonal accounts around New York, according to Bronx Brewery vice president of marketing Patrick Libonate. The company also produces limited-release brews across a range of styles under its B-Tracks label, and the Barrel Reserve series of brews, which are aged in oak barrels and packaged in 12-ounce cans. "We're zigging where others are zagging," says Libonate of the unusual move to market barrel-aged beer in cans.
Like a growing number of craft brewers, Bronx Brewery has opted to package its beer in kegs and 12-ounce cans—generally $9.99 to $12.99 a six-pack and $18.99 to $21.99 a 12-pack—not bottles. Banner, meanwhile, is packaged in eight-packs and 15-packs, generally priced comparable to the company's six- and 12-packs. "Banner is a little more sessionable than our other beers, and the eight- and 15-packs add value for our customers," Libonate explains. Gallant notes that the eight-packs are beginning to gain traction in supermarkets while the 15-packs are building in liquor stores.
Bronx Brewery is currently sold in the tri-state region of New York, New Jersey and Connecticut, with distribution handled exclusively by the Sheehan network. "We do a large part of our volume within the five boroughs," says vice president of sales Rob Goodyear, adding that sales in New Jersey are growing at a triple-digit rate and that the company is seeing "strong growth coming out of Connecticut." Beyond the tri-state market, Bronx Brewery exports beer to Sweden, and according to Gallant, the company is exploring additional international markets.
On-premise sales—largely driven by draft—comprise approximately 70 percent of Bronx Brewery's volume. In addition to bars and restaurants, the brewery does a thriving business in stadiums and arenas, including Madison Square Garden, MetLife Stadium, Citi Field and Yankee Stadium, says Libonate. But off-premise accounts provide enormous potential. "We decided that if we wanted to grow and have scale, we needed to make a move to off-premise," explains Goodyear, a beer sales veteran. That's required a bigger emphasis on chain accounts, and the company has made inroads with the likes of Whole Foods, Wegmans, Fairway, Trader Joe's, Rite Aid and BJ's Wholesale Club.
Banking On The Bronx
The Bronx was selected to be home for the brewery because Brown and Gallant's partners—Steve O'Sullivan and Niall Henry, who remain involved on a limited basis—were borough natives. "There had been a rich brewing history here," Brown explains. "It was important for us to build a brewery here to restore that tradition."
The brewery is located in an industrial area on the fringes of both the Port Morris and Mott Haven neighborhoods, just a few blocks from the 6 subway line. "The South Bronx has a rich history and a lot of pride in the people who live here," remarks Libonate. While the area has suffered through decades of poverty and crime, it's showing signs of rebirth, with new restaurants and bars opening on the Hudson River waterfront. Libonate is hopeful that controlled development will help the area retain its heritage while also attracting visitors. Indeed, earlier this year the New York Times cited the South Bronx as one of the top 52 places in the world to visit in 2017.
Like other craft breweries, Bronx Brewery has found great value in its on-site tasting room, where 16-ounce brews are available for $5 to $7. "It's been awesome to see the diversity of people coming in here," Gallant remarks. "It's fun to watch the beer geek from Brooklyn interact with the guy who runs the machine shop down the street." A 6,000-square-foot backyard space is also used for special events and as a beer garden in warm-weather months.
The company relies on sponsorship and tasting events, along with public relations and social media platforms like Facebook, Twitter and Instagram, to build awareness. "We do a lot of sampling events at different beer and lifestyle festivals," Libonate says, adding that the brewery also partcipates in tap takeovers at bars. He sees particular opportunity for Banner ale to be tied-in to Yankees games (though not as an official sponsor). The brand also supports the New York Restoration Project, whose mission is to restore and revitalize open spaces in the city.
Building A Culture
Bronx Brewery executives are certainly well aware of the increasingly competitive craft beer space. "Retailers and distributors are just inundated with brewery openings and SKUs," Goodyear says. To stand out, he and his colleagues say Bronx Brewery is building a "culture" around its brand. "We want to create a connection that goes beyond the actual liquid, which stands for itself," Libonate adds. "The Bronx has always been considered straightforward and down to earth. That's what we're trying to do with our brand."
For that reason, Bronx Brewery has no plans to expand distribution anytime soon. "We're always keeping our eye on markets, but our focus is to dominate our home markets, and we still have a lot of running room here," Goodyear explains.
Still, the brewery has come a long way in just six years. "When we started, Chris and I were driving a truck for 12 hours a day," Brown says. "Now we're able to hire a team that operates like a family while building a company that's a fun place to work."