A 40-year veteran of beverage alcohol retailing, Eddie Cruz credits his success to staying focused on the needs of his customers and the diverse Miami neighborhoods his stores serve. The owner of the six-unit Jensen's Liquors, Cruz says the stores have developed a reputation for "offering a unique shopping experience for our customers," while satisfying their brand and budget preferences. Cruz's commitment to customer service has in turn established Jensen's Liquors as a respected and enduring player in the competitive Miami drinks business.
Eddie Cruz is a second-generation Miami-based beverage alcohol retailer. His father, Eduardo Cruz Sr., purchased the original Jensen's, located on SW 27th Avenue in the city's Little Havana neighborhood, in the late 1970s. As a teenager, Eddie helped out at the store, and 40 years later, beverage alcohol retailing remains his passion. In 1988, with a little help from his father, Eddie purchased his own store on NW 27th and expanded the Jensen's banner. By 2016, Cruz had added three more stores to the franchise—on NW 17th Avenue, NW 7th Street, and North Miami Avenue—while also acquiring the flagship store from his father.
Today, Jensen's Liquors—whose stores range 2,200-3,300 square feet in size—employs 45 workers. As with other Florida liquor stores, spirits are the chain's driver, accounting for 55% of annual sales, followed by wine at 30%, beer at 10%, and miscellaneous items at 5%. And expansion continues; earlier this year, Cruz brought the total number Jensen's stores to six, opening a second location on NW 17th Avenue in the city's historic Miami River district, where a massive neighborhood redevelopment is underway. For his neighborhood-centric, consumer-first approach—which has helped him parlay Jensen's into a growing enterprise with annual sales revenue in excess of $15.8 million—Eddie Cruz has been named a 2019 Market Watch Leader.
Neighborhood Stores
"All of my stores are neighborhood stores," Cruz says, noting that most are located in working-class areas. Each store's location dictates the product selection, featured brands, and even the design of the venue itself. Three of the units are located in Little Havana, an area populated by Cuban-Americans, but also one that sees throngs of tourists visiting the famed Calle Ocho. Two stores—including the latest 2,800-square-foot unit—are in Miami's Allapattah area, which is adjacent to popular Wynwood, while one store, purchased three years ago, lies in the city's Little Haiti neighborhood. While most of Jensen's customers are "working-class people," according to Cruz, the stores also attract their fair share of affluent consumers—particularly at the flagship location—including corporate accounts, collectors, and connoisseurs—a result of the company's ability to offer certain allocated products.
Miami's cultural diversity has been a catalyst for Jensen's growth. Cruz has been a keen observer of demographic trends, seeking out emerging neighborhoods for new sites. "I look for a place that has a good neighborhood behind it with good traffic, where people live and work," he says. "And I look for up-and-coming neighborhoods. There's a lot of investment in the Miami River district, with new shopping centers and apartment buildings going up regularly."
Cruz pays homage to the neighborhoods where his shops are based via in-store décor. The NW 7th Street venue, for example, is outfitted with sports memorabilia in tribute to its close proximity to Marlins Park, while the newest store, which had already been a liquor store, is being renovated and rebranded with a nautical theme, a nod to the nearby Miami River. As for in-store merchandising, the chain goes for a clean, streamlined look, with shelf talkers produced in-house. Two of the stores feature video screens with programming that includes cocktail-making demonstrations.
Spirits Destination
Jensen's offers some 4,000 spirits SKUs, priced from $9 a liter of Aristocrat vodka to $3,000 for Louis XIII de Rémy Martin Cognac. Top-selling brands include Tito's Handmade vodka ($33 a 1.75-liter) and Fireball cinnamon-flavored whisky ($17 a 750-ml.). "While vodka has slowed down, Tito's remains on fire," Cruz says. "Bourbon and single malt Scotch are also huge, and Tequila is moving toward the high end," with such brands as Don Julio 1942 ($140) driving growth. Mezcals like Ilegal ($40) are also performing well at the stores, and Jensen's roster of single-barrel spirits offerings have been well received. The chain has partnered with the likes of Herradura Tequila, Jack Daniel's Tennessee whiskey, and 1792 Bourbon on exclusive barrels in recent years. "Customers love the expressions we select for them," Cruz notes.
But Cruz sees particular opportunity with craft and other small-volume spirits. He points to growing demand for labels like High West Yippee Ki-Yay rye whiskey ($80 a 750-ml.), WhistlePig 10-year-old rye whiskey ($85), and Four Roses Small Batch Bourbon ($30). "We'd like to continue to explore small-batch and craft spirits as a way to differentiate ourselves from other stores," Cruz says.
Wine is a growing category at Jensen's as customers increasingly trade up in their choices. The stores stock about 2,500 wine SKUs, priced from $5 a 750-ml. of Yellow Tail Chardonnay to $700 a 1.5-liter of the 2015 Caymus Special Selection Cabernet Sauvignon. Miami's warm weather lends itself to white wines, Cruz says, noting that top-selling labels include the 2018 Santa Margherita Pinot Grigio ($25 a 750-ml.) and 2018 Luna Nuda Pinot Grigio ($14), as well as the 2016 Meiomi Pinot Noir ($19) and 2016 Josh Cellars Cabernet Sauvignon ($13). "When it comes to wine, our stores are known for pricing and selection," Cruz says. "We try to offer the best quality and price for every wine so our customers get more bang for their buck." While the stores are not yet offering private-label wines, Cruz notes he'd like to do so in the future.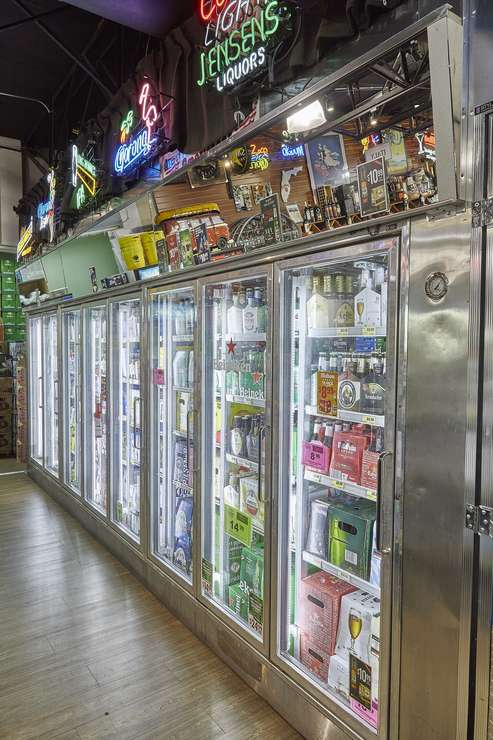 Jensen's Liquors offers about 6,500 beer SKUs, generally priced at $7-$13 a 6-pack. Top-selling brews include Heineken ($9 a 6-pack of 12-ounce bottles) and Corona Extra ($9). Sales of major domestic beers are "really slow these days," Cruz says, but local crafts such as Cigar City's Jai Alai IPA ($12 a 6-pack of 12-ounce cans) are showing strength. Depending on the size of the store, 8-13 cooler doors are available. Cruz plans to make his first foray into draft beer with a growler station at the newest location.
Products other than beverage alcohol are also available at Jensen's, including gourmet food items such as ceviche, olives, cheese, and meats, as well as barware, cigarettes, and cigars. Store-made gift baskets are also popular, according to Cruz, especially during the holidays.
Leveraging Locale
A few years ago, Jensen's launched its e-commerce business. "We were reluctant at first," Cruz says. "But it's been a good move. Even though we can only ship to certain states, we're able to provide products that we can access due to our location to customers in distant and rural markets. It's helped to build our reputation." Internet sales account for about 6% of company-wide sales, and the e-commerce department has grown to a team of three employees. "We're trying to grow that side of business as much as we can," Cruz says.
In addition to its website, Jensen's uses Facebook and Instagram to promote its offerings. Additionally, email blasts are delivered to about 1,000 customers, while a newsletter called Jensen's Gazette is in the works. While complimentary in-store tastings are frequent on weekends, the flagship store also hosts several larger-scale tastings a year, centered on specific products. The annual Bourbon tasting, for example, has become particularly popular, as it features cocktail-making demonstrations, Bourbon samples, and complimentary food. "For us, it's not just about the transaction," Cruz says. "We like to educate and keep our customers informed, offering them a different experience when they shop in our stores."
Cruz plans to provide his customers with unique shopping experiences for many years to come. Beyond renovating the newest store, Cruz adds that he's still looking to grow. "We'll look for additional investments along the way," he says. "I'd like to expand with four more stores in the next couple of years." For now, though, Cruz is proud of his part in growing Jensen's from a single Little Havana store to a chain of a half-dozen locations in one of the largest cities in the country. "A lot of family businesses can't say they've been able to do that after 40 years," he says. Cruz hopes that pride runs deep. "Miami is the city that has allowed me to grow," he says. "I hope the city is proud of what Jensen's has become."