Amid all the excitement in the spirits world, the liqueurs category seems almost quiet, with its most prized brands remaining consistent and delivering value at all three tiers of the industry. But liqueurs also represent a surprisingly strong incubator of innovation, particularly in the on-premise.
"Liqueurs have always been a steady category for us," says Bob Kreston, owner of Delaware-based Kreston Wine & Spirits. "People come in for core brands like Kahlúa and Campari—the names they recognize." Jeff Feist, category lead for spirits at BevMo, agrees that it's almost all about the top brands. "There's no major trend bubbling—it's really the big names like Aperol, Baileys, and Grand Marnier driving the category," he says.
In the on-premise, it's a different story. Charity Johnston, beverage director at Mexican restaurant Toca Madera in Los Angeles, is seeing a resurgence. "It's a whole new era for liqueurs here," she says. "More people than ever are ordering Aperol Spritzes, and younger drinkers are very interested in trying different cocktails that offer a unique experience."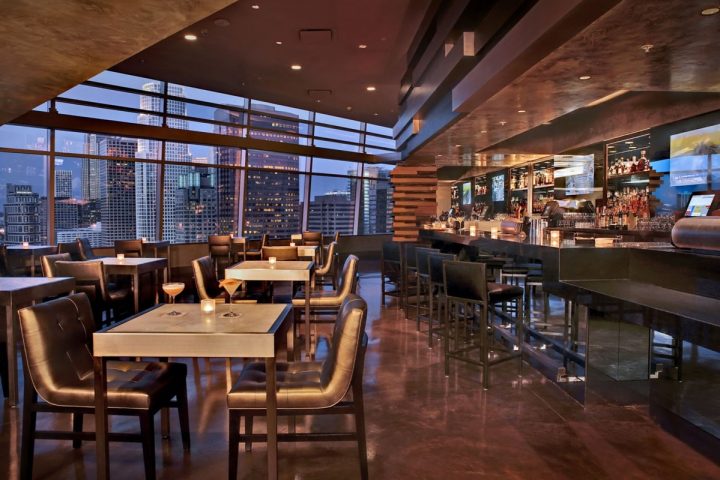 Stars At The Bar
As Johnston notes, the U.S. is in the midst of a mania for the Aperol Spritz—a cocktail encompassing Aperol aperitif, Prosecco, a splash of soda, and an orange slice—and the Negroni, which comprises Campari aperitif, gin, sweet vermouth, and an orange slice. The brands, both owned by Campari Group, have recently seen substantial upticks, with Aperol ($26 a 750-ml.) skyrocketing 60% last year to 160,000 cases, and Campari ($29) depleting 140,000 cases, up 15% from 2017. "With the recent trend toward low-abv cocktails and the growth of daytime drinking occasions, the Spritz has found a new place in the landscape," says Lana Kouznetsov, U.S. category director of European icons at Campari America. The Spritz's popularity has led to increased interest in other liqueur-based cocktails at the bar. "I like to make new things and introduce people to drinks they haven't tried before," Johnston says. "Liqueurs have been around forever, but only now are people really appreciating them."
St-Germain liqueur ($32 a 750-ml.) performs particularly well in the on-premise. "Bartenders can use it to make or elevate any cocktail," says St-Germain North American brand director Cherie Coster. "It's so versatile; it can provide balance in an Old Fashioned and flavor in a Gin & Tonic. It can complement any base spirit." St-Germain sold 108,000 cases last year, up 12.5%, according to Impact Databank.
Johnston, who calls the elderflower liqueur a "bartender's tool," says St-Germain is "herbal and light," and notes that "you can put it in almost anything." In her drink Alma del Sol ($17), she infuses the spirit with árbol chili and turmeric, and mixes that infusion with Avión Reposado Tequila, Perfect Purée Passion Fruit purée, Perricone Farms lemon juice, agave syrup, and Zucca Rabarbaro amaro, topping it with a Benziger Merlot red wine float and garnishing it with dried flower petals. She also leans on other artisanal liqueurs for Toca Madera's cocktail menu. In her Rosé Sangria ($15), Johnston mixes Ketel One Botanical Peach Orange Blossom vodka with Giffard Crème de Pêche de Vigne liqueur, Combier Original orange liqueur, Curran Rosé, lemon juice, and orange juice, garnishing the drink with peach slices, strawberries, thyme, and an orange wheel. Her Winnie de Pooh ($18) blends chamomile-infused Casamigos Blanco Tequila with Perricone Farms lemon juice, fresh ginger juice, wild flower honey, Green Chartreuse, and mint leaves, with a honey wand, mint sprig, and loose chamomile garnish.
Courtney Hamblin, beverage operations manager at the JW Marriott Los Angeles L.A. Live, cites Fernet-Branca ($35 a 750-ml.) as a popular brand at the bar. "People seem to be looking for more herbaceous, bitter flavors, found in liqueurs like Campari, Aperol, and Fernet-Branca," she says. Hamblin also notes that lately, more people have been ordering liqueurs neat at her venue. "Our clientele is starting to appreciate these Old World flavors," she says. "They'll have liqueurs neat before or after dinner to open or cleanse the palate."
As a cocktail ingredient, Hamblin favors Chartreuse. "It's an excellent cocktail builder and really brings depth," she says. Her Altos Cantarito ($15), served at the Glance lobby bar, mixes jalapeño-infused Chartreuse alongside Olmeca Altos Plata Tequila, fresh lime juice, agave syrup, and Fever-Tree ginger beer. At the Ritz Carlton's WP24 by Wolfgang Puck venue—which is connected the JW Marriott—Hamblin mixes Green Chartreuse alongside Monkey 47 gin in the Green Envy Martini ($17).
Hamblin explains that cocktails that comprise herbal liqueurs are particularly popular because of their low abv and minimal sugar, which makes them appealing to health-minded drinkers. "Lower abv is a big trend that's really getting people into cordials," she says. Johnston adds that although herbal liqueurs make for great cocktail components, she doesn't rely solely on artisanal liquids. "If it's best in the cocktail, it's best in the cocktail," she says. "Even a more intense liqueur like Jägermeister can complement a cocktail if it's made properly. Using a small amount can really influence the drink and make it beautiful. With liqueurs, it's all about how you utilize them."
Retail Trends
At the retail tier, customers are purchasing products to recreate their favorite cocktails at home. "Bars have made cocktails like the Spritz popular, and people are coming to us to purchase the products needed to recreate it," says David Othenin-Girard, senior spirits buyer at K&L Wine Merchants in California.
BevMo's Feist also notes a slight growth in Aperol sales, as well as those of other herbal bitter liqueurs. "We're seeing more and more artisanal or herbal labels nudging into the limelight," Feist says. "Customers are buying Aperol, Cointreau, and Fernet-Branca to make cocktails at home." David Larue, vice president of sales at Florida-based ABC Wine & Spirits, has also noticed customers looking to make their own liqueur drinks. "People like the experience of making a nice cocktail for their friends, because it's fun and rewarding—it's an experience," he says.
Despite the increased interest in artisanal products, Feist says the big-name offerings continue to lead the charge in BevMo's liqueurs section. Larue, too, lists Jägermeister, Baileys, and Kahlúa as three of ABC's top sellers. The majority of sales for mainstream brands like Kahlúa—which sold 792,000 cases in 2018—are still in the off-premise. "We have a very loyal customer base in the off-premise buying Kahlúa to make coffee cocktails at home," notes the liqueur's brand director, Troy Gorczyca.
Seasonal occasions help cream- and coffee-based products maintain their status as leaders at the retail level. During the holidays, their sales surge as people mix rich cocktails like the Mudslide, White Russian, Espresso Martini, and spiked hot chocolate or coffee. Larue confirms that most of ABC's liqueur sales are holiday purchases. "When Christmas hits, everybody comes in to grab a cream liqueur because that's their tradition," he explains.
Innovation Moves
The established liqueur brands are much more focused on innovation to attract new consumers while maintaining brand loyalty. Jägermeister—which saw depletions of more than 1.5 million cases last year—has been embracing alternative packaging. Last summer, the brand released Mini Meisters, 20-ml. bottles of Jägermeister packaged in 10-packs and retailing at $10. The brand also released the Coolpack—a 375-ml. plastic bottle retailing at $13 and designed for taking on-the-go—this past spring.
Kahlúa has also incorporated alternative packing into the mix, launching its Espresso Style Martini RTD cocktail ($12 a 4-pack of 200-ml. cans) earlier this year. The 4.5% abv offering blends Kahlúa with coffee and vodka. "We saw interest in both the on- and off-premise, so we decided to marry the two," says Gorczyca. Each can has a "smart nitrogen widget" that forces bubbles to the surface as soon as it's opened to form a creamy foam. Also, in 2015, RumChata ($22 a 750-ml.) released its MiniChatas—25-ml. RumChata creamer cups sold in a 15-pack box ($13).
Retailers have noted rising customer interest in these uniquely packaged liqueurs. "Most of the growth is coming from smaller sizes and different pack sizes," says ABC's Larue. "It's a way for brands to gain more shelf space, and people are more likely to impulsively grab a smaller bottle off the shelf."
Brands are also looking at flavor innovation. This spring, Jägermeister debuted ginger-flavored liqueur Scharf ($22 a 750-ml.), and last month Baileys released a Red Velvet offering ($24). Baileys isn't new to the flavor sphere; its portfolio also comprises Strawberries & Cream, Espresso Crème, Vanilla Cinnamon, Chocolate Cherry, Salted Caramel, and Pumpkin Spice ($21-$25). Likewise, Kahlúa offers Salted Caramel, Chili Chocolate, Mint Mocha, and Vanilla (all $20). Volume leader DeKuyper—which depleted roughly 2 million cases last year, according to Impact Databank—has seen consistent success with its flavors, which range from Peppermint Schnapps to Amaretto (all $10).
Today's most notable flavor innovations are centering on coffee. "Coffee liqueurs always do well, because people are comfortable with them," says Kreston. "If a customer buys Kahlúa, for example, they know they can make a White Russian or put it in a cup of coffee." Aside from Kahlúa—which depleted 792,000 9-liter cases in 2018, according to Impact Databank—other popular coffee liqueurs at the store include RumChata's FrappaChata ($20 a 750-ml.), Fratelli Branca's Caffè Borghetti ($22), and Patrón XO Café ($29). The latest addition to the coffee liqueur category is Jägermeister Cold Brew, released in early September in select markets and launching nationally in January 2020. Retailing at $25 a 750-ml. and $33 a 1-liter, the liqueur features a base of Jägermeister blended with flavors of Arabica coffee and cacao.
"There's massive growth in the coffee space, especially with millennials and Gen Z-ers," says Kahlua's Gorczyca, who's welcoming the newfound competition in the category. "It shows that there's growing interest in coffee-based liqueurs. Now the goal is to differentiate ourselves from new labels." By innovating, many cream- and coffee-based liqueurs are hoping to gain year-round traction, rather than just seasonal popularity.
In another innovation move speaking to today's trend of low-abv and low-sugar beverage alcohol options—and rivaling herbal and artisanal liqueurs—some of the big cream and coffee liqueur brands are adding wellness-focused options to their portfolios. Baileys, which was at 1.4 million cases last year, released Baileys Almande in 2016. Retailing at $21, the dairy- and gluten-free liqueur contains almond milk and vanilla.
Premiumizing The Portfolio
Noting the value of high-end liqueurs like Grand Marnier, Disaronno, and Cointreau, rival brands are upscaling their portfolios. Two years ago, Jägermeister released its super-premium Manifest label ($60 a 750-ml). "It's a higher-end expression of Jägermeister," Popkin explains. "It behaves more like a brown spirit, with a rye whiskey-esque finish and a higher abv than the base label." Grand Marnier, which is already high-end, is targeting the ultra-premium space with its Cuvée collection. In March, the brand launched Cuvée Louis-Alexandre ($70), which Kouznetsov says "marked the beginning of a new premiumization process for the brand in the U.S. market."
Feist says customers at BevMo are indeed attracted to upscale liqueur labels. "People are leaving behind traditional schnapps and bigger-name cordials that were popular five or ten years ago," he explains. Othenin-Girard of K&L also sees customers gravitating toward the higher end, as does ABC's Larue. "People are happy to spend a higher dollar amount on the top-shelf products," Larue says. "They're trading up, so the slight category growth is coming from premium labels."
Most of the below-$20 products in the liqueur segment are struggling, aside from consistent standouts such as E & J flavored brandy ($10 a 750-ml.) and Lucas Bols flavors ($13), which depleted 500,000 cases and 395,000 cases last year, respectively. Meanwhile, the $20-and-above range has posted consistent gains, and the top brands in the $30-and-above segment grew roughly 1.3% in 2018
Promotional Moves
Amid the upscaling and innovating, many liqueurs are looking to expand marketing efforts. This year, Jägermeister became the official shot of the NHL and started its Deer and Beer campaign, while Grand Marnier continued its "Live Grand" ad campaign that launched in 2018. Many brands focused on large-scale promotional events. Campari hosted its annual Negroni Week during the last week of June and produced the Campari Red Diaries short film, partnering with the New York Film Festival; Aperol hosted a pop-up at New York City's Governors Ball; and Branca USA participated in events across the U.S., including the Tales of the Cocktail in New Orleans.
Education has also taken a more prominent role, particularly in the off-premise. "Even I'm intimidated by the liqueurs section," says Larue. "There are so many different flavor profiles. It's not like the vodka section, where you can pick anything out and have a general idea of what it will taste like."
The typical retail liqueurs section can carry anything from Fireball cinnamon-flavored whisky—flavored whiskies are often grouped with the liqueurs—to limoncello. For consumers, it can be overwhelming to browse the shelves without a clear understanding of the offerings. "Years ago, suppliers offered recipe booklets with their products, and people would come in to buy, say, crème de menthe to make a grasshopper pie," says Kreston. "Today, those things aren't really seen. Customers aren't educated about liqueurs. They can google how to make liqueur cocktails, but it's less of an impulse thing. Education on-site would go a long way for liqueurs and would really help boost the category as a whole."
Coster of St-Germain notes that many people don't know how to use the elderflower liqueur. "We're now focused on making sure that people understand what the product is and how to enjoy it," she says. The brand has been promoting the St-Germain Spritz—simply comprising the liqueur, dry sparkling wine, and sparkling water—and encouraging customers to purchase a bottle and make the drink at home.
Most other brands are also touting approachable cocktail recipes. In another tactic, Branca USA has been busy promoting food-pairing suggestions. "Liqueurs fit very well into the picture when customers are thinking about food, flavors, pairing, and bringing something meaningful to their guests when they're hosting," says Branca USA CEO Steve Brecher.
Hamblin of the JW Marriot Los Angeles says bartenders play a fundamental role in the education effort. She notes that most people associate Jägermeister with shots or Jäger-Redbulls, but that the liqueur's intention is actually to cleanse the palate after a meal. "Education is so important, and people should know how they should be consuming these things," she explains. Campari works with a network of bartenders on how to best serve liqueur at venues, and Kahlúa provides cold brew-making kits to bartenders who may not have the equipment to make coffee cocktails.
Teaching consumers about brand history has also become important. Younger drinkers in particular are eager to learn stories in order to more personally relate to products. "There's so much consumer interest in our history," says Brecher. "Younger people are hungry for knowledge in the liqueur segment."
Jägermeister's Popkin has also seen increased interest in the brand's history. "Jägermeister is iconic and has been around for so many years, but it never really taught consumers about its history, so now we're doing something about that," he says. Similarly, Kahlúa's Gorczyca notes that not many people know that the coffee liqueur brand has been around for over 80 years, adding, "We're now working to tell people the product story and to create a deeper emotional connection between them and the liquid."