California has long led the wine industry, with brands across all price points reaching drinkers around the globe. In recent years, however, one sector of California wine has started setting itself apart from its peers: the super-premium tier, defined as $15 a 750-ml. or more. In this range, winemakers are offering both quality and quantity, ensuring that upscale and interesting wines are widely available and accessible.
Overall, the California super-premium wine segment now represents some $1.2 billion of total wine category dollar sales in IRI channels, and was up 7% from the year prior in January 2020. The trend shows no sign of slowing: Last year, volumes hit 11.13 million cases, up from just 7.1 million cases in 2014, according to Impact Databank. With more wineries than ever before active in the $15-and-up segment, California's super-premium wines are securing a foundation for sustained growth.
Several factors are spurring these gains, including an embrace of more sub-AVAs, particularly on the Central Coast, though those within Napa and Sonoma also continue to play major roles. Red blends, too, remain hot, as do California stalwarts Cabernet Sauvignon, Pinot Noir, and Chardonnay. Targeted marketing campaigns, along with major gains in direct-to-consumer sales—for the most part a result of new tasting rooms and enhanced visitor experiences—are encouraging fresh waves of visitors to California wine country.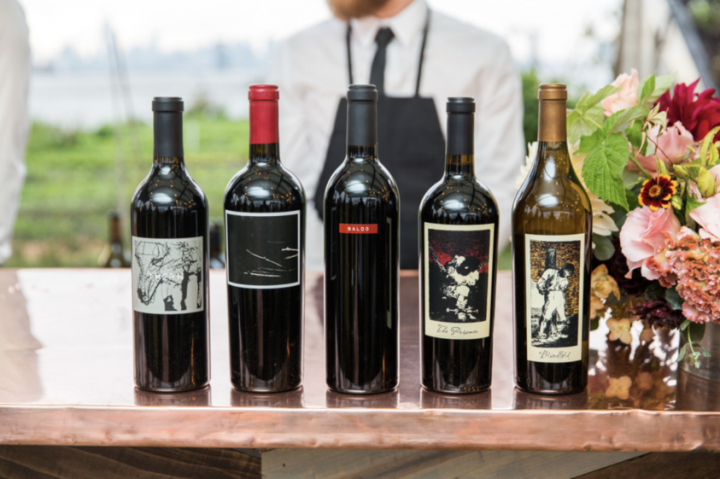 Central Coast Visibility
Increasingly, the California super-premium tier is seeing more regional specificity, which has resulted in heightened visibility for certain Central Coast sub-AVAs, including Paso Robles, Monterey, and Edna Valley, among many others.
J. Lohr Vineyards & Wines has long been a part of the Paso Robles fabric, opening its first tasting room in the region's El Pomar District in 1988. Today, the winery is among the larger operations in California, with total volume at 1.7 million cases last year, according to Impact Databank. While most of J. Lohr's volume comes from its Estates tier—with the Seven Oaks Cabernet Sauvignon ($17 a 750-ml.) accounting for 900,000 cases in 2019 and the Riverstone Chardonnay ($14) at 450,000 cases—the winery is shifting focus to distinguish its home base of Paso Robles through both the Vineyard Series range and newer, upscale offerings.
Last fall, the Vineyard Series received packaging updates. Now, all eight bottles feature a higher-end, minimalist look, along with specific vintage notes on the back label. The super-premium range is led by Hilltop Cabernet Sauvignon ($35 a 750-ml.)—the leading Cabernet Sauvignon from the overall Paso Robles appellation, according to J. Lohr president and COO Jeff Meier—along with Arroyo Vista Chardonnay ($22), Fog's Reach Pinot Noir ($35), and Tower Road Petite Sirah ($35).
More recently, J. Lohr has innovated in the ultra-popular red blend category with its Pure Paso label ($27 a 750-ml.), launched last fall. "We were asked by our distributors years ago, as the red blend movement was taking off, why we didn't have anything in that category," says Meier. "At the time, we didn't want to cannibalize our Seven Oaks Cabernet, but eventually we saw an opportunity for a red wine between Seven Oaks and Hilltop that would reflect the two best varietals of the Paso Robles appellation: Cabernet Sauvignon and Petite Sirah."
Also bringing attention to the Central Coast's quality potential is Josh Cellars, which launched a higher-end Reserve Tier in 2017 to supplement its lineup of California-appellated core wines. The Reserve range ($18-22) includes a Paso Robles Cabernet Sauvignon, a limited-edition Military Salute Cabernet Sauvignon that's sourced from Lodi, and a Chardonnay from the North Coast. "The Reserve lineup has been extremely successful for Josh, in part because it offers our core consumers the opportunity to trade up and explore California more in-depth," says Tom Steffanci, president at brand owner Deutsch Family Wine & Spirits. He notes that the Military Salute Cabernet ($20), available from March through September and currently in its second run, is especially popular as a portion of its proceeds goes toward military support organization Operation Gratitude.
This year, the Josh portfolio will be augmented with two new wines. A California-appellated Pinot Grigio ($12 a 750-ml.) is set to join the core lineup, while a Bourbon barrel-aged Cabernet Sauvignon ($22)—aged in barrels from Deutsch's Redemption whiskey brand—will supplement the Reserve tier. "Some of our competitors in the Bourbon barrel-aged wine space don't strongly resemble wine, and that wasn't what we were after with this label," says Steffanci. "This wine is a little bigger and bolder, but it's not overpowered by the Bourbon; it merely has hints of the spirit throughout." Josh crested the 3 million-case mark in the U.S. last year, reaching 3.18 million cases on explosive growth of 25.5%.
Constellation Brands is also active on the Central Coast with Meiomi, a brand that's long been popular in the super-premium segment. Meiomi's lineup currently includes Pinot Noir, Chardonnay, rosé, and a sparkler, each made with grapes from Monterey, Santa Barbara, and Sonoma. This tri-appellation sourcing was specifically highlighted last fall, when Constellation debuted the brand's first-ever TV ad campaign, "Flavor Forward." The campaign marked a significant shift in spending for both Constellation and Meiomi, as it's the largest marketing effort undertaken by the brand to date.
Napa And Sonoma For All
Beyond the Central Coast, many winemakers are starting to make more accessibly priced wines from within the luxurious echelons of Napa and Sonoma. Longtime Napa Valley player Duckhorn Wine Co. recently launched Postmark, a new Cabernet Sauvignon retailing at $35 a 750-ml. "Postmark is geared toward making Napa Valley more approachable than ever to millennial consumers," says Duckhorn senior vice president and chief marketing and business development officer Carol Reber. The wine is made with fruit sourced from a number of hillside and valley floor vineyards spread across numerous Napa sub-appellations, including St. Helena, Atlas Peak, Rutherford, Mount Veeder, Diamond Mountain, and Stag's Leap.
Also from Duckhorn is Decoy by Duckhorn, the entry-level, Sonoma County-based label from the luxury-minded winery. The Decoy portfolio features eight wines, including Chardonnay, Sauvignon Blanc, rosé, Cabernet Sauvignon, Pinot Noir, Merlot, Zinfandel, and a red blend. Reber notes that the brand's Cabernet is by far the most successful offering, followed by Pinot Noir and Chardonnay. "The Decoy Cabernet anchors the entire lineup, and it's leaps and bounds ahead of competition as the No.-1 Cabernet above $15," she says. "It's driven considerable growth for the brand overall." Reber notes that Decoy has equal pull among millennial, Gen X, and Boomer consumers, who often trade up to more luxurious labels within the Duckhorn portfolio after entering at Decoy.
While Napa Valley-based Hess Family Wine Estates is making major plays at the luxury end, with the intention of ultimately shifting its entire portfolio upstream, a great deal of the winery's portfolio is still priced well below many of the cult offerings that have come to define Napa. Among the most recent additions to the Hess portfolio, and now the driver of overall momentum for the brand's new direction, is the Lion's Head collection, which launched around three years ago with the Lion Tamer red blend ($40 a 750-ml.), and has since come to include a white blend ($40), Cabernet Sauvignon ($60), and Panthera Chardonnay ($40) from Sonoma. "With the Lion's Head Collection we're deliberately targeting a younger consumer profile," says Hess Family Wine Estates CEO John Grant. "The packaging is contemporary and the wines aren't out of sight in terms of pricing, especially given where they're coming from." Later this year, a Panthera Pinot Noir will further supplement the Lion's Head lineup.
Grant also points to Hess' Allomi franchise as a key super-premium offering within the overall portfolio, especially as the company moves away from its premium business. "We've been able to tempt the Hess consumer who was previously in our premium program upstream to Allomi, which is a Napa-based tier of wines that sits at $25-$30 at retail," he says, noting that the Allomi Cabernet Sauvignon ($30 a 750-ml.), in particular, has been a workhorse for the range, with around 75,000 cases depleted last year. The Allomi lineup also includes Pinot Noir and Chardonnay offerings.
E. & J. Gallo Winery is present with a slew of high-performing, higher-end labels within Napa and Sonoma, among them William Hill Estate and J Vineyards & Winery. In Napa Valley, William Hill focuses on upscale but accessible iterations of Chardonnay and Pinot Noir, with the brand's Chardonnay Winemaker's Series range at the center of innovation. "We're establishing a collection of small-lot Chardonnays that highlight what the varietal can be, based on site and winemaking technique," says Maud Pansing, Gallo's vice president of marketing for premium wines. Currently, the range includes a Carneros Chardonnay ($60 a 750-ml.) and a Coombsville Chardonnay ($50) that was fermented in concrete eggs. Later this year, the winery is set to release Benchmark Chardonnay, which will serve as the icon expression of the varietal within the portfolio.
The Russian River Valley-based J Vineyards features a portfolio comprised primarily of single-vineyard, estate-grown Pinot Noir, Chardonnay, and sparkling wine, all retail-priced at $20-$110 a 750-ml. While Pansing maintains that Russian River Valley fruit is integral to J Vineyards, three newer releases have expanded the brand's reach to include more North Coast AVAs. "Over the last few years, J has introduced the California Cuvée ($25 a 750-ml.), multi-appellation Pinot Noir, and multi-appellation Chardonnay," she says. "While Russian River Valley-sourced fruit remains an important component for each of these blends, going beyond this area allows us to express a different wine style." Gallo's super-premium California-based portfolio also includes such major names as Orin Swift, Louis M. Martini, and Talbott Vineyards.
DTC Diversifies
As more California brands expand at the super-premium tier and competition grows fierce, wineries have turned to elevated tasting rooms, unique visitor experiences, and finely tuned marketing campaigns to attract consumer attention. "Direct-to-consumer (DTC) is incredibly important for us," says Duckhorn's Reber. "While we're not selling a lot of wine through our Decoy website, consumers are coming and visiting our sites in California a lot—we had around 100,000 visitors last year across all our properties, so we invest a great deal in them. And even if consumers aren't specifically coming to those sites for Decoy, we're often able to see them, connect with them, and introduce them to the wine at one point or another." Duckhorn offers a variety of visitor experiences at each of its wineries, including private tastings with wine educators, food-and-wine pairings, and helicopter rides that are followed by ATV vineyard tours and tastings.
Constellation Brands has had major success with Napa Valley label The Prisoner, which it acquired from Huneeus Vintners in 2016. While the overall success of the red blend category has certainly bolstered the brand, recent additions—like a Napa Valley tasting room—and calculated marketing spends have also brought in more consumers. "We've made strong investments in marketing, public relations, influencer campaigns, and sales activations to drive consumer demand," says Constellation CMO Jim Sabia, adding that The Prisoner's DTC business is critical, as it gives consumers the opportunity to be wholly immersed in the brand.
To that end, Constellation opened a sprawling, multi-faceted tasting lounge in St. Helena in 2018, which offers a variety of private tastings and food pairings. Overall, The Prisoner rose by 14% last year to 200,000 cases, buoyed by its namesake red blend, as well as Merlot, Cabernet Sauvignon, and Zinfandel, among other wines. Sabia expects Unshackled—a new offshoot from The Prisoner that launched last December with a red blend ($30 a 750-ml.), Cabernet Sauvignon ($30), and rosé ($27)—to bring in a slew of new consumers as well.
Elsewhere, Josh has long relied on an advertising campaign that speaks to its salt-of-the-earth roots, which Steffanci believes has been instrumental in reaching younger consumers. "We have a founder with a really honest story, and that's resonated with younger consumers, who see our ads—which aren't produced by an agency but by us with the help of a hired movie crew, making them appear less pointed—and feel connected to the brand and our winemaker," he says. Aside from its advertising campaigns, Josh also invests heavily in consumer research, with Steffanci noting that the brand is ultimately driven by its consumers, especially those who are 21-30 years old.
At Hess, DTC is also critical in drawing consumers to the brand. "We've put a great deal of emphasis behind upgrading our DTC business on a number of fronts," says Grant. "Our visitor center has been significantly upgraded as of late, both in terms of landscaping and inside presentation, and we've added three VIP rooms. Visitors can now also avail themselves of a guided ATV tour, where we take them around mountain vineyards—thus far, it's been an extremely popular add." While Hess has shed lower-end offerings from its DTC experience, the Allomi and Lion's Head tiers have proven strong attractions in and of themselves, according to Grant.
Looking ahead, he sees a long runway for continued growth for California's super-premium wine industry, especially as millennial consumers continue to mature. "Younger, more discerning consumers are constantly entering the market, and they're moving the industry upscale," he says. "Heritage, luxury wines will always have a place in California, but now more than ever it's important to have a more contemporary look, feel, style, and tone, along with a price point that's within reach."