Mexico's most famous spirit is Tequila, with nearly 20 million 9-liter cases sold in the U.S. last year, according to Impact Databank. But as consumers expand their drinking horizons, another Mexican agave spirit—mezcal—is gaining significant traction. In recent years, U.S. mezcal consumption has grown dramatically, with 323,000 cases imported in 2019, up from just 84,000 cases in 2014.
"There was a time when we probably carried one brand of mezcal—Monte Alban—and a case purchase would last months, but today, there are many different brands and we find ourselves reordering quite frequently," says Bob Kreston, owner of Delaware-based Kreston Wine & Spirits. "We've done a number of in-store mezcal tastings and have seen positive responses."
Once drinkers learn more about mezcal, they're likely to be all-in. With increased consumer interest in the category, major spirits players are getting in the mezcal game. In early 2017, Bacardi took a minority interest in the Ilegal mezcal brand. That summer, Pernod Ricard acquired a majority stake in Del Maguey Single Village mezcal. The following year, Diageo-owned Casamigos Tequila launched its own mezcal label, while Diageo acquired luxury mezcal brand Pierde Almas. Last spring, Constellation Brands took a minority interest in El Silencio mezcal, and Campari agreed to acquire a 51% stake in the Montelobos brand last fall. With all of this action in the category, mezcal is poised to become a significant contender in the U.S. spirits scene.
"We expect mezcal's growth trajectory to continue—like premium Tequila in its early days," says Guillaume Cuvelier, vice chairman of Davos Brands, which owns Sombra mezcal. "Mezcal is a fast-growing category, yet still very small relative to the industry as a whole. There's a lot of room to grow."
Emerging Excitement
At Kreston Wine & Spirits, mezcal may be a small player, but Bob Kreston believes the category will gain new fans in the future, particularly as Tequila drinkers branch out. "Mezcal sales are minimal compared to other spirits, which is likely due to the fact that customers are just starting to discover mezcal and experiment with it," he says. "We carry 11 mezcal brands—it's probably the smallest category among the spirits, but it continues to grow."
Best-selling brands at Kreston include Bozal ($40-$56 a 750-ml.), Casamigos ($56), Del Maguey ($33), Ilegal ($43-$53), Monte Alban ($22), Montelobos ($38), Sombra ($30), and Xicala ($40). "Most are priced in the $40-$50 range, and customers don't seem hesitant to spend that," Kreston adds. "The mezcal drinker is younger. They're Tequila drinkers interested in trying something more complex than what they're currently drinking."
The pricing sweet spot for mezcal is similar at Odessa, Texas-based retail chain Pinkie's, where consumers are spending anywhere from $35-$50 for a bottle of mezcal, according to Pinkie's marketing director Orlando Spencer. Del Maguey Vida is the chain's top-selling mezcal ($36 a 750-ml.), followed by Ilegal Reposado ($50). "The trend I've noticed in mezcal is the number of new brands coming into the marketplace," Spencer says.  "It's hard to imagine mezcal becoming as popular as Tequila, but I predict the category will continue to grow over the next few years, thanks to the new offerings."
At California-based Wally's Wine & Spirits, wine and spirits buyer Ryan January notes that mezcal consumers tend to be adventurous drinkers between 25 and 45 years old who are willing to spend $50-$100 on a bottle. Wally's carries around 30 different brands, with mezcal comprising 5%-7% of spirits sales. El Silencio Espadín ($30 a 750-ml.),  Dos Hombres Joven  ($65), and Joya Azul Gran Reserva Añejo ($60) are the top-selling labels. "Mezcal has been slowly building the category of lesser-known Mexican spirits, leading to more sotol, raicilla, and others on the market," January adds. "In 20 years, I think we'll see all agave distillates banded together to promote the entire country of Mexico."
Since mezcal is still a budding category, suppliers welcome increased competition because it helps raise awareness. "Most mezcal brand owners in the market are either friends or are aware of the hard work others have done to build the category," says John Rexer, founder and CEO of Ilegal mezcal, which jumped by more than 50% to nearly 30,000 cases sold last year, according to Impact Databank. "We're clearly competing with each other, but we also realize that we're in this together to build a viable category for the long term."
Taryn Olsen, vice president of marketing for El Silencio, concurs. "I like saying that competition in the category is healthy," she says. "Larger suppliers have come in with truly great brands. This only helps promote the category as well as the quality of the spirit, which, in the end, benefits all artisanal mezcal brands."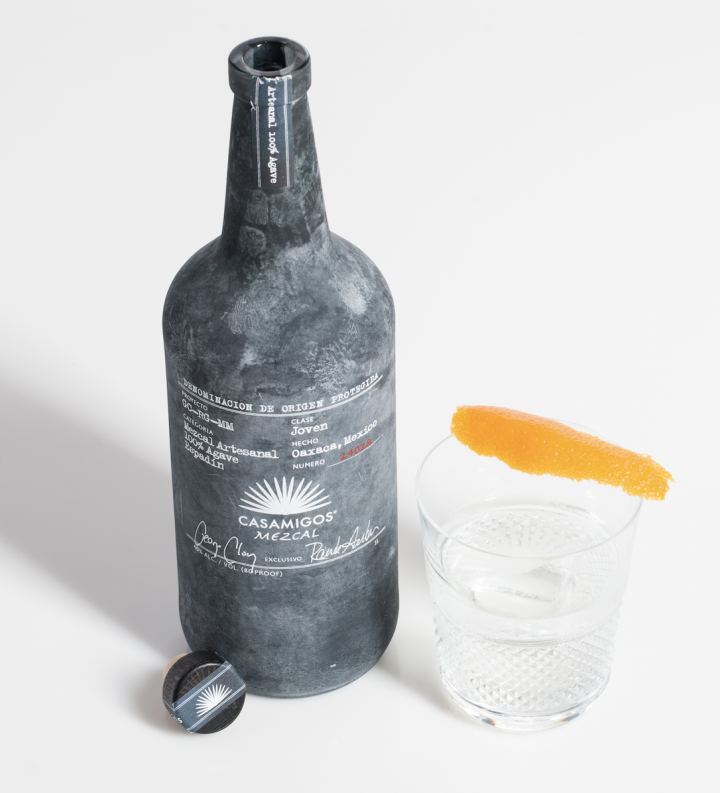 Indeed, the more mezcal brands there are on the market, the more attention the entire category receives. "We love that drinkers are being exposed to a greater number of interesting, varied options in agave-based spirits," says Bernadette Knight, senior category marketing director of white spirits, including Montelobos mezcal, for Campari America. "We see an increase in interest across the category not as a challenge, but as an opportunity to raise the level of education we provide." Montelobos was up 44% last year to 14,000 cases sold, according to Impact Databank.
Educating consumers is the key focus for most mezcal suppliers. "The biggest hurdle for the category, because it's so new, is building awareness through a combination of consistent education and innovative marketing that lets the category stand out in a sea of noise," Rexer says. "It's costly and requires a lot of persistence."
Educational Efforts
With Campari's recently acquired stake in Montelobos, the company has its sights set on introducing the brand to more consumers. "Until now, Montelobos's success has been driven by a limited number of geographic areas, so expanding the brand's distribution footprint remains one of the biggest areas of opportunity," Knight explains. Last year, Montelobos released Tobalá ($100 a 750-ml.), an unaged joven mezcal, in small quantities to limited markets. "The release was met with significant demand and, as a result, we're working on bringing it to a larger audience to enjoy," Knight says. "We're also currently expanding the brand ambassador teams for our mezcal and Tequila categories—at the heart of this expansion effort will be education."
Knight adds that Montelobos practices fully sustainable production methods, using only cultivated agave to produce its mezcals. "We believe the more educated the consumer becomes on mezcal, the more they will appreciate our brands' commitment to sustainability," she says.
Sustainability messaging is a common theme among mezcal brands. "Together with our partners at Pernod Ricard, we've continued to fuel a strong social and environmental sustainability philosophy that positively impacts the communities we work with," says Michael Gardner, global business leader for Del Maguey mezcal, the top-selling mezcal in the U.S. market, according to Impact Databank. The brand recently released Las Milpas ($70 a 750-ml.), its first addition to the core Single Village lineup in over 20 years. "It's a wonderful single village mezcal made by a humble family, like all of our producers," Gardner says. "It's a lot of fun to be transported by the sense of place these handcrafted bottles offer." Del Maguey is also adding a limited-edition Tobaziche varietal ($125) to its Vino De Mezcal line this spring.
Educational efforts are key for Ilegal mezcal. "Our team is made up of a diverse group of people who truly love the mezcal category and Oaxaca, and who care about the environment and creating positive social change," Rexer says. In 2018 the brand initiated an educational program called the How and Why tour across nearly all markets. "The tour was aimed at educating trade—mainly mixologists and bartenders—on mezcal in general, and Ilegal specifically, with a big focus on the importance of transparency and sustainability," Rexer adds.
In December, Sombra mezcal received the Leading Sustainable and Environmentally Friendly Mezcal Company award from the Mezcal Institute. "Sombra's DNA is sustainability," Cuvelier says. "Because we own our distillery, each step of the artisanal process has been reimagined to be more sustainable and eco-friendly while respecting the mezcal tradition. Additionally, the Sombra Adobe Brick Project upcycles agave fibers left over from distillation into bricks to build homes for those in need—we've built over 28 houses in Mexico to date." Sombra grew by 30% in 2019 to 13,000 cases, according to Impact Databank. The brand will debut new packaging this year. Last year it launched Sombra Ensamble ($199 a 750-ml.), a special-edition blend of wild Tepeztate & Tobalá agaves, which Cuvelier notes was produced in limited quantities out of respect to agave resources. "We also initiated a replanting program to sustain and protect these rare agave varietals," he says.
For most of the top brands, supply hasn't been a major concern thanks to careful sustainability efforts. "Supply is only a problem for brands who don't plan properly," El Silencio's Olsen says. "You cannot, for example, come in and wipe out an entire field of agave that took seven years to grow without thinking about replanting it or supporting the farmers who will do it. It's just common sense. As a result, the coming years may push some brands out of business or force them to plan properly and care more for agave and agave farmers."
The On-Premise Scene
While mezcal brands aim to spread education about the category through marketing strategies and hands-on brand ambassadors, suppliers also recognize the huge role bartenders play in getting the word out about mezcal. "In the on-premise, the song remains the same: We have immense humility for the love and loyalty of craft bartenders all over the world," Del Maguey's Gardner says.
Spencer of Pinkie's credits cocktail culture with sparking the current mezcal boom. "Cocktails give consumers a chance to try mezcal before committing to a bottle, and they also give them ideas of how to drink it," he says. January of Wally's agrees, noting that cocktails are an ideal way to introduce novices to the spirit. "Cocktails slowly get them into the complexity that is mezcal," he adds.
Bartenders act as advocates for spirits and ingredients they believe in, and this has been a major boon for a smaller spirit like mezcal. "Mezcal certainly wouldn't have the presence in the U.S. that it does now without bartenders looking to develop themselves more and find new ingredients to create a unique guest experience," says Beau du Bois, bar and spirits creative director at the California restaurant chain Puesto. "That platform gave mezcal and its production the microphone and spotlight it greatly deserves." An authentic Mexican restaurant, Puesto highlights Tequila and mezcal on its spirits and cocktail menus. Popular mezcal-based cocktails include the Cannonball ($16), comprising El Silencio Espadín, Giffard Abricot du Roussillon apricot liqueur, pineapple and lime juices, and Angostura bitters, and the Taco Truck ($16), blending El Silencio Espadín, pineapple and cinnamon-infused Campari aperitif, and Dolin Rouge sweet vermouth. "El Silencio and I have worked closely for years now; it's been my great pleasure to watch it grow," du Bois adds. "I can't think of a brand that has marketed mezcal exploration to a larger audience than El Silencio."
And mezcal-based cocktails aren't limited to Mexican venues. At the New York City restaurant Archer & Goat, mezcal is one of several different spirits highlighted on the cocktail menu in such drinks as the Archer ($16), featuring Ilegal Joven, house-made hibiscus ginger agua fresca, simple syrup, and lime juice, and The Red Bottle ($18), mixing Ilegal Joven, Campari, and Martini & Rossi sweet vermouth. "The discovery of mezcal as an individual spirit as opposed to a smoky offshoot of Tequila—as it's been so often perceived—and the increasing diversity of styles and flavors available have contributed much to mezcal's rise behind the bar," says Tathiana Montes de Oca, the venue's beverage director. "Mezcal is extremely versatile—it can be served neat, on the rocks, or elevated in a cocktail. The layers of flavors from the piña of the agave plant, completely variable depending on the Mexican state where it was grown, give mezcal an undeniable disposition of complexity unmatched by other spirits."
While Knight of Montelobos notes that cocktails remain the No.-1 driver of mezcal consumption, she says that serving mezcal neat has picked up steam in the U.S. over the last five years. "Cocktail culture is propelled by the creativity and innovation of passionate bartenders—that constant need to create something new and exciting has led the bartending community to embrace this small and new category and, in turn, demonstrated to consumers that mezcal can be enjoyed in ways they may not have realized given old misconceptions of the spirit," she explains.
Mezcal may still be new to some consumers, but as they continue to explore new flavors and embrace authentic ingredients, the spirit is sure to gain more fans. "The future of mezcal is grand," de Oca says. "Consumers are excited to learn its history, which has generated dialogue across the industry. Mezcal will pave the way as Mexican spirits continue to shine and traverse borders."