In the universe of top-notch, celebrated cocktail bars, there are a handful of venues that have come to define the genre—bars that are so well known in their markets that they're considered true destinations for cocktail aficionados. These bars have the name recognition and reputation to transcend their location, and many are doing so, adding new units outside their flagship market to bring their unique cocktail experience to a new crowd. Concepts like Employees Only, Death & Co., and NoMad Bar were born in New York City and gained critical acclaim there, and then ventured out, establishing a presence across the country and even internationally. 
For many of these drinks institutions, expansion came slowly and after a long pause to get their initial unit fully established. When Employees Only opened in Manhattan in December 2004, it was met with great reception from the drinks community and the general public. It operated as a single Manhattan cocktail den for more than a decade before adding a second unit and when the team of bartender owners finally did decide to branch out, they went far afield, to Bars Go National Singapore, for that second location. Today, Employees Only has not only the original speakeasy-style bar in New York City's West Village, but also sister locations in Singapore, Los Angeles, and Sydney, Australia. 
"We never really envisioned that we would do this," says Dushan Zaric, a co-founder of the original Employees Only in Manhattan. "I remember discussing it with the other partners, that it would be cool to open another, but we were never really serious. We were just bartenders working and having a good time. Employees Only started as an idea to serve other hospitality employees and I hoped we would get some recognition because we were very passionate about our creativity, service and hospitality."
Adding Units
The first Employees Only opened on December 5, 2004— Repeal Day. The second launched 11 years later in Singapore. Following that, Employees Only locations opened in Hong Kong and Miami in 2017 and in Los Angeles and Sydney in 2018. The Hong Kong and Miami units have since closed. In New York City, Employees Only is temporarily closed due to Covid-19 mandates and in Los Angeles the venue is operating in a reduced capacity for takeout and delivery. 
Among the four operating Employees Only venues, there are a handful of design elements and cocktails that can be found at each location. Even so, Zaric says the preference is for each bar to reflect its locale and its market demographics instead of looking like its siblings. "We tailor them to be market-specific," he explains. "These bars are not a product, they're a human experience. We can't offer the same experience in Singapore that we do in Los Angeles because they are two different cultures." 
All Employees Only locations have the concept's signature 'S' shaped curved bar, which Zaric says is a function of bartender usability and design. He adds that the bars are generally positioned to the right of the door upon entrance and that they all have brass tops and specific types of lighting. In New York, the venue's interior is dark and designed to evoke a speakeasy, while in Los Angeles the venue is more "Hollywood" with open space and ambiance, and in Sydney it's glitzy and glamorous to appeal to a specific local, affluent consumer. Employees Only drinks like the West Side, made with Charbay Meyer Lemon vodka, lemon juice, mint, simple syrup, and club soda, and the Billionaire Cocktail, mixed with Baker's Bourbon, house-made absinthe bitters, house-made grenadine, simple syrup, and lemon juice (both $18 in Manhattan), are among the staples at every location. 
"We emphasize creativity," Zaric says. "I believe in empowering the bar teams to come up with their own creations that are applicable to their market. Our classics stay classics, but everything else is supposed to be an expression of local creativity." He adds that the Employees Only team is open to adding more bars once Covid-19 ends and economic recovery is in sight, though there is no firm plan in the works yet.
Another New York bar institution, Death & Co. has a similar expansion story. The original Death & Co. opened in Manhattan's East Village on New Year's Eve 2006 and quickly became a fixture in the city for its lengthy cocktail book and exceptional drinks service. The drinks destination operated as a sole unit for 14 years before adding new locations across the country, in Denver in 2018 and Los Angeles in 2019. During the decade before expansion, Death & Co.'s founders were busy working on the original bar and on other separate projects, but they came back together to grow Death & Co. and haven't looked back. 
Death & Co. Denver is set up very differently from its older sibling in New York. While the Manhattan venue is designed to evoke a speakeasy, with low lighting and no windows in a nondescript building on a primarily residential street, the Denver location is in The Ramble Hotel and boasts a bright airy interior. Along with managing their namesake bar in the hotel, the Death & Co. team in Denver manages all of The Ramble's food and beverage programs, including room service and events, a coffee bar and café, and restaurants that serve breakfast, lunch, and dinner. Meanwhile, the Los Angeles Death & Co. space is dimly lit like New York, but it houses two separate bars and a very different layout.
"Denver turned out to be the perfect project for us for how we wanted to grow," says Dave Kaplan, founder and co-owner of Death & Co. "It's incredibly different from Death & Co. New York. We wanted to show the elasticity of our brand through the second iteration. We always knew we wanted to grow Death & Co. but we knew it would take great care. Each Death & Co. is a reflection of its city. We want them to be immersive, so that you feel grounded in the moment and the experience." 
Kaplan explains that before each new opening the Death & Co. leadership team spends a significant amount of time in the new markets, hosting pop-up bars to meet people and better understand the local communities. The contents of each location's menus are unique and there's virtually no crossover in food or drinks among different locations. Two of the top-selling drinks in Death & Co. New York before the pandemic were the Vantage Point ($18), made with Suntory Toki Japanese whisky, Bertoux brandy, Italicus Rosolio di Bergamotto liqueur, Caol Ila single malt Scotch, a housemade blend of orange bitters, and simple syrup, and the Moondog ($18), comprising Mahon gin, St. George Raspberry brandy, Luxardo Abano amaro, lemon juice, and simple syrup. In Denver, one of the bestselling pre-Covid-19 drinks was the Mystery Solver ($16), mixing peanut butter-infused Rittenhouse rye, Westward single malt whiskey, Giffard Crème de Framboise liqueur, Angostura Aromatic bitters, a housemade blend of orange bitters, and cane syrup, and one of the most popular drinks in Los Angeles was the Buko Gimlet ($17), blending Four Pillars Navy Strength gin, Novo Fogo cachaça, Kalani Coconut liqueur, lime juice, coconut water, and pandan syrup. The New York City and Los Angeles units are currently only offering to-go options, per local Covid-19 restrictions, but Denver is open at 25% indoor capacity. 
The only real design elements that feel familiar across Death & Co. are the concept's white marble bar tops and some slatted wood paneling in each space, as well as the physical design of each menu, as Kaplan believes the menu experience is integral to the Death & Co. brand. He adds that the Denver and L.A. locations each have a plaque outside stating the venue's establishment in 2006—a nod to the original opening in New York—but says there's little else to link each location to the original or to each other. "We want to keep people in the moment and we feel that we have to earn it," Kaplan says. "We earn every new customer and every return guest. We don't want to rest on the laurels of the New York location. We want each one to stand on its own and be a place worth going to. It's an incredible privilege to grow a company. I never thought in the beginning that I'd be in this position, I was just trying to create a great bar." He adds that Death & Co.'s management team is thinking about continued growth and looking for space to debut a fourth unit as soon as the end of this year.
Creating An Identity
The Caribbean-inspired bar Broken Shaker started as a pop-up in Miami and has since added a permanent location there and additional units in Chicago, New York, and Los Angeles. The tropical cocktail haven created by the founders of hospitality consulting firm Bar Lab began as a temporary bar in 2011 and got a permanent Miami home in 2012. It branched out to Chicago in 2014 and expanded to both coasts from there. All of the Broken Shaker bars are located within Freehand Hotels. 
"It was supposed to be a temporary concept but word got out and we got nominated for a James Beard award and it blew up," says Bar Lab cofounder Gabe Orta. "It took us two and a half years to branch out and we weren't planning for it. We didn't want to come to a city like Chicago, L.A., or New York with a Miami concept. We wanted each city to give us inspiration for drinks, food, music, and neighborhoods. Each Shaker—the design, offerings, music, etc.—is about bringing in elements from each city and adapting the concept. We let each city, and the people in it, shine and tell their story and their inspiration." 
Orta says the original Broken Shaker was intended to feel quintessentially Miami, but notes the units that followed weren't really modeled after that vibe. The concept's Caribbean food and island-style drinks are received well everywhere, he notes, but the company doesn't necessarily promote the Miami heritage in other cities. The menus at each location vary, though Broken Shaker's most popular cocktail—the Coco Puff Old Fashioned, made with Cocoa Puff cereal-infused Wild Turkey rye, Fee Brothers Aztec Chocolate bitters, and Demerara syrup ($14 in Miami)—is available at each location, even if it's not listed on the menu.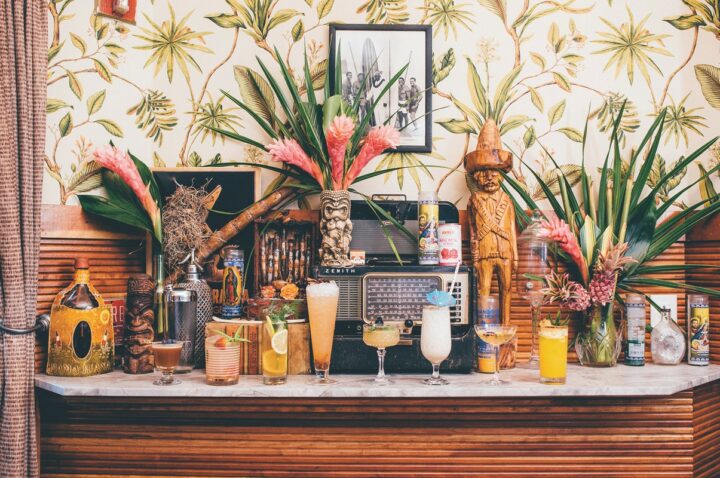 Old Fashioneds and spicy Tequila and mezcal drinks do well in every market, Orta says, adding that the bars in Chicago and New York City move a lot of dark spirits and more alcohol-forward drinks, while Los Angeles and Miami sell predominantly tropical-influenced refreshing and culinary cocktails. The company's spicy shaker salts make an appearance in each city to rim specific drinks and their design elements like burning sage and antique shelving are also visible everywhere. The Broken Shaker in Miami is currently open, while the Chicago, New York City, and Los Angeles outlets are temporarily closed due to Covid restrictions. 
"We were well received in New York because New Yorkers often travel to Miami and they knew our brand, but for Chicago and L.A. it felt like introducing a new brand, which takes time, programming, and good execution," Orta says. "We have plans to expand if we find the right property and venue. I'd love to see a Broken Shaker in Austin or San Francisco, and most definitely in Hawaii." 
Freehand Hotels, which houses the Broken Shaker bars, was created by New York City-based Sydell Group in 2012. The company later sold it to an investment firm, but Sydell Group is no stranger to big-name bars, as its NoMad Hotel properties house the renowned NoMad Bar concepts. NoMad Bar was born in New York City and expanded to Las Vegas and Los Angeles via NoMad Hotel properties there. A fourth NoMad Bar is expected to open in London this year. The New York City and Los Angeles bars are temporarily closed due to Covid and Las Vegas is open at a limited capacity.
"When we created the NoMad we were inspired by the great hotels of yesteryear and wanted to recreate our vision through a modern-day lens," says Leo Robitschek, vice president of food and beverage for Sydell Group. "Our goal was to create something truly rooted in our community and that felt very New York. It's important to have a sense of place, excitement, and fun. Though it wasn't off the table, we never had expansion in mind and the process took quite a while. It's important that the brand be rooted in the city it's located in. Community and sense of place are two pillars we use to design NoMad. We want to ensure each property feels unique." 
To that end, the NoMad team works hard to be a part of each community in which it's located. Robitschek says the company is happy to share the bar's history but that it doesn't emphasize its New York City roots across the country. The bars each have common menu section for NoMad classics, which include drinks like the Hot Lips, a smoky Margarita mixed with jalapeño-infused El Tesoro Blanco Tequila, Sombra mezcal, pineapple and lemon juices, and house-made vanilla syrup, and the Detox Retox, a silky Old Fashioned blending Diplomático Reserva Exclusiva and Plantation Pineapple rums, Chivas Regal 12-year-old Scotch, Avuá Amburana cachaça, Angostura Aromatic bitters, and coconut water (cocktails are $16 in Manhattan). And they also have a roster of drinks designed specifically for their local markets. 
"It's amazing to see newcomers discover our spaces," Robitschek says. "It's the biggest compliment when people tell us the bar feels like it's been there for years. We work hard to not only be a part of the community, but also to contribute to it. It's the hardest part, but also the most fulfilling and rewarding."
Beyond Home
After conquering one city, establishing a presence and gaining recognition in a new market is no easy feat. The team behind New York City's popular Irish bar Dead Rabbit is tackling this now. The Dead Rabbit team had plans to make their first move outside of Manhattan last year, but Covid-19 put a stop to it. Now, they're prepping to debut Dead Rabbit New Orleans in late 2021 and have additional plans in the works for 2022 and beyond. The original Dead Rabbit in New York City's Financial District opened in 2013. 
"We decided to wait until we felt truly ready to start scaling the business," says Dead Rabbit managing partner Jack McGarry. "The bar is a quintessentially New York Irish story, but it's a story that makes sense to all Americans. Our goal is to open a Dead Rabbit in markets that make sense while showcasing what a genuine, world-class Irish-American pub is and reflecting the local markets through our operation." 
For Dead Rabbit New Orleans this will mean creating a large outdoor courtyard space, which the New York bar doesn't have, and integrating New Orleans drinks culture into the venue, including frozen drinks and local classics. McGarry says the New Orleans bar will have Dead Rabbit staples like the Irish Coffee Martini, made with Bushmills Black Bush Irish whiskey, Bitter Truth Aromatic bitters, Demerara sugar, and cold-brew coffee, and the Psycho Killer, comprising Sexton single malt Irish whiskey, Vieux Pontarlier absinthe, Campari, and Giffard White Crème de Cacao and Banane liqueurs (both drinks are $17 in New York City). Though the New Orleans menu is still being finalized, McGarry adds that the bar's signature drinks will join a roster of Irish-influenced New Orleans classics like an updated Ramos Fizz, Sazerac, and Pimm's Cup. 
Once New Orleans is up and running, he hopes to add Dead Rabbit outposts in cities like Boston, Chicago, Nashville, and Washington, D.C. McGarry says it will be critical to remain vigilant about monitoring what works and doesn't work from the original concept once expansion starts. "Our bar and brand are well established, so it will always be linked to New York City," McGarry explains. "But we will put roots down in each community and market we operate in to ensure our bar is benefiting and contributing to the cities we serve. Each market has its own set of idiosyncrasies and I'm looking forward to learning those and molding our bars to fit into each market while keeping the business's core intact."