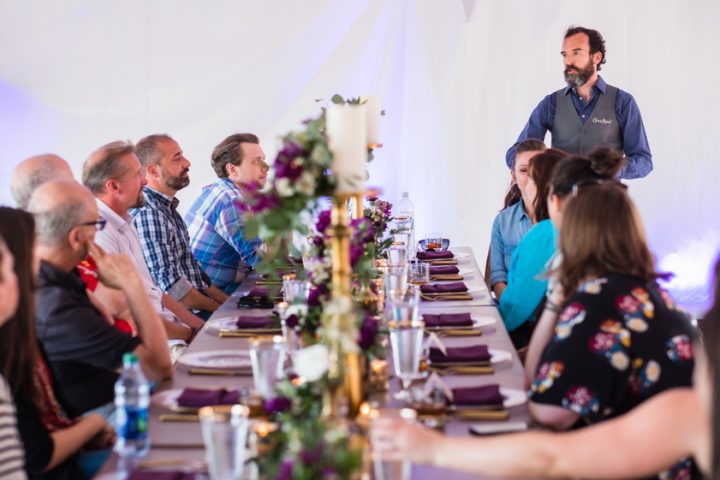 Canadian whisky is seeking to enliven its image through a combination of flavor innovations, cocktails, and upscale line extensions. Last year, volumes (excluding flavors) fell just 1% to 13.4 million 9-liter cases, a sign that the long downward trend might finally be bottoming out. With flavors included, the category's volume was far larger at 20.5 million cases and rose by about 2% in 2017.
Results from brand innovation have been mixed, but category leader Crown Royal, with retail sales of nearly $1.5 billion, is clearly at the head of the class. While Crown Royal Deluxe ($25 a 750-ml.) remains the franchise's core offering, flavor extension Regal Apple ($25) has quadrupled over the past four years, hitting 1.4 million cases last year, while Vanilla ($25) grew 44% to 412,000 cases. This year, the brand has released such novelties as its Texas Mesquite flavor ($25) and Blenders' Mash ($60), originally called Bourbon Mash. A 13-year-old version of Blenders' Mash, part of the Crown Royal Noble Collection, has also debuted. According to Crown Royal brand director Nicola Heckles, the brand doesn't apologize for scarcity with some line extensions. "With something like the Mesquite, we only make a batch of it," she says. "When it sells out, it's gone."
Elsewhere, last year Luxco launched two extensions to its core Lord Calvert label ($17 a 1.75-liter)—Spiced Peach ($17) and Black Reserve ($20)—in select markets. Thus far, however, the company doesn't have its sights set on major expansion. "We don't have a plan to take them national," says Fletcher Buchman, brand manager for whiskies at Luxco. "Introducing new labels is a challenge because shelf space is so overcrowded. So those two extensions will likely remain regional brands for now."
Constellation Brands' Black Velvet launched the Cinnamon Rush flavor extension a few years ago to complement its core label. But it underperformed, and the company is now pursuing limited distribution for its Toasted Caramel flavor ($10 a 750-ml.) instead. Black Velvet also offers a Reserve 8-year-old ($17) aimed at premium-minded consumers, but sales overall have slipped. "Flavors are pretty fickle," says Carl Evans, vice president of marketing at Constellation. "Some succeed, but that isn't always long-lasting. Consumers nowadays are very promiscuous—maintaining loyalty is a real challenge."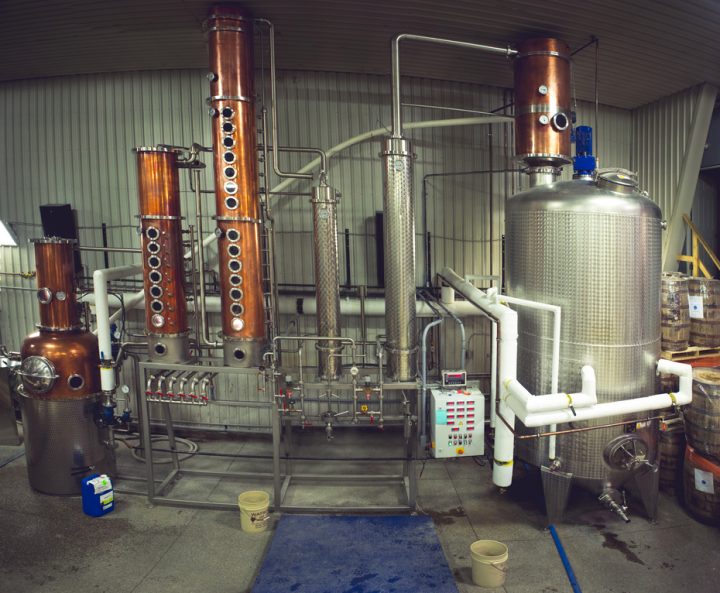 One brand actively going for flavors is Phillips Distilling's Revel Stoke, which offers its core expression ($17 a 750-ml.) as well as nine flavor extensions, including Roasted Pineapple, Root Beer, Pecan, and Smoked Vanilla. Brand manager Lyndsey Reimers notes that Canadian whisky's light flavor creates a logical entry point for new consumers. "It's easier to start on the lighter side, and Revel Stoke is a good whisky to build your palate," she says.
Meanwhile, other brand owners have eschewed the flavor route. Brown-Forman, for example, banks on its core Canadian Mist label ($13 a 750-ml.), and brand manager Dallas Cheatham notes that Canadian Mist's website promotes simple cocktail recipes, such as Canadian Mist mixed with Coke, root beer, or ginger ale. "We've found that Canadian whisky drinkers prefer easy mixability," says Cheatham. "They aren't looking for an education around a complex cocktail."
The upscale J.P. Wiser's label has seen 30% sales declines in each of the past three years under Pernod Ricard USA, part-owner of the brand. This past July, Wiser's moved to 375 Park Avenue Spirits. The brand's descent has been somewhat mysterious, considering its impressive efforts at upscaling. One problem the brand faces is that many of its expressions aren't yet available in the U.S. market—including lauded varieties like Wiser's 35-year-old, 150th Anniversary Red Letter, and Dissertation. The U.S. focus is on the core Wiser's Deluxe ($20 a 750-ml.), as well as the more upscale Triple Barrel Rye ($25) and 18-year-old ($60) expressions.
Jason Schladenhauffen, president and CEO of 375 Park Avenue Spirits, says an older Wiser's label—at least 30 years old—is likely to hit the U.S. by next year, and he predicts a comeback for Wiser's overall. "It's a top-two brand in Canada and a top-eight brand globally in Canadian whisky," Schladenhauffen notes. "In the U.S., it's currently outside the top 20, but there's no reason Wiser's can't be a top-ten brand. It's great liquid, and there's plenty available. We have a lot of headroom to grow."
Canadian Craft Players
Dozens of small Canadian craft distillers are now making darker, more robust whiskies that are preparing to enter or have recently entered the U.S. market. The pioneer was Forty Creek, launched in 1992 by John Hall and sold to Campari in 2014. But the brand hasn't been growing in the U.S.; last year, it dropped 28% to 47,000 cases. The core Forty Creek Barrel Select retails at $24 a 750-ml., and Campari has covered other price points with expressions including Copper Pot Reserve ($29), Double Barrel Reserve ($55), and Confederation Oak Reserve ($65). In October, the company launched a new blend—Forty Creek Unity ($75)—in a limited release of 250 cases in the U.S., out of 2,000 cases total. To create Unity, Campari selected five consumers to journey to the distillery in Ontario and work with master blender Bill Ashburn on the final product. "It's a crowd-sourced blend," says Sean Yelle, category director for dark spirits at Campari.
Still Waters Distillery, located in suburban Toronto, recently switched importers and has reduced distribution of its Stalk & Barrel label from 12 states to just the state of Texas. It also dropped the price from $50 to $40 a bottle. "Previously, we had a bit of our product in many markets," says co-owner and head distiller Barry Bernstein. "We'll now concentrate on Texas, which is a great Canadian whisky market, and move into other states over time. We're being more strategic with the brand."
Many other craft players are gearing up for entry into the U.S. market. Colin Schmidt, a former pro hockey player and owner of Last Mountain Distillery in Saskatchewan, has been making whisky for the past three years and selling it locally. "We've gone to whisky events and met people who want to get their hands on our product," he says. "My hope is that we'll be ready to sell to the U.S. within two years."
Another pro hockey player has also lent his name to a budding Canadian whisky brand. Wayne Gretzky Estates Winery and Distillery in Niagara-on-the-Lake, Ontario, launched three whiskies in its No. 99 line in the U.S. this year: Red Cask ($35 a 750-ml.), finished in red wine barrels from the winery; Ice Cask ($50), finished in the winery's icewine barrels; and Ninety-Nine Proof ($80), finished in Cabernet Sauvignon barrels. Named for Gretzky's jersey number, the No. 99 range is currently sourced from undisclosed Canadian distilleries, although master distiller Joshua Beach is laying down spirit to mature that will be ready for bottling in a few years.
Increasingly, craft distillers are looking for ways to make their brands stand out. For David Farran, president and founder of Eau Claire Distillery in Alberta's Turner Valley, horses have added to the brand's imagery. He enlists hundreds of volunteers to come onto his property each fall and harvest grains with horse-drawn equipment. He released 2,000 bottles a year ago to a local audience, and is laying down barrels for the long term. "We think we can be in the U.S. in two to three years," he says.
Elsewhere, Dillon's Small Batch Distillers is already selling vodka and gin to the U.S. through Florida-based ECU Imports. Distillery president Geoff Dillon has been laying down whisky since opening in 2012, and expects it to be ready for the U.S. soon. ECU Imports distributes Dillon's white spirits to just four states so far. "The small Canadian distilleries don't have the finances to support their brands with marketing, and they lack the critical mass needed to make an impact here," says ECU president Al Quesada. "Our main objective is to create distributor awareness for this small brand."
Growing Competition
Canadian distillers note that the Craft Beverage Modernization and Tax Reform Act enacted in the United States last year lowered the federal excise tax paid by small U.S. distillers from $13.50 to $2.70 proof gallon (at 50% abv). That's given the U.S. craft sector an enormous upside—and a particular advantage over their Canadian counterparts.
As a result of the popularity of American-made brown spirits, Peter's Discount Liquor in North Syracuse, New York has narrowed its Canadian department down to Crown Royal ($25 a 750-ml.), Sazerac's LTD brand ($16 a 1.75-liter), and Black Velvet ($20), along with a few smaller brands. "We've expanded our Bourbon selections from 30 to 60 SKUs in the past year," explains the store's general manager, Jason Tyo. "Bourbon is what people want. Canadian whisky has become a narrower category for us. Eventually, we may make room for some of the new craft Canadian products, but customers will have to ask for them."
And yet, many American bars and retailers can't wait for Canada's small brands to arrive. School House Kitchen & Libations in Arvada, Colorado, a venue with seating for 275 and 1,600 whiskies on its back bar, promotes 90 Canadian whiskies alongside some 800 Bourbons and 500 Scotch whiskies. School House beverage manager Andy Busold is enthused by releases like Canadian Club 100% Rye ($4 a 1-ounce pour), as well as Orphan Barrel Entrapment 25-year-old ($20), part of the Diageo portfolio. "High-end Canadian whisky is a relatively recent phenomenon," Busold notes. "It seems that lots of whisky makers in Canada are digging into their bag of tricks these days."