The tide is turning at Allagash Brewing Co. As recently as 2019, draft beer accounted for 65% of the Portland, Maine-based brewery's sales. Today, that share is down to about 45%, with packaged beer comprising the majority of its output. And within its packaged business, it's canned beer that's largely driving the growth, now accounting for two-thirds of Allagash's packaged sales. "We're seeing increased demand for our cans," says sales director Naomi Neville. "Cans are a versatile package for beer. You can serve canned beer in a bar or restaurant and also get that same beer to go from a liquor store."
Canned beer is indeed reaching meteoric heights. According to the Beer Institute, cans represented 63% of total beer volume (including hard seltzers and flavored malt beverages) in 2020, its highest level ever, up from 57% the year prior. Of course, cans benefitted from on-premise shutdowns at the beginning of the pandemic, as draft beer sales plunged, and consumers loaded up on beer at retail. While off-premise dollar sales of canned beer dropped 3% to $23.7 billion last year, according to NielsenIQ, as normalized buying patterns returned, that followed an 11% jump in dollar sales in 2020.
The canned beer frenzy has resulted in supply challenges and higher costs for some brewers as can producers have struggled to keep up with
demand. Due to higher minimum orders from can suppliers, "some craft brewers have been forced to purchase from new suppliers or through brokers," notes Bart Watson, chief economist at the Brewers Association. This has resulted in increased prices and delivery delays. Other brewers have adjusted their operations. "Our lead time in ordering cans is now a little longer, and we have to be more precise with our forecasting," says Sean Monahan, COO at Stone Brewing.
Craft brewer DG Yuengling & Son is also making changes to appeal to canned beer consumers. "We've been fortunate that we've been able to deliver the beers our fans want, in the packaging they crave, amidst the can shortage," says Colin Callahan, vice president of sales and marketing at the Pennsylvania brewery. "As consumers have been stocking up on packs of beer—with cans the preferred package for stocking up—we've listened to our customers, adjusted, and have been delivering to this new behavior pattern."
Benefits Abound
Cans offer numerous benefits over glass bottles for brewers, retailers, and consumers alike. Watson cites cans' lightness and convenience factors as big draws for beer drinkers. "Cans can be taken to more places than bottles," he says, adding that today's beer consumers don't cling to the old "perception gap" that canned beer is of an inferior quality to bottled beer. Indeed, aluminum is often a better protectant against sunlight than some bottles. "Retailers and distributors like cans over bottles because they're less breakable," the Brewers Association executive continues, noting that for beer suppliers, the lower weight of cans makes them less expensive to transport than bottles. Monahan adds that at retail cans take up less space than bottles. "Retailers can put more units on the shelf," he says. "A 6-pack of cans takes up less space than a 6-pack of bottles so there's more holding power."
Craft beer has shifted dramatically to cans in recent years. Noting that a new craft brewery typically makes a choice between putting in a bottling or canning line, Watson says, "There's been a generation of brewers who have put in canning lines only." At Stone, cans now account for 55% of the brew- ery's packaged output, Monahan says, while prior to the Covid-19 pandemic bottles held the majority. "There was a change in consumer behavior during the pandemic," the craft brewer explains. "People went to the grocery store and bought a case of beer to hold them over. They chose cans because they were lighter and easy to grab and go." While the benefits of cans easily outweigh the challenges, Monahan notes that one disadvantage to the package is that beer typically shouldn't be cellared in a can for more than a year.
Even bottle stalwart Corona Extra is adapting to canned pack- aging. Bottled beer makes up the vast majority of the brand's sales, but cans have a 10%-15% share and Corona Extra's new slim can design could grow that portion of the brand's business. "The slim cans fits into the Corona equities of refreshing, premium, and modern, and it's the preferred format," says Ryan Anderson, brand marketing director of Corona Extra at Constellation Brands. "Part of our advertising this year will be focused on it, as we believe we can capture that same magic with cans that we have when a consumer opens a Corona bottle."
Sales Surge
Retailers say the gains made by canned beer are clear. "Cans have become so prevalent that it's almost shocking when a new brand pops up that uses glass," says Will Moore, general manager at Indiana's Crown Liquors. "Cans are now the most common vessel for new SKUs." They dominate packaged beer sales at the 19-unit chain, he says, where selection ranges from 12-packs of 12-ounce cans of Bud Ice at $10 to Toppling Goliath Pseudo Sue pale ale at $28. Moore notes that among leading beer brands like Bud Light, Miller Lite, Coors Light, and Modelo, canned sales are outpacing those of bottles, and he adds that the recent entry of high-end imports like Samuel Smith, Lindemans, and Weihenstephaner in cans further legitimizes the trend.
At Oliver's Market, a four-unit grocery chain in northern California, "canned craft beer has overtaken our sets, practically burying the bombers that only ten years ago were the hot category," says beer, wine, and spirits buyer Richard Williams. "There seems to be no slowdown and no end in sight." He adds that canned beer now comprises more than half of Oliver's beer sales and cans are generally priced from $10 for a 12-pack of Miller High Life to $22 for Sierra Nevada's Hazy Little Thing. Canned craft beer—particularly 16-ounce containers—seem to benefit from the ability to transform the package's "blank canvas" into works of beer can art, Williams says.
Cans appear to be making headway in on-premise venues as well. Allagash's Neville attributes the development to the pandemic and concern from bar and restaurant operators about keeping draft beer fresh due to restricted capacities. "Cans offer a package that holds up over months at a lower price commitment," she says. "Retailers can also offer more variety in cans than they can on their few draft lines." And canned beer is a more convenient package for to-go orders, where legal, than bottles or draft beer, Neville adds. Yuengling's Callahan says cans now account for 11% of the brand's on-premise beer sales. "Typically, the package type on-premise matches the consumer occasion," he notes. "And we've seen that cans do well in outdoor occasions, such as outdoor bars and golf courses."
Suburban Restaurant & Beer Garden in Exton, Pennsylvania offers more than a dozen canned beers, ranging in price from $4-$8 for 12- or 16-ounce cans, with the selection constantly rotated. According to chef and owner Eric Yost, canned beer represents 25% of the venue's beer sales. "Consumers today expect good beer to be in cans," he says. "In fact, many breweries offer special releases only in cans, so it's the only choice consumers have." Fire Works Pizza in Leesburg, Virginia, meanwhile, features about 50 canned beers, generally priced from $7-$13. "People love them," says bar manager Justin Lucus. "The artwork on the cans has become a big selling point."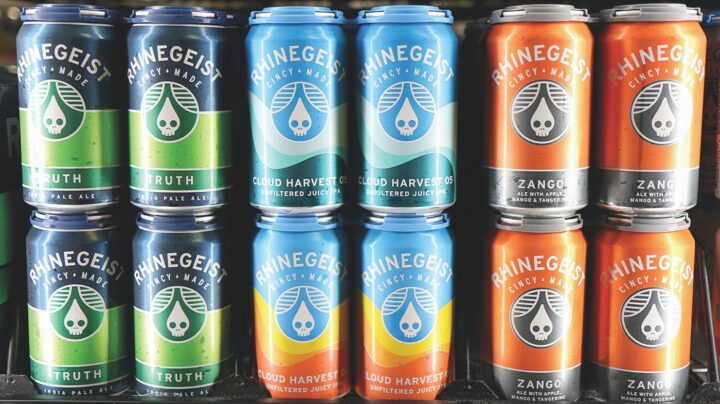 Irreversible Trend
With canned beer garnering more space on retail shelves and beer menus, marketers say it's important for operators to stay attuned to the role the package plays. "Particularly for the Corona family, we believe the can occasion is often incremental," says Anderson. "Sometimes, cans are more appropriate than bottles. That could be at an outdoor barbeque, at a base- ball game, or sitting by the pool. By continuing to put more emphasis on cans, we believe we can incrementally grow the category." Allagash's Neville says that while cans are growing, "there are still a good number of consumers who prefer their beer from glass bottles." She advises retailers stock the right selection for their particular business.
Brewers and retailers agree that cans will remain dominant. While he believes that high-end collectible beer will continue to thrive in bottles, Stone's Monahan says, "Cans are so accepted now, the trend is irreversible." Moore from Crown Liquors anticipates more shifts away from bottles. "I'd be surprised if any new brands opt to use bottles for anything," the retailer says. Williams from Oliver's Market also sees opportunity for cans from craft brewery holdouts, as well as imports. "I believe canned beer will achieve an even stronger foothold," he says. "The future of canned beer is very encouraging."