With fall activities in full swing, it's showtime for hard ciders. "Fall is always a strong time of year for cider sales because of people's perceptions of fall and apples going together," says Melissa Waskiewicz, cider buyer for France 44 Wine & Spirits, in Minneapolis. "We are taking advantage of it by promoting cider in our blog and pairings with our cheese shop."
France 44 carries from 150 to 200 cider SKUs and promotes them via Instagram, as well as in-store tastings. Top-selling ciders at France 44 include Milk & Honey Heirloom ($14 a four-pack 12-ounce bottles), Sociable Cider Freewheeler ($10.49 a four-pack 16-ounce cans), Loon Juice Extra JuicyTK ($12 a six-pack of 12-ounce cans), and Minneapolis Cider Co. Mango Habanero ($12 a four-pack of 12-ounce cans). "Local ciders at around $13 a four-pack are the current trend," Waskiewicz says. "This has changed from people buying 'more for less' of the national brands."
In Minnesota, adult beverages, including hard ciders, face new competition from THC drinks. "Two trends increasing sales are national articles about the cider industry and the increase of its presence in restaurants is piquing interest," Waskiewicz says. "Cider consumers now range from 21-year-olds to retired people. Our cider customers used to mostly be mid-20s to mid-40s." 
At Redfield Cider Bar & Bottle Shop in Oakland, California, business is up this year. "Fall and winter is always our peak season," says co-owner and cider buyer Mike Reis. "The apple harvest puts cider on the mind, and people often associate fall with cider drinking."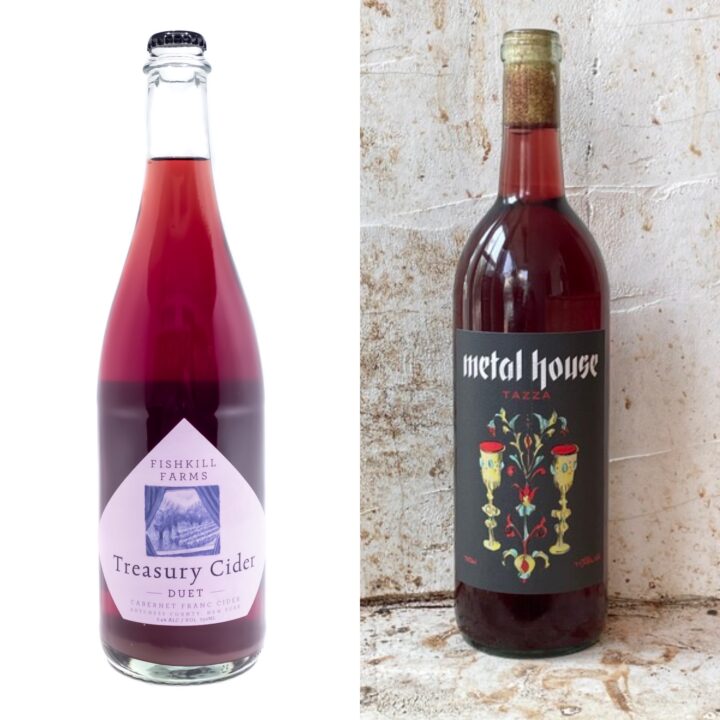 While its selection of smaller, regional cider brands attract customers to Redfield, the shop has seen a huge surge in interest in wine-cider hybrids. "The California natural wine scene has embraced the apple as a primary ingredient, and consumers have started to regularly ask about apple-grape co-ferments," Reis says. "This last trend hasn't impacted our sales significantly yet, but there is also a hugely surging interest in non-alcoholic cider options."
The store's calendar is filled with producer-focused events, including meet-the-cidermaker nights, themed tastings, seasonal events themed around holidays like Thanksgiving or New Year's Eve, and hot cider-making home kits. "We also have an ever-changing selection of cider we are constantly highlighting on our social media feeds and in email newsletters," Reis says.
Redfield's typically has 10 ciders on tap, and top-selling brands among the store's 140 cider SKUs include Humboldt Cherry ($20 a four-pack of 16-ounce cans), Tilted Shed Ellie's Nonalcoholic cider ($24 a four-pack of 12-ounce cans), and Bardos Groto cider ($20 a four-pack of 12-ounce cans). "These ciders are about as far apart as cider can be stylistically," Reis says. "They do, however, represent the diversity of interests among our customer base. We also have more 750-ml. SKUs in the $25-$32 range, especially in the co-ferment category."
With 13 ciders on tap and category SKUs growing to 335 this year from 312 last year, Boutique Wines, Spirits, and Ciders, in Fishkill, New York continues to be a cider enthusiast destination. "We have customers coming from as far north as Maine, far east as Ohio, and far south as Charleston, South Carolina," says store co-owner Paige Flori. "We have two grand cider tastings per year at our shop—one in the late spring and one the last Saturday in September—which attract hundreds of people and are often when we see folks visiting from out of town."
Offerings that are co-fermented with grapes have also been growing in popularity at Flori's store. East Coast examples include Treasury Cider's Duet ($20 a 750-ml.) and Metal House Cider's Tazza ($20 a 750-ml.), which are both co-fermented with Cab Franc skins. On the West Coast, Scar of the Sea produces co-fermented ciders made from Newtown Pippin apples and Gamay Noir ($30 a 750-ml.) or Newtown Pippin and Sauvignon Blanc ($19 a 375-ml.). "These co-fermentations cross wine customers over into the cider space and give added interest to cider drinkers," Flori explains.
Cider sales remain steady at Boutique this year, and Flori anticipates a strong fall season. Top-sellers include Citizen Cider Mimosa Crush ($5 a 16-ounce can), Artifact Jalsa Mango cider ($6 a 12-ounce can), Awestruck Peach Ring ($6 a 16-ounce can), and B. Nektar Zombie Killer ($6 a 12-ounce can). "For the most part, younger customers reach for cans, while more mature customers look for flavor profiles found in heritage styles in 750-ml. bottles," Flori says. "We have found $4-$6 per 12- to 16-ounce cans to be the customer's happy place. It has to do with format and flavor more than price."
While ciders have come a long way over recent years, they still have a long way to go. "Nationwide, it will always be a challenge as long as distributors don't take the time to train their salespeople to respect cider and what it can be in the industry," notes France 44's Waskiewicz.
Reis at Redfield anticipates category growth. "Consumers seem to be getting more comfortable and educated about cider," he explains. "Younger consumers have accepted cider as a worthy, normal category to explore, and it speaks to a healthy outlook."
Cider's evolution is poised to continue. "The future of American cider will be official geographic regions reflecting terroir, much like France has Normandy cider," Boutique's Flori says. "This will help customers in terms of transparency and what to expect in terms of flavor."