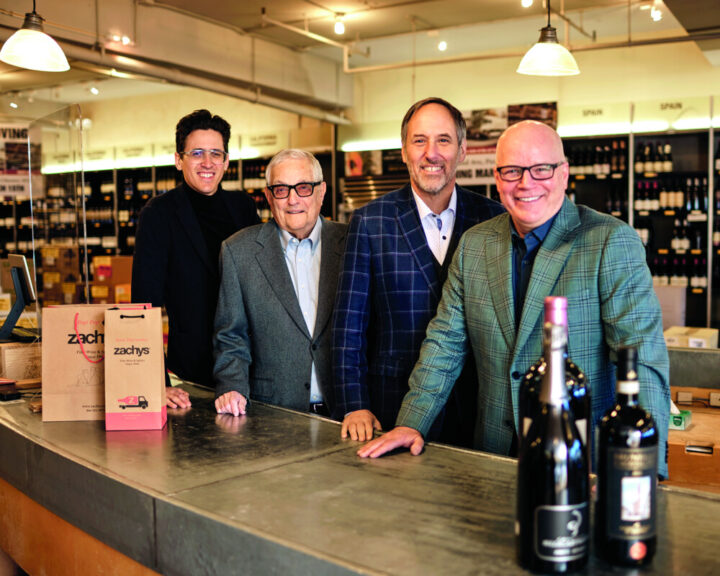 If agility is the key to success in the world of retail, New York institution Zachys Wine & Liquor is a perfect example of how much can go right when off-premise operators embrace change. Founded in 1944 as a corner store that primarily sold spirits, the Zachys of today looks vastly different than it did 79 years ago. Fine wine is the primary driver of business these days, and business itself has expanded beyond retail and into the worlds of wine and spirits auctions and storage. Of course, the store has moved too, and Zachys now boasts business in two major U.S. markets and auctions on three continents. 
But for all the change, there's a lot that looks familiar at Zachys. Family remains at the heart of the company and the fourth generation of Zacharias has been welcomed into the family business. And even though its flagship physical location in New York moved last year, the store itself is still a fine wine destination for New Yorkers, while the auctions remain an upscale business arm that often bring in landmark wine and spirits offerings. 
"I'm incredibly proud and humbled to be a part of Zachys," says CEO Jeff Zacharia, the third generation of his family to lead the company. He adds that his grandfather, Zachy Zacharia—who started the business in 1944—would be very proud of what his corner store has become, albeit also surprised. "I look at myself as a steward of the business," Jeff says. "We're about fine wine and spirits. That's our passion and our love, and it's all we look at. Being family owned, we're very much involved in all the details going on, and with my brother-in-law and son involved, we're dedicated to serving our customers an exceptional experience." Jeff's father, Don, who led the business for many decades, now serves as chairman emeritus, and his brother-in-law, Andrew McMurray, is president. Jeff's son, Tom, came on board last year as a wine buyer. 
The family's efforts are certainly paying off. Total annual revenue for Zachys Wine International—which includes the retail arm Zachys Wine & Liquor, as well as the auction and storage businesses—tops $100 million. Wine is the primary driver of revenue, though upscale spirits also play an important role at both retail and auction. After spending nearly all of its life in the Westchester County, New York town of Scarsdale, Zachys moved its home base last year roughly ten miles away to Port Chester, New York, also in Westchester County. The new location is positioned near two major highways and has a large parking lot, as well as an adjacent warehouse space, all of which add up to better customer access and a more robust shopping experience. "We want our store to look like no other in the country," Jeff says. "It's organized by region, reds and whites, and with our warehouse right behind it, if there's something not on display in the store, we can get it from the warehouse. We have a pictorial history of Zachys on display, where we share our passion for wine, and we have TV screens showing really interesting things going on in the wine world. We constantly do events in the store too, to draw people in. We're a drive-to destination and Scarsdale wasn't so easy to get to, and parking was tough. Now it's much easier, and we're at the center of a suburban population and a lot of fine wine collectors."
Diversifying The Business
Zachys got its start primarily as a purveyor of whiskies and the original store—called East Parkway Wine & Liquor House in Scarsdale, New York—remained a small operation for about a decade, until Don came aboard in earnest and slowly reshaped the face of the business. "A salesman kept pestering my father to sell wine and my father said, 'Wine at Zachys? Never.'" Jeff recalls. "But eventually my father bought five cases of Nuits-Saint-Georges (from Burgundy) and two days later it was sold. This was in the early '60s. He bought more, and took a bottle home. We didn't own a corkscrew. Eventually he fell in love with fine wine."
Upscale wine labels are the backbone of Zachys business today and Burgundy remains one of the store's top wine regions, along with Bordeaux, Champagne, Italy, and California. Zachys was the first U.S. wine retailer to sell Bordeaux futures in the 1970s, which helped pave the way for the company's dominance in France and lent credence to its penchant for prestige wines. Whiskies are still important too, and Jeff notes that whiskies and Tequila garner a lot of interest. Whisk(e)y is particularly important at auction, where landmark labels attract a variety of wealthy clientele. In 2022, Zachys auctioned the oldest Japanese whisky on the market, a 55-year-old Suntory Yamazaki, for $400,000. 
Zachys entered the auction world in the 1990s and started hosting its own auctions in 2002. Don was a major player in lobbying for New York State regulators to allow wine auctions in the mid-'90s and once they became legal, he formed a partnership with Christie's to auction prestige wines, a relationship that lasted until the early 2000s when Zachys started its own wine auction firm in New York. The company held its first West Coast auction in 2004 in Los Angeles and branched out overseas a few years later. Zachys premiere international auction took place in Hong Kong in 2008, and the company still holds auctions there regularly, and it has since also added periodic auction events in London. "Hong Kong is a very important market for us," Jeff says. "We're intrigued by Europe too, but we're just beginning there." Zachys' global team of wine consultants has a presence in New York, California, Hong Kong, and London, as well as in Tokyo; Paris; Beijing; and Lyon, France. 
Jeff says the auction business is a great complement to Zachys retail store operations. "Our clients interact with both sides and we want to correctly represent them," Jeff explains. "We have two separate teams (for retail and auction), but they interact and work closely together. Some customers come to us through auctions and don't know we do retail, and vice versa." He adds that high-end wine collectors around the globe come to Zachys auction events.
The company holds a couple auctions a month and Jeff says they continue to do well, though he notes that after years of price increases for prestige wines and spirits, there was a brief period of prices flattening out at auction. A mini resurgence is underway though, he adds. Zachys most notable auction sale came in 2019, when the company offered wines that hailed directly from the cellars of Château Lafite Rothschild to celebrate the 150th anniversary of the Rothschild family's purchase of their estate. The top lot included a 6-liter bottle of 1959 Château Lafite Rothschild, which sold for $160,550, and a rare 750-ml. bottle of 1868 Château Lafite Rothschild, which sold for $123,500. In total that particular auction tallied more than $7.8 million in sales. More recently, in 2022, Zachys had its second consecutive year of more than $110 million in auction sales.
Wine storage is another avenue of business for Zachys. The company has a storage facility in New York adjacent to its new store in Port Chester and it also has a storage space in Washington, D.C. The location in the nation's capital used to house retail too, but now focuses solely on storage. "D.C. is an exciting market," Jeff says. "We're happy to get to know buyers and collectors there."
Family Affair
Zachys aims to attract a varied clientele. Jeff says the company targets "wine and spirits explorers" and sells most of its wines in the range of $20 to $200 a bottle. Sales boomed during the Covid-19 pandemic and have leveled out now, he adds, noting that online-based sales have remained steady and are buoyed by the company's new store location. Internet sales aren't a huge component of overall business, but Jeff says a lot of people do buy online and pick up their purchases in store, and he estimates that portion of retail has grown as much as 30% since the move to Port Chester. The new store location has also fostered an increase in average bottle sales, Jeff says.
Wines from France, Italy, and California are most popular. Top-sellers recently have included wines from Château Latour, Château Lafite Rothschild, Marchese Antinori, Il Poggione, Screaming Eagle, and Dom Pérignon (the average bottle ring for wine at Zachys is $80 a 750-ml.). In spirits, Scotch has been garnering a lot of interest, led by labels from The Macallan, The Balvenie, Laphroaig, Glenlivet, and Johnnie Walker (the average bottle ring for spirits at Zachys is $130). 
"For collectors, we offer an unparalleled selection and experiences in the fine wine and spirits worlds," Jeff says. "Our goal is to be a destination and one of our slogans is 'Take a drive to Zachys.' As my father's passion for wine, and mine and my brother-in-law's, continued, we continued to expand our business and the types of wines we sold. Our focus was initially on Old World wines and now we sell New World Wines as well."
Jeff joined the family business in the 1980s and his brother-in-law, Andrew, came on board in the '90s. Jeff's son, Tom, began working for the company last year after spending a few years elsewhere in the wine world, and he now serves as a buyer of New World wines and Champagne. "I've been blessed to be able to work beside my father for 40 years and my brother-in-law for 30 years," Jeff says. "My son has a passion for wine too, and nothing would make me happier than if he eventually ran the business."
Of course, Jeff adds that the nature of the family business presents challenges, though he says his family does a good job of not taking their work disagreements home with them. For his part, Don is proud to support the next generations taking the helm. "The business is constantly evolving and I'm very proud to see my son and son-in-law continue to change and move this business forward," Don says. "While I was sad to leave Scarsdale, I could not be happier in our new location. The warehouse is first class and the store is like no other in the United States."