The largest wine retailer in the country, Costco Wholesale Corp. celebrated its 30th birthday last year by topping $100 billion in total sales for the first time in its impressive history. The Issaquah, Washington-based membership club saw sales increase 6 percent in its 2013 fiscal year and company executives expect similar gains in fiscal 2014. While Costco prides itself on selling everything from televisions to toilet paper to top-tier wines and spirits, the warehouse club has become a destination for discerning consumers who value price and enjoy the thrill of the hunt.
Costco is no stranger to breaking records. Along with boasting its highest-ever overall sales last year, the mega-retailer is also seeing great returns in its drinks department. Beverage alcohol revenues totaled $3.1 billion in fiscal 2013 and company executives say they're beating sales projections for this year too. At the close of its third quarter for fiscal 2014 in May, Costco's net sales for the first 36 weeks of the year were up 6 percent over the same period last year. The company was operating 655 warehouses worldwide at the end of its third quarter, including 464 in the United States and Puerto Rico, and it planned to open eight additional units by the end of August. In addition to entering two new states this year—Louisiana and South Dakota—Costco also made its debut in North Dakota and Washington, D.C., last year. And the company shows no signs of slowing down.
"We're quite pleased with our sales performance in the beverage alcohol department for this fiscal year," says Annette Alvarez-Peters, Costco's assistant general merchandise manager for beverage alcohol. "Tough competition continues to be a challenge, but we're seeing our biggest gains in spirits and wine, and we're trending above the industry."
Winning With Wine
The mega-retailer's $3.1 billion in beverage revenues is led by wine, which comprises 50 percent of sales, followed by spirits at 30 percent and beer at 20 percent. The stores continue to see strong returns with Chardonnay and Cabernet Sauvignon, and rosés, Prosecco and Pinot Grigio are also robust. In addition to domestic labels, wines from the Rhône Valley, Bordeaux, Spain and Argentina do well.
Alvarez-Peters says domestic labels drive wine sales, representing 65 percent of Costco's wine business. The store's most popular price points fall between $8.99 and $15.99 for wine, though imports priced more than $12 a 750-ml. bottle are also increasing fast. Costco's top-selling wine brands priced at less than $10 are Ménage à Trois Red Blend ($6.59 to $8.99 a 750-ml. bottle, depending on location) and its proprietary Kirkland Signature Cabernet Sauvignon ($7.99 a 1.5-liter bottle), while its best-sellers over $10 include Kim Crawford Sauvignon Blanc ($10.39 to $14.89 a 750-ml. bottle) and La Crema Chardonnay ($12.99 to $16.99).
"Although our beverage alcohol department is relatively small compared to the other products we carry, Costco is committed to the segment," Alvarez-Peters says. "We have a very affluent member base and we always have our members' interests in mind when we select products. Affluence is a big part of why we're so successful and continue to grow the category. We're committed to finding the best value for our members on every item we carry."
Spirits are also making gains, led by vodka and whiskies. Costco's wealthy members have a lot of interest in luxury products, which makes the spirits section a destination within the warehouse. Costco sells such extravagant items as The Macallan 60-year-old and 62-year-old Scotches in Lalique decanters ($16,000 and $19,000 a 750-ml. bottle, respectively), Johnnie Walker's The John Walker whisky ($2,700) and Louis XIII de Rémy Martin Cognac ($5,300). Alvarez-Peters says the company sold a number of these types of products during this fiscal year.
Overall, Costco's top-selling spirits include Kirkland Signature American vodka ($13.99 a 1.75-liter bottle) and Jack Daniel's Tennessee whiskey ($29.99 to $43.99). Alvarez-Peters says vodka dominates the spirits category and notes that she rotates flavored vodkas through different stores to help create excitement and avoid saturation. She adds that Tequila is also performing strongly and that the whisk(e)y segment is up by double digits, with Bourbon and Scotch leading the charge. "We continue to test various craft whiskies and spirits items, as they bring the 'treasure hunt' atmosphere we're seeking," Alvarez-Peters adds.
Craft beers are performing strongly too, and ciders and large-format bottles are trending up. Alvarez-Peters says she enjoys introducing different beer products, from 750-ml. and 22-ounce bottlings to new labels from local and regional breweries. "Every market has a unique beer selection," she explains, adding that the craft brew segment makes up as much as 30 percent of Costco's beer sales. "We're experimenting with a wide range of craft beers and new ways to display them." Costco's top-selling beers include Corona Extra and Heineken (each $20.99 to $29.99 a 24-pack of 12-ounce bottles).
In all segments, the Kirkland Signature proprietary label is well received. Costco offers a range of products under its own brand, including an amber ale; French and American vodkas; silver, reposado and añejo Tequilas; a 7-year-old small batch Bourbon; spiced rum; Pinot Grigio from Friuli Grave; a Meritage from Rutherford in Napa Valley; and a Grand Vin de Bordeaux from the Médoc region. "We're very happy with the sales of our own brand," Alvarez-Peters says. "The Kirkland Signature label offers great quality and a tremendous value to our members in the wine, spirits and beer categories. Sales are exceeding our expectations."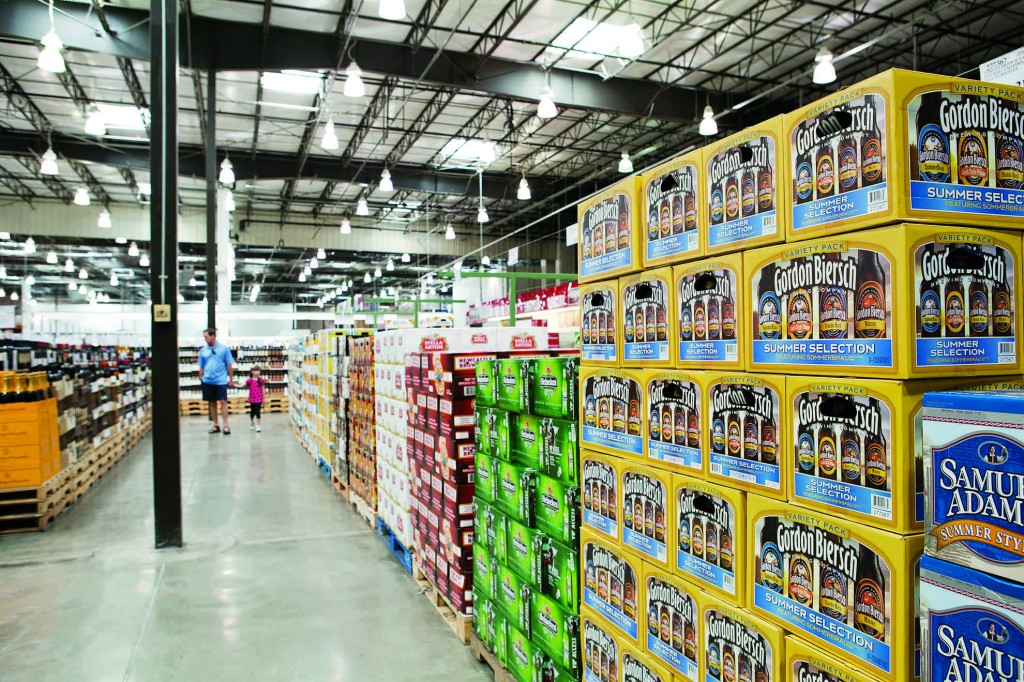 Bigger Is Better
Of Costco's 460-plus U.S. stores, the company sells wine at 373 locations in 40 states, spirits at 266 locations in 31 states and beer at 405 locations in 41 states. Stores in Wisconsin, Indiana, Illinois, California, Washington, Florida and Washington, D.C., do particularly well for beverage alcohol. Costco also sells drinks internationally, boasting 190-plus off-premise licenses in eight countries. The company has recently introduced Internet sales for beverage alcohol overseas too, though it doesn't offer online retail for drinks in the United States.
The warehouse club famously helped end spirits privatization in Washington state in 2012 after years of lobbying against state-run stores, and it's been a boon for business. Costco's 27 stores in Washington are seeing strong beverage sales, though Alvarez-Peters says the market is challenging. "As expected, sales are challenging due to onerous fees and taxes, as well as extremely aggressive competition," she explains.
But Costco has ambitious goals going forward. As affluence is a key distinguisher of its 71 million cardholders—who boast an average household income of $94,000—the stores are constantly seeking new and interesting merchandise, especially in the drinks department. "Our demographics skew toward the higher end and we have a wide range of members, from everyday casual drinkers to collectors," Alvarez-Peters says. "Our members are extremely supportive of the beverage alcohol department. With our limited selection, knowing we can't be everything to everyone, our treasure hunt mentality becomes even more important.
Costco encourages members to buy something when they see it, because the company doesn't guarantee it will be there for a future visit. This is especially true for wine and spirits, where changing product offerings and limited-selection items are common practice. "We focus a lot on rotations and treasure hunt items," Alvarez-Peters explains. "This gives us the opportunity to test new items and new innovations, as well as seek out hot buys. We continue to follow trends to select items our members want to purchase."