Distilled from fermented grapes or other fruit, brandy is in a class all its own. The word "brandy" is derived from the Dutch term meaning "burned wine," but with alcohol-by-volume content between 35 percent and 50 percent, the spirit is simultaneously bold and light, with a long history in classic drinks like the Sidecar, Vieux Carré and Brandy Alexander. Brandy—Cognac in particular—has therefore benefited greatly from growing consumer interest in traditional cocktails.
"Many bartenders are looking to work with pre-Prohibition ingredients, and brandy fits into that category," says Gary Heck, president and owner of Korbel California brandy. The brand, which celebrates its 125th anniversary on the market this year, is touted in new takes on traditional recipes: The Korbel Old-Fashioned blends Korbel brandy with sugar, 7-Up soda and Angostura bitters, while the XS Manhattan mixes Korbel XS brandy with Martini & Rossi dry and sweet vermouths. "We see the trend toward classic cocktails as an opportunity," Heck says.
Indeed, brandies are finding their place on bar menus nationwide as bartenders look to classic ingredients to create their own original tipples. "Most new cocktails today are modern interpretations of historical recipes, many of which have brandy or Cognac as the base," says Arnaud Dissais, head bartender at the New York City restaurant Daniel. "Brandy will always be important in the bar industry." The more bartenders experiment with different aged expressions of brandy, the more the spirit's versatility shines in cocktails ranging from bright and fruity to rich and spicy.
Fresh And Fizzy
"The craft cocktail trend is driving the need for more interesting flavors," says Karl Franz Williams, ambassador for D'Ussé Cognac and owner and beverage director of 67 Orange Street in Manhattan's Harlem neighborhood, noting that Cognac is unlike other spirits in its flavor and quality. "It's almost impossible to have a bad Cognac because the standards are so exacting—from the type of grape, to the region it's grown and matured in, to the number of years and method of aging—every detail is regulated." Williams explains that though Cognac is often sipped neat like many high-quality brown spirits, its complexity still shines when used in cocktails. "D'Ussé has such a smooth finish with delicious notes of honey and dried fruits—it's awesome to build cocktails around. I enjoy using citrus flavors like orange, lemon and grapefruit, as well as earthy yet sweet liqueurs like Averna and Bénédictine." Williams created The Vault cocktail, made with D'Ussé VSOP, Averna amaro, lemon juice, red bell pepper juice, simple syrup and mint.
Made with grapes rather than grain, brandy is a brown spirit with inherent fruitiness and acidity that pair well with bright flavors. "I like Cognac in particular for its lightness, delicacy and gentleness," says Dan Smith, bartender at Barrelhouse Flat in Chicago. "Cognac is fruity yet subtle and complex, making it suitable for lighter drinks. I frequently use it in fizzes." Smith notes that the bar's Swiss Ess ($12) is particularly popular with customers. It blends Maison Rouge VSOP Cognac with Pernod absinthe, Luxardo Maraschino liqueur, lime juice, simple syrup, egg white and club soda.
Though fizzes are most traditionally made with gin, Cognac has a lightness from its base grapes that lends itself well to this classic recipe. Hennessy's Brazil Spice features Hennessy VS Cognac, lime juice, simple syrup, Angostura bitters and club soda. The Daisy is a similarly fizzy concoction, traditionally comprising a spirit, cordial, citrus and soda water. The Dead Rabbit Grocery & Grog in New York City offers a version as it appeared in Harry Johnson's "Bartender's Manual" in 1882: the Brandy Daisy à la Johnson ($14), made with Louis Royer Force 53 VSOP Cognac, Yellow Chartreuse liqueur, lemon juice, sarsaparilla tincture, Dr. Adam Elmegirab's Dandelion & Burdock bitters and lavender soda.
"Brandies are so dynamic, they can be stirred in a potent, bitter drink like the Vieux Carré or shaken with egg whites to give a light airy cocktail," says Matthew Reina, bartender at the Ame bar in the St. Regis San Francisco hotel. His Drunk N Luv cocktail ($14.50) is made with D'Ussé VSOP Cognac, peach purée, vanilla syrup, lemon juice and egg white.
Rebecca Asseline, brand ambassador for Courvoisier Cognac, agrees that the fruitiness of Cognac, particularly of a younger age, makes it a natural match with citrus. "The complex, fruity blend of Courvoisier VS pairs well with cocktails that incorporate citrus like grapefruit, lemon and lime with the sweetness of honey." The Afternoon in France, created by New York City-based mixologist Duane Fernandez Jr., comprises Courvoisier VS Cognac, grapefruit and lemon juices, and honey syrup.
Sugar And Spice
Brandy is a seasonally versatile spirit: While its fruitiness lends well to citrusy and bright warm weather drinks, its floral and herbal characteristics shine in fall and winter cocktails that highlight spices and rich, sweet notes. "There's been a recent trend toward smoky flavors in cocktails, as the increased interest in spirits like Bourbon and mezcal shows," Korbel's Heck says. "Barrel-aged brandies fit into this trend, pairing with apple, cinnamon and spice." Hennessy's Apple Shrub features Hennessy VS Cognac, Zubrowka vodka, Angostura bitters, apple cider gastrique and cinnamon, while Rémy Martin's Rémy Sour blends Rémy Martin VSOP Cognac with lemon juice, ginger and cinnamon.
Ame's Reina points to spice-forward ingredients like velvet falernum and orgeat syrup for creating stirred, complex brandy cocktails. At Barrelhouse Flat, the Japanese Cocktail ($12) comprises Maison Rouge VSOP, house-made orgeat syrup and Angostura bitters. "The richness of brandy and Cognac marries well with caramel, warm spices and vanilla," Barrelhouse Flat's Smith adds. At Franklin Mortgage & Investment Co. in Philadelphia, the California Milk Punch ($12) is made with Landy VS Cognac, Appleton Estate rum, Smith & Cross Jamaica rum, Batavia-Arrack van Oosten, pineapple and lemon juices, green tea, baking spices and clarified milk. Hennessy's The North Star blends the brand's VS Cognac, Angostura bitters, Fee Brothers Black Walnut bitters, maple syrup and star anise. "The balanced blend of floral and almond notes found in a Cognac like Courvoisier VSOP complements summer fruits, such as mango and peach, and winter fruits like pomegranate," Courvoisier's Asseline says. The House Warming, created by Fernandez, features Courvoisier VSOP, DeKuyper Pomegranate liqueur, lemon juice and Monin hibiscus syrup.
Use of teas and tea syrups is another rising trend in drinks for an herbal element. The Hennessy Pursuit mixes Hennessy VS, Earl Grey tea, orange marmalade, lemon juice and Angostura bitters, while The Mint is made with Hennessy VS, Carpano Antica Formula sweet vermouth, simple syrup, lemon and cranberry juices, Fee Brothers Old Fashioned bitters and peppermint tea. Similarly, the Rémy Martin Jasmine Tea comprises Rémy Martin VSOP, jasmine tea, simple syrup and lemon juice.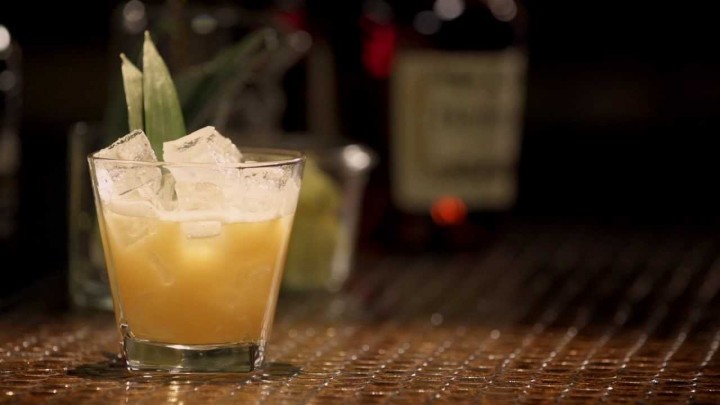 Match Maker
"Of all the brown aged spirits, brandy is probably the most willing to play nicely with other ingredients—not dominating them, but contributing to a well-integrated whole," Barrelhouse Flat's Smith says. With characteristics of both an aged wine and an aged spirit, brandies can be blended with just about any other alcoholic ingredient in a cocktail, be it a liqueur, aperitif, spirit or wine. "Since brandy is grape-based, it adds a sense of terroir and character not found in other spirits," says Miami-based mixologist Ezra Pattek. "Distillation is done in copper pot alembic stills, and then there's the aging process in Limousin oak casks—all factors that add a great sense of depth and character found in no other spirit production."
At Ame, The Black Ships ($14.50) combines Raynal VSOP brandy, The Yamazaki 12-year-old Japanese whisky, Dolin Blanc dry vermouth, Bénédictine herbal liqueur and Peychaud's bitters. Hennessy's Game Changer features the brand's VS Cognac, Ardbeg 10-year-old single malt Scotch whisky, lime juice, agave nectar, pineapple and Angostura bitters. And La Bahia ($14) at Cienfuegos in New York City is made with lapsang souchong tea-infused Zacapa rum, Pierre Ferrand 1840 Cognac and demerara syrup. "Brandy's oak aging gives it intensity and a longer finish than other spirits," Daniel's Dissais says. "In a cocktail, it brings another level of character and complexity from both the oak and the fruitiness of grapes that can't be mimicked by other spirits."
For D'Ussé, Williams created the Angel's Shoulder, mixing D'Ussé VSOP, Gozio amaretto liqueur, Combier Crème de Pêche de Vigne liqueur, Bénédictine, lemon juice and rosemary simple syrup, with a float of Héritages Côtes du Rhône wine. And at Barrelhouse Flat, the Coffee Cocktail ($12) blends Maison Rouge VSOP with Lustau East India Sherry, simple syrup and a whole egg.
Using brandy or Cognac as a co-base in drinks has been common since the inception of the cocktail, as indicated on the Dead Rabbit's drinks menu. The Mare Island ($14) features Rémy Martin VS Cognac, Plantation Grande Reserve rum, house-made allspice tincture and vanilla syrup, The Dead Rabbit Orinoco bitters, lime juice, half and half, and vanilla soda.
Communal punch bowls are a booming trend in cocktail bars across the country, and brandies play an important role in some of the earliest punch creations, which date back as far as the 17th century—before the cocktail as we know it today even came to be. The Fish House Punch, Cape Fear Punch and Brandy Milk Punch are all seeing revivals, while completely new punches are also gaining traction. Brandy is versatile and can be mixed with fruit juices, other spirits, wines, bitters, teas and syrups, making it a clear choice when mixing up these large-format cocktails.
The Dead Rabbit boasts a dozen punches on its expansive menu. Some can be ordered to serve multiple people, and others are offered as individual drinks. The Captain Radcliffe's ($55 for four servings; $75 for six; $90 for eight) is derived from a 1680 punch recipe and contains Rémy Martin 1738 Cognac, Byrrh Grand Quinquina aperitif, F. Meyer Framboise eau de vie, raspberry syrup, lemon juice, Ceylon tea, rosewater and quinine tincture. Meanwhile, the G.M. Gurton's ($55; $75; $90) is made with Myers's Dark Jamaican rum, Rémy Martin 1738 Cognac, Principe de Barbadillo's Amontillado Sherry, lime sherbet, lime juice, muscovado sugar, green tea and ginger syrup. At Franklin Mortgage, meanwhile, the Sir Greendown Punch ($12 for an individual serving) blends Landy VS Cognac, Duquesne Élevé Sous Bois rhum agricole, John D. Taylor velvet falernum, chai tea syrup, lemon and grapefruit.
For Passion XO, a liqueur that blends Birkedal Hartmann XO Cognac with fruit juices, mixologist Pattek focused on creating punch bowls that highlight the brand. His Blue Bash punch features Passion XO Blue—a mix of Cognac, passion fruit juice and blue curaçao—Spring 44 gin, fresh pressed pineapple juice, lemon juice, Angostura Orange bitters and thyme. "The obvious choices to pair with brandies are flavors like banana, cocoa, prune, rich fruits, cherry, and spices like vanilla, cinnamon and nutmeg," Pattek says. "However, I love how well Cognac and brandy work with citrus, specifically lemon. Add the smallest amount of sweetener or modifying liqueur with a touch of bitters and you have a simple, lovely cocktail."
Pattek's Pink Sparkler Punch highlights Passion XO Pink—Cognac mixed with passion fruit and pomegranate juices—François Montand Brut sparkling wine, The King's Ginger liqueur, orange, lime and cranberry juices, and rosemary. "All spirits are different, but the base that Cognac and brandy provide are quite unique," Pattek says.