Tony Indelicato used to advise his sons with one simple adage: if you're not growing in the wine industry, you're going backwards. Brothers Jay and Chris, along with their cousins, have taken the words to heart. The third generation of Indelicato family members have been running Delicato Family Wines for roughly the past two decades, and in that time the company has become one of the top 5 branded wine suppliers in the United States. 
That position was reinforced earlier this year with the acquisition of Francis Ford Coppola Winery, which significantly bolstered Delicato's premium portfolio. The deal adds more than a million cases of volume to Delicato's total, including Coppola's Diamond Collection, retailing in the fast-growing $20 range. Impact Databank estimates that, including Coppola, Delicato's volume was up 26% to 17 million cases last year, on a pro forma basis. 
President and CEO Chris Indelicato says the brand is an excellent fit in Delicato's growing portfolio. "It gives us a top three super-premium brand," he says. "It gives us tremendous North Coast wine-making facilities with three million cases of production capacity. The Sophia brand gives us cans and sparkling wine. Those are all really nice categories that we hadn't been participating in, up to this point." 
"For years we've been producing wines from grapes out of the North Coast, out of Sonoma and the surrounding growing areas," says Chris's brother, COO Jay Indelicato, noting that because Delicato lacked production in the area, grapes were shipped to one of its wineries outside the region or processed by a third party. "With this acquisition, we not only have a footprint, but we've got a couple of great facilities. We're super happy to get that footprint, and so are our growers." 
Francis Ford Coppola holds an equity stake in the company, and has joined the company board. Chris Indelicato says the energy from someone like Coppola, of an earlier generation, is motivational. "That generation is just extraordinarily optimistic and they have no fear of failure," he says. "I think it's infectious to have that in the organization. It gives people swagger, it motivates them." 
"His creativity, experience, optimism, and fearlessness are all a great balance to have back in the business," Chris adds. "We miss that from my dad and two uncles, so it's great to have [Coppola] as part of the company moving forward."
The Family Factor
Chris' "Dad and two uncles" are Tony, Vince, and Frank Indelicato, the sons of Gasparé Indelicato, who planted the first Delicato vineyard in Manteca, California in 1924. The winery was launched in the 1930s. 
"The three of them grew up on the farm making wine," says Chris Indelicato. "The business really took off in 1968. We began making wine for Almaden back in the day, and really, for most of the rest of the century, up until around 2000, we were considered the winemaker's wine maker. We were making bulk wine for a large number of very successful brands throughout the '70s, '80s, and '90s." 
There are currently six third-generation family members directly involved in the business. Along with Jay and Chris Indelicato, four cousins play an active role. Marie Indelicato Mathews is director of hospitality and retail, Frank Indelicato is transportation lead, Cheryl Indelicato is the family ambassador and spokesperson, and Mike Indelicato is involved in customer service. 
As with many family businesses, all started early in learning the ropes. "All of us as kids worked at the winery from age ten through around 18, before we went to college," says Chris. "It was a great experience because we got to work in all areas of the business. We started out in the vineyards. Then we came back and worked in maintenance bottling. I spent years in the tasting room, getting to see a little bit of what the original, early years of DTC look like. It was just an excellent experience to essentially work in just about every job throughout the winery. 
"Our family began succession planning at a very early age," he continues. "We had to go work after we got our college degree, and we had to work a minimum of five years for another company outside of the family business. All of us did different jobs along the way. I became a CPA. My brother was an electrical engineer, one of our cousins is a nurse, another cousin had a Hallmark Gold Crown store." 
"It was a different path for everybody, on their own time," notes Jay. "The other thing was when you came back, there actually had to be a job opening for you and you had to be qualified for it." 
Jay says he returned to the family firm in the late 1980s when, "there really wasn't that much going on, frankly." He thought he'd be back for a few years before "going to find something better and more interesting to do. Here we are 30-something years later and I'm still here," he says. 
The company focus began to shift in the early 2000s. "Around 2000, the folks decided to retire," Chris says. "The second generation had a non-family CEO come in to mentor our generation for a bit. In the early 2000s, we began to focus on the branded case goods business." Those brands resonated with consumers, accelerating the growth that would lead Delicato to becoming the No.-5 wine supplier in the U.S.
Growth And Innovation
The workhorse in the Delicato portfolio is undeniably Bota Box. Launched in 2003, the brand simmered for years, reaching 1 million 9-liter cases in 2010. A decade later, Bota Box depleted 11.3 million cases—a 41.2% increase over 2019. Bota Box accounts for more than two-thirds of total Delicato portfolio volume. "The Bota franchise is one of the top priority brands that we have," notes Delicato's executive vice president of marketing Jon Guggino. "Bota consists of Bota Box, Nighthawk, and our newly introduced Bota Breeze, which competes in the better-for-you segment as a low-calorie, low-carb, and low-alcohol brand that we're having really nice success with so far."
Delicato added a premium element to its portfolio in 2010 with the acquisition of Black Stallion Estate, a Napa property. In 2017 the company acquired Alba Coast Winery, and a year later expanded through agency agreements with wineries in Chile and Germany. The company has also had several internal wine brand launches over the past decade, including 1924, Three Finger Jack, and Diora. Much of the activity points to premiumization, and the addition of Coppola's Diamond Collection underscores that effort. "The Coppola Diamond Collection is a very meaningful piece of business for us on the glass side of the business, especially in that $11-and-above level," Guggino says. "We're really excited to have that as part of our brand stable as well, and really motivated to hit the ground running on that brand and make sure that we unlock future growth on it as well." 
Coppola's Diamond Collection, the largest brand in the Coppola stable, increased 10% to 1.1 million cases in the U.S. last year, according to Impact Databank. Other brands include Director's Cut, a luxury label; Sofia sparkling wine, which is also available in cans; Pool House, a new line of low calorie, low carb, low alcohol wines; and other labels. "We're incredibly excited and we have a lot of plans in place for those businesses, which we cherish and which, quite frankly, are a privilege and honor to be taking on," says Guggino. "It's a stable of brands that has a legitimate and rich heritage and story behind it. As a marketer, that's extreme and we really want to embellish and capitalize on that." 
The Director's Cut will be added to the Transcendent Wine sales division, which was formed in 2019 to focus specifically on wines priced above about $20 a bottle. The formation came two years after Delicato took a significant stake in V2 Wine Group. Director's Cut will join a division that includes Black Stallion Limited Release, Diora Wines, Torbreck, Escarpment, Stoneleigh, Casa Real, Triple C, Schloss Vollrads, Franz Keller, and others. 
The separate Delicato Wines portfolio houses Bota Box, Noble Vines, Gnarly Head, Z. Alexander Brown, Black Stallion, 1924, Three Finger Jack, Toad Hollow, Mercer Family Wines, Relax Riesling, Twisted, Domino, Irony, Santa Rita, Fünf, Schmitt Söhne, and Thomas Schmitt.
Beefing Up Production
Total company volume has grown dramatically over the past decade, from just under 4 million cases in 2010 to about 16 million cases in 2020, and registered double-digit growth in each of the past ten years, the company says. While some of that volume came from agency brands and acquisitions, the company's owned brands have grown exponentially—especially Bota Box. 
Delicato Family Wines recently invested $100 million in a state-of-the-art production facility with 20 million case capacity. The facility includes 11 different lines consisting of two glass lines, five bag-in-box lines, one Tetra line, and four flexible configuration lines. It also includes luxury storage spaces. 
"That capacity was super important, and it came on just before the 2020 pandemic," says Jay. "It was crucial to keeping up with demand. As it was, it was touch and go the whole way." He says the new facility increases efficiencies and allows for ample space for employees to work in a streamlined fashion, especially during the pandemic when social distancing is necessary. 
The Coppola acquisition gives Delicato additional production capacity, including some new options. "They have a canning line, which is something we didn't have, and it's a great fit. And they also have a sparkling line, which we didn't have," Jay notes. The addition of those lines, and the flexible configuration lines in Delicato's newly built facility, will allow the company to stay ahead of wine industry packaging trends. 
"I think we're one of the leaders in alternative packaging," says Chris, noting the boxed and TetraPak offerings in various sizes for Bota Box. He sees opportunity with canned wine now that the company has a dedicated canning line—the Sophia brand in the Coppola portfolio has a canned option. "There may be other opportunities within some of our existing brands now, given the capacity we have," he says. "The 250-ml. can, in my opinion, is going to be the long-term winner."
Portfolio Push
While the Delicato team is integrating the Coppola portfolio of brands, they're also seeking future opportunities. The Coppola purchase gave Delicato a second "must-have" brand, according to Chris. He wants three. 
"Must-have" brands, for Chris, are brands that are among the top two or three brands in a wine category that is growing. Bota Box, as a dominant force in the Delicato portfolio and in the overall boxed wine category, is a clear "must have," according to Chris. The Coppola Diamond Collection, as a leading and growing brand in the super-premium sector, represents the second. 
"There are plenty of solid categories out there, and some of the even bigger players play in more of those, but for us, I think the opportunity over the next couple of years is to grab a third brand, a must-have brand in a category," Chris adds. 
"We have five top 100 brands now with the addition of Coppola," he continues. "And I think organic growth is critical to keeping the portfolio healthy. But I also think that we would like to expand our offerings with a third must-have brand in the U.S. market. There aren't a lot of those out there, but we're patient, we talk to people all the time and we're continuing to look for an additional acquisition at some point."
Chris envisions a portfolio with fewer but bigger brands—ones that can grow into category leaders. He says the company is willing to put the investment in to make that happen. "I'm not a believer in growing the volume and then hiring the resources to maintain the volume," he says. "I don't think you really ever get there. It's the same on the winemaking side— we always have more production capabilities and technology that we're working on that's ahead of the curve. I just don't think it's safe in the wine industry to have a status quo strategy." 
That strategy also means shedding brands that are under-performing. "We've been doing that for the last couple years, and there's more to come," Chris says. 
Portfolio shifts will also extend to agency brands in the future, with Chris eager to beef up that part of the business. "We've got some great agency brands that we brought in and that's allowed us to have some category leaders, particularly with our German portfolio, and we have the No.-2 Chilean wine," Chris says. "It's good for us to expand our offerings because I think in a consolidating market, the retailers and distributors are going to look for suppliers that can provide a more comprehensive book." 
Wines from other countries will likely be added to the roster in the future, Chris says. He also has an eye on small luxury producers within the U.S. "As the market consolidates, maybe some of the smaller suppliers, some really high-end heirloom type brands could use the distribution scale and scope that we have out in the market, while they focus on the wine quality, and the brand and marketing imaging." 
All that activity will likely push Delicato up the rankings of wine companies in the U.S. from its current No.-5 ranking. "If we add a third must-have brand, I would imagine that we would move up a step or two over the next five to ten years."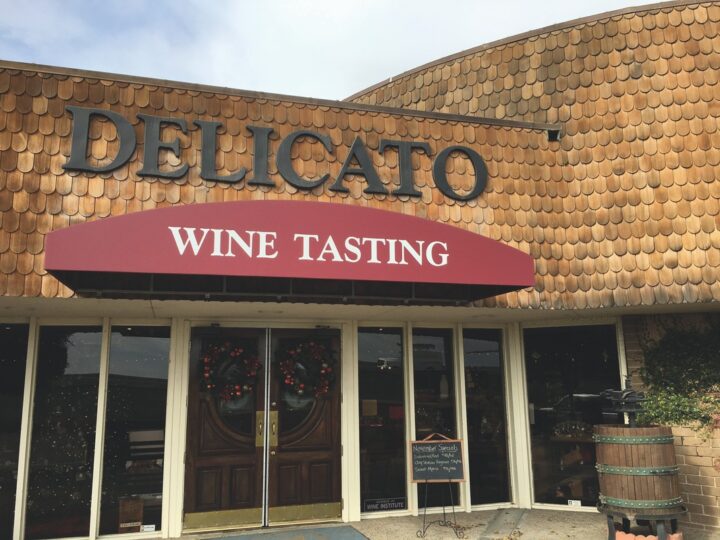 The Next Generation
If Delicato's leadership has one eye firmly on future expansion, the other is on sustaining the family legacy for the next generation. Chris says it's one of four principles he focuses on when leading a family-owned business. "Being long-term players in the industry, you always have to leave things better than you found them," he says. "Everything we think of when we're making strategic decisions is in terms of years, whether that's five or ten years or more. 
Chris also cites hard work, respect for the land and commitment to wine quality, and respect for employees, who are viewed as an extension of the family. He notes the deep pool of talent at the winery, some of whom have been involved for a decade or more. "A lot of the talented folks that we've been able to bring in starting in the early 2000s are still here and they've really [contributed] to the success we're having today," he says. 
Chris, Jay, and their cousins represent the third generation of Indelicatos working in the business. Thus far, only one of the fourth generation is involved on a full-time basis. Stephen Mathews, son of Marie Indelicato Mathews and nephew of Chris and Jay, is a winemaker and enologist at Black Stallion Winery. The others—nine in total—are a bit younger, in their teens or early 20s. That means summers working in the family business, through internships or just lending a hand in doing whatever needs to be done. 
Chris says the same rules that governed his generation's involvement in the business will apply to the fourth generation, including college and at least five years working outside the family business. "And I'd like to add my own," he adds. "I'd like them to get an MBA as well. I think they should go work somewhere for a few years, get an MBA and then go back and work for others. There's always plenty of time to come back to the family business. The more experience they have at an outside company, the better the chances are of them being really successful when they come back to Delicato."