While the evolution of rosé from sticky, sweet pink wines of the 1990s and early 2000s to the crisp, dry rosé wines of today was initially challenging, the rosy-hued category has finally entered the fine wine landscape and captured serious attention from U.S. consumers. And thus far, it's shown no signs of stopping. 
"Rosés are still very strong," says Dustin Mitzel, CEO of the Happy Harry's Bottle Shops chain, with locations in Fargo and Grand Forks, North Dakota. "The growth isn't double-digit like it was three or four years ago, but it's still growing as a category. It's partly because of the sheer number of products that have been released—the base has grown so much." Happy Harry's typically carries 30-40 rosé SKUs. 
Argonaut Wine & Liquor in Denver, which currently carries about 300 rosé SKUs, is also capitalizing on the trend and embracing new entrants. "Every year there are more and more labels being introduced," notes wine buyer Sheila Carey. "We're keeping the rosé shelf and our cold box filled year-round at this point. There may be a point in the future where we have to expand the rosé section." 
Rosé consumption expanded again last year but as with most everything in 2020, the path to growth was far from straightforward. All brands felt the upheaval from the Covid-19 pandemic, and some retail-centric brands thrived while those with a heavy on-premise skew found progress to be more challenging. Further upending the battle for volume and market share were the 25% tariffs imposed on French, German, and Spanish wines enacted in October 2019 due to unrelated aircraft disputes between the U.S. and European Union. Those tariffs have since been lifted while threatened tariffs on sparkling wine did not come to fruition. 
Still, leading brands—both imported and domestic—generally had strong performances in 2020. Much of that is due to the growing demand for rosé wine nationwide, but 2020's numbers were also impacted by an environment of strong discounting. "The rosé category has probably been one of the most disrupted wine categories in the last 12 months," says Carlos Varela, COO of Barton & Guestier, which released the 2020 Tourmaline Côtes de Provence rosé in February. "The 25% tariffs and pandemic-related on-premise shutdowns have created a stock surplus situation leading to plummeting retail prices, aggressive vintage closeouts, and blurred notions of authenticity, quality, and freshness. All of this may have long-term effects on the category and its sustainability."
Gregory Doody, president and CEO of Vineyard Brands, which imports the Miraval brand, says the upheaval caused a shakeout. "We've seen some wines that shouldn't have been made in the first place disappear," he says. "We're seeing aggressive price promotions beyond normal vintage closeout promotions. These efforts seem to be aimed at cleaning out a backlog of wine due to the pandemic. We take a longer view of the market and our brands, and don't play that game so much. It's a short-sighted way of building a brand." 
A shifting exchange rate has also been detrimental to wines imported from Europe, notes Scott Diaz, vice president of marketing for importer Wilson Daniels. The exchange rate, the tariffs, and a short vintage in 2018 in Provence have resulted in a "shift in players at the top of the field," he says. 
"I think you're seeing a bit of attrition from those who could not tackle those obstacles initially and thus had to reinvent themselves," Diaz says. "Quality will prevail. There will be some commoditized players at the entry level price point, but you're going to see those at the $20 price point really continue to grow."
Standing Out
In December 2020, Wilson Daniels inked a deal with Provence winery Commanderie de Peyrassol and launched a full range of rosés this past February with the 2020 vintage. The range includes Croix de Peyrassol ($17 a 750-ml.), Réserve des Templiers ($21), Cuvée des Commandeurs ($26), Château Peyrassol ($41), and Clos Peyrassol ($73). And while Diaz acknowledges the challenges in making headway in an extremely crowded field of rosés from Provence, he believes Peyrassol's story will resonate. Now owned by Philippe Austruy and managed by his nephew Alban Cacaret, the winery was founded by the Knights Templar in the 13th century and recorded its first harvest in 1256. 
"Peyrassol's story is really fascinating," Diaz says. "If you talk to the wholesaler network, they'll say they have 100 rosés on the floor—that's where the story will be told initially. But in addition to the story, the quality markers are all there with its high altitude and dry, rocky limestone soils." 
Barton & Guestier's Varela says that Côtes de Provence remains the iconic rosé appellation, and will continue setting the standard in the category. Trade customers and consumers alike are increasingly aware that Côtes de Provence is synonymous with high quality rosé and are looking for those features that characterize the appellation i.e. a dry, delicate style, low sugar content, and reasonable alcohol level," he says.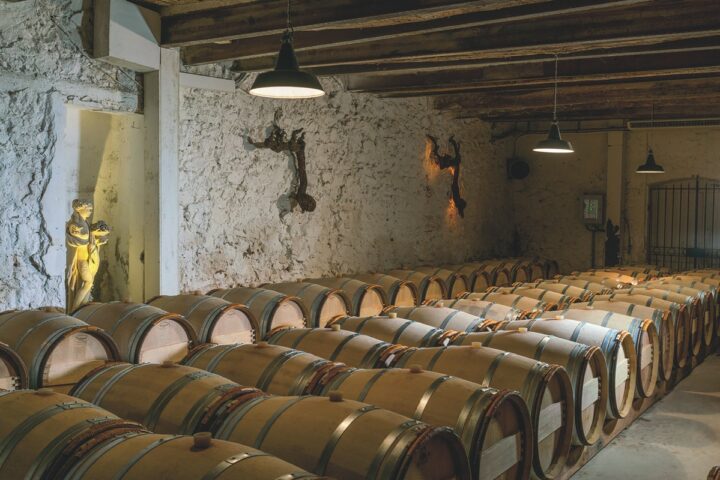 At Happy Harry's, Mitzel notes that wines from Provence and the broader French rosé offering capture the most attention. "It doesn't matter if they're $12 or $22, customers are excited about all the new French rosé selections that come our way," he says. 
Carey of Argonaut Wine & Liquor says Provence rosé remains the most popular, with Whispering Angel ($25 a 750-ml.) from Moët Hennessy-owned Château d'Esclans and Miraval ($27) leading the way. But she also sees vibrancy for Spanish rosés, as does Mitzel, who says customers are increasingly choosing Spanish offerings from Happy Harry's small selection. 
The top imported rosé wines in the U.S. in 2020 generally had very strong performances in 2020, according to Impact Databank. Two French brands dominated the category: Château d'Esclans was the largest rosé at 525,000 cases, a 7% gain over 2019, followed by La Vieille Ferme, marketed by Vineyard Brands, which jumped 25.6% to 522,000 cases. Several other top French brands saw double-digit gains, countered to some extent by significant downturns from smaller brands. 
Italian brand Stella Rosa was the largest non-French imported rosé brand in 2020, increasing 65.3% to 345,000 cases in 2020, according to Impact Databank. Leading brands made significant headway in 2020, with eight of the ten largest non-French imports recording double-digit increases.
Domestic Gains
These imports are joined by a broad range of domestic rosés, most of which are varietal line extensions to highly successful brands. Bota Box led the field in 2020 with depletions of 490,000 cases, a 42% gain. 
Jeff Ngo, senior vice president of marketing for WX Brands, which owns Bread & Butter and Chronic Cellars, says the company recently pushed forward with rosé offerings in a crowded category. "We added rosé to the line-up of our fast-growing Bread & Butter label in select markets in 2019 as a test run," he says, noting the brand's price is perfectly situated at $15. "It was abundantly clear that we had a winner on our hands. The wine style combined with the strong Bread & Butter brand meant that we quickly sold out. For our 2019 vintage, we increased production by 25% and rolled it out nationally in early 2020." 
Ngo acknowledges the highly competitive nature of the current environment, and says he expects a shakeout. "Price promotions will only take you so far; to win in the market, you must be committed to building the brand," he says. "We also know that there is going to be consolidation of rosés on the shelf, so you have to build even more brand equity." 
He's also expecting further evolution in the rosé sector that matches the overall trends in wine. "You'll start to see more acceptance in color variations as consumers start to explore the category," he says. "You'll also continue to see different producers try different varietals of rosé, whether it's Rhône-based or Burgundian in style. Lower- and no-alcohol versions would not be a surprise to the market. Rosé producers will also continue to explore packaging and decorative bottles." 
One player already in the lower alcohol realm is Cupcake, which includes LightHearted Rosé ($10 a 750-ml.), a lower-alcohol and lower-calorie wine that complements the standard Cupcake Rosé ($11). "We created Cupcake LightHearted wines for those who are more mindful about their choices or are curious about reducing their alcohol intake," says Cupcake Vineyards marketing director Collin Cooney, who notes that the wine has just 80 calories, 8% abv, and 1-gram of sugar.
Sparkling Promise
Cupcake is also attempting to capitalize on perhaps the biggest rosé innovation in the past year—the launch of rosé Prosecco. In May 2020, the Italian National Wine Committee approved changes to the Prosecco DOC regulations that allowed production of rosé. The rules stipulate that Glera grapes make up at least 85% of the wine, with the remainder being Pinot Noir. 
Prosecco producers were allowed to sell the wines beginning January 2021; thus, the market has been flooded with new brands since then. "The arrival of rosé Prosecco in the U.S. has given wine lovers another reason to drink pink, so we expect the category to continue expanding as consumers find new ways to enjoy rosé," Cooley says. 
"Rosé Prosecco is the merging of the two trendiest wine categories," notes Sara Maule, Italian fine wine brand manager and specialist at Frederick Wildman & Sons, which is bringing Lamberti Rosé Prosecco to market this year. Maule says like the flagship Lamberti, the rosé Prosecco is focused mainly on the on-premise, while also having a presence in e-commerce and the off-premise. 
Maschio, another brand in the Frederick Wildman portfolio, has also introduced a rosé Prosecco this year. Like Lamberti, Maschio's stronghold is in the on-premise, but senior vice president of sales Nick Shoults says an off-premise push is in the cards for the latter half of the year. "We've got a strategy to go after independent, fine wine markets and smaller regional chains before rolling it out nationally," he says. He hopes to leverage the brand's traditional on-premise success in gaining acceptance among retailers. 
"It'll be interesting to see how the category morphs to include rosé Prosecco, whether they put it in the rosé section or the sparkling section," Shoults adds. "It's going to affect the consumers' train of thought and how they shop." He also notes that Prosecco's strong performance among African American and Asian consumers bodes well for rosé Prosecco expansion. 
At retail, the addition of rosé Proseccos into the mix has added a spark to an already thriving rosé proposition. "The most exciting new development in the rosé category is the establishment of the new DOC rosé Prosecco," notes Sandra Spalding, director of marketing for Austin-based Twin Liquors. "We are already seeing great new releases from reputable producers like La Marca ($17 a 750-ml.) and Natale Verga. ($13)." 
Prosecco joins other sparkling wines that have had success in the rosé segment. For example, Spalding says some Cavas have flourished with their rosé label in her stores. "Established producers like Poema and Castell de Sant Pau Cava (both $11 a 750-ml.) have enjoyed instant success with their rosé Cava releases because they are trusted brands," she says. 
The ongoing strength of the retail sector has helped keep rosés buoyant in the U.S. market, but many are eagerly awaiting the revival of the on-premise sector. Many restaurant wine lists have expanded their rosé selections in recent years, and rosés have had particular success in wine by the glass programs. "The on-premise is coming back at a different pace depending on which state you're in," says Barton & Guestier's Varela. "Thanks to our close relationship with the trade, we're being very attentive to these customers and working to meet them at their pace. To do this we are re-adjusting inventory levels for growing demand and offering the best pricing and combo-case opportunities." 
Vineyard Brands is placing an emphasis on the on-premise channel as it recovers, according to Doody, while also continuing to focus on the dynamic off-premise. "I see the rosé category continuing to be strong, but not with the explosive growth it had a couple of years back." 
Cooney is even more optimistic. "Rosé is one of the fastest growing varietals in the category and we don't see it stopping anytime soon," he says. "The category continues to expand and is especially attractive to younger consumers. Each year rosé season seems to get longer, and for some it's already becoming a year-round wine, driving up demand."