The cocktail as we know it today is a distinctly Western invention, with many of the more well-known recipes, such as the Old Fashioned and the Manhattan, created right here in the United States. But as more and more spirits emerge from all around the globe, today's modern cocktails are a melting pot of different flavors, ingredients and cultures.
As the craft cocktail industry continues to grow, mixologists are always looking for new ingredients to keep it thriving, says Jhony Alam, head mixologist at Kimoto Rooftop & Garden Lounge in New York City. "Asian spirits are innovative when it comes to trying out new blends of exotic fruits and flavors, giving mixologists around the world new options to work with," he adds. "These spirits are known to mix ingredients like rice, yuzu, lemongrass and Sichuan peppercorn, which are common in Asia, but new and exotic to the Western palate."
Introducing consumers to new flavors and ingredients is the best part about working with unique spirits like those from Asia, says Josh Strauss, bar manager at Ani Ramen, which has locations in Jersey City and Montclair, New Jersey. "It's fun to take a foreign spirit and make it approachable by mixing it into a cocktail in a relatable way," he says. "The ultimate goal is for customers to discover something they never knew they would enjoy."
By and large, U.S. consumers are most familiar with Japanese spirits, thanks to the increasing popularity of Japanese whisky. Although not a spirit itself, sake's popularity has also helped bring attention to shochu and other Japanese spirits.
"I'm a huge fan of Suntory whiskies," says Paul Ballesteros, beverage director at Imperial Lamian in Chicago. "Early on, Japanese whisky was influenced by Scottish whisky makers, but over time they found a style that incorporated their amazing water and terroir to create a whisky all their own." His White Tiger cocktail ($12) comprises Suntory Toki blended whisky, orange water and house-made cashew syrup.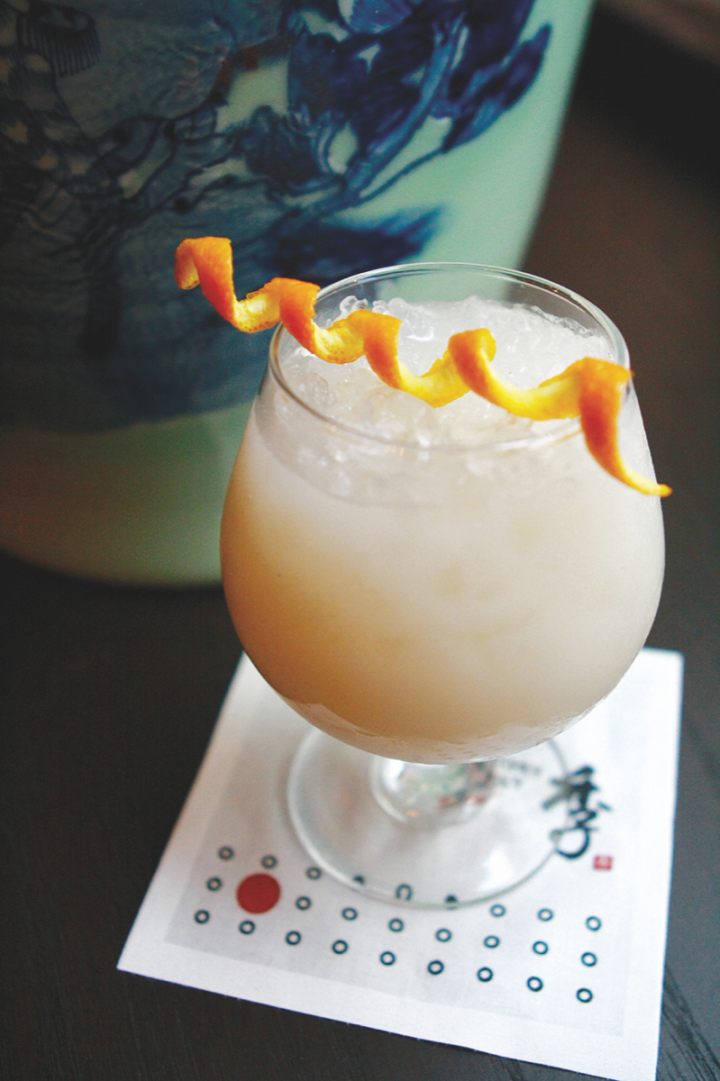 "We're also big fans of Dassai 50 sake and Mizu shochu," Strauss says. "Just as with American spirits, Japanese spirits come in a wide variety. Each has its own identity and calls for different ingredients when used in cocktails." He notes that shochu differs from sake in that it can be made with certain grains and other ingredients instead of or in addition to rice. Mizu shochu is 67-percent barley and 33-percent rice. The Spiked MTC ($10), created for Ani Ramen by New York City–based mixologist Kenta Goto, blends Mizu shochu, yuzu juice, cane sugar simple syrup and club soda.
"I love using Mizu shochu—it blends with almost anything," Kimoto's Alam says. "It's remarkably smooth and light with delicate, earthy notes seldom found in Western spirits." His Sensei cocktail ($12) blends Mizu with Kikkoman plum wine, lychee and lemon juices, syrup from a jar of bayberries, and Angostura bitters.
As Japanese spirits gain more fans in the U.S. market, lesser-known spirits from other Asian countries are finding their way into the mainstream as well. The Chinese spirit baijiu, which is distilled from fermented sorghum or other grains, is one such spirit. "Baijiu has a wide range of flavors that make the cocktail creation process really fun," Ballesteros says.
At Cote, a Korean barbecue restaurant in New York City, beverage director and bartender Devin Kennedy focuses on soju service and on using the spirit creatively in classic cocktails. "We have a curated selection of artisanal soju from Korea and New York and my current favorite is Tokki. It's made in Red Hook, Brooklyn, by a gentleman who learned to make it in Korea," Kennedy says. His Soju Cobbler ($15) comprises Tokki soju, Henriques & Henriques 5-year-old Full Rich Madeira, Giffard Banane du Brésil banana liqueur and lemon juice.
"I think the unfamiliarity of Asian spirits draws people in to try them," Kennedy says. "And people want to drink sake in Japanese restaurants or soju at a Korean barbecue place—they want a true authentic experience."
While today's consumer is certainly more adventurous and open to new dining and drinking experiences, Ani Ramen's Strauss notes that people still don't want to venture too far outside of their comfort zones. "In our New Jack City cocktail we take the classic Manhattan and give it a little Japanese influence by adding Choya Ume Excellent plum brandy," he explains. "This subtle twist gives the customer a new take on their favorite classic cocktail, and they get to experience a taste of Japanese culture that they may not find at most American cocktail bars." The drink ($12), created by Goto, also features Rittenhouse rye whiskey, Laird's Straight Apple brandy and Martini & Rossi Rosso sweet vermouth.
Imperial Lamian's Ballesteros notes that Japanese whisky is the perfect introduction into the Asian spirits category for those seeking something new, but not entirely unfamiliar. His East Meets West cocktail ($14) is a twist on an Old Fashioned, comprising Mars Iwai Tradition blended whisky, Maker's 46 Bourbon, simple syrup and Bittercube Jamaican No. 1 bitters.
"Spirits like sake, shochu and soju kind of act like a blank canvas: They have a lot more character than vodka, but not as pronounced as gin," Cote's Kennedy says. "Soju can substitute for both of these spirits pretty well in most cases." His Seoul Side ($15)—a twist on the classic Southside—features Hwayo 23 soju in place of the traditional gin, as well as Lustau East India Solera Sherry, simple syrup, lime juice and mint.
Ballesteros adds that the West is just at the beginning of the discovery process. "As consumers' palates become more adventurous, we'll see more and more of these different Asian spirits in bars nationwide," he says.