Despite widespread market disruptions caused by the Covid-19 pandemic, gin performed well in the U.S. in 2020. Last year, the cocktail staple and international favorite grew by 2.5% to reach just under 9.3 million cases. Across the U.S., retailers saw consumers embrace gin—especially in the 1.75-liter format—as brands turned to virtual home mixology classes and advertising to inspire consumers to take their drinks home from the bars. "As people became at-home mixologists the gin category really took off," says Jeff Feist, category lead for spirits at retailer BevMo, with 166 units across California, Washington, and Arizona. "This shift really helped brands like Empress, Hendrick's, and Bombay Sapphire. The gin growth was fueled by both 2-ingredient drinks like the Gin and Tonic, and classic cocktails people wanted to make at home like the Aviation."
While gin is far from its 1970s peak of nearly 20 million cases, there are signs of life in the category and, like Bourbon and Tequila, its future may lie in premiumization. Brands priced above $25 a 750-ml. generally outperformed their lower-priced category mates, with nine of the 12 leading brands in that price tier posting growth. Overall, the leading gin brands above $25 a 750-ml. grew by 11.3% to 859,000 cases. "The average unit price of gin on Drizly is $32, 12% higher than the average unit price of the overall liquor category," says Liz Paquette, head of consumer insights for the e-commerce delivery service provider. "Nearly 40% of gin sales fall into the $30-40 price range, followed by 27% in the $20-30 range, and 18% in the $40-50 range." Gin accounts for roughly 5% of spirits sales this year for Drizly, a number that has remained steady year-to-date as compared to 2020, though Paquette adds that the category saw a 21% increase last year from 2019.
Super-Premium Bright Spot
A further sign that premiumization is on the horizon for gin is seen in the top two brands priced between $15 and $25: Tanqueray and Bombay. Though they come in at more affordable price points than their more premium segment mates, the brands retail near the top of the market segment, showing that a substantial portion of gin consumers are comfortable on the outskirts of the super-premium tier.
"According to Nielsen data, the gin category is growing faster in value compared to the total spirits category," says Bombay Sapphire vice president of global marketing Natasha Curtin. "Consumers are continuing to reimagine how they drink at home with elevated cocktails—and gin is taking the lead." Retailers across the U.S. report that gin sales skew toward the super-premium end of the category, with locally focused craft brands, super-premium stalwarts like Hendrick's, and brands retailing just below the super-premium tier like Bombay and Tanqueray as bestsellers in markets as far and wide as California, Kentucky, Pennsylvania, and Texas.
Though the super-premium segment is undoubtedly a bright spot for gin, it's still a tiny fraction of the overall category at less than 10% of the total U.S. gin market. But these higher-end brands are growing well beyond bigger competitors and lower price points. Producers and retailers are betting that the super-premium market will continue to develop. "Last year saw a 25% gain compared to 2019," says ABC Fine Wine & Spirits director of sales Alex Poreda. "The interesting thing is that sales volume is only up about 10%, while dollars are up over 25%."
In this price segment, William Grant & Sons-owned Hendrick's is the leader by light years. At 441,000 cases, it's the super-premium leader by roughly 350,000 cases and is, overall, the sixth largest gin brand in the U.S. Consistently, Hendrick's is the leading super-premium gin at the retail tier, coming in among leading brands at retailers across the country, as well as on Drizly. "Tanqueray is the king and Bombay has a following, but Hendrick's really opened the door for higher-end and craft based gins," says Jonathan Blue, CEO of Blue Equity LLC, which operates the Liquor Barn, Party Mart, and DEP's Fine Wine & Spirits chains. At BevMo, Hendrick's has landed three SKUs in the top ten: both 750-ml. and 1.75-liter bottles of the original label, as well as its offshoot Midsummer Solstice. 
Aviation gin, which Diageo acquired alongside parent company Davos Brands last August, skyrocketed nearly 61% to 86,000 cases in 2020. "Our Nielsen data shows continuously strong double digit growth in retail and we are beginning to see the on premise re-emerge," says Davos Brands CEO Andrew Chrisomalis, noting that the brand exceeded expectations during an uncertain year. "We immediately optimized our e-commerce strategy, which had already been a focus for us prior to the Covid-19 pandemic. Our audiences were very receptive to purchasing Aviation Gin through channels like Drizly and ReserveBar." 
Aviation's success last year highlights that it's a brand that's growing in relevance at retail, according to ABC's Poreda. He notes that actor Ryan Reynolds' involvement is a standout feature for the brand. "Consumers respond best to celebrity-affiliated brands when the connection between the two feels genuine, and Reynolds embodies that sort of partnership with Aviation," he says. 
In Pennsylvania, higher-priced marques are seeing greater success than lesser-priced labels. The bulk of the state's gin SKUs are in the $20-$30 tier. "Items at higher price points (above $30), while an 8.7% share, have shown more growth. The price range of $40-$50 is up 23.2%. The $40-$50 range and the over $60 range – a combined 9.8% share of items in the category and 16.9% of dollars – has seen an increase of 20.7% in units and 22.4% in dollars," says Pennsylvania Liquor Control Board chairman Tim Holden. He nods to local favorite Blue Coat from Samson & Surrey and Rémy Cointreau's The Botanist as two of the leading higher-end brands in the Commonwealth. The brands jumped 10.2% to 29,000 cases and 15.6% to 48,000 cases last year, respectively, according to Impact Databank.
Craft Making Gains
While the largest gin brands in the U.S. are owned by major drinks marketers, higher-end craft brands are starting to make waves and stand out on retail shelves. "Among the fastest-growing gin brands year after year are Gray Whale, Empress, Monkey 47, The Botanist, and Drumshanbo," says Drizly's Paquette. 
Palm Bay International's Drumshanbo Gunpowder Irish gin was up 78% to 53,000 cases, according to Impact Databank, and is a standout performer in BevMo stores, Feist notes. He adds that Azzurre Spirits' Empress gin, which gained 138% to 31,000 cases last year, and Uncle Val's Botanical gin, from 3 Badge Beverage Corp., which increased 6.6% in 2020 to 31,000 cases, also do well at the chain. "Craft gins are doing well," Feist says. "Empress is our No.-2 seller. We focus on local spirits, and our local customers appreciate our partnerships." says Feist, who adds that along with Uncle Val's, other California gins that do well at BevMo include Gray Whale from Deutsch Family Wine & Spirits and St. George Spirits' gin lineup. Paquette notes that, on Drizly, Gray Whale's top markets include Los Angeles, San Francisco, and Oakland in its home state.
In Kentucky, Blue says that craft sales do well but that there is currently a price ceiling for the category. "I think the sweet spot for American craft gin is between the mid-$20s and high- $30s," he says. "Higher than that is a tough sell and lower than that might not fit the "quality" image."
Though retailers across the U.S. think that gin's gains in the last year are largely here to stay, some believe there will be a slight adjustment as consumers return to the on-premise. "We believe that as folks get back out to patronizing the on-premise, some of the craft products will slow down," says Sandra Spalding, director of marketing and community at Twin Liquors, which has nearly 100 units in Texas. "But they'll continue to be household products as folks balance their entertaining at home with going out." Spalding adds that standout craft and higher-end brands at the chain include Hendrick's and The Family Coppola's Ada Lovelace gin.
Growth At The Top
In 2020, four of the top five gin brands in the U.S. posted growth, ranging from 4% to 10.3%. "Gin is now a bigger category than both rum and Irish whiskey," Feist says. "There's a lot of upside on gin, especially above the $20 price point. Just like in Bourbon, the customer has a favorite brand, but they really enjoy trying other brands and experimenting with different regions and ingredients." 
Overall, while the top-ten gin brands in the U.S. cover a variety of prices, nine retail for under $25 a 750-ml. Leading the pack is Pernod Ricard's Seagram's at nearly 1.9 million cases in the U.S. The affordably priced brand was up 4.7% and reversed a decline that began in 2008. Seagram's focuses on a host of fruit flavored expressions and simple two- and three-ingredient cocktails for simple home mixology. Seagram's eight flavors cover tropical fruits like pineapple, citrus fruits like lime, and less common gin flavors like grape and apple. 
Pernod has another top-ten brand with Beefeater, at 433,000 cases in the U.S. The brand is a leader among gins priced $15-$25 and, beyond its London Dry expression, markets a series of seasonal releases, Beefeater Pink, and a higher-end Burroughs Reserve. Though it lags behind category giants like Tanqueray and Bombay, the brand performs well at retail, joining the top 10 SKUs in Blue Equity's retail portfolio and Pennsylvania's liquor stores, as well as on Drizly. 
Behind Seagram's is Diageo's Tanqueray up 4% to 1.44 million cases. The brand, which retails in the $15-$25 price tier, has consistently been one of the strongest producers in the category. While the majority of leading gin brands in the U.S. have faced downturns in the last few years, Tanqueray's slip only saw the brand fall by 5,000 cases between 2018 and 2019; otherwise the brand has posted slow but steady growth. The brand sees widespread success across the U.S., frequently coming in near the top of retailers' best-selling gin lists.
"Tanqueray saw strong sales performance in the first three months of 2021," says Christina Choi, senior vice president for rum, Tequila, and gin at Diageo. "Growth is being driven by a number of variants within our portfolio, including double-digit growth for both Tanqueray No. Ten and Tanqueray Rangpur Lime, which reflect the rising consumer demand across the category for Ultra-Premium gins as well as flavored gins." Choi pointed to the recent national launch of Tanqueray's Sevilla Orange offshoot as an area of excitement for the brand this summer. 
She also adds that Tanqueray has started to see growth return in the on-premise as more and more markets reopen and consumers return to bars and restaurants. Choi notes that throughout the pandemic, Diageo saw Tanqueray grow by double digits in the off-premise. "We expect Tanqueray's strong performance to continue as consumers keep their pandemic mixology habits even after the on-premise has returned to normal," she says.
At Florida's ABC Fine Wine & Spirits and California-based BevMo, Tanqueray's 1.75-liter package sits comfortably in the chains' top-ten gin SKUs. At Pennsylvania's Fine Wine & Good Spirits stores, Tanqueray's 750-ml. offering is by far the top gin SKU in the state for calendar 2020, moving nearly 181,000 bottles, roughly 90,000 more than the second-place SKU. Similarly, in Blue Equity's portfolio of liquor stores, the 1.75-liter and 750-ml. formats of Tanqueray are the two best-selling gin SKUs. 
Behind Tanqueray is Bacardi's Bombay line of gins. Another perennially strong performer, Bombay was up 10.3% to 1.28 million cases, making it the strongest performer in the top ten and among the best performing gin brands below $25 at retail. "Bombay has seen strong sales in the off-premise and e-commerce in particular as consumers discovered the accessibility and ease of home spirits delivery services," says Curtin of Bombay. "The pandemic has ushered in a new breed of at-home cocktail makers who have used their time in isolation to upgrade their bartending skills and expand their repertoire."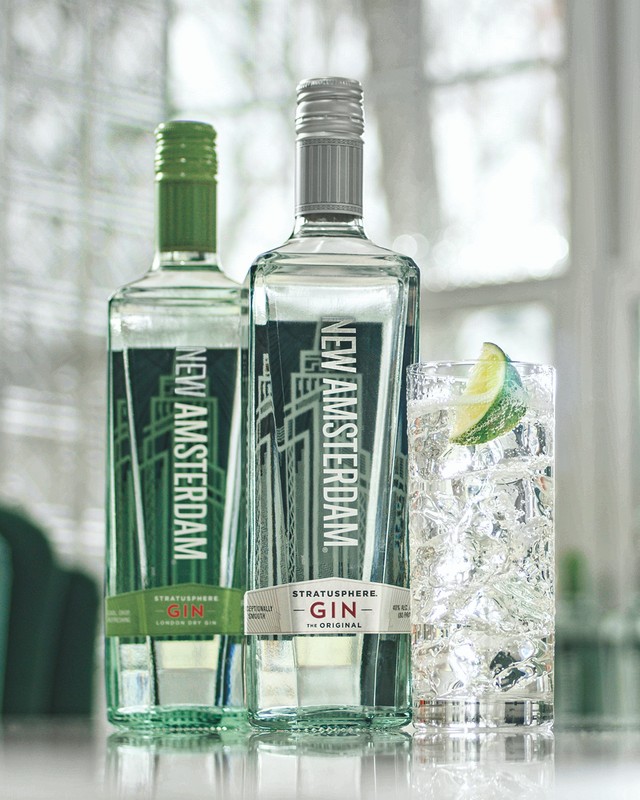 Bombay has recently entered the burgeoning spirits-based canned cocktail market with Bombay Sapphire & Tonic RTDs. According to Curtin, Bombay is aiming to appeal to a variety of consumers, with the Light variety of the RTDs coming in at 90 calories and 0 grams of sugar per serving and the overall portability of the cocktails making them perfect for occasions beyond the bar. "We're expecting for this line of canned cocktails to generate substantive growth for Bombay Sapphire," she says. "Across the Atlantic, it's been a hit and we foresee the same anticipation and excitement in the U.S."
The fourth largest gin in the U.S., overall, is E.&J. Gallo's New Amsterdam. The brand hit 685,000 cases in the U.S. for 2020, up 7%. The brand's portfolio has two releases—a citrus-forward American style gin and a more traditional London Dry—and, according to Brandon Lieb, vice president of marketing, spirits business at E.&J. Gallo, both performed well throughout the pandemic. "Off premise continues to perform very well, and we are beginning to see positive signs in the on premise as accounts begin to open back up," he says, adding that the brand sold well in 2020, with the largest change coming from package sizes as consumers shifted to the off-premise. "As the environment quickly changed last March, we were able to adjust and focus more attention on e-commerce and the off-premise, which proved to be very successful," he notes. "An additional adjustment was needed when we began to see significant shifts in our size mix. Small-size and 1-liter volume was replaced by 750-ml. and 1.75-liter business." 
Across all price segments, gin marketers focused on at-home cocktail making during the pandemic, encouraging consumers to bring their favorite brands home. At the beginning of the on-premise shutdowns, both Tanqueray and Bombay launched at-home mixology programs through Diageo's #TipsFromHome series and Bombay's Create at Home initiative. In addition to showing consumers new ways to mix cocktails with their respective spirits, the programs helped raise money for the on-premise community and aimed to build a sense of community during a hard year. 
Recent Diageo acquisition Aviation gin also helped to promote home cocktail making while giving back to the bartending community through the Tip Your Bartender initiative and other promotions featuring Ryan Reynolds. 
Overall, gin markets focused on simple, straightforward cocktails for at-home mixologists, frequently promoting long drinks and Gin & Tonic variations that highlighted the different botanicals used in their brands. E. & J. Gallo's Lieb notes that New Amsterdam's cocktail program is built around introducing consumers to home variations of what is popular in the on-premise. "This approach didn't change during the shutdown but the complexity of the cocktails did," he says. "We focused on less complex cocktails that would be easier for at-home bartenders to make and enjoy."