Once a bastion for buffet service and quick cuisine, food courts have received a major revamp over the past few years. A new breed of venue has emerged—one that celebrates local chefs, emphasizes healthier eating habits, and incorporates beverage alcohol to create a dining destination with myriad food and drinks options. While upscale-casual food halls have had a small presence in major markets for a few years, they're now expanding rapidly in large cities and entering smaller urban locales.
Some food halls incorporate several on-premise operators in a single space, while others are managed by one restaurant company that oversees a variety of concepts under its own umbrella. Several also house a market that allows guests to buy fresh produce, packaged foods, and wine, beer and mixers in the same locale, creating a multifaceted approach. These operations play into consumers' need for variety, quality and affordability.
"In the last five years, fast casual establishments have brought full-service, restaurant-quality food to the public in an everyday, economical setting," says Karen LuKanic, the senior vice president of business development at Denver-based Richard Sandoval Restaurants. "The lower prices have helped widen the audience, and the self-service approach has eliminated the need to tip. Customers today expect to find high-quality food at affordable prices. Food halls simply expand that premise to offer more variety under one roof."
Richard Sandoval Restaurants operates the food hall Latinicity in Chicago. The concept opened in November 2015 in the Loop neighborhood, offering 10 different quick-serve counters, a tapas restaurant, a café, a bar and lounge, and a market. Latinicity—which highlights the flavors of Latin America, Spain and Portugal—has been well received. LuKanic calls the food hall the next evolution of fast casual dining, as it serves upscale cuisine at accessible prices.
Sandoval's restaurant group is no stranger to the world of traditional dining—the company has more than 40 restaurants around the globe—but this concept was its first foray into a food hall–style venue. LuKanic says the ability to serve such a high volume of guests is a major benefit, but also a challenge. In a conventional restaurant setting, servers can make sure guests' needs are being met, but that's not the case at a counter-based food hall. Instead, LuKanic says consumers turn to online reviews to offer feedback.
"Our customers expect that their meal will be ready fast, but we refuse to sacrifice quality for speed of service," LuKanic explains. "As chef Sandoval travels, he's often influenced by the cultures, flavors and tastes he discovers. Latinicity has given us the opportunity to present the cultural influences of Latin America in an authentic way without having to open 12 separate restaurants."
Gift Of Choice
The counters at Latinicity offer a range of foods, including artisanal sandwiches, sushi, ceviche, Peruvian stir fry, grilled meats, tacos and fresh seafood. Tacos are popular, and Machefe Taquería lists upscale options like carne asada and achiote-marinated pork ($3 to $4 per taco). More adventurous eaters enjoy Chaufa Wok, a build-your-own concept that allows guests to choose their preferred starch and protein to create dishes that evoke street food in Peru ($10 to $12).
Full Bar, the drinks component at Latinicity, emphasizes Latin American spirits, beers and wines. Standout cocktails include the La Caravedo Quebranta Pisco–based Chicha Sour, the Xicaru Silver mezcal–based Old Fashioned and the Pitú cachaça–based Strawberry Basil Caipirinha (cocktails are $8 to $13). The bar also serves Margaritas, Micheladas and sangrias. LuKanic says Jarritos soda–based mixed drinks ($11 to $15) are gaining traction too. The M&M, comprising Xicaru Silver mezcal, Jarritos Mandarin soda, agave syrup, lime and cucumber, is a popular choice. In addition, Full Bar pours wine by the glass ($9 to $15) and serves beer on draft and in bottles ($6 to $7).
LuKanic says Richard Sandoval Restaurants is planning to expand the 6-month-old Latinicity concept. "The development community has responded incredibly well," she notes. "We've had many offers to open additional food halls. I know we'll see more Latinicity units and probably more food halls overall because once the formula is created and optimized, it's easily duplicated."
Omaha, Nebraska–based Flagship Restaurant Group also debuted a food hall concept in late 2015, and the company is already thinking about expansion. Called Flagship Commons, the large space is located within Omaha's Westroads Mall. The venue offers counter-style versions of a couple of the company's established brands, as well as new on-premise operations. "Food halls have always been popular, but they lost culinary focus," says Flagship co-owner and COO Anthony Hitchcock. "Now we're starting to see life breathed into them again with an emphasis on quality, nutrition and locally sourced ingredients. We thought a food hall would be a fun and challenging project that we could pull off due to the success of our established concepts."
Part of the appeal for Flagship Restaurant Group was that it could own and operate the entire venue and control the full space's environment. Flagship Commons features an outpost of Blatt Beer & Table and an offshoot of Blue Sushi Sake Grill, both of which have stand-alone locations in Omaha. In addition, the hall has counters that offer falafel and kebabs, salads, tacos, ramen, and pizza. Several of the venues have their own themed drinks offerings—Mexican beers and Margaritas at Juan Taco, craft beer on tap at Blatt, sake at Yum Roll, and Japanese brews at Yoshi-Ya—and the space also houses a separate drinks venue called The Bar.
"The food hall offers an experience," says Tony Gentile, Flagship's co-owner and corporate executive chef. "It's a destination for people—not just to eat, but to be social. It's a communal gathering space. The variety of food and drinks hits several demographics on different levels."
Along with sushi, the Yum-Yum Bowl is a popular item at Yum Roll. Guests create their own meal by picking from a variety of meats, vegetables and sauces that are served over rice ($7 to $9). The handcrafted specialty pizzas at Weirdough also do well ($3.75 to $4.50 a slice), and the burgers and bratwurst at Blatt Beer & Table are local favorites. The Bar at Flagship Commons takes a two-pronged approach. The venue employs bartenders at certain times during the week to make classic cocktails like a Cruzan rum–based Mojito, a Tito's Handmade vodka–based Moscow Mule and a Cabrito Silver Tequila–based Margarita ($6.75 to $8). Wine ($6 to $12.50 a glass; $24 to $50 a 750-ml. bottle) and beer ($4 to $7.50 a draft pour, bottle or can) are available at all times. The brew selection includes both mainstream brands and craft offerings from Boulder Beer Co., Ska Brewing Co. and Omaha favorite Brickway Brewery. Guests are allowed to walk around the food court area with their drinks, but can't bring them into the mall.
"People often visit the bar before or after they shop," Gentile says. "This type of food hall gives consumers an opportunity for fresh, minimally processed and made-from-scratch food, and it allows for multiple types of appetites. Food halls have been around for a while, but certain criteria weren't being met. These types of halls are now part of the food movement."
Creating An Experience
Modern-day food halls thrive because they focus on regional restaurateurs who can offer top-notch food and drinks in a quick-service format. Ryan Chase, the owner of 4th Street Market in Santa Ana, California, says this approach is the driving force behind the success of his venue. Chase is a real estate developer, so his model for 4th Street centers on bringing in local restaurant talent to attract younger legal-drinking-age consumers.
"Millennials and the younger generation are pushing this trend," Chase explains. "From an urban standpoint, food halls are an economic driver and attract people. They're more of a destination, and they can make a positive impact on the local community. The chefs who are in the place are everything. It's all about who you bring in. It's beyond just eating."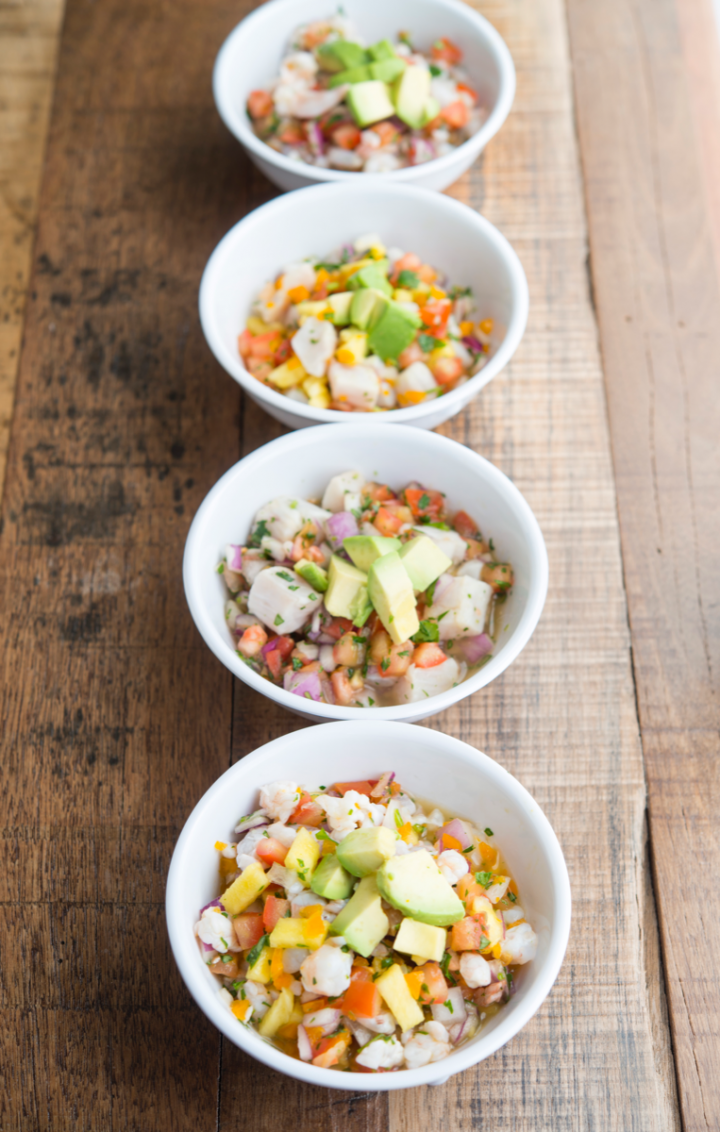 At 4th Street Market, Chase hires local restaurateurs to operate counters and serve their own food. His company handles much of the overhead costs, utilities, and public relations and marketing, taking start-up stress off young chefs. Some tenants sign long-term leases, while others choose to try out a concept for a month or two. The space currently houses the Asian- and Latin-themed Dos Chinos, the seafood-based Mar, the pork-heavy Pig Pen Delicacy, and the Vietnamese-influenced Sit Low Pho. On the drinks side, a bar called Recess pours six beers ($6), six wines ($8) and six pre-mixed cocktails ($8)—all on tap.
"Drinking is a huge social component and a driver of business," Chase says. "We're in the process of expanding the bar to have a selection of mixed drinks and other beers that aren't on tap to provide more options." He adds that since 4th Street Market opened in 2015, he's already received calls from several dozen people who want to replicate the concept in other cities.
In the greater Washington, D.C., area, chef Mike Isabella is working on a food hall that's slated to open in summer 2017. Located in the Virginia suburb Tysons Corner, the concept is already creating major buzz. Isabella says developers approached him with the idea and he agreed on the condition that he could operate every venue in the space. Plans for Isabella Eatery include 10 concepts that touch on a diverse array of cuisines, from Japanese and Mexican to Greek and Italian. There will also be an upscale, full-service Mediterranean steak restaurant. Beverage alcohol will be prevalent, with a large octagon-shaped bar as the centerpiece of the space.
"I operate a lot of free-standing restaurants," Isabella says. "For the food hall, we're bringing in concepts that we've already done successfully and adding a couple new ones. People are really interested in good food and in having options. Food halls are opening across the country. I wanted to produce something that no one else is doing. We've already received phone calls asking us about the concept and if we'll do more."
Food Hall Pioneer
Though its format is different than many of its food hall peers, Eataly is among the leaders in this dining segment. The concept launched in Turin, Italy, in 2007 and made its U.S. debut in 2010 in New York City. Locations have since been added in Chicago, Rome, Tokyo, Milan, Istanbul, São Paulo and Munich. Operated jointly by entrepreneur Oscar Farinetti, chef Mario Batali, and restaurateurs Lidia and Joe Bastianich, the concept puts equal emphasis on dining and retail sales and also offers an educational component.
The U.S. locations each house seven restaurants and a handful of quick-serve counters. The restaurants have their own beverage alcohol menus, highlighting specific offerings. At the casual concept La Pizza & La Pasta, approachable Italian wines and beers take center stage. The New York City location offers more than 30 wines ($9 to $24 a glass; $32 to $170 a 750-ml. bottle), such as the 2013 Bastianich Vespa white blend ($18; $63), the 2011 Mirafiore Barolo ($23; $80) and the 2010 Allegrini Amarone ($138 a 750-ml. bottle). The menu also lists 14 beers ($6 to $10 a draft pour; $7 to $27 a bottle), including selections from American craft brewer Dogfish Head and several Italian craft labels. Eataly in Manhattan boasts a fine dining concept as well. Manzo Ristorante offers high-end fare like house-made stracciatella, linguini with poached lobster and veal-stuffed agnolotti (entrées are $19 to $29), as well as a lengthy drinks list.
"At Eataly, wine is a focus and one of our pillars," says Marco Oppedisano, general manager of restaurants at Eataly New York. "Eataly is a culinary marketplace that seamlessly blends grocery, retail, education and restaurants. We opened Eataly to bring consumers closer to producers and the stories behind them, to bring quality cuisine in a casual environment and to inspire people to focus more on what they're putting into their bodies."
The retail component at Eataly is huge. The space sells everything from baked goods and fresh mozzarella to packaged pastas and beer and wine. The concept strives to house everything needed to recreate the food and drinks served in the space's restaurants. "Food halls give the average diner the ability to eat multiple items all under one roof, and these multifunctional spaces will continue to evolve as people become more in tune with other cultures and the way they operate," Oppedisano says. "Traditional restaurants will forever be a part of our nature, but food halls—which provide a nonjudgmental dining experience—are growing."