When brothers Ed and Joe Kane joined forces with entertainment guru Randy Greenstein to launch their own nightlife company in Boston in 2006, they dreamed of how amazing it would be to build a million-dollar nightclub. It seemed like a fantasy in those days, but a lot has changed since then. Today their company, Big Night Entertainment Group, operates a portfolio of 18 luxury clubs and restaurants in Massachusetts and Connecticut—most of them multi-million-dollar properties.
"People say we've changed the face of entertainment in Boston," says Ed Kane, co-founder and principal at Big Night. "We've taken Boston by storm in terms of high-end nightlife design, incredible talent, and great hospitality. We spend a lot of time ensuring our venues are beautiful and look sophisticated, and we strive to be the best in hospitality to make sure all our guests feel welcome. We want to create venues that people have never seen before."
Big Night operates chic nightclubs, high-end restaurants, and destinations that bridge the gap between the two, as well as a couple of sports and arcade bars and live music and performance spaces. The Boston-based company opened its first venture in the Foxwoods Resort Casino in 2008 and now has a portfolio of five concepts in the Mashantucket, Connecticut hotel, plus 13 more in greater Boston. Big Night's most recent entrants over the last three years—all located within larger entertainment centers or hotels—serve as a model for the company's future growth, as they're each over-sized luxury spaces that incorporate several different elements under one roof.
The company's revenue is expected to top $125 million this year, led by beverage sales, which make up 60% of revenue company-wide. Spirits and cocktails dominate, comprising 74% of beverage sales, as specialty drinks and bottle service are key elements of each nightlife space. Wine contributes 15% of drinks sales and beer makes up the remaining 11%. "We try to be super creative with what we offer at the bar," Kane says. "We want to be at the forefront with the newest cocktail programs, while still balancing craft cocktail culture with speed. Drinks are 90% of our sales in some places, excluding cover charges. The bars have to reflect what's happening in the market."
Blueprints For Success
Most of Big Night's venues are substantial in size—the portfolio of 18 spaces totals more than 200,000 square feet. The company's most recent mega-projects include The Grand nightclub and a third unit of The Scorpion Bar, which opened in 2017 in Boston's Seaport Square; Mystique and Mémoire, which debuted in 2019 in Wynn Resorts' Encore Boston Harbor casino resort; and Big Night Live—a luxury music hall that houses a large nightclub, restaurant, and private events space—which launched late last year in the new Hub on Causeway, a mixed-use entertainment, retail, residential, and office space next to Boston's TD Garden sports arena. In all, Big Night Entertainment spent $65 million on those projects alone.
"There's been an incredible renaissance and growth period in Boston," Kane says. "We spend a lot of time finding iconic locations, and the last three in particular define our direction. The common denominator across our company is luxury brands meet high-end design meet great hospitality. People on every level appreciate the attention to detail we give our projects and the service we provide."
The design details and the thought put into how guests navigate each space are key differentiators for Big Night properties. The Grand illustrates this well; at more than 12,000 square feet, the nightclub exudes opulence, from its majestic entrance and intimate private spaces to its gold and leather accents and high-tech sound and lighting elements. The club highlights luxury bottle service, offering upscale Champagnes like Armand de Brignac Ace of Spades and Dom Pérignon ($300-$1,000 a 750-ml.) alongside such premium spirits as Avión, Cincoro, and Don Julio Tequilas, The Macallan Scotch, and Louis XIII de Rémy Martin Cognac ($375-$6,000 a 750-ml. or 1-liter, depending on the type of spirit).
Bottle service is also popular at Mémoire, a lavish nightclub in Wynn's Encore Boston Harbor, with luxury Champagnes and spirits on offer ($300-$6,000 a 750-ml. or 1-liter). The 8,000-square-foot club has 20 VIP tables and is adorned with chandeliers, gold, marble, and leather furnishings and fixtures, and high-tech video, lighting, and sound systems. Mémoire is joined in the hotel by Mystique Asian Restaurant & Lounge, a larger dining-nightlife hybrid. Mystique spans more than 16,000 square feet and houses a main dining room with an open kitchen, as well as private dining areas and a lounge.
Mystique's food menu offers a worldly approach to Asian fare, listing robata-grilled meat and fish, sushi and sashimi, and larger entrées like miso soy cod, sesame beef, and Singapore street noodles (entrées are $21-$45; sushi and robata offerings are $7-$30). Specialty cocktails shine at Mystique, and the venue's Asian theme is carried through to the drinks menu. Along with Martinis and Mai Tais, it offers signatures like the Komodo Dragon, made with chili pepper-infused Avión Silver Tequila, agave nectar, lime juice, and mango purée in a glass rimmed with togarashi spice and black sea salt, and the Pikachu Punch, mixing Cîroc Apple vodka, kiwi-infused Chum Churum soju, Barrow's Intense Ginger liqueur, and house-made citrus soda (cocktails are $15-$26).
Large-format drinks are also popular at Mystique. The menu lists offerings for two, four, or eight people ($32-$300), such as the Sea Spice, a punch that blends Kraken Black Label and Black Spiced rums, Bacardi Mango rum, Red Bull Tropical, and pineapple and orange juices. A selection of sakes ($12-$14 a glass; $46-$250 a 750-ml.) and beers, including craft, big-name domestic, and Asian labels ($8-$15 a draft pour, bottle, or can), are also available.
"Mystique is a continuation of our development of high-end dining and nightlife," Kane says, adding that Big Night is interested in further partnerships with Wynn Resorts. Big Night beverage director Jennifer Ramos notes that the cocktail portion of the bar business is key at venues like Mystique. "It's such a focal point," she says. "Our entire premise is about having a big night, so we want to make the most of everyone's experience. That starts with the first cocktail when you walk in the door—it has to be amazing and well-balanced."
Beverage Focus
While the drinks menus vary at every unit, there are key elements present at most locations. Ramos says Big Night's signature Mai Tai, made with Bacardi 8-year-old rum, DeKuyper Orange Curaçao, Monin Almond orgeat syrup, and lime and pineapple juices, all topped with a float of Bacardi Black rum, is pretty consistent company-wide. In addition, most venues offer flavored Mai Tai variations and have menu sections dedicated to large-format drinks. "We always have an over-sized party drink section," Ramos explains. "People come here for our cocktails, especially the oversized drinks. We curate cocktail lists that are cohesive with the cuisine. They are creative and highlight beautiful garnishes and fresh flavors that match the food. And they have to be designed for speed and efficiency because we do so much volume."
Beyond Mystique, Asian flavors rule at Big Night venues like Empire Restaurant & Lounge in Boston's Seaport district; Shrine nightclub in Foxwoods Resort Casino; and Red Lantern Restaurant & Lounge, which has a location in Boston's Back Bay neighborhood and at Foxwoods. Each of these venues has a drinks menu with Chinese or Japanese influences. Mexican themes also play heavily into several Big Night concepts, including Scorpion Bar, which has units in Foxwoods, Boston's Seaport District, and at Patriot Place shopping center, just outside of Boston in Foxborough, Massachusetts.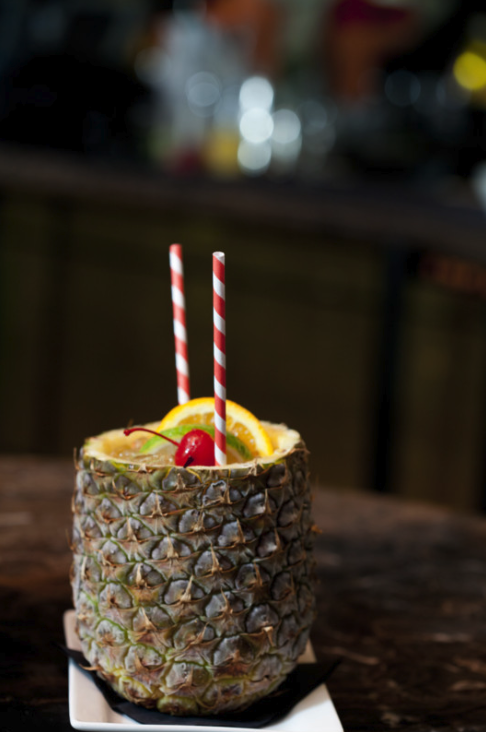 Scorpion Bar serves updated takes on Mexican classics, from pork belly tacos to carne asada flautas (food ranges from $5-$30 in Boston), and cocktails are a major player. The venues offer a variety of Margaritas, including the Classico made with Cazadores Blanco Tequila, and several flavor and specialty offshoots, from jalapeño and coconut to mint and smoke. These join a selection of Martinis and classics drinks like a Jack Daniel's-based Tennessee Mule and Hendrick's gin-based Smash (cocktails are $12-$15). Large format Scorpion Bowls ($55), from a Casa Noble Crystal Tequila-based Margarita to a Grey Goose vodka-based Carnaval, are also available. In addition, more than 100 Tequilas and mezcals are displayed on the back bar ($13-$110 a 1½-2-ounce pour).
Big Night partners with celebrity chef Guy Fieri for two additional Mexican venues—Guy Fieri's Kitchen & Bar at Foxwoods and Guy Fieri's Tequila Cocina inside the company's Big Night Live concept in The Hub on Causeway entertainment complex. Tequila Cocina boasts an expansive bar that has a varied Margarita menu and lists specialties like the Miel Reposado, mixing Avión Reposado Tequila, Cointreau liqueur, house-made honey water, and lemon juice (cocktails are $12-$16). Myriad Tequilas and mezcals ($11-$86 a 1½-2-ounce pour) are also available by themselves or in flights like the Full Spectrum, comprising Avión Silver, Patrón Reposado, and Corzo Añejo Tequilas (flights are $34-$110 for three 1½-ounce pours).
"We want our menus to be creative and unique, but not so unique that no one understands what's on them," Ramos says. "We try to stay ahead of the curve with cocktails. Our program has evolved tremendously. People today want lower-abv drinks and fresh ingredients, and there's a huge wave for impressive garnishes and vessels because everything now is about social media."
Big Growth
While the company grew steadily in its first decade, Big Night has ramped up expansion tremendously in recent years. From 2016-2018, the company's sales roughly doubled and its employee count surged to 1,800 people. Big Night's new projects during this period were varied, from the European-American café Explorateur and arcade bar and restaurant Versus in Boston to the restaurant and sports bar CBS Sporting Club in Foxborough's Patriot Place. And 2019 brought even more over-sized growth, as Big Night partnered with Wynn Resorts in Boston and added Big Night Live, its most ambitious project yet.
Big Night Live spans an eponymous music hall and VIP supper club and also houses the separate concepts Guy Fieri's Tequila Cocina and Studio B, which is a more intimate nightclub and private events space. Among the three areas there are five bars. "It's like its own city in the West End of Boston," Kane explains. "Big Night Live is a luxury location featuring live artists and big DJs. It's tailored with a ton of attention to detail on the technology side for custom sound equipment and lighting."
Because of this rapid growth, Big Night executives are looking forward to a somewhat quieter 2020, but that doesn't mean they plan to rest. The company doesn't have any openings scheduled for this year but it remains opportunistic, and Kane has grand hopes for the future. Among his bigger dreams: to branch out beyond New England. "We've been in a sprint for the last few years and we need to get our arms around what we've created and make sure all our venues are the best they can be," Kane says. "We also want to look outside of our regional market. We have brands that would play well in tons of locations around the country and internationally."
No matter how much growth comes, Big Night executives plan to run their company like a small regional player. "It still feels like it's family-run, even though we can't have our hands in every location every minute like we could when we had one unit," Kane says, adding that the beverage component will always stay at the forefront. "We don't miss a beat when it comes to being aware of what's of the moment and what people want and expect for our brand."