For more than 15 years Bourbon has been at the forefront of the cocktail renaissance and spirits boom in the United States. As a spirit with rich history and one that's made in our own backyard, Bourbon continues to reign supreme at bars across the country.
"There isn't a single Bourbon bottle on our backbar that doesn't get used regularly," says Sarah Mengoni, lead bartender at Double Take in Los Angeles. She adds that Maker's Mark and Woodford Reserve are the most requested labels, but she's noticed that guests have become more comfortable trying new brands as well.
Todd Brinkman, director of eat and drink at Stoke in Charlotte, North Carolina, notes that U.S. consumers seek out products that have traceable roots, which is the key to Bourbon's popularity. "Everyone these days is eating and drinking with a sense of place," he says. "While we didn't invent whisk(e)y, Bourbon is uniquely American and made across the country at a very high level." Mengoni echoes Brinkman's sentiments, pointing to the humble flavors within Bourbon that encourage her own patriotic pride. "I love working with an ingredient that's so American," she says. "It's not exotic or snobby—it's delicious, hardworking, down-to-earth American whiskey."
Since the cocktail revival first gained traction in the early part of the century, consumer interest in authentic, well-crafted products has only grown. Christian Hetter, bar manager of The Berkshire Room at the Acme Hotel in Chicago, notes that Bourbon perfectly fits that bill and continues to be one of the most called-for spirits in a cocktail. "Bourbon was the first spirit I really passionately explored, and even after more than ten years I still consider it my favorite," Hetter says.
Old Faithful
Mixologists and bartenders agree that Bourbon is a reliable choice when making cocktails because its complexity shines in even the simplest serves, as evidenced by the continued popularity of the Old Fashioned. At 20 East at The Talbott Hotel in Chicago, the 4C Old Fashioned ($13) blends Woodford Reserve, Demerara simple syrup, and Angostura bitters. "The classic build of whiskey, sugar, and bitters always make for a great base, allowing you go in any direction you desire," notes Tim Ryll, bar director at Four Corners, the hospitality group that owns and manages 20 East. "We like to keep it simple, so riffs on classics work well for us. Adding a fun bitter, like Fee Brothers Aztec Chocolate bitters, to an Old Fashioned or swapping out rye for Bourbon in a Boulevardier are fun twists we've done in the past."
At Stoke, lead mixologist Samuel Rouson's Stoke Fashioned ($14) blends Stoke's own limited-edition bottling of Maker's Mark Private Select Bourbon, Demerara simple syrup, and Angostura bitters, garnished with Fee Brothers West Indian Orange bitters and torched Angostura bitters. Experimenting with different bitters and sweet components can take a cocktail from basic to boldly unique. At Porchlight in New York City, bartender Sam Mattenson's Fancy with a Nominal Fee ($15) features the venue's private-edition Russell's Reserve Bourbon, Luxardo Maraschino liqueur, Nux Alpina walnut liqueur, and Angostura and Regans' No. 6 Orange bitters.
"A classic Old Fashioned is still our most popular Bourbon cocktail call," says The Berkshire Room's Hetter. But the bar also offers a Dealer's Choice ($14) for more adventurous guests, building a drink around a specific ingredient, like wheated bourbon, and a flavor profile, like sweet and sour. For a request like this, Hetter usually makes a drink that's inspired by a classic sour build and has a spicy kick of ginger. He uses Maker's Mark, lemon juice, house-made ginger syrup, Lucano amaro, and The Bitter End Jamaican Jerk bitters.
At Bosscat Kitchen & Libations in Houston and Newport Beach, California, The Bosscat ($14) is a take on the Old Fashioned featuring Basil Hayden's Bourbon, house-made lemon-infused simple syrup, and Angostura bitters. The drink was created by Chris Daily, general manager of the Newport Beach location. "The surge in popularity of classic cocktails from the pre-Prohibition era has really been a blessing for Bourbon, as many of those great cocktails call for it," notes Matt Sharp, Bosscat managing partner and bar director for both locations. "Bourbon-based cocktails have come full circle. We saw classics like the Old Fashioned and Whiskey Sour take the spotlight a few years ago, then the rise of over-the-top flavor profiles became popular. I feel the tide is turning back to classics and riffs on classics, showing off the base spirit with an emphasis on quality ingredients." The 38 Special ($14), created by Newport Beach Bosscat bartender Robert Hoover, is spirit-forward and simple, blending Bulleit Bourbon, Aperol aperitif, and Averna amaro.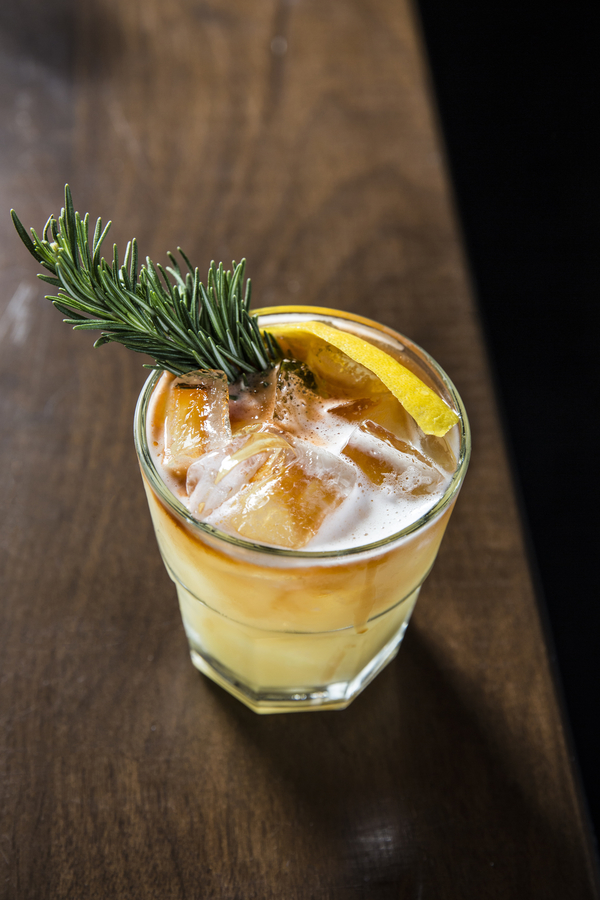 Jason Wickler, head bartender at Americano Restaurant & Bar at Hotel Vitale in San Francisco, agrees that the revival of the classic cocktail build has helped bring Bourbon to the spotlight and introduce it to people in a more approachable way. Americano's Powell & Hyde ($15), created by former head bartender Jeremy Brewer, mixes Woodford Reserve, Cynar amaro, Carpano Antica Formula sweet vermouth, and Ancho Reyes Ancho Chile liqueur. "By adding fewer mixers and really letting the spirit shine, cocktails today truly showcase Bourbon's natural characteristics," Wickler adds.
Tyler Francisco, bar manager at Whiskey Bird in Atlanta, notes that the venue's cocktail list is entirely composed of classics, with adjustments made here and there to add certain signature elements. "Our Whiskey Sour is the most popular Bourbon-based cocktail we offer," he says. "The key is a fresh, well-balanced sour mix." The Whiskey Bird Sour ($8), which Francisco created with general manager and founder Anthony Vipond, features Henry McKenna Bottled-in-Bond 10-year-old Bourbon and a house sour mix comprising simple syrup, lemon, lime, and orange juices, and egg whites. "With the natural sweetness of Bourbon, a bright and slightly tart drink is refreshing and also pairs well with most cuisine," Francisco adds.
He and Vipond also offer their take on the classic Brown Derby cocktail ($8), blending Henry McKenna, fresh ruby red grapefruit juice, and simple syrup. "The original recipes calls for honey syrup, but we've found that just a small amount of simple syrup allows the Bourbon flavor to come through a bit more," Francisco notes.
At Double Take, Mengoni's Call Me Snake ($15) features Buffalo Trace Bourbon, Cynar amaro, John D. Taylor's Velvet Falernum liqueur, Fee Brothers Black Walnut bitters, and cedar smoke. "Smoke and baking spices like cinnamon and vanilla are all reliable pairings with Bourbon, and Buffalo Trace is my go-to for cocktails," she notes. "Its flavor is very versatile and it has a decent, bracing backbone that allows it to mingle with other ingredients without getting lost in the crowd."
Sugar, Spice, And Everything Nice
Mengoni points out that Bourbon's sweet notes make it a hit with American consumers. "We all tend to have a sweet tooth," she says. Her We Are Groot ($15) is a tiki-style concoction that plays up Bourbon's sweet and rich characteristics, mixing Elijah Craig Small Batch Bourbon, Monkey Shoulder blended malt Scotch, Kalani coconut liqueur, fresh pineapple juice, heavy cream, Angostura bitters, and grated cinnamon.
"Bourbon is great with flavors like baking spices, caramel, honey, apple, dark fruit, lemon, and grapefruit, which can all be found when tasting the spirit itself," notes Nick Bennett, beverage director at Porchlight, where bartender Bryan Teoh's Three Rings Cocktail ($15) comprises Wild Turkey 101 Bourbon, Laird's 100 Proof Straight Apple brandy, Cruzan Black Strap rum, house-made dried cherry syrup, cider vinegar, and house-made "Black Hand" aromatic bitters.
Bourbon's varying styles are a major draw for The Berkshire Room's Hetter. "I consider three things when I choose a Bourbon to mix with: age, mash bill, and proof," he explains. He says that Bourbon that's been aged 5-10 years is ideal, as younger Bourbons don't have enough oak character to hold up against other ingredients in a cocktail, and older Bourbons can be too tannic and overpowering. "All Bourbon is going to be predominantly corn, but knowing the remainder of the mash bill can help inform your decision," he adds. "For example, if you want a bolder, spicier cocktail, you can look to something with a fair amount of rye as the secondary grain, like Wild Turkey. But if you're looking for something a little smoother, a 'wheater' like Maker's Mark or W. L. Weller can give your cocktail a richer, almost creamy character."
Hetter notes that proof is important when making strong, stirred cocktails. "A proof of at least 90, and often times over 100, can help the Bourbon punch through some of the additional sugar that will be used," he says. His There's Always Money… ($13) at The Berkshire Room is a bold stirred drink comprising Bulleit—which has a high rye percentage and is 45% abv—Averna amaro, Campari aperitif, Tempus Fugit Crème de Banane banana liqueur, and Bittermens 'Elemakule Tiki bitters.
"When making a more spirit-forward drink like a Manhattan or a Boulevardier, you want to make sure you're using quality spirits, cordials, and vermouths," notes Ryll from 20 East. "There's nowhere to hide when a cocktail is made only of alcohol versus syrups and juices." The venue's Some Like It Hot Manhattan ($13) blends Basil Hayden's, Lustau Vermut sweet vermouth, and Angostura bitters. "Bourbons with a nice kick of rye, like Woodford Reserve and Basil Hayden's, are favorites here at 20 East," Ryll adds. "The rye gives it a crack of spice and flavor, which is a nice touch to the overall taste of the spirit."
Stoke's Brinkman says that while other whiskies like Scotch can be difficult to use in cocktails, Bourbon is conducive to mixing with other flavors—you just have to keep the components balanced. "Bourbon can be aggressive and people sometimes make the mistake of overly sweetening it or skipping the acidity all together," he says. "Doing either will lead to a hot and heavy drink." At Stoke, Rouson's Canadian Vacation ($16) features Knob Creek Smoked Maple Bourbon, house-made ginger syrup, lime juice, and Bittermens Xocolatl Mole bitters.
Brinkman also notes that complementing the flavors of the base Bourbon is key. "Sweet and rich styles of Bourbon tend to do well with floral and fruit flavors, and if it's a spicy style you need to add sweetness—but there are also plenty of options from herbaceous to savory that work well too," he says. At MiniBar Hollywood in Los Angeles, the Apple Press ($14) blends Four Roses Bourbon, Laird's Straight apple brandy, fresh apple juice, apple cider vinegar, and Fee Brothers Black Walnut bitters, while mixologist Jason Shelly's TX Sage ($8) at Firestone & Robertson Distilling's Whiskey Ranch bar in Fort Worth, Texas features the distillery's TX Bourbon, house-made caramel sauce, and a house-made sage simple syrup.
"I like getting people to try things that they normally wouldn't order," Brinkman adds. "Getting a vodka drinker to try good Bourbon is a risky proposition, but that's why Bourbon cocktails are fun—you can break people into brown spirits without overwhelming them."
Indeed, Bourbon's flexibility in cocktails makes it an approachable spirit for every drinker, from a novice to a whisk(e)y fanatic. "Bourbon tends to be a little more forgiving than other spirits," Double Take's Mengoni says. "It's easy to throw it in a cocktail and come out with something delicious to drink."