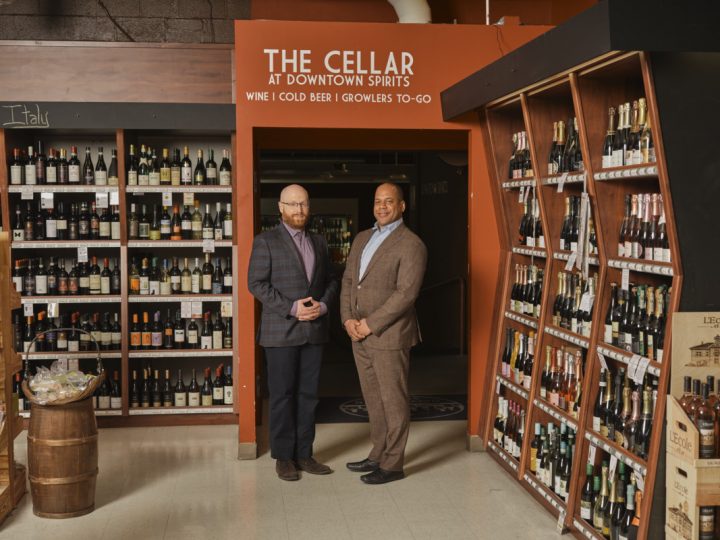 In the wake of the privatization of retail spirits sales in Washington State seven years ago, the vast majority of independent operators have shut down as sales increasingly move to chain stores. But at least one Seattle retailer has endured—and flourished—thanks to its varied retail experience, the city's explosive growth, and the popularity of its online sales.
"We've been able to not only keep the doors open, but thrive in this market," says Marques Warren, owner of Downtown Spirits, which is located close to Amazon's mammoth Seattle campus in the South Lake Union neighborhood. Warren cites organic brick-and-mortar sales, along with burgeoning e-commerce, as driving the business forward. "We've also benefitted from the tremendous growth the city of Seattle has seen in the last decade," he says.
Downtown Spirits is a subsidiary of Warren's News & Gifts, a family business that—in partnership with travel retailer Hudson Group—operates 26 stores at Seattle's Sea-Tac Airport. Warren's father, Ardie, is president and chairman, while Warren serves as vice president of operations. The family's retail background has aided Warren as owner of Downtown Spirits, allowing him to tap into what he calls"a support network that identifies good-sense solutions when we have a challenge" at the store. Conceding that he had no experience in beverage alcohol when he opened Downtown Spirits in 2012—just two months after privatization went into effect—Warren notes that he's worked in retail since he was 12 years old, and that wine and spirits stores aren't that different from airport gift shops. "They're both fast-paced retail destinations, with additional margins from impulse sales," he explains. Four years ago, Downtown Spirits joined the Wine & Spirits Guild as the organization's first retailer from Washington State.
Spotting An Opportunity
Despite the prospects of competing with big-box stores, Warren had the foresight to see the opportunity that the leased downtown location offered. Amazon now owns much of the surrounding real estate, and the area has seen an influx of wealth with the addition of upscale apartment and condominium buildings. The location also provides easy access to local neighborhoods and major highways, key factors for Downtown Spirits' delivery business.
Sales revenue at Downtown Spirits exceeded $6 million last year, according to Warren. Spirits account for half of the store's business, with wine and beer each comprising 25% of sales. The 11,000-square-foot store employs 17 workers.
The Costco-backed 2011 voter initiative that moved the retail sales of spirits from the state to privately run companies stipulated that the stores must be in excess of 10,000 square feet. This has been a boon for big-box stores and paved the way for chains like Total Wine & More and BevMo to gain share in the Evergreen State. The vast majority of independently owned wine and spirits shops that opened following privatization have closed due to fierce competition from the larger players, Warren says. "We've been lucky in that we've carved out a niche for ourselves," he notes. The change also ushered in a revised tax structure on spirits in the state; as a result, Washington prices tend to be among the highest in the country.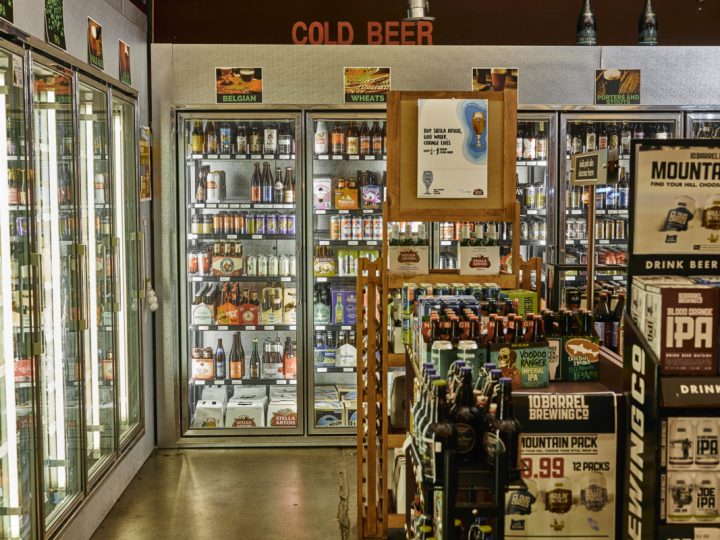 Whisk(e)y Destination
Downtown Spirits stocks about 2,500 different spirits, priced from $2 a 50-ml. of Fireball whisky to $1,949 a 750-ml. of The Macallan 25-year-old single malt Scotch. Top-selling labels include Tito's vodka ($44 a 1.75-liter), Svedka vodka ($14 a 750-ml.), Maker's Mark Bourbon ($30), and Jack Daniel's Tennessee whiskey ($27). "Whisk(e)y is the biggest trend," says senior purchasing manager Terrence Tompkins. "Bourbon is by far the most popular, but Scotch is still beloved." The store has partnered with names like Maker's Mark and Buffalo Trace on single-barrel offerings, which have been popular with customers, he adds.
Among smaller categories, Tompkins says agave spirits, gin, and amaro are showing healthy growth. Craft spirits are also particularly strong in Seattle. "We support local spirits," Warren says, noting that a special section in the spirits department features vodkas, gins, whiskies, and amari from the likes of local producers such as the Bainbridge and Townshend distilleries.
The store offers about 1,000 wine SKUs, and local Cabernets dominate. Top-selling labels include the 2016 Chateau Ste. Michelle Cabernet Sauvignon ($16 a 750-ml.) and the 2016 Substance Cabernet Sauvignon ($20). Rosés are also hot, Tompkins says, noting that while Downtown Spirits stocks only about a dozen rosés ($8-$55 a 750-ml.) during the winter months, selection soars to 80 labels in the summer. "It used to be that just a few core brands would dominate in rosé, but year over year, people are getting more adventurous," he adds. "I've found that having a wide selection of rosés is more beneficial than just a few massive displays."
Membership in the Wine & Spirits Guild has provided Downtown Spirits with the opportunity to market private-label wines. "We've had a lot of success with them," Warren says. "They're great products that help us build our margins. Over the next few years we look to deepen our investment in those products." Private-label wines that do well at the store include the non-vintage Casa Dora Cava ($10 a 750-ml.), 2016 El Jamon Garnacha ($10), and 2017 Silver Beach Sauvignon Blanc ($14).
Downtown stocks some 400 beer SKUs, generally priced between $10-$12 a 6-pack of 12-ounce cans or bottles. Craft beer accounts for a whopping 70% of the store's beer sales, Warren notes. "We have a great assortment of macro beers, but we really do have to differentiate ourselves from the groceries," he says. "The easiest way to do that is with local craft products." Top-selling craft brews include Black Raven Updraft pale ale ($12 a 6-pack of 12-ounce cans), Deschutes Fresh Squeezed IPA ($12 a 6-pack of 12-ounce bottles), and Bale Breaker Field 41 pale ale ($11 a 6-pack of 12-ounce cans).
In 2013, Downtown Spirits added a 10-tap growler bar, and Tompkins says it's been a great margin builder. "Some of the best beer is only available on draft, so we can offer the hottest beers in growlers," he says. The store offers both 32- and 64-ounce growler pours, generally priced between $10-$18.
Delivering Value
"Online sales have become an important and fast-growing part of our business," Warren says, noting that they account for about one-quarter of Downtown Spirits' total sales. In addition to shipping wine to states where it's permitted to do so, the store offers local delivery to homes and businesses. Key corporate clients include Boeing and Amazon. In such a competitive market as Seattle, "the way we've been able to differentiate ourselves is through delivery," Warren explains.
Downtown Spirits teamed up with Drizly in 2014, and has become the on-demand provider's largest retail partner in the Seattle market, according to Warren. Drizly orders average $90-$95, and the store fills 50-100 orders a day. In Downtown Spirits' early days, when the local neighborhood was not as inhabited as it is today, the Drizly partnership helped "to build brand awareness and cash flow," Warren says. He credits Drizly with helping the store reach the healthy sales volume it has now.
Downtown Spirits has often hosted complimentary in-store spirits, wine, and beer tastings, but Warren says the company is moving toward more paid events because of the experience customers receive. The annual "Champagne Showcase" that the store has hosted for the last four years has been well-received by customers, allowing them to sample more than 60 sparkling wines. Such events are typically priced at under $20 a ticket.
Advertising and marketing support includes a mix of traditional tactics—such as billboards and print—and social media. "We've engaged in a robust social media strategy," Warren notes, explaining that Downtown Spirits has a dedicated employee who creates content for platforms such as Facebook, Twitter, and Instagram. Similarly, the retailer is putting a higher focus on email blasts to drive website traffic and generate online sales. Warren notes that the store has some 5,000 email addresses in its database.
Downtown Spirits and its parent company focus their community support on two local organizations: Youth Care, which works to end youth homelessness, and the Carolyn Downs Family Medical Center—named for Warren's great-aunt—which provides healthcare to underserved members of the community.
Expansion Ahead
In addition to competition from much larger players, Seattle's tight labor market challenges retailers like Downtown Spirits. "Bringing in people with a knowledge of the products is always challenging," Warren says. The legalization of recreational marijuana in Washington, however, has been a non-issue for stores like his. "Marijuana was legalized around the same time that liquor was privatized," he explains, and beverage alcohol sales in the state have grown since then.
Despite the market's challenges, Warren sees plenty of opportunity ahead to build the Downtown Spirits brand. "We're constantly working to improve every facet of the business—from product selection to the flow and design of the store to how we host events," he says. At press time, Downtown Spirits' beer and wine bar was being relocated to the front of the store to "create a dynamic events space" that caters to Amazon teams. Warren foresees growing Downtown Spirits into a multi-unit concept, with locations elsewhere downtown or in nearby neighborhoods, but for now he's focused on the existing store. "As our immediate surroundings continue to develop, we want to make sure that our store stands out," he says.