Basil, ginger, lemongrass, mint, orange blossom, rose, elderflower, sage. The flavored vodka market has certainly come a long way since suppliers first flooded the market with sweet and artificially fruity offerings in the early 2000s. In the last several years, imported producers have been leading the way with more botanical and herb-driven combinations in the flavor space. These unique offerings are the latest gambit to try and compete with Tito's, the domestic stalwart that has essentially taken over the vodka market. Overshadowed by the Texas vodka as well as the popularity of whiskies, imported vodkas are also trying to tap into the meteoric rise of RTDs with branded canned cocktails. And while flavors continue to make up a small percentage of total brand volume, these recent bottlings have helped bolster brand awareness and expand the shelf space for these labels. Overall, imported vodkas fell slightly last year, down 0.5% to 23.1 million cases. However, premium offerings saw an increase by volume of 1.2%, while luxury was flat, and super-premium and sub-premium bottlings both fell 5% and 6%, respectively.
Line Extensions Boom
Diageo was clearly onto something when it launched the Ketel One Botanical line: it helped turn the brand around, and set off a wave of copycat extensions from many of its top imported competitors. Now in its fourth year, the line's three flavors—Peach & Orange Blossom, Cucumber & Mint, and Grapefruit & Rose— are a lower-alcohol alternative to the parent brand, distilled with botanicals and fruit, with no added sugars or artificial sweeteners. When the extension was launched in May 2018, Ketel One was down 3.5%. Since then, the brand has been steadily growing, increasing 5% last year to 2.5 million cases. "Ketel One Botanical's key claims have resonated with those who practice mindful consumption, and who are looking for spirit options that stay true to their daily choices," says Olivia Kupfer, brand director of Ketel One at Diageo North America. "Botanical is still experiencing double-digit growth, most recently showing a 19% annual increase in volume sales and 17% by value for the last fiscal year (according to Nielsen + NABCA combined for fiscal 2021, as of June 2021)." Building off the success of these extensions, the company entered the premixed cocktail market last year with Botanical Vodka Spritzes, RTDs that feature the three Botanical flavors with 3.6% abv, 73 calories per serving, and no carbs, sweeteners, or added sugars. Available in 4-packs of 355-ml. cans ($15) or a single can ($4), Botanical Vodka Spritzes initially rolled out in California and Arizona and have since expanded to 20 states, with the company "hyper-focused" on expanding the cans nationally, according to Kupfer. 
Diageo did indeed create a new subsegment within flavored vodkas that skirts close to gin with its use of aromatics and botanicals, although there are no juniper berries being used (yet). Many of the top import suppliers quickly followed suit with their own low-alcohol, low-carb, herb-infused offerings targeting "mindful consumption." Constellation launched Svedka Pure Infusions in June 2020; Bacardi debuted Grey Goose Essences in February 2021; Pinnacle launched Light & Ripe in April 2021; and Belvedere released its Organic Infusions in May 2021. Concurrently, hard seltzers and RTDs began to pick up steam, setting off another wave of innovation from bestselling imported vodka producers with their own branded premixed canned cocktails. In addition to Ketel One, Svedka, Absolut, and Belvedere have each released canned cocktails in the last two years, although Belvedere's are exclusive to the Australian market at this time.
Aleco Azqueta, Grey Goose's vice president of marketing at Bacardi, has seen a number of trends evolving over the past year, including a resurgence in Martinis (particularly Espresso Martinis), a prioritizing of brand authenticity and craftsmanship, and an interest in low-calorie offerings. "We've seen a growing desire for spirits that offer lower calories and natural ingredients, but don't compromise on flavor," he notes, citing that trend as the inspiration for the launch of Grey Goose Essences. Released this past winter, Essences is a range of vodkas infused with real fruit and cold-distilled botanicals. The lineup includes Strawberry & Lemongrass, White Peach & Rosemary, and Watermelon & Basil expressions. The new range ($30 a 750-ml.) is at 30% abv and has no gluten, artificial ingredients, sugar, or carbs. These extensions add to the brand's existing stable of three flavors: L'Orange, Le Citron, and La Poire. The French label has been in decline for four years, falling 7.4% to 2.1 million cases last year. 
With consumers increasingly gravitating to organic products and seeking out better-for-you offerings, Moët Hennessy has introduced a line of flavor-infused vodkas made with 100% organic ingredients. "We're also seeing consumers caring more about all-natural and organic offerings and what they are putting in their body, but very few other vodka or spirits brands embraced this consumer interest," says Allison Varone, vice president of emerging brands at Moët Hennessy. "Consumers are prioritizing high quality ingredients and better-for-you options—and that's something we're really leaning into at Belvedere." The Belvedere range includes three expressions: Lemon & Basil with a touch of elderflower, Pear & Ginger with a drop of Linden Honey, and Blackberry & Lemongrass with a hint of sage. These bottlings are part of the brand's "Made with Nature" platform, which states that from this year on, all new Belvedere products will be certified organic. (The Belvedere distillery has a goal to run on 100% renewable energy by 2025.) Belvedere grew 8.5% to 440,000 cases last year, marking its first year of growth by volume in five years, according to Impact Databank. 
Pernod Ricard has also dipped its toe into the low-calorie, botanical trend with the launch of its Absolut Vodka Sodas, canned cocktails that come in three flavors: Lime & Cucumber, Grapefruit & Rosemary, and Raspberry & Lemongrass. "With our sales and velocity currently exceeding that of other global vodka brands with RTDs according to Nielsen data, we don't foresee this drink trend going away anytime soon," says Lara O'Brien, senior brand director for Absolut at Pernod Ricard. Absolut Vodka Sodas are part of two lines of Absolut-based RTDs launched in May 2020, the other being Absolut Cocktails, which include Mango Mule, Grapefruit Paloma, and Berry Vodkarita. Earlier this year, the company released a Watermelon flavor, the latest permanent extension to its range. According to O'Brien, Absolut flavors represent 20% of its core spirits business. And in September, the company announced a packaging redesign, meant to underscore the brand's provenance, heritage, and authenticity. While the bottle retains its signature royal blue block lettering, it marks the largest redesign since the brand's launch in 1979. Like Grey Goose, Absolut has been steadily declining for more than five years, falling 7.4% to 3.16 million cases in 2020.
Supply Issues, Tito's Competition
Even as imported vodkas try and turnaround their fortunes with aggressive innovation, the supply chain issues that have affected a number of other imported goods have also been obstructing the availability, and therefore growth, of these labels. Champagne shortages have been front and center as the category approaches it bestselling holiday season, but a number of retailers nationwide have also been having difficulty keeping top imported vodkas in stock and on the shelf.
"Vodka sales overall have been pretty steady," says Josh Robinson, co-owner and liquor buyer at Argonaut Wine & Liquor, a one-location retail institution in downtown Denver. "There are a few brands, like everything else in the industry, that have been having major supply chain issues, so certain labels, namely Grey Goose along with a few others, will be down significantly this year because they just couldn't get the product." Robinson notes that there's no standout among the imported labels—Svedka, Ketel One, and Grey Goose have all done okay—but says it's hard to compare this year to last year because they're cycling off Covid-19 numbers and on a lot of brands, including Svedka, that people were pantry loading when the pandemic started. The massive influx in off-premise sales in 2020 has led some brands to be off by as much as 20% in 2021 at Argonaut. Regarding all the recent infusions he adds, "They all do okay. None of them are flying, so I think there is some limited interest, but I don't think it's necessarily a game changer. Infusions, things like that, are doing better than some of the regular flavors. People might be looking for things that sound healthier or more craft, as opposed to just lemon-flavored vodka." 
Christian Navarro, president and principal at Wally's Wine & Spirits, which has two locations in Los Angeles that are retail/restaurant hybrids and a location in Las Vegas, sees the supply chain shortages as an opportunity for smaller craft labels, like Beluga and Jewel of Russia. "They're not going away. The only issue they're going to have is being able to get all the containers in on time so they don't lose shelf space," he notes of the shortages of some of the major imported brands. "Tito's is crushing it, Grey Goose is still very strong, Ketel One is a great brand—they're not going away." Navarro, who caters to a tony clientele in Wally's locations in Santa Monica and Beverly Hills, adds that he sees the new infused extensions from top suppliers as a fad. 
In addition to supply shortages, the dominance of Tito's in the vodka space continues to pose a roadblock to growth, even for imported labels. "Imports have the challenge of Tito's—it's both a premium and an everyday product. People don't see it as a downgrade, they see it as an upgrade, if anything," says Jonathan Blue, principal at Kentucky's 23-store Liquor Barn and alcohol strategy at Gopuff, which acquired the retail chain this past summer. While both Tito's sizes firmly hold the top two vodka slots across all Liquor Barn locations, Blue notes that Grey Goose is the top imported vodka by value, while Svedka is the top imported vodka by volume, followed by Grey Goose, adding that "there are no flavors of imports anywhere on the radar in the top." 
Torrence O'Haire, beverage director at Gage Hospitality Group, which includes four upscale establishments in Chicago, including Acanto Restaurant and Wine Bar, Coda di Volpe, The Dawson, and its flagship, The Gage, is seeing people opt for local products at his restaurants, which certainly hinders the desire or demand for top import labels. "I feel as though we're in a little bit of a 'post-modernist' phase with vodka. Enough of our consumer base has come to realize the lack of value in the vodka category when it comes to exploration, so they tend to focus more on exploring the less 'purified' spirits," he notes. "More importantly, carbon-footprint is an important concept, and trucking vodka around the world is a much greater waste of resources than getting an equally well-made local product." Across its four properties, The Gage stocks only three imported vodkas regularly—Grey Goose, Ketel One, and Belvedere—and keeps one permanent vodka cocktail on its menu: Folies Bergére ($15), a seasonal fresh fruit-and-herb sour in which they rotate the fruit/herbs seasonally. The current iteration is made with Grey Goose Essences White Peach & Rosemary, Control C Pisco, lemon, rosemary, and fresh autumn fruit.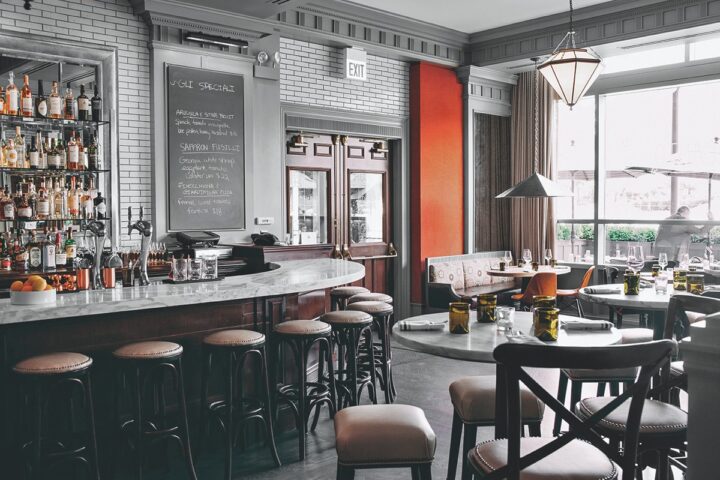 Hopeful Future
While imported vodka producers continue to aggressively innovate to stay ahead in the highly competitive and crowded category, the segment faces an uphill battle against the popularity of brown spirits, the dominance of Tito's and, in the near future, the challenge of supply shortages. But suppliers remain optimistic about their prospects. "Vodka is the largest spirits category, and we are seeing a renewed interest from consumers since the pandemic, which we think will continue," says Varone at Moët Hennessy. "It's less about imported versus domestic, but rather growth in the premium range which is mostly coming from Europe."
Retailers aren't quite as bullish, as Blue at Liquor Barn notes that imported vodka's problems, going forward, are twofold: Tito's and the beverage preferences of Millennials. "You've now got the younger generation exploring with different expressions of Bourbons, and whiskeys, and ryes," he notes. "And the threat is going to be what happens to that demographic going forward as they look for the dark whiskeys and the dark Bourbons instead of vodka, and even Tequila for that matter, which is absolutely on fire."