Middle West Spirits released its Bourbon Cream variation in the fourth quarter of 2020, and despite supply chain disruptions and retailer hesitancy about taking on a new product during a pandemic, head of sales Victor Spitloe says it was an instant success. These days the Middle West Spirits Bourbon Cream ($25 a 750-ml.) has become a holiday favorite in many markets, but challenges remain. "Last year we did a value-added pack (VAP) with the Bourbon Cream and a two-glass set, which performed extremely well," says Spitloe. "We didn't do it this year because of the material and supply chain interruptions." 
Moersch Hospitality Group was also hit with supply chain challenges in getting special offers to market this year. The group, which owns Tabor Hill, Round Barn, and Free Run Cellars Wineries, is bringing three seasonal wines from Round Barn Winery to market during the holiday selling season: Cranberry Wine ($10 a 750-ml.), Salted Caramel Cream ($22), and Black Walnut Cream ($20). The products themselves are in stock on retailer shelves, but a planned value pack for one label didn't happen. "For the Black Walnut Cream, we did a VAP with the bottle and two coffee mugs in the past, but because of the supply chain, we weren't able to release it again this year," says owner Matt Moersch. 
Both Spitloe and Moersch are positioning their products to take advantage of the holiday selling season despite the supply blip. Similarly, supply chain challenges notwithstanding, beverage alcohol supplies of all sizes have geared up again this year to bring unique products and packaging to consumers during the crucial holiday selling period. For suppliers, it's a way to create excitement among existing customers and create trial among new ones. 
"The holiday season is an opportunity to showcase the personality of a brand through a seasonal flavor or with engaging, interactive gift sets," says Molly Vincent, senior brand manager at Heaven Hill Brands. "It also gives consumers a simple, easy way to gift their favorite brands to friends and family, therefore expanding the recognition of the brand by both word of mouth and trial."
Vintner Kathryn Walt Hall, proprietor of Hall Wines and Walt Wines, is one of many in the wine industry who create special packages to capitalize on the festive season. Gift sets are available direct-to-consumer each year from October to December. "The holidays are all about memories made with loved ones and we hope these gifts enhance and even create some of those memories," she says.
Retailer Reaction
Many retailers are equally enthused. For example, Adithya Bathena, CEO of Buy-Rite Liquors, says he and his team look forward to the holiday line-ups each year. "They're important for a last minute, one-stop shopping experience, especially at a store our size, wherein we're expected to have more than a few options," Bathena says. "They may not make a huge difference from a profit margin-per-bottle perspective; however, they are important to display and are always in demand due to the gift box aspect. They definitely add value to the purchase experience as well as benefit in raising the check average." 
The flavors that capture the essence of the season, the seasonal labels, and the special packaging all combine to create excitement for retailers, says Candice Jordan, senior vice president of Spirit Hub, a beverage delivery service focusing on craft spirits. "Holiday products are a huge item for a lot of the brands that we carry in our retail market," Jordan says. "People crave holiday products this time of year. It's always a fun time for us to check in with our distilleries on what they're producing that could be good for the holidays.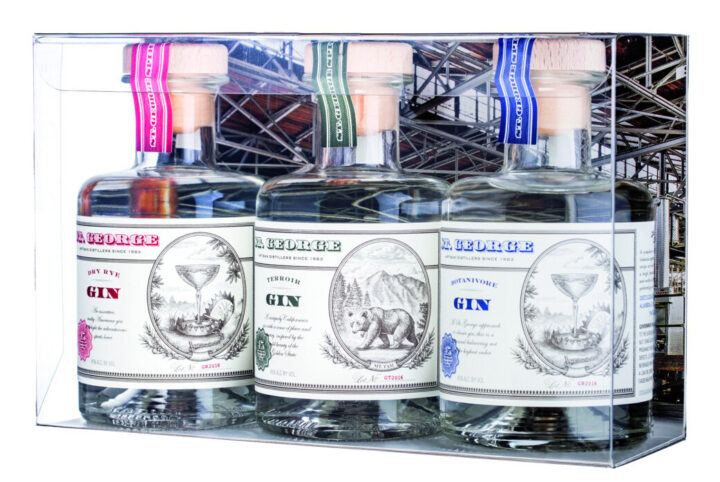 Spirit Hub, which at press time was scheduled to open its first brick-and-mortar retail shop in Chicago this month, is keen to introduce craft spirits to a broader audience. "Liquor is one of those categories where people have their favorites, but the holidays give us an opportunity to introduce people to something new or different that could become their favorite item that they look forward to gifting or drinking every holiday season," Jordan says. 
Not all retailers are enthused by the range of holiday products available, however. Charles Sonnenberg, owner of three-unit Frugal MacDoogal in Tennessee and South Carolina, has some interest in holiday-centric products, packages, and flavors, but says the market has become over-saturated and cheapened in recent years. VAPs have waned in importance in his stores, and he suggests suppliers need to be discerning about how they package their brands. "Regurgitation of the same thing year after year doesn't resonate," he says. Nor does using cheap add-ons to super-premium spirits brands. "There have been a few that are a little more creative, and when those occur people snatch them up," Sonnenberg says. "Typically, there's not an upcharge and the days of when you could charge a significant difference between the standard product and the gift are over—very few people are prepared to pay it. 
"But the type of things that work usually focus on mixology, when they have something like a non-alcoholic or a particular ingredient that is co-packed with the spirit," Sonnenberg adds. "In a decanter or with a flask, something similar to that has appeal. Particularly if it's the same price, it may influence a person to purchase one brand over another."
Buy-Rite's Bathena is a bit more enthusiastic, noting that special packaging or unique flavors create excitement among consumers. "The holidays are a time when customers are essentially looking for something new and distinctive," he says, noting that unique, holiday-centric offerings add to the gifting experience.
Holiday Labels And VAPs
In fact, Bathena notes a few seasonal products that resonate, ranging from high-volume popular items like the Jim Beam Apple ($26 a 750-ml.) to High West's A Midwinter Nights Dram rye whiskey, which sold for $90 when last available. Flavors ranging from eggnog to coconut cream to peanut butter cream are also popular during the holiday selling season, he adds. 
Bacardi Coquito is one such customer favorite, and indeed, Bacardi is enthusiastic about the ready-to-serve holiday exclusive. "Identifying a tradition that was uniquely special to our Latin Caribbean heritage was important when identifying how Bacardi would play in an already cluttered holiday space," says Bacardi CMO Ned Dugan. "This allowed us to carve out a lane that made sense for our brand, our history and our target consumer. It allows us to stand out in the market and come back year after year with successful limited-edition items."
Evan Williams Egg Nog also is also a big seller during the timeframe of October through December. Heaven Hill's Vincent says the package received an upgrade this year to match the Evan Williams family. The ready-to-serve brand can be enjoyed on its own or with additions. "The ease of mixability combined with the flavor makes it a simple, go-to pour at any festive holiday occasion."
Some brands are more overt in their holiday offerings. RumChata for example, which was purchased by E. & J. Gallo last year, offers a Peppermint Bark flavor ($25 a 750-ml.) packaged in a red and white-swirled bottle that evokes the Christmas season. That's also the case with two of the three Round Barn Winery holiday-centric offerings—Cranberry Wine and Black Walnut Cream—which carry red and white labels adorned with snowflakes. 
The seasonal expression by Tanteo Tequila, called Tanteo Navidad ($60 a 750-ml.), is infused with Christmas peppers and holiday spices and features Christmas imagery on the label. Cutwater Spirits' Bali Hai Tiki Holiday spirit ($30), a holiday rum flavored with cream and cinnamon, is similarly decked out in Christmas colors on its label. And Corgi Very Merry gin ($57), a figgy pudding-flavored gin, points to its holiday appeal with its product name. 
There are many others, of course, that market holiday-specific products. Round Barn's Moersch notes the efficacy in selling with a holiday label, while acknowledging the risk of having product left over at the end of the season. "We did the holiday label for the Walnut Cream and for the Cranberry this year; it's the same product in a holiday label that people buy as gifts and take to Christmas parties," he says. "Retailers are excited, but of course the buyers are always concerned about being stuck with a bunch of excess product. So are we. We do a lot of pre-order on these products, and if there are still some on the shelves late [in the season], we'll help them push through."
Frugal MacDoogal's Sonnenberg says he's "conservative" in purchasing such products despite their appeal. "People may impulsively try these products, but the day after the holiday you don't want to be stuck with it," he notes. 
VAPs carry a similar risk. Retailers don't want to be ripping apart gift boxes to sell the product without accoutrements once January and February roll around. But VAPs continue to have the power to excite customers and remain a key part of the seasonal offering for some brands, despite ongoing supply chain issues.
Heaven Hill, for example, relies heavily on VAPs. This year, Carolans Irish Cream is featuring a 750-ml. bottle packaged with rocks glasses and cocktail suggestions for $18. Larceny Bourbon, meanwhile, features a premium gift set with a 750-ml. of Small Batch and a branded tumbler and cocktail recipes for $32. And Elijah Craig Bourbon's premium holiday offering continues a focus on the Old Fashioned cocktail: The gift set features a 750-ml. of Elijah Craig Small Batch and a cocktail kit featuring Elijah Craig Old Fashioned syrup ($34). Brockman's Gin also brought back its VAP gift set this year with a 750-ml. bottle of gin paired with a martini glass at a suggested retail price of $35. 
Bigger brands typically get in on the action as well. "Jack Daniels glassware kits, albeit in short supply, get lapped up pretty quickly," notes Bathena. "Baileys does a VAP pack with ceramic cups that is somehow a constant during the holidays. They of course rule the roost as well amongst the flavored category." 
Combo packs—those including spirits or wine without the added elements—are perhaps even more popular. St. George's Spirits Gin Combo Pack features a trio of gins (200-ml. each), including Terroir, Botanivore, and Dry Rye gins. Whiskies are notorious for this approach, often offering a collection of small-format bottles that showcase a range of products from a single distillery. 
Many wine producers have also embraced gift sets, including Hall Wines and Walt Wines. "We've been creating winter season gift sets for over a decade," notes Hall. "They've been so popular that we offer them every holiday season." The gift sets include one, two, three, and six bottle sets from Hall, Walt, and Baca Wineries. A gift containing the 2019 Hall Coeur Cabernet Sauvignon, the 2020 Walt Close Pepe Pinot Noir, and the 2019 Baca Cat's Cradle Zinfandel retails for $240 this year. 
There are, of course, myriad options available from suppliers. The holidays are a crucial selling season for beverage alcohol, and seasonal favorites and new offerings prompt excitement from consumers across the country.