Chef-driven destination restaurants. Stylish bars offering upscale drinks and food. Mixology-focused venues that challenge bartenders and attract guests. Traditionally, these types of on-premise offerings haven't been associated with the hotel industry, but they're the new standard for Four Seasons Hotels and Resorts. As a luxury hospitality operator, Four Seasons has been at the forefront of redefining hotel dining and drinking for today's market, targeting upscale clientele around the globe.
Over the last five years, Four Seasons has revamped its on-premise portfolio, and the 55-year-old company is now reaping huge rewards. Four Seasons has shifted from the outdated hotel dining model to one that emphasizes independent, free-standing restaurants and bars, resulting in a varied collection of eateries and drinking destinations. The company's dedication to its restaurant and bar business has earned it the 2016 Market Watch On-Premise Player of the Year award.
"We've put a really strong focus over the last few years on building restaurants and bars that are relevant and fun," says Guy Rigby, Four Seasons' vice president of food and beverage for the Americas. "We've had tremendous success changing the way we approach our restaurants and bars. The biggest surprise is how important the beverage segment has become. We're now really focused on building bars that people can dine in and restaurants that appeal to the local community."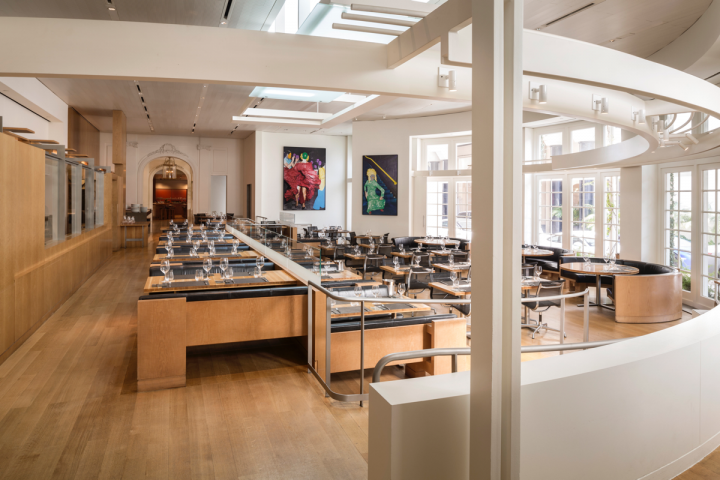 Hotel Titans
Founded in 1961, Four Seasons has grown remarkably from its humble beginnings. The Ontario-based company operates 96 units in 41 countries, with 30 properties in the United States. Four Seasons has announced plans to open seven new hotels this year, including three U.S. locations in New York City, Oahu and Surfside, Florida. The company was publicly traded for about 10 years, but returned to private ownership in 2007 under a buyout helmed by Microsoft chairman Bill Gates and Saudi Arabian prince Al-Waleed bin Talal. Company founder Isadore Sharp and his family retain a stake in Four Seasons as well. The hotelier's revenues top $4 billion annually, with food and beverage comprising $1.5 billion globally.
Four Seasons operates roughly 90 restaurants and bars in the Americas. The company has roughly a dozen restaurants helmed by celebrity chefs like Daniel Boulud, Michael Mina, Wolfgang Puck, Nobu Matsuhisa and Jean-Georges Vongerichten, and it also partners with local star chefs in some markets, such as Ford Fry in Atlanta and Ethan Stowell in Seattle. "We've learned so much from our chef partners about how to operate a restaurant as an independent, free-standing venue," Rigby explains. "Working with these celebrity chefs has enabled us to discover how they think and operate, and it's been very successful."
The Beverly Wilshire Hotel in Beverly Hills, California, houses Cut by Wolfgang Puck, a modern American steak house with an impressive cocktail program and a worldly beer list, while Hawaii's Four Seasons Resort Maui has a location of Puck's popular concept Spago. Puck is also making his New York City debut this year in partnership with Four Seasons. He'll open an outpost of Cut in the Four Seasons Hotel Downtown in Manhattan's Tribeca neighborhood when the property debuts later this year. Meanwhile, Michael Mina operates the tavern Wit & Wisdom in the Four Seasons Hotel Baltimore and the upscale Bourbon Steak in the Four Seasons Hotel Washington, D.C.
Atlanta culinary standout Ford Fry joined forces with the company last year, opening the irreverent Bar Margot in September in the Four Seasons Hotel Atlanta. The lounge plays to the company's goal of creating fun bars that serve great food, which includes upscale snacks, house-made pastas and larger meat and fish dishes. The venue also offers a variety of cocktails, craft beers and wines. Cocktails are designed to pair with Bar Margot's food, with drinks like the Lady Victoria—comprising Hangar One vodka, Cocchi Americano aperitif, lemon juice and rosemary—complementing such dishes as seared halibut and raw Maine scallops. Cocktails range from $10 to $12, while bar snacks are $3 to $21 and larger entrées are $17 to $30.
Four Seasons took a similar approach in Seattle, partnering with local chef Ethan Stowell for Goldfinch Tavern in its hotel there. The venue opened last spring, serving upscale fare, classic cocktails, local wines from the likes of Milbrandt Vineyards and Ross Andrew Winery, and Seattle beers from Fremont Brewing, The Pike Brewing Co. and Georgetown Brewing Co. "Beverage is the driver at Bar Margot," Rigby explains. "And in Seattle, the majority of our wines are from the Pacific Northwest. We're constantly evolving to focus on customer preference and demand. We embrace local. People are proud of where they live and we want our restaurants and bars to feel local."
Independently Minded
Working with star chefs brings attention to Four Seasons' on-premise portfolio, but it's only a small portion of the company's total restaurant and bar business. Most of the hotelier's operations are created and managed internally. Four Seasons crafts new dining and drinks concepts for each property it opens, tuning in to regional trends and emphasizing local ingredients. The company's urban hotels usually house one or two restaurants and bars, while destination resorts can boast four or more.
The Four Seasons Resort Orlando at Walt Disney World Resort opened last year with several dining and drinking options. The hotel houses the rooftop Spanish steak house and bar Capa, the modern Italian restaurant Ravello and the poolside Southern barbecue PB&G, as well as the high-energy Lobby Bar. The property's food and beverage director, Stephen Wancha, says his bartenders start their shifts in the kitchen making their own syrups and mixers.
"Bars and restaurants play a big part in the guests' perception of their visit to a Four Seasons property," Wancha says. "Strong food and beverage programs build loyalty and add to the overall energy and reputation of the property. Our bars and restaurants have evolved from being an amenity to being at the forefront of a Four Seasons experience."
On the 17th floor of the resort, Capa has a diverse menu that includes fresh Florida seafood, grilled meats, tapas and crudos (small plates are $5 to $48; entrées are $28 to $110). The restaurant offers appetizers like Ibérico ham, Spanish octopus and foie gras, as well as chicken served with truffled potatoes, mushroom and white asparagus and a 12-ounce, bone-in grilled filet. Meanwhile, the bar serves updated classic cocktails and Spanish-influenced drinks. Standouts include the signature Capa Gintonic, mixing Caorunn gin, Fever-Tree Mediterranean tonic, Gala apple, key lime, juniper and fennel, and the In Spanish Fashion, a blend of Old Overholt rye whiskey and Torres 5-year-old Imperial Solera Reserva brandy mixed with pastry-grade gold dust, poured over an ice cube incorporating Carpano Antica Formula vermouth and Fee Brothers Black Walnut bitters and served in a smoked glass (cocktails are $15 to $17). Capa also boasts an impressive wine program with more than 20 glass pours ($11 to $26) and 200-plus bottles from around the globe ($45 to $3,985 a 750-ml. bottle).
"We use a lot of modern culinary techniques in our cocktails," says Anna Mitchell McElroy, a bartender at Capa. "Serving well-crafted drinks ties into all the other details of the dining experience, ambiance, service and food that we believe elevates our venues. Fresh, inspired bar offerings help us in the earliest stages of creating a memorable evening."
Ryan Wolfe, a bartender at the Orlando resort's Lobby Bar, adds that having an innovative and well-executed bar program is critical. "We design our drinks to be both interesting and thought-provoking because we want our guests to see something they've never seen anywhere else," Wolfe says, adding that he's experimenting with juniper-infused Tequila and house-made liqueurs. "The commitment from our company and property managers to food and beverage is huge. There's so much support to explore and be creative, which helps us push our drinks to the next level."
Four Seasons encourages its bar staff to experiment. At Proof, an American canteen in the Four Seasons Scottsdale at Troon North, bartenders offer a gin-based drink topped with Sauvignon Blanc, a warm cocktail that incorporates Tequila and chai, and a dessert drink that mixes rum with muddled hazelnuts and Nutella. The exotic menu has helped make Proof a local favorite for Scottsdale residents. Meanwhile, at the Four Seasons Hotel Denver, Edge Restaurant & Bar serves pecan-infused Knob Creek Bourbon and house-made limoncello.
"We attract a young, vibrant crowd and that helps define our image," says Sean Glaser, general manager of Edge. "Our goal is to be highly regarded within the city. As a management team, we often compare our restaurant and bar not to other hotels, but to the most popular dining destinations in our market. We strive to have one of the most progressive beverage programs in the city."
Local Specialties
Many of the Four Seasons' bars work with national and local distillers, brewers and winemakers for specialized products that can only be found in their venues. The TY Bar at the Four Seasons Hotel New York in Midtown Manhattan boasts a custom barrel of Tuthilltown Distillery's Hudson Bourbon and a specially produced Kölsch-style beer from Captain Lawrence Brewing Co. "We always offer beverages that match our overall philosophy of partnering with local purveyors and using ingredients indigenous to New York state," says Justin Milazzo, food and beverage director at the Four Seasons Hotel New York. "We're committed to an ongoing evolution of our food and beverage offerings, which helps keep us alive and relevant. We look to be the premier dining and bar destination for our local clientele."
Across the country, the Four Seasons Hotel Westlake Village near Malibu, California, offers a personalized wine experience that includes boutique offerings made nearby. Along with a restaurant and bar, the property houses The Tasting Room, a contemporary wine lounge that has more than 120 labels, including several from the Malibu Coast AVA. Local favorites include wines from Semler, Saddlerock and Dolin Estate (wines are $10 to $26 a glass; $31 to $830 a 750-ml. bottle).
"Our guests are attracted to drinks that speak to our destination," says Rich Poskanzer, director of food and beverage at the Four Seasons Hotel Westlake Village. "We believe our beverage program needs to be as compelling as our culinary program. It's an extremely important part of our business. We use our restaurants and bars as an extension of our identity."
Furthering the notion of exclusive offerings, Four Seasons also has its own proprietary wines, available at all properties in the United States, Canada, London and Hong Kong. Iconoclast, launched in 2012 in partnership with Terlato Wines, includes a Russian River Valley Chardonnay and a Stags Leap District Cabernet Sauvignon ($15 to $18 a glass; $70 to $80 a 750-ml. bottle). In addition, the hotels are committed to draft beer and offer taps at each bar, which Rigby says is important for emphasizing the company's commitment to local products.
A few years after Iconoclast's successful rollout, Four Seasons debuted a mixology-focused program called Cocktail Quarterly that aims to raise awareness of drinks trends. The program tasks the company's bartenders with highlighting a different type of drink, ingredient or mixology technique every three months. The program has featured various global iterations of the Old Fashioned and innovative drinks that incorporate sparkling wine, cider, beer and soda. The company also unveiled the Taste by Four Seasons initiative last year, aiming to educate guests about various aspects of dining and hospitality.
"People are fascinated by beverages around the world," Rigby says. "We recognize that mixology is now a big deal. The bar business is so important." He notes that Four Seasons has also updated some of its service criteria to make its venues more approachable for modern consumers. "We're rethinking our restaurant and bar service standards," Rigby notes. "We absolutely don't do hotel dining rooms anymore. We have a very focused strategic plan to update and maintain our restaurants and bars."