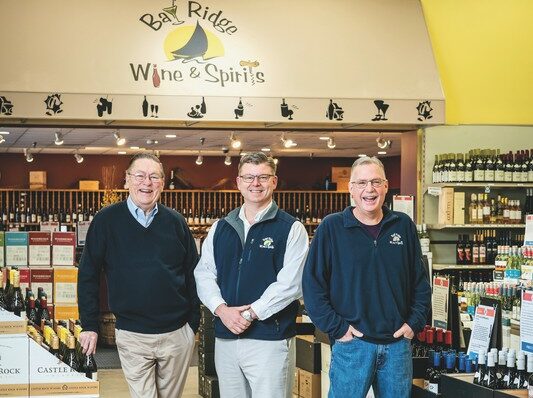 The owners of Bay Ridge Wine & Spirits—the largest liquor store in Annapolis, Maryland, and soon to be in a third-generation business—take pride in their customer service above all else, relentlessly focused on improving the customer experience. Chuck Ferrar purchased the original 4,000-square-foot store—located in a shopping center in a residential part of the city—back in 1991. "When I first started out, I was working seven days a week, 365 days a year," Ferrar recalls. "Our only focus was on taking care of our customers and treating people the way we wanted to be treated. In our first year, we did $660,000 in gross sales."
Three years later, Ferrar's son-in-law David Marberger, with a degree in hotel and restaurant management, joined Bay Ridge and set about expanding the store's wine and spirits selection. By 1998, with sales reaching $3.7 million, Bay Ridge moved into a 10,000-square-foot space next door to the original location. A decade later—driven in part by the city's growing popularity with boaters, tourists, and state government workers—Bay Ridge reclaimed its original space, combining the two shops to form a 14,000-square-foot wine, spirits, and beer retail destination. In 2019, Ferrar retired from day-to-day operations, and Marberger and Lisa Marberger, his wife and Ferrar's daughter, took over as majority owners, with Ferrar retaining some stock in the business.
Record Sales
Last year, sales revenue for the store, which employs about 25 workers, reached $12 million. Like other beverage alcohol retailers, business at Bay Ridge boomed in the wake of Covid-19 and the restrictions on the on-premise. "On March 16 at 11 a.m., Gov. Hogan announced the closure of bars, restaurants, gyms, and movie theaters," Marberger says. "By 11:30, it looked like Christmas Eve at the store." Another press conference by the governor one week later brought the same results. That evening—due to social distancing concerns—the retailer closed down Bay Ridge for in-store shopping for ten weeks, offering only curbside pickup and delivery via phone orders. By the time the store reopened in June, Marberger had invested in plexiglass petitions at the cash registers, an air purification system, 10,000 face masks, and 5-gallon buckets of hand sanitizer. "We now have a whole regimen for cleaning the store," the retailer notes.
While last year was a strong one for Bay Ridge, Marberger laments the loss of some $1 million in budgeted catering sales. The store does a big business in providing beverage alcohol to area weddings, particularly in the spring, along with events tied to the Naval Academy's annual graduation weekend. "May is our third-busiest month out of the year," he says. But despite the cancellation of numerous catering events, the store made up for those sales, and then some. Indeed, in January 2021, the boom was continuing, according to Marberger, with monthly sales expected to break previous records.
In addition to its ample square footage, Bay Ridge features high 16-foot ceilings, giving the store an open and inviting feel. Aisles are 5 feet wide, allowing customers pushing shopping carts to easily pass each other. The space added in 2008 serves as Bay Ridge's wine room, complete with a tasting bar, Napa Technology's tasting stations, and evenly divided shelf space for domestic and imported wines. The store's main area boasts 30 cooler doors, draft beer for growler and Crowler fills, and a shelving display of canned cocktails, craft beers, and hard seltzers dubbed "Tin Can Alley."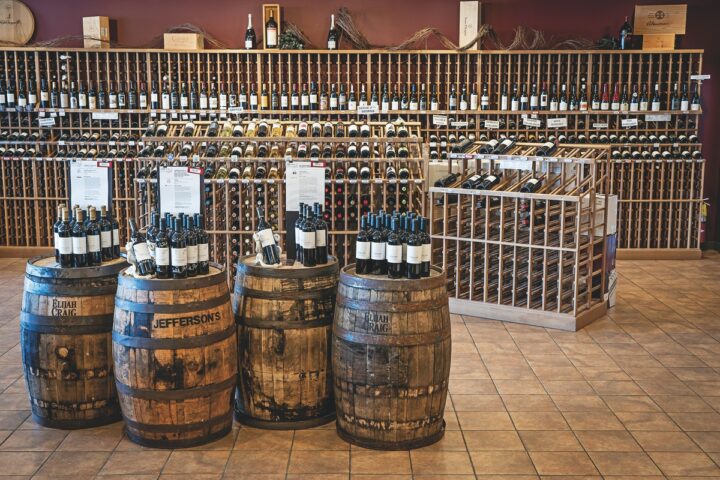 Wine Destination
Wine is the big driver for Bay Ridge, accounting for 43% of annual sales, followed by spirits at 30%, beer at 22%, and miscellaneous items such as non-alcoholic drinks, custom gift baskets, meats, cheeses, and cigars at 5%. "My goal was always to have wine account for half of beverage alcohol sales, with the remainder split between spirits and beer," says Ferrar. "And that's roughly the way it's worked out. Annapolis is a good wine town."
Bay Ridge offers about 3,000 wine SKUs. According to general manager Phillip Altherr, who's been with the store for 15 years, wines retailing at $13-$20 are its sweet spot. Top-selling wines include La Marca Prosecco ($14), 2018 Kendall-Jackson Vintner's Reserve Chardonnay ($11), and 2020 Kim Crawford Sauvignon Blanc ($15). In addition to the popular national brands, Altherr points to the unique offerings Bay Ridge is able to obtain from its attendance at the Sonoma County Barrel Auction. "We've purchased about 12 lots over four years," he notes.
The spirits category is surging at Bay Ridge. According to Ferrar, spirits accounted for just 25% of store sales two years ago. Marberger attributes the gain to the popularity of cocktails, skyrocketing demand for whisk(e)y and Tequila, and the recent boom in canned cocktails. "Ten years ago, we only sold two or three bottles a month of brands like Aperol and Campari," he says. "Now we're selling cases of those and similar brands every month." The store offers some 1,500 spirits SKUs, priced from $9 for Burnett's vodka to $1,000 for Courvoisier Erté Collection Cognac ($1,000). Tito's vodka ($30 a 1.75-liter) is the store's top-seller, while canned cocktails like High Noon Sun Sips ($10 a 4-pack of 355-ml. cans) have been difficult to keep in stock. Single-barrel spirits offerings have also become a big business, with up to nine releases a year, Marberger says. 
Bay Ridge offers about 2,000 beer SKUs, priced from $4 a 6-pack of 12-ounce cans of Old Milwaukee to $14 a 6-pack of bottles of Dogfish Head 90 Minute IPA. The store's top-selling beer is Miller Lite ($21 a 30-pack of cans). Craft beer sales continue to grow, Altherr says, particularly since the store recently pulled back on its offerings, allowing for improved turnover of higher-volume brands. Still, many customers know they can rely on Bay Ridge to find the newest release from a local brewery, and that extends to the store's 12 draft brews ($23-$31 a 64-ounce growler or Crowler fill). Like canned cocktails, hard seltzers are on fire at Bay Ridge. "We sell an ungodly amount of hard seltzers," Altherr notes, pointing to White Claw ($18 a 12-pack) as the overall top seller.
Utilizing Technology
When it comes to marketing, Bay Ridge largely relies on digital support and in-store events, during normal times. In addition to social media, the store sends out twice-weekly email blasts to 15,000 customers, promoting specials such as "the wine of the week." Bay Ridge's Club Card loyalty program, meanwhile, offers quantity discounts on wine purchases. And at press time, the store was preparing to launch an app, which Marberger says will be supported with radio and print advertising. Partnering with a third-party delivery company is also on the radar.
Prior to the pandemic, in-store events such as wine, spirits, and beer tastings, as well as winemaker visits, were frequent. Regular sales like the twice-annual Customer Appreciation sale also have been enormously popular. "People start lining up at 5:30 in the morning in February with chairs and blankets," Ferrar says of the event, which offers everything in the store at regular Maryland wholesale prices plus $1. But the Customer Appreciation sales scheduled for September 2020 and February 2021 were cancelled due to the Covid-19 pandemic. "When things get back to normal, we'll reinstitute them," he says.
Bay Ridge joined the Wine & Spirits Guild in 2005. Ferrar and Marberger also have been active members of county, state, and national trade associations. They both have served as president of the Maryland State Licensed Beverage Association, and Ferrar also served as president of the American Beverage Licensees from 2011-2013. Marberger explains that the involvement is important in fighting off any threats to their business.
The potential for chain stores in Maryland to sell wine and beer remains a threat. "We fight it every single year," he says. "This is our livelihood. We just want to be on a level playing field." The pair are also passionate about supporting the community via donations to the likes of the Boys and Girls Clubs of America, and the local library foundation. "We support the community because the community has really supported us," says Ferrar. "I find that the more I give, the more I get." The store also often sells product at cost to organizations for fundraising purposes. 
Ferrar and Marberger are excited that the latter's son James, a college senior, will likely join the business soon, making it a third-generation operation. "I'm proud of where we came from and where we are today," Ferrar says. "But I'm also pleased that we've had an impact on our community."