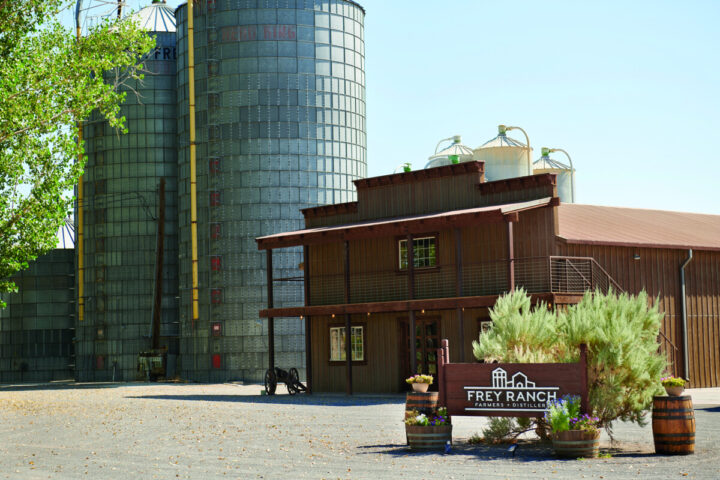 In the high desert country of northwest Nevada, about 75 miles from the California line, lies the city of Fallon. It's an outpost along cross-country U.S. Route 50, on a stretch known as The Loneliest Road in America for its endless reaches of dusty desert terrain. But Fallon is an oasis in this vast desert, with fertile farmland nurtured by snowmelt from the nearby Sierra Nevada Mountain range, as well as Lake Tahoe on the California border. This bountiful land is most famous for its rich yields of alfalfa, which are prized by cattle ranchers and thoroughbred breeders around the world. 
The Frey family has farmed here since 1854—a decade before Nevada even became a state. Frey Ranch spans about 1,500 acres, and cultivates alfalfa as well as wheat, rye, barley, oats, and corn. Today the ranch is stewarded by Colby Frey, who represents the fifth generation of family ownership. Like his forebears, he devotes himself to the land.
Age-Old Story
In the early 2000s, Frey and his wife, Ashley, decided to try their hand at distilling—the age-old story of a farm turning some of its crop into whiskey. The Freys obtained a federal distilling license in 2006, and Frey Ranch Distillery was born. But there was one problem: Nevada had no state laws to govern commercial distilling. So while Frey Ranch was able to make whiskey, it couldn't sell a drop of it. Seven years later, in 2013, Nevada's state legislature finally enacted legislation to permit the operation of distilleries. The Freys were making whiskey during those seven years, but it was basically time spent tinkering and producing very small quantities on a homemade 25-gallon pot still. 
"Looking back on it, that waiting period was actually a blessing in disguise," says Frey. "It forced us to slow down. We looked at grain varieties, fertilizer management, and irrigation techniques. We then took that knowledge into the distillery and experimented with mashbills, yeast varieties, and distillation techniques. We played around with what worked, and also found what we didn't necessarily like. We'd tweak things year by year. By 2013, we knew exactly what we wanted and how we wanted to do it." 
Once the stills began flowing, there came a second waiting period, as Frey Ranch vowed not to release whiskey until it reached an average age of five years. The distillery did initially offer vodka, gin, and absinthe—all products that have since been discontinued—and has never sourced any of its liquid. "We always knew we were a whiskey distillery from the very beginning," says Frey. "Instead of doing secondary cask finishes with Sherry, Tequila, and things like that, my inspiration was to showcase our grains." 
Indeed, Frey never strays far from the topic of grain when discussing his whiskeys. The flagship label is Frey Ranch Straight Bourbon ($50 a 750-ml.), a four-grain whiskey made from corn, wheat, rye, and two-row barley, malted at the ranch. "This one is totally different from normal Bourbon," says Frey. "You can really taste what malted grains are like." The second most important brand is Frey Ranch Bottled in Bond straight rye ($60) followed by single barrel expressions—including a Bourbon ($95) and a rye ($99)—which are typically released quarterly. 
The first product, the Bourbon, was released in December 2019.  "We were told it's a death wish to launch a new brand in December," recalls Frey. "We started in northern Nevada and ended up selling 800 9-liter cases, in a market of just 400,000-500,000 people. From there we went to Las Vegas, targeting the on-premise starting in February 2020. Within a month, we had listings in 360 venues." But then came Covid-19, of course, and everything shut down. The distillery quickly refocused the brand to the off-premise, and managed to meet its sales goals for the year. "But like other new products, we were deprived of that crucial time to market and sell," adds Frey. 
The Bourbon was followed in the summer of 2020 by Frey Ranch Bottled in Bond straight rye ($60), which scored a 93 from Market Watch sister publication Whisky Advocate's tasting panel. Overall, Bourbon accounts for 80% of the distillery's output, followed by rye at 15%. The remaining 5% of activity is devoted to what Frey calls "fun things"—like the Frey Ranch specialty grain series, which has a 100% single grain wheat expression made from soft winter wheat. Other recent releases include a 100% malted single grain corn whiskey and a Quad Malt made from wheat, rye, barley, and corn. In these specialty  cases, the grains are malted on-site, aged 6½ years, and generally are available for tasting and sales only at the distillery. 
Frey Ranch smokes barley and oats using decomposed corn stalks. "Since we don't have peat in Nevada, we decompose corn stalks and compost them," says Frey. "When it comes off the mill it's a flour-like substance, which is then mixed in water, pressed into bread pans, and baked." Those become Frey Ranch's very own "peat" blocks for smoking the grains. "We can smoke up to 25 tons of barley at a time," Frey says. He describes the taste profile from the smoking as Scotch-like. Thus far Frey Ranch has only smoked its barley and oats. The malting, meanwhile, is done in the distillery's own malting drum.
High Desert Microclimate
All Frey Ranch whiskeys are aged and bottled on the property, and the ranch supplies 100% of the primary ingredients. "Until we send a bottle on its way, nothing ever leaves here," notes Frey. "We're one of the most sustainable distilleries in the country, not because it's trendy, but because it's just kind of who we are." 
The ranch sits at about 4,000 feet above sea level, and faces not only hot summers and cold winters but also sharp swings in temperature from day to night. Frey believes his whiskeys' peak age will be 8-10 years in this climate, rather than the 10-15 years found in other whiskey making regions. The oldest barrels in the warehouse right now are about 8 years old, though there are only a few. About five or six barrels currently are held back each year for extended aging. 
With Nevada's arid climate—statistically it's the driest state in the nation—humidity levels are low, and so humidifiers are used in the warehouse. "We don't heat or cool, but we do add humidity," Frey says. "Low humidity can cause too much water loss, though in the fields it's actually a benefit; it eliminates mildew, fungus, and mold. We've never had to use fungicides on the crops."  
The water flows from two rivers, the Truckee and the Carson, which originate on either side of Lake Tahoe and the Sierra Nevada Mountains and run into Lake Lahontan, the area's reservoir located between Fallon and Carson City near the California border, about 60 miles from the ranch. From there it proceeds through a series of canals, flowing naturally all the way through the irrigation of the fields, thus requiring no pumping and no need for electricity. Frey likes to note that while Kentucky is famous for its limestone-filtered iron-free water, the water for Frey Ranch is actually similar in that regard.
The Distillery's Year
The Frey Ranch stillhouse and its spacious visitor center are made of wood that was reclaimed from the ranch, with the trim pieces fashioned from old corral boards—all capturing the feel of the West. The distillery is located smack in the center of the ranch, along with the bottling house, store house, malt house, and main office. Tall grain silos, where all the ranch's grain is stored, stand next to the facility. The Freys live on the ranch, making for an easy commute. Frey Ranch distills 363 days a year, from 5 a.M. until 9 p.M. "We joke about the fact that we wanted 9 to 5, but got 5 to 9 instead," says Frey. 
The distillery makes Bourbon throughout most of the year, and then distills its rye in December and its specialty grains in January, when the farm work tends to take on a slower pace. There are two continuous stills and a 1,000-gallon pot still, plus four 5,000-gallon fermenters—all installed back in 2013 when distilling started in earnest. "We strip everything in the continuous stills, and then instead of putting it through a doubler, it goes into the pot still, one batch at a time, where the cuts are made," says Frey. "Continuous stills are far more efficient, of course, but they don't do as good a job as pot stills at taking out the heads and tails," says Frey.
Maximum production is currently at about 11 barrels a day, but more fermenters will be added by year's end, giving the distillery the potential to double its current output. In 2022 Frey Ranch will barrel the equivalent of about 480,000 bottles of whiskey. The company has about 96,000 bottles available for sale this year, and expects to sell all of it. "Next year we should have about 180,000 bottles available, which will then rise to 270,000 bottles the following year, 390,000 the next, and then [those] 480,000 bottles," says Frey. In addition to Nevada, Frey Ranch whiskeys are sold in California and Georgia, with Arizona being weighed as the next entry point. As for sales at the distillery, Frey Ranch ships to about 30 states, though that number is always changing with the passing of new state laws. 
At the visitor center, customers can buy up to 12 bottles from the tasting room, per Nevada state law. Typically for sale would be an assortment that includes the flagship Bourbon and rye; wheat, oat, and corn whiskeys; and single barrel Bourbons (when available). The distillery also has a single barrel program whereby consumers can purchase from the distillery by the barrel. Frey Ranch's location makes it a difficult trip from Las Vegas, but it's not far from Lake Tahoe, and is so far into western Nevada that it's closer to San Francisco than Las Vegas. 
In the spring of 2023, Frey Ranch will expand its operations by adding two more 5,000-gallon fermenters—increasing overall production capacity by 50% and moving them into serious scale. And in a milestone, the Freys expect to fill their 15,000th barrel of Bourbon next year. While it may sometimes seem like a long journey, Frey Ranch has come a long way in a short time, as the distillery's first release was only in 2019. "Not long ago, I saw a social media post from Whisky Advocate about the Fall 2021 Buying Guide that noted the list of the top picks hailing from Kentucky, Tennessee, Nevada, Scotland, and Ireland," says Frey. "I thought that was so cool—seeing Nevada in there with all those amazing places."