Few companies can match the depth of on-premise experience of Cameron Mitchell Restaurants. As the Columbus, Ohio-based restaurant group celebrates its 25th year this fall, it looks to a lengthy roster of restaurant successes—and their bustling drinks programs and steadily growing beverage sales—in its home market and beyond. From humble beginnings, Cameron Mitchell Restaurants now encompasses 32 units spanning 14 different restaurant concepts, with locations in 12 states and further growth planned. Revenues approached $200 million in 2017, and beverage alcohol makes up 30% of sales—roughly $60 million a year. The company's diverse restaurant portfolio is a great asset; instead of being known as a chain operator, it has earned a reputation for distinct, high-quality venues.
"Our goal was always to be a unique, specialty restaurant operator," says David Miller, Cameron Mitchell Restaurants' president and COO. "We've tried to design, build, and execute very chef-driven, creative spaces over the years. We've taken a chef's approach to our beverage program—we bring the kitchen into the bar. And we constantly challenge ourselves."
Cameron Mitchell's business model is indeed challenging. The company operates 14 concepts and 18 units overall in greater Columbus, Ohio, including two venues that opened this past spring. Managing that many properties in one city would be difficult by itself, but the company also owns the Ocean Prime restaurant brand, which is a national player. A high-end seafood and steak eatery, Ocean Prime has 14 locations around the country, from Boston, New York City, and Philadelphia to Indianapolis, Dallas, and Beverly Hills, California. Cameron Mitchell used to have a larger presence in the national on-premise landscape, operating the Mitchell's Fish Market and Mitchell's Steakhouse brands—a total of 22 units—until 2008, when the company sold the concepts to Ruth's Hospitality Group for $92 million.
"Ocean Prime is a destination-driven concept, but some of our more casual venues are great local neighborhood restaurants," Miller explains. "We use teams to oversee the different concepts and to help keep them fresh and relevant." He adds that the only constants across the Cameron Mitchell portfolio are culture and hospitality. "We don't duplicate anything," he says. "We try to be as creative as we can in designing new restaurants. The menus change and the environments are different, but the genuine warmth and hospitality are the same throughout."
Growing Roots
Cameron Mitchell Restaurants got its start in suburban Columbus, Ohio, where its namesake, Cameron Mitchell, is from. The chef's first independent venture, Cameron's American Bistro, debuted in 1993 and is still open today. Since then, the company has opened 13 other concepts in the greater Columbus area, from a steak-focused tavern to an upscale diner to Italian and Asian eateries. Miller describes the city as young and vibrant, thanks in large part to Ohio State University, which affords a diverse population. And he adds that even with so many units in the area, Cameron Mitchell Restaurants hasn't saturated the market yet. With more growth planned, Miller describes Columbus as the company's testing ground.
"Columbus is a growing city that has great potential for us," Miller says. "As we started to build out the city and grow our restaurants here, we realized that some of our concepts had the potential to possibly grow beyond this market. Now, we develop new concepts in Columbus and if they have great market appeal, a good economic model, and a good return for investors, then we consider taking them outside Ohio."
So far, Ocean Prime and Marcella's Italian Kitchen are the only concepts to have additional units outside of Ohio, but Miller says more will follow. He points to the company's Cap City Fine Diner & Bar and Hudson 29 Kitchen + Drink concepts as two prime players with growth potential outside of the state.
The flagship Cameron's American Bistro showcases a wide variety of fare from across the United States. The menu offers Maryland-style crab cakes alongside Creole shrimp and grits, spinach- and tomato-stuffed Colorado lamb, and braised beef short ribs (entrées are $17-$39). The bistro's cocktail menu lists both signatures and seasonal creations. Standouts include the Gin and Ginger, mixing Bombay Sapphire gin with St-Germain elderflower and Domaine de Canton ginger liqueurs, Green Chartreuse, and lemon juice, and the Red Whiskey, comprising Jameson blended Irish whiskey, Chalone Pinot Noir, passion fruit purée, agave nectar, and lemon juice (cocktails are $10-$11). Cameron's American Bistro also features a wine list that spans more than 25 by-the-glass selections ($7-$15) and an abundant array of bottled offerings ($28-$96 a 750-ml.), as well as a variety of beers ($4-$6 a draft pour or bottle).
"Each concept has a complete beverage program," says Ryan Valentine, the company's director of beverage. "We create diverse wine lists that work with each cuisine and we make sure our cocktails are well-conceived, balanced, and consistently executed. Great restaurateuring is about having points of differentiation, and our beverage programs fall into that category."
Valentine oversees beverage creation and execution for all Cameron Mitchell venues. He often works out of the company's test kitchen and bar in its Columbus catering facility, joining forces with chefs to create cocktails and source wines that pair with each concept's food. He says the company's diverse array of properties makes his job fun and notes that, along with training bartenders on how to make drinks, he also puts a heavy emphasis on hospitality. For wine, he adds that glass pours are critical, and stresses the importance of including variety and quality on each wine menu.
"We started our fresh bar program to emphasize fresh ingredients 13 years ago," Valentine says. "It was early in the game and people weren't ready. Now, guests are sophisticated and engaged. There's no duplication of cocktails from place to place for us. Each concept has its own glassware and menu, and largely its own vibe."
Diverse Portfolio
Cameron Mitchell Restaurants' on-premise portfolio covers many food genres. Cap City Fine Diner & Bar, which has three locations in suburban Columbus, focuses on comfort food prepared with upscale twists. The menu lists meatloaf and fried chicken, as well as pecan-crusted pork chops and a pan-seared ribeye (entrées are $9-$26). Cocktails ($8-$10) include updated classics like a George Dickel rye-based Manhattan enhanced with strawberry preserves and an El Jimador Tequila-based Margarita made with cayenne-lavender simple syrup. Cap City also offers 25 wines by the glass ($7-$16) and several craft beers ($5-$6), which hail from local producers like Four String Brewing Co. and North High Brewing. Domestic mainstream brews are also available.
Another refined American concept, Hudson 29 Kitchen + Drink focuses on foods found on both coasts, as its name reflects New York's Hudson River Valley and Napa Valley's Route 29. The venue offers wood-grilled salmon and blackened snapper alongside rigatoni Bolognese and slow-roasted prime rib (entrées are $14-$39). Wine is a star here, with more than 100 labels available ($28-$190 a 750-ml.), and 30-plus glass pours on offer ($7-$19 a glass). Standouts include the 2016 Cakebread Cellars Sauvignon Blanc, 2013 Duckhorn Merlot, and 2014 Chimney Rock Stag's Leap District Cabernet Sauvignon.
Some of the company's other American eateries include The Guild House, an artisan venue with a seasonal menu; The Pearl, an urban tavern with an extensive beer program; and M at Miranova, an artful concept with European and Pacific Rim influences. Cameron Mitchell Restaurants operates a couple steak-focused concepts as well. The Avenue Steak Tavern evokes the 1920s and '30s, while The Barn at Rocky Fork Creek aims for classic steakhouse fare.
For a more global approach, Cameron Mitchell operates Italian venues like Marcella's—which has two Columbus locations and a unit in Denver—and Martini Modern Italian. Marcella's is a café-style concept with a menu of pastas and pizzas, while Martini Modern Italian offers creative interpretations of mainstays like chicken carbonara, lasagna, and veal Milanese. Both venues list several Italian wines alongside California labels. The company also experiments with Asian cuisine at Molly Woo's Asian Bistro, which features a varied menu whose offerings include stir fries, sushi, hot pots, and noodle dishes, with sake and Asian beers dominating the drinks list.
For Valentine, tailoring the beverage program to each individual concept is key. "At Marcella's, for example, I use a lot of Italian ingredients in the cocktails—Prosecco, balsamic vinegar, and basil, among others," he says. "The Guild House is a posh farm-to-table concept, so those cocktails are more spa-like and are generally served over crushed ice. The Avenue Steak Tavern, meanwhile, focuses on classic cocktails with a twist."
Valentine adds that local representation is important in the company's drinks business. While he oversees the overall wine program, local restaurant teams run their own captain's lists that showcase labels from around the globe and reflect the needs of their specific clientele. For spirits, he worked with Watershed Distillery in Columbus to create a personalized gin for The Guild House and a wine barrel-aged Bourbon for The Barn at Rocky Fork Creek. He notes that, in general, Bourbons and ryes are performing very well at most of the company's venues, and he's seeing more interest in mezcal and other flavorful luxury spirits.
Beer is not as big a player for Cameron Mitchell Restaurants' beverage programs, but all venues have a selection. Molly Woo's offers Kirin, Asahi, and Tsingtao, for instance, while The Pearl boasts more than 40 brews, from Duvel Belgian Strong Pale ale to Samuel Smith Organic Chocolates stout and Dogfish Head Burton Baton Imperial IPA. Beer is a bigger player at Cameron Mitchell Restaurants' sister company Rusty Bucket Restaurant and Tavern, a 23-unit concept founded by a former company employee with the help of Cameron Mitchell.
Branching Out
Following the sale of Mitchell's Fish Market and Mitchell's Steakhouse to Ruth's Hospitality Group in 2008, Cameron Mitchell Restaurants re-entered the national restaurant landscape. Executives focused on the Mitchell's Ocean Club concept for that effort, renaming it Ocean Prime for all units outside of Columbus. Today, Ocean Prime has 14 locations throughout the U.S., with two additional locations to open within the next year. The concept aims to be a modern American eatery with a focus on seafood and steak, and it offers several specialty cocktails, as well as a lengthy wine list.
The original Columbus unit—which is still called Mitchell's Ocean Club—features king salmon served with lobster ravioli, ahi tuna cooked with a spicy sesame soy glaze, and sea scallops with Parmesan risotto, as well as various cuts of prime steak, from a 6-ounce filet mignon to a 16-ounce ribeye (entrées are $29-$50). The menu also lists several sushi rolls and appetizers like cheddar fondue and oysters Rockefeller. Specialty cocktails include the Crimson Rye, comprising George Dickel rye, Langley's gin, Lillet Rose aperitif, Bittercube Blackstrap bitters, house-made grenadine, and lemon juice, and the Black Orchid, mixing Absolut Raspberry vodka, St-Germain elderflower liqueur, white cranberry juice, and lemon simple syrup (cocktails are $11-$15). The wine list at Mitchell's Ocean Club includes a page of selections available throughout the chain and a separate list of local specialties (wines are $6-$40 a glass; $30-$2,200 a 750-ml.).
"We want our restaurants to feel like part of the communities and markets they're in," says Miller. "That's critically important. No Ocean Prime is identical to another. We design the restaurants to fit their markets and adjust the beverage and food menus to reflect local flavors and products." An Ocean Prime will open in Denver this month and in Chicago in spring 2019. Miller adds that the company is scouting additional locations in southern California, Texas, and Florida.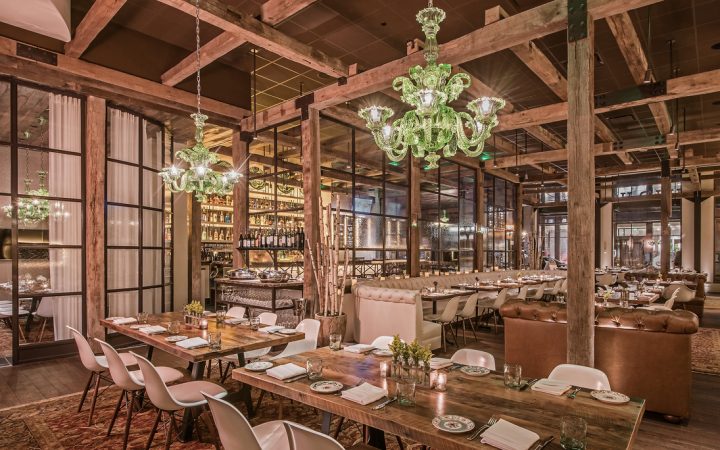 Cameron Mitchell Restaurants unveiled two new restaurants this spring: a second location of The Avenue Steak Tavern in suburban Columbus and Harvey & Ed's, a modern American delicatessen concept also in the greater Columbus area. In addition, Budd Dairy Food Hall is expected to open in Columbus next spring, and will offer several dining and drinks options.
Valentine notes that the company's drinks sales have grown a lot over the last decade, as executives have put more focus on creating dynamic beverage menus. Going forward, he's experimenting with saline solution in cocktails and is working on a canned Negroni for Harvey & Ed's, draft cocktails for Budd Dairy Food Hall, carbonated bottled cocktails for Hudson 29 Kitchen + Drink, and flights of mini Manhattans for The Barn at Rocky Fork Creek.
"Our guests have come to expect restaurants that bring fresh, creative cuisine and drinks to the marketplace," Miller says. "They can expect great quality, whether it's hospitality, service, food, or the environment. We put a huge emphasis on creative cocktails and great wine lists because today's guests want exceptional beverage programs, and we have to meet that need."