Armed with a law degree from Boston University, Jon Halper worked for one of the most elite firms in New York as a young man, and later migrated to Minneapolis to specialize in corporate practice for some of the city's biggest companies. Yet somehow it was retail that got his attention. After a series of investments and acquisitions, Halper, at the age of 54, now spends his days overseeing inventory levels and shopping rival merchants' prices as the owner and CEO of Top Ten Liquors in the Twin Cities of Minnesota. The law books have been shoved aside as Halper presides over one of the Gopher State's fastest-growing beverage alcohol retail chains, currently spanning a dozen stores. 
Top Ten got its start in 2014 when Halper, who had worked for a few years at Target as a video game buyer, decided he wanted to run his own retail business. He wasn't sure what kind of retail, but a business broker steered him to a collection of four beverage alcohol stores around the suburbs of Minneapolis. They ranged from 7,000 square feet to 20,000 square feet and had different names, but all were owned by one man who was motivated to sell. At a price of nearly $10 million, and with the help of loans from his father, a local bank, and the U.S. Small Business Administration, Halper clinched a deal. 
In the process, he settled on the name used by one of the original four locations—Top Ten Liquors. "I didn't want my own name on the business," Halper says, noting that The University of Minnesota, whose campus is not far from Top Ten's current headquarters on the northeast side of Minneapolis, helped make his decision by being a Big 10 Conference school. "This is Big 10 country around here, so the name Top Ten makes sense," he explains. 
In the eight years since he made the purchase, the company has steadily expanded. Halper has not taken on partners or outside investments. It's his show, which is how he likes it, and it's unconventional, to say the least. For one thing, Halper likes competition and invites price battles. While a group of local independent merchants banded together eight years ago to fight the entry of Total Wine & More into the Minnesota marketplace, Halper has made peace with his rival as it's grown to eight locations in the region. "Total Wine can be disruptive when they go into a market," he says. "I like to see them go first and then follow along behind them. Total has a great model in selling national brands close to cost and then taking much higher mark-ups on their own private-label brands. I can do that, too. I can be across the street from a Total and compete against them and be happy."
Indeed, Halper enjoys visiting his rivals regularly and scrutinizing their assortments and pricing, and he often returns from these ventures with orders to his managers to revise Top Ten's sale prices. The company gave up on conventional newspaper advertising more than a year ago after Halper decided that "ads in papers are strictly a race to the bottom, with little effect. We'd run a full-page ad in the Minneapolis Star Tribune with a super-low price on Coors Light and get very little sales lift." 
Instead, Top Ten has turned its attention to online ads, running weekly bulletins on its website that target the company's 400,000 loyalty customers. Halper has only one rule for his online advertising, according to Omar Torres, the store's vice president of marketing. "Any product featured in our ads online must carry the very best price available in the marketplace," Torres says.
Retail Family
Halper lives and breathes retail today, and maybe some of that can be traced to his family history. Growing up in Los Angeles, his stepfather Joel Waller ran Berman Buckskin for a while there and later Minneapolis-based Wilsons Leather, a retailer of jackets and handbags that at its peak had 763 stores in 46 states. Halper got an undergraduate degree from the University of California at San Diego in political science before moving cross-country to Boston to get his law degree. After his stint in New York and a smaller Twin Cities firm, Waller then recruited him away to help manage legal issues as Wilsons began splitting away some of its assets. 
"Joel knew I didn't really have a love for the law," Halper says. "He needed somebody to run their real estate so I moved over there and eventually headed store operations." But that job didn't last, he admits, as Target came calling with an offer to head up the Minneapolis chain's video game business. "You learn a lot working for a big retailer with a great buying system," Halper says. "A company like Target puts their buyers on two-year rotations so that their business is being constantly reinvented. As a result, you have to learn whole industries quickly and devise merchandising strategies of your own."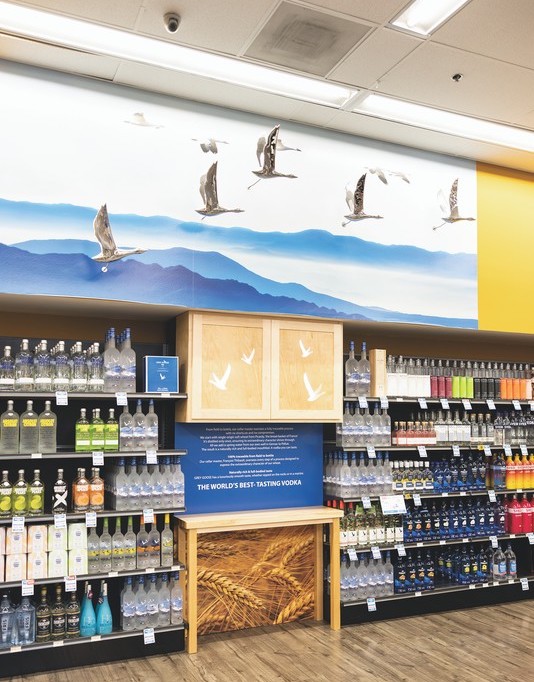 Halper was deliberate in the purchase of his first four Top Ten stores, and he continues to be today as the company grows. When he was ready to make his move into beverage retail—just as Total Wine, Amazon, and Hy-Vee were also gaining ground in the Twin Cities—he came to one essential conclusion. "For too long Minnesota was a full-price marketplace, and even when retailers got discounts from their distributors on special deals, they weren't passing those discounts on to their customers," Halper recalls. "I knew we had to take a more promotional approach."
And he did, attracting attention in short order. For all his ideas about discounting, though, Halper's true gift has been in real estate. He's very good at finding underserved neighborhoods, putting up a satellite store, and then plotting his next move to a site spaced far enough apart that it won't cannibalize existing sales volume. In 2016 he bought a former Liquor Barrel store in St. Louis Park that spanned 4,500 square feet. He expanded it by 2,000 square feet and made it the company's most profitable location as measured by sales per square foot. 
Stores in Minnesota locales Osseo and Ramsey, along with Chanhassen, Plymouth, and Vadnais Heights all followed, with three of them opening all at once in the middle of the Covid-19 pandemic late in 2020. The company took a breather last year, with no acquisitions or new construction. Some of Top Ten's stores are built new from the ground up and others are rehabbed from other owners. The 8,000-square-foot Chanhassen store, for instance, was a former Haskell's. 
Most of the company's units fall between 5,000 and 15,000 square feet, with 10,000 square feet being the Top Ten sweet spot. Halper has a deep-seated aversion to gaudy superstores, believing fervently in the 80-20 rule of business. "That means 20% of your products will come to represent 80% of your sales," he explains. "The products outside the top 20% are mostly eye candy."
Beer Is King
The Top Ten stores, with wide aisles, are quite streamlined. There are 3,300 wine SKUs, 2,200 spirits SKUs, and 2,000 beer SKUs, with the store in Blaine notable for its 50-door cooler. In 2021 total company revenue advanced a healthy 10% to $53 million, with spirits and beer each making up 35% of sales and wine comprising the remaining 30%. "Minnesota is a beer state," Halper explains. His top-selling single SKU is Coors Light in 24-packs of 12-ounce bottles ($19). The top-selling spirit, meanwhile, is Svedka vodka ($15 a 1.75-liter). 
Considering such sharp prices, Top Ten's margins are decent, running 33% on wine, 25% on spirits, and 22% on beer. To get there, the company has expanded its private-label program. In the wine department the company promotes 90+ Cellars as its house brand, which has roughly 70 labels sourced from California to Prosecco ($11 a 750-ml.) to Bordeaux. "It's taken a while, but 90+ has been gaining some real traction with our customers recently," says senior director of store operations Nikki Erpelding. 
At its headquarters and dozen stores, Top Ten has 250 employees. Halper figures he's a bit understaffed and blames the lingering effects of Covid-19 that have kept some people at home. Workers are a priority for Halper, who has raised his minimum wage in the past year to $15 an hour and starts all assistant managers at $20. He offers vacation pay, 401(K) contributions, and maternity leave—a generous package by local retail standards. Furthermore, the company will pay the way for any employee studying for professional certification in his or her specialties.
Training is particularly important to Siri Nyman, the company's senior wine buyer, who once worked in restaurants but switched to retail for more regular hours. "In retail you have to hustle," Nyman says. "You have to figure out how to approach the customer and get them to see you, and even use your name. Over the years I've worked out a system for selling on the floor that I try to teach all my people here. This is important—our salespeople are the gatekeepers who are critical to the success of each store."
Sales Trends
Nyman adds that wine sales are slowing at Top Ten. "Wine is falling behind spirits because spirits makers are using lots of celebrity endorsements and they now have a far better marketing machine," she says. "Spirits brands have really gotten good at angling their promotions toward women."
The average wine sale at Top Ten, according to Nyman, is close to $15 a 750-ml., up from under $11 four years ago. The chain stocks everything from the 2017 Domaine de la Romanée Conti La Tâche ($3,300 a 750-ml.) to Boone's Farm Sangria ($5). Top sellers include the 2020 Kim Crawford Whitehaven Sauvignon Blanc and the 2019 Kendall-Jackson Vintner's Reserve Chardonnay (both $13). Nyman is impressed by the Kim Crawford formula. "It's become the Coke of wine, with the recipe down just right," she says. "The wine has a generous amount of sugar offset by just the right acid. Top Ten holds wine tastings in stores on most Fridays and Saturdays, with more in-depth seminars held on weekday evenings for an hour for just $10 per person.
In beer, manager Sean Sumner says that local brews sell best, including Indeed Brewing's Pistachio Cream Ale ($18 a 12-pack of 12-ounce. cans). Surly Furious IPA, which is made in Minneapolis, is also popular ($13). Sumner says that buying beers has become a challenge because "our customers don't like to repeat craft products, which means that we buy small amounts at a time of most labels."
For all its local presence, Top Ten does not yet have a store in either Minneapolis or St. Paul proper, as local laws limit a company to one store per municipality. But Halper hopes to fix that soon. His biggest venture yet is expected to open this fall in the upscale suburb Minnetonka—a 7,500-square-foot store flanked by an adjacent 5,000-foot wine bar and boutique grocery. The wine bar will feature an impressive 104 wines lined up in self-serve taps and the space will have seating for 100 people. Torres explains that "nobody has anything like this in the Twin Cities right now. We'll be the first."
For Halper, the new wine bar is a response to the growing perception that traditional retail doesn't cut it anymore. "People want retail as an experience; they want to be entertained," he says. He'll be watching consumer reaction closely as he calculates further expansion. "If we figure out this wine bar concept correctly, it could be something we even take on to other states eventually," he says, pointing to possible cities like St. Louis and Kansas City.
Within the next year Top Ten is slated to reach 15 stores. Looking further, Halper believes the chain could eventually grow to 25 stores in Minnesota alone by reaching markets like Rochester, Duluth, and St. Cloud. By 2030 he envisions occupying the top spot in the state in beverage alcohol sales. Halper also hopes his children—a son, who recently earned a business degree from the University of Miami and now works in sales for Gallo in Boston, and a daughter, who's now in law school—will follow suit. Though Halper adds that he has no plans to slow down any time soon. "I have no end game in mind for this journey yet," he says.