For 25 years, Total Wine & More has been a dominant force in the world of beverage alcohol retail. The Maryland-based chain is on track to have 173 stores and annual revenue of $2.7 billion by the end of the calendar year. It has big plans for the future—and no intention of slowing down. Along with continued unit growth in existing markets, Total Wine & More is working to enter two new states—New York and Tennessee—and launch some major online initiatives, in addition to increasing its cigar business, upgrading older stores and expanding its home delivery service. In fact, 2017 has shaped up to be Total Wine's biggest growth year ever.
"We're continuing to expand aggressively," says David Trone, who co-owns Total Wine & More with his brother, Robert. "This year has been our best ever in terms of number of new stores, and we're making big advancements in the digital space. We look forward to adding new states, improving e-commerce and being a local retailer in every market."
Total Wine & More closed out 2016 with 148 stores, and the company is opening 25 new units this year, bringing its store count up to 173 by the end of 2017. Its focus remains on Texas, where it's adding 13 units this year, as well as on California—particularly the Bay Area, San Diego and the Central Valley—where the company expects to add 12 to 14 stores over the next two years. David anticipates revenues will reach $2.7 billion for 2017, and that his company will have nearly 6,000 employees by the end of the year.
"Our most important markets now are Texas and California, and that's clearly where our expansion focus is," David says. "We see great opportunities in both of those markets, with a growing economy in Texas and a very wine-savvy, educated and high-income customer base in California. Our plan has always been to continually grow the company aggressively, but I don't think anyone envisioned we'd be approaching $3 billion in 2017."
Growth And Change
One of the keys to Total Wine's continued growth is a commitment to embracing change at every level. The company fights hard to avoid complacency. "We realize the ideas we had 25 years ago are no longer relevant today," Robert says. "We have to be a corporation that's willing to make changes and take risks to move forward and stay ahead of the competition. We win on price, selection and service. The key differentiator for us is the service and knowledge of our store personnel. We focus on having great store teams."
David adds that Total Wine aims to foster an environment that promotes continuous improvement, and it actually values mistakes so that people are challenged to take risks and aren't afraid to fail. He notes that when the company revamps existing stores, it adds classroom spaces into units that don't have them, and he says Total Wine is also experimenting with home delivery in markets where legal, specifically Florida and California. Furthermore, he stresses that even for a large multi-state operator, maintaining a local image is crucial.
"The more local we are—working with local breweries, wineries and distilleries—the more we can appeal to millennials who are focused on farm-to-table freshness," David says. "That's important to millennials and therefore it's important to us. If we can keep that focus on creating customer satisfaction, and do that through hiring and training the best teammates, we'll continue to be successful in doubling the size of the company every five years, which is what we've done for the past 20 years."
To stay ahead of trends, Robert says Total Wine works hard to bring new products to store shelves fast and is equally speedy in pulling them from shelves if they don't sell. Wine dominates, comprising roughly half of the company's sales, with spirits contributing about 30 percent and beer making up roughly 20 percent. David adds that a relatively new sector for the company is also performing well: cigars. Total Wine is building walk-in humidors in all of its new properties and adding them into existing locations as stores go through remodeling projects. David notes that Total Wine & More has already become one of the country's top brick and mortar cigar retailers.
"Cigars are a business we can do well," David explains. "We see the synergies for cigar smokers with spirits and single malts and have the products priced right. We're going to continue to focus on cigars, and we expect to see a huge surge once Cuba opens up."
Total Wine & More's typical store averages 25,000 square feet, though some units reach a footprint as large as 50,000 square feet. The stores carry 8,000 wine SKUs, 3,000 spirits SKUs and 3,000 beer SKUs, and David says their customer profile skews toward higher-income and higher-educated individuals. Robert notes that the wine and spirits businesses continue to grow, though he adds that beer sales have slowed down a bit. Total Wine's top wine varietals are Cabernet Sauvignon and Chardonnay. Napa Valley Cabernets reign and Robert says upper-end labels are moving well. For Chardonnay, he says California, Chile, Southern France and Burgundy are top-performing regions, and he adds that beyond those varietals, rosés and wines from Italy and Spain are also showing growth.
Spirits and beer sales vary more by store location. Vodka is king in Florida, while Scotch and American whiskies are leading in California. For beer, craft labels are on top and most stores see big interest in regional and local labels. Robert notes that consumer beer preferences are now hyper-local, sometimes trending not by a brewer's home region or even state, but by their home city and neighborhood. "We empower our local teams to interact with local brewers and wholesalers to make sure we have local beers on display," Robert says. "We've gotten much better about that in the last few years."
Online Improvements
The internet and mobile technologies are receiving a lot of Total Wine's attention these days. The company is continually unveiling improvements to its website, Totalwine.com, and is also developing a mobile app to attract modern-day consumers who use their phones or tablets more than computers. The goal, David says, is to offer customers the choice to shop in a physical store, shop online and pick items up in-store, or take advantage of home delivery, where legal.
"We realize the future is the ability to be a full omni-channel retailer," David says. "Whether it's bricks or clicks, we've got to be the best in the business. We're making huge investments in people and technology to improve our e-commerce ability and website. We want to have the best website for alcoholic beverages in the world, with more content than any other site."
Total Wine hired Mike Kirschner to be its chief digital officer last year and promoted him to chief technology officer earlier this year. Kirschner comes to the company after running the digital and e-commerce portions of retail chain Office Depot for nearly 20 years. Kirschner says his goals for Total Wine's digital platforms are centered around convenience, personalization, inspiration and engagement. He notes that a mobile-friendly platform is crucial since shoppers today use cell phones and digital tablets to look for product recommendations, ratings and reviews, product history, and manufacturing information.
"If you look at the way our site was originally designed, it was very focused on people using a computer," Kirschner explains. "The majority of our online traffic now comes from people using their phones, so we're making it easier to navigate by phone. We're increasing overall usability and decluttering the site to make it easier for people to understand."
Kirschner is working to make Totalwine.com more personalized so that people who join the company's loyalty program can log in to view their purchase histories, product recommendations, reward points, and even recipes and pairing suggestions. Along with upgrading the website, he's also developing a mobile app that's geared toward the in-store experience. The app will show a member's reward points and coupons, local in-store events, tastings, classes, and brand availability for growler refills. It will also feature way-finding capabilities so that consumers in physical stores can type in the product they want and see exactly where to find it at a Total Wine location. The company expects to release the app late this year.
"The app will make e-commerce much more enjoyable and efficient and create a better customer-facing experience," David says. Robert acknowledges that Total Wine has room to improve its website and online platforms, especially for shipping wine, and says he has high expectations for its advancement over the next few years. "The key for us is to figure out how to better serve our consumers," Robert adds. "We need to make stores easier and more convenient to shop, with localized delivery and better store pickup."
Legislative Issues
Total Wine & More has a long history of fighting legislative battles against laws that inhibit its growth and entry into new markets. That continues today, as the company has several legal initiatives underway. In Connecticut, Total Wine is litigating to allow the free pricing of products so that pricing is no longer under state control. David says the effort is going well and has the support of Connecticut Governor Dannel Malloy, and adds that he's confident Total Wine will win and be able to eliminate minimum bottle pricing laws. Meanwhile, in Tennessee—a market Total Wine plans to enter soon—the company contested a law that said retailers have to live in the state to own a beverage alcohol store there. The effort was successful, meaning residency is no longer a requirement for store licensing. Looking to the future, David says the company may pursue legal and legislative efforts to privatize markets like Virginia, Alabama and North Carolina for spirits, and Pennsylvania for spirits and wine.
Total Wine is also celebrating some recent legal victories. The company worked with industry partners on a bid to allow Sunday sales in Minnesota and won, and stores in the state can now open on Sundays. And in South Carolina, Total Wine petitioned the state Supreme Court to eliminate beverage alcohol retail license limitations. By a vote of four to one, the law was overturned, allowing retailers to operate an unlimited number of stores in South Carolina.
Along with these efforts, Total Wine is celebrating a record number of donations for community service-related work. Both David and Robert cite community service as a key part of their business strategy, noting that getting involved in local communities helps the stores make personal connections. In 2016, Total Wine donated more than $6 million to non-profit groups like the Make-A-Wish Foundation and others that support awareness for autism and epilepsy, helping a total of more than 6,000 groups overall.
"We think being a part of the local community, whether it's an arts community or various health-related causes, is part of who we need to be to give back to each of the communities that support us," David says. "The key to building and managing a cross-country business always goes back to the same thing, and that's great people. We continue to invest and trust our people and remain focused on being ultra-competitive and concentrated on our customers. That allows us to be successful."
No stranger to the legislative process, David also recently announced his intent to make another run for Congress, this time in Maryland's 6th Congressional District. David, who seeks the Democratic nomination for the House seat left open by Rep. John Delaney, made a similar run last year for Maryland's 8th Congressional District, but lost. He funded his first campaign himself and accepted no donations from any outside source, which he says was a good learning experience.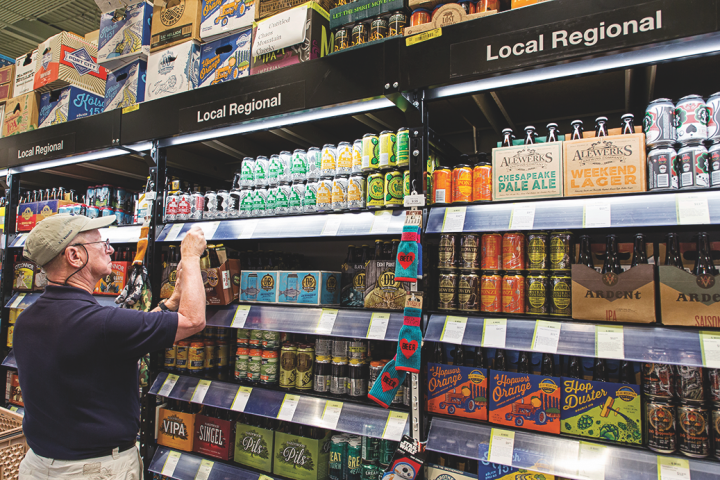 "I funded the first campaign to demonstrate that I will be independent of the various interests that dominate Washington," David says. "What I didn't realize is that a lot of people wanted to invest in my campaign. So, this time, I will raise money from individuals, but will not accept contributions from political action committees, lobbyists or corporations."
David says he's well suited for political public service because his life has been different from most other politicians, as he grew up working on a farm, went through college on student loans, and started his own business and built it into a powerhouse from the ground up. If he wins this Congressional bid, David says Total Wine will remain on solid footing. He and Robert reconfigured the company's corporate structure a few years ago, adding top-level management positions and transforming its board of directors so they could step back a bit.
"Total Wine is in good hands and will continue to follow the same principles we've followed since day one," David adds. "The company is on strong footing, has a long-term expansion plan and a customer-first approach that will carry on whether I'm there or not. Total Wine will do great."