The beverage alcohol sales rush triggered by the Covid-19 pandemic is continuing to surge at double-digit growth rates, with intense demand for RTDs, wine, and Tequila leading the way into July. On another level, hard seltzers and rosés in particular continue promising growth trends. Retailers are working hard to keep up with rising consumer demand for these products.
Mark O'Callaghan, owner of Exit 9 Wine & Liquor Warehouse in the Albany, New York metro area, says that he's seeing customers gravitate toward canned cocktails because of the easy drinking experiences they offer. "RTDs are flying off the shelves, especially at the higher end," he says. "We're really trying to bulk up our selection. Everything is selling." In fact, O'Callaghan says 30% of his RTD SKUs are currently out of stock. "We're forced to buy inventory out a lot longer than we used to. There is a lot of planning and preparation for that to make sure we have the product customers want."
RTD sales are also prevalent at at Julio's Liquors in Westborough, Massachusetts, with a focus on local products like Fabrizia Spirits' Italian Style canned cocktails ($20 a mixed 12-pack of 12-ounce cans) and the Loyal Lemonade canned cocktail ($10 a four-pack) by Sons of Liberty Beer & Spirits Co., which also produces Half & Half (Lemonade/Iced Tea), Mixed Berry Lemonade, and Sangria flavors. "Hard seltzers are still super hot, but so are RTDs from local producers," says Julio's owner Ryan Maloney. "People aren't turned off by the pricing, they just want something that tastes good."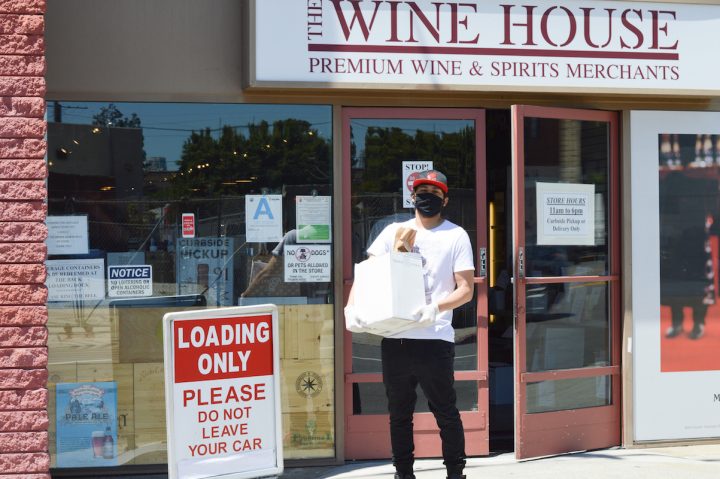 Wine Trends
When customers aren't scouring shelves for RTDs and hard seltzers, they're stocking up on wine. At Exit 9, 3-liter boxed wines like Bota Box ($18), Black Box ($19), and Barefoot ($18) are seeing particular success at Exit 9.  And customers at Julio's are similarly buying up 3-liter boxed wines like Bota Box Pinot Grigio ($19), Black Box Malbec ($20), and Barefoot On Tap Rosé ($2) as they prepare for a summer largely spent at home in the face of the coronavirus. "Staycation is going to be the word for this summer," Maloney says.
Glen Knight, owner of The Wine House in Los Angeles, sees customers reaching for familiar wine bottles. He has high expectations this summer for imports like Vinho Verde, Albarino, Chablis, Sancerre, Italian Pinot Grigios, and new Zealand Sauvignon Blancs, as well as reds like Cote due Rhones, Australian Shiraz, Spanish Tempranillo, and Garnacha. Knight also anticipates strong summer growth for domestic whites Oregon Pinot Gris, California Sauvignon Blancs, and Chardonnay.
Knight adds that rosé and Bordeaux futures started seeing customer interest at The Wine House as June rolled into July. "We've been selling an increase of rosé over the past two months of quarantine because many producers have been slashing prices on their 2018's still in stock," he says. "And many of our collectors are jumping back into the Bordeaux futures game, because we're looking at a great vintage paired with pricing we have not seen in many years." Rosé sales are also strong at Julio's, with Maloney listing Rosé All Day ($13 a 750-ml.), Whispering Angel ($22), and Summer in a Bottle ($25) as some top sellers.
Spirits Soar
At Exit 9, Tequila is driving the spirits section. In fact, the store's Tequila sales are up 83% over the last ten weeks through June 18, compared to last year at the same time. Big sellers include Patrón Añejo ($60 a 750-ml.) and newcomer Teremana ($30), a brand recently introduced by actor Dwayne "The Rock" Johnson. "Teremana came in and blew right out," O'Callaghan says.
Likewise, Maloney can't keep Teremana Tequila in stock at Julio's. "Tequila is on fire this summer because people are making Margaritas at home," he says, adding that Espolon Blanco ($20 a 750-ml.) "is going gangbusters." Beyond Tequila, Maloney says liqueurs like Cointreau ($40 a 700-ml.), DeKuyper ($8 a 1-liter), and Grand Marnier ($35 a 750-ml.) are generating a lot of consumer interest. Maloney adds that in addition to 1.75-liter spirits bottles, 30-packs of beer are most popular with his customers right now.
Looking Ahead
In anticipation of continued sales spikes throughout the summer, retailers are keeping shelves full, building new displays, and catering to customer interests. "We're preparing the front of the store for handling curbside pickups, and we're preparing to allow our customers back in the store," says Knight of The Wine House, which halted in-store foot traffic on March 20 when the Covid-19 crisis unfolded in the Golden State. "We're looking at reopening around mid-July."
But even as some stores start to reopen to customers, retailers will certain continue to rely on curbside pickup this summer. Julio's, for one, currently averages 40-50 curbside orders on weekdays and 100 on the weekends. And The Wine House is averaging between 185 and 215 curbside orders a day. Prior to Covid-19, Exit 9 did three or four curbside orders a day; when the pandemic hit in the spring, orders skyrocketed to of 200 a day, and now the store is now averaging about 65 a day. "It has slowed down as people start to feel safer," O'Callaghan says. "But the service is not going away. It is a lot easier to click and have it put in your trunk."