During a career that's spanned some 45 years, Ron Junge has continuously pushed customers at the 18-unit Brown Derby Stores Inc. in Springfield, Missouri, beyond beverage boundaries. He first introduced southern Missouri—known for country music, cheap beer and Bourbon—to the pleasures of classified Bordeaux from France. Later came cult California Cabernets, Austrian-made Riedel crystal glassware, and craft beers and spirits. He has reveled in the chance to taste each new vintage and to meet unheralded winemakers whom he could reveal to his audience for the first time.
"I fell in love with retail, I fell in love with Springfield, and I've always been in love with wine and spirits," says Junge, who became a Market Watch Leader in 1987. "I've never thought about doing anything else. In fact, Brown Derby has been my life."
Would you like to receive a digital edition of the Market Watch Leaders issue? Click here.
Junge, who's been president of Brown Derby since 1979 and its owner for more than 20 years, is being honored as the 2015 Market Watch Leaders "Retailer of the Year" at a watershed moment in the company's trajectory. Having made a career out of tasting and judging wine, beer and spirits, Junge is now excited about a new subject: food. The flagship Brown Derby store on South Glenstone Avenue launched its 56-seat Derby Deli concept in 2013, and the introduction of edible items has pumped up sales of wine and other beverages by the glass and by the bottle. "Food and wine go hand in hand. I'm passionate about both," Junge says.
So far, the retail veteran hasn't made a move to expand the deli program to the rest of the chain's stores, but he may open additional locations as freestanding units. Junge has always been a deliberate decision-maker and worries about diving into any new business at a time when Brown Derby is besieged by rising competition. Walmart is using Springfield as a testing ground for its Neighborhood Markets concept, unveiling four units in the past couple of years. In addition, the Walgreen's drug store chain has installed beverage alcohol departments in all its local outlets, while a powerful regional grocer, the Iowa-based Hy-Vee, has invaded the region for the first time. Convenience store chains like White Oak Station are also proliferating.
Staying Competitive
Springfield has a population of 164,000, and the greater metro area clocks in at about 436,000 people. Brown Derby has prospered in this environment by selling products that most of its rivals don't offer, along with brands that many customers don't even know they want. "Brown Derby sets itself apart from other liquor stores in southern Missouri," says Jim Kreissler, wine director for the regional wholesaler Major Brands and a friend of Junge's for more than two decades. "The company has very knowledgeable salespeople on the floor, which is absolutely necessary because they are hand-selling the majority of the wines they offer. That's what it takes for a fine wine store in this area to succeed. You have to guide consumers to a choice."
And yet, Junge has set some limits on the business. In the mid-1990s the company gained a national reputation by being the first retail outlet to import Riedel crystal from Austria in mass quantities, taking out full-page ads in Market Watch sister publication Wine Spectator and offering the glassware before other stores had caught on to its importance. Now Brown Derby has seen its online sales flatten at about $3 million—all from wine—and has practically given up on Riedel as mass merchants have exploited the brand. The company doesn't sell beer or spirits via the Internet.
Brown Derby's revenues totaled around $30 million in 2014—roughly the same as 2012, when he received the Market Watch Leaders Alumni Award for "Best Website." Since then, the store count has fallen from 19 to 18 after one outlet's lease expired, and Junge has abandoned his plans to expand beyond Springfield, where 16 of the company's stores are situated. He now believes that the addition of food to his sales floor might be a better way to grow than investing in new real estate.
The flagship Brown Derby encompasses 25,000 square feet, including a 10,000-square-foot sales floor, offices and warehouse storage. Carved out of 500 square feet of the selling space, the Derby Deli offers a full lunch menu from 11 a.m. to 3 p.m. Tuesday through Sunday, while small plates of cheese and charcuterie are available from 11 a.m. to 7 p.m. Tuesday through Friday and from 11 a.m. to 6 p.m. on Saturday. A dozen wines are available by the glass ($5 to $20 a pour), and another eight craft beers are carried on draft ($5 to $8 a pint), along with 70 spirits—mostly whiskies—including Pappy Van Winkle's 23-year-old Bourbon at $75 a 1½-ounce pour. A customer may buy any bottle of wine in the store and consume it on-premise for a $5 corkage fee. The average tab per person comes to about $12 at the deli, which has its own staff of servers who are separate from the retail space. "We recognize selling food is different from selling wine," Junge says. His daughter, Jennifer Feuerbacher, develops the deli's food recipes, while her husband, Brad Feuerbacher, serves as Brown Derby's operations manager and Junge's key lieutenant. The company has 150 employees in total.
Junge says he lost practically no beverage assortment in creating the space. "We took out some double facings of wine and beer that we had on the shelf," he explains. "And we cut back a bit on our gift department." Junge won't reveal the food revenue, but says the deli has been a success overall. "The Derby Deli has enhanced our sales and has become its own profit center," he notes. "We're no less of an alcohol retailer because we serve food. If anything, it's made this store more of a beverage destination. Right now, we're considering where to take the concept next."
Balanced Strategy
Most of Brown Derby's other units are smaller at 1,500 to 6,000 square feet, and some would require physical additions to accommodate deli departments. Junge doesn't want to compromise Brown Derby's assortments. The company stocks some 6,500 wine SKUs, 2,500 spirits SKUs and 2,000 beer SKUs. The sales ratio is 30-percent wine, 30-percent spirits and 30-percent beer, with the remaining 10 percent divided among the deli, sundries and tobacco.
Gross profit margins on wine run about 25 percent, though Brad Feuerbacher figures that national wine labels garner closer to 20 percent. Beer gets 18 percent margins, and spirits margins are 25 percent. The company once regularly promoted its sales in the local newspaper, but hasn't done any print advertising in recent years. A typical week finds a half-dozen discounted items in the spirits and beer categories, along with a dozen wines. "The sales are promoted to customers either by email or in-store signs," Feuerbacher says. "We invite customers to walk through the store to find some of our special prices on their own."
Brown Derby's email marketing includes maintaining a national list of 10,000 subscribers who receive regular blasts on new products and prices, while a separate list of 5,000 local customers get more frequent newsletters promoting prices and special events. Last May, Brown Derby hosted a dinner for $300 a person at Flame Steakhouse and Wine Bar that offered five different Dom Pérignon Champagnes, including the rare 1995 P2 Rosé. The company also held a dinner at the deli for $195 a person that featured six courses of dishes containing black truffles paired with mostly French wines, including the 2010 Louis Jadot Volnay Clos des Chênes. Beer and spirits aren't overlooked: An event at the flagship store in March priced at $25 a person featured Founders Brewing of Grand Rapids, Michigan, and a whisky tasting in June priced at $30 highlighted The Macallan 18-year-old single malt Scotch whisky ($220 a 750-ml. bottle), The Macallan Rare Cask ($300) and The Famous Grouse blended Scotch whisky ($25).
The flagship location houses a special tasting room, where at least three or four wines—and sometimes as many as a dozen—are opened for sampling every afternoon by both staff and invited customers. Junge's palate has long been admired within the industry, and he often leads these gatherings. Wine tastings are free to the public on Friday and Saturday afternoons at most stores and typically feature a half-dozen bottles that sell for $10 to $25 at retail. On Friday and Saturday nights, beer tastings often draw as many as 40 people.
Wine Connoisseur
During the '70s and '80s, Junge was one of the most traveled wine retailers in the industry, regularly showing up in Napa Valley, Bordeaux and other wine destinations to taste new releases. He doesn't travel as much now, though he made it to Germany in May and to Italy last fall, while Brad Feuerbacher recently visited Chile, Argentina and California. "I used to look forward to traveling to find little unknown wine producers whom I could introduce to Missouri," Junge says. "But that's become harder to do. Many small wineries today are more interested in direct sales."
The industry has indeed changed since Junge got his start at Brown Derby in 1969 while he was still a student at nearby Drury College (now Drury University), where he pursued undergraduate degrees in business and economics. He worked for Brown Derby founder John Morris, who began the company in the back of a filling station on the old Route 66 in 1937. Morris named the business Brown Derby after World War II, when a customer regaled him with tales of the iconic Brown Derby restaurant in Los Angeles, notable for its sign in the shape of a brown bowler hat that Morris later adopted as his own corporate signature. By the early '70s, Junge had married Morris' daughter, Jo Ann, and began venturing to wine country in California after Morris decided that "this wine thing is gonna get popular," Junge recalls. As he grew the chain, Junge developed Brown Derby into a world-class destination for French Bordeaux and California Cabernet. He had inaugurated popular catalogs mailed to connoisseurs around the United States by the time Morris retired in 1993. The founder died a year later at the age of 83.
Brown Derby quit offering Bordeaux futures four years ago and now concentrates on regions like Provence and the Loire. These days, Junge says he spends evenings at home with his wife and family drinking mostly Rhône wines—many Grenache-based—and Oregon Pinot Noir. The chain's most expensive bottle is the 2009 Domaine de la Romanée-Conti ($15,000 a 750-ml. bottle). The least expensive wine is the Matthew Fox Vineyards Cabernet Sauvignon ($3.97). The company also aims to score the exclusive Missouri stock of such labels as the 2013 Fog Mountain California Cabernet Sauvignon ($13).
Junge's personal favorites include the 2014 Tranche Cellars Pink Pape Rosé from Washington's Yakima Valley ($19 a 750-ml. bottle), the 2012 The Hilt Vanguard Pinot Noir from Central California's Sta. Rita Hills AVA ($50) and the 2008 Château de Fonsalette Côtes du Rhône white wine ($75). Bordeaux offerings typically include the 2012 Château Lynch-Bages ($110) and the 2005 Château Montrose ($170). Junge is also recommending village wines, such as the 2012 Château Haut-Plaisance from Montagne Saint-Emilion at $18. Top-selling Chardonnays include the 2009 Ramey Sonoma Coast Chardonnay ($35) and the 2012 Walter Hansel Russian River Valley Cuvée Alyce Chardonnay ($40).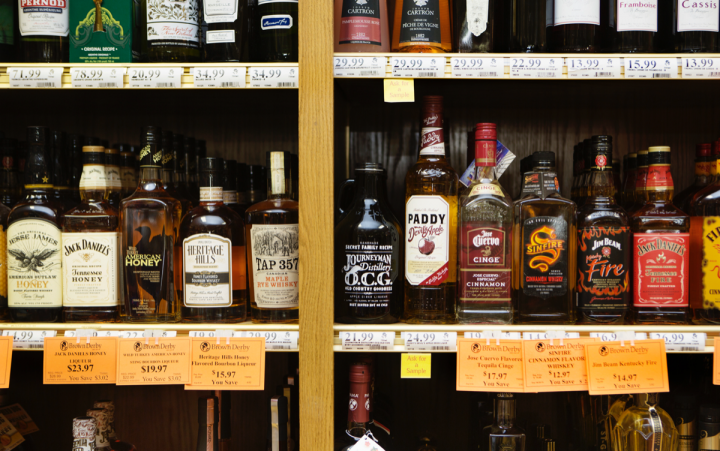 Brews And Spirits
The flagship store has an expansive wall of 20 cooler doors and gives prominent display to local brews like the popular Super Doozy Oak Aged Double IPA ($10 a 22-ounce bottle) from Springfield-based Mother's Brewing Co. The most expensive beer is the Mikkeller Juicebag from Denmark in a 1.5-liter bottle at $40. At the low end, Budweiser sells for $17.97 a 24-pack of cans. "In this area, there is a great loyalty to local products," says beer manager Eric Carter. "Craft beer overall is very important here. We believe we may have the biggest beer selection in the state of Missouri."
The spirits selection may come close to making the same claim. The store favors local offerings like Pinckney Bend gin ($30 a 750-ml. bottle) from New Haven, Missouri. The label has been discovered by in-the-know mixologists and is selling well. "Bartenders around here are using smaller-batch brands and showcasing local products whenever they can," says Jason Bernard, manager of Brown Derby's flagship location. He adds that Missouri-made moonshine has begun to get a foothold, with offerings from Branson's Copper Run Distillery ($32) and Springfield's Missouri Spirits ($27).
The most expensive spirit at Brown Derby is Courvoisier L'Esprit Cognac at $5,000 a 750-ml. bottle. The lowest-priced offering is Darby vodka at $6.47. The company loves to stock sleeper brands, such as Monkey 47 Schwarzwald dry gin from Germany ($48 a 375-ml. bottle) and Bak's bison grass vodka from Poland ($28 a 750-ml. bottle). Brown Derby also buys its own Bourbon barrels from Kentucky. A recent best-seller was the store's Blanton's Single Barrel Bourbon ($50 a 750-ml. bottle), as well as a proprietary Four Roses Single Barrel bottled for the store at cask strength (56-percent alcohol-by-volume) and priced at $60.
As Brown Derby eyes growth with its deli concept, the company remains focused on the idea of catering to specific customers and helping them find the perfect bottle to pair with a meal, whether it be in the deli or at home. Likewise, a customer might enjoy a glass of wine with a sandwich or entrée and then buy a bottle to go. Multiply those sales by 17 more stores and Brown Derby could see some powerful revenue gains. Junge, who is still testing fresh retail concepts at a time when most retailers are ready for retirement, certainly hopes so. "Retail is about change and evolution," he says. "I've never forgotten that."