Robert A. Mariano has been shaking up the grocery business around Chicago for most of the past four decades. But his current role as the head of the 33-unit Mariano's chain is his most radical turn yet, with beverage alcohol taking center stage. Stop in a store on a busy evening and customers are crowded around a wine bar with live piano accompaniment in the background. All visitors are invited to park their Burgundy glasses in cupholders attached to their carts as they stroll the produce aisles. It's an exciting shopping experience.
Mariano's is in a race to grow up. A division of the Milwaukee-based, publicly traded Roundy's Inc.—which Mariano heads as CEO and chairman—Mariano's launched in 2010 with a single store in the Chicago suburb of Arlington Heights. Its ascent got an assist last year when the company bought 11 closed Dominick's Finer Foods stores—a chain that, coincidentally, Mariano led to great success in the 1990s. And the retailer predicts that he can get the chain to 50 stores in the Chicago area within a few years.
Mariano also has his eye on markets beyond Chicago. He'll look for places that can support such amenities as wine bars, juice counters, culinary centers and an array of items, ranging from sushi and organic produce to Amish farmstead cheese and Champagne. A typical Mariano's unit is big and sprawling, often more than 70,000 square feet in size, with deep assortments of gourmet goods, including entire aisles dedicated to bulk spices and Italian olive oils. Mariano believes his namesake stores—which are about twice the size of an average Whole Foods—could rival or surpass high-end grocers like Wegmans in New York.
"We want to be the Nordstrom of the grocery industry," Mariano says. "It's been thought by most people that grocery stores follow the beer and wine trends developed by the best restaurants and specialty retailers. We're out to prove that we can lead consumer tastes. Beverage alcohol will play an important role in that area."
With the average Mariano's location grossing about $50 million a year in sales—double the per-unit drinks revenue of other full-line grocery stores—those goals are within reach. "Bob Mariano has introduced a completely new form of shopping in Chicago," says Bill Bishop, a veteran grocery consultant based in the Chicago suburb of Barrington. "The company does things differently and it stands out as a result. The core supermarket business is not really growing around the country. So for a retailer to grow, it must offer new features that others don't have. The wine bar at Mariano's is a prime example of something this company does that hardly anybody else has."
The Roundy's family of grocery stores includes the Wisconsin and Minnesota chains Copps, Rainbow, Pick 'n Save and Metro Market. These concepts typically stock a more limited selection of beverage alcohol. Eight years after joining Roundy's as CEO, Mariano founded his eponymous retail outlet to make a statement in the drinks category. For his willingness to push the envelope in beverage alcohol merchandising, Robert Mariano is being honored as a 2015 Market Watch Leader.
Retail Calling
Mariano got his start in retail working behind the delicatessen counter at a local Dominick's in high school. After graduating with a degree in biology from the University of Illinois, he couldn't find a job at any of the big drug companies. A four-month trip through Europe that involved visits to breweries and wineries in Germany and Austria gave him his first exposure to pairing beverage alcohol with food, and the experience made a strong impression. Soon Mariano went back to work for the Dominick's chain, rising steadily through the ranks to become president in 1995 and CEO a year later—posts that he held until 1998, when the company's owners sold it to Safeway. Mariano spent a few years as a freelance consultant before becoming CEO at Roundy's in 2002. While the parent company is based in Milwaukee, he spends much of each week working from a small office at the location in Hoffman Estates, Illinois.
Much of the grocery business around Chicago is dominated by Italian-American owners and operators. Mariano, whose grandfather emigrated from Italy more than 100 years ago, is no exception. "Italians have a passion for both food and wine," he says. "My view has always been that wine should be a complement to the meal." The Mariano's stores cross-merchandise food and beverage to encourage such pairings. The sushi counter features Gekkeikan sake for $8 a glass. And the cheese department highlights the 2013 Apothic Red from California at $8 a 750-ml. bottle. "You've got to be careful in putting these displays together so your store doesn't become too cluttered," Mariano notes.
Targeted Selection
In a typical Mariano's, beverage alcohol occupies about 3,300 square feet, including space for a walk-in cooler. Annual revenue is undisclosed, but last year's beverage alcohol sales are estimated at $200 million chainwide. Mariano's offers roughly 1,500 SKUs, with 55 percent of sales in wine, 25 percent in beer and 20 percent in spirits. According to management, the goal is to maintain gross profit margins of 30 percent, though craft beer runs closer to 25 percent and national beer labels can sink to 5 percent.
Beer ranges from Icehouse ($4.49 a six-pack of 16-ounce cans) to Boulevard Brewing Co.'s Tank 7 farmhouse ale ($11 a four-pack of 12-ounce bottles). Diversity abounds among the 650 beer labels, including such local products as Hopothesis Beer Co.'s Drafty Window farmhouse ale ($9.29 a six-pack of 12-ounce bottles) and rare import brands like the Czech beer Staropramen ($8.49).
Spirits range from Skol vodka ($8 a 750-ml. bottle) to WhistlePig rye whiskey ($79). Predictably, Fireball cinnamon-flavored whisky is a huge seller ($26 a 1.75-liter bottle), as is Crown Royal Regal Apple whisky ($29 a 750-ml. bottle). There's a solid selection of premium whisk(e)y names, including The Macallan 12-year-old single malt Scotch whisky ($58) and Redbreast 12-year-old Irish whiskey ($59). In vodka, Mariano's carries all five flavors of Grey Goose ($28), as well as the top-sellers Svedka ($18 a 1.75-liter) and Smirnoff ($20).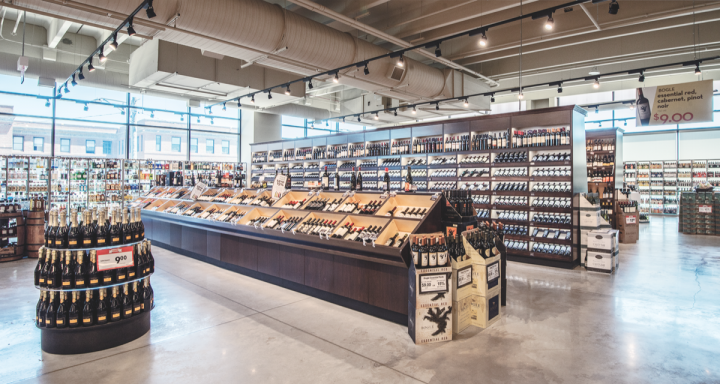 For wine, Mariano's offers a 15-percent discount on any four bottles. SKUs range from Sutter Home Chardonnay ($5 a 750-ml. bottle) to Roederer Cristal Brut Champagne ($237). There's an impressive selection of Italian brands, led by top-seller 2013 Perazzeta Sara Sangiovese ($12). The family behind Terlato Wine Group, based in the north suburbs of Chicago, are good friends of the retail chain and supply such familiar brands as the 2014 Santa Margherita Pinot Grigio ($17). Other standout labels include the 2008 Tedeschi Amarone della Valpolicella ($50) and the 2007 Pio Cesare Barolo ($72), as well as the 2010 Opolo Vineyards Roussanne ($22) from California. About 11 percent of wine sales come from jug offerings like Carlo Rossi Merlot ($14 a 4-liter bottle).
Paul Obrien, beverage alcohol category manager at the Mariano's store in Hoffman Estates, has been a certified sommelier since 2007 and uses a tried-and-true formula in deciding which new products to stock. "If two or three customers ask for a product, then I'll locate the right sales rep and try to order it," he says. There are special-event days when the store samples as many as 50 beers at a time, featuring breweries like Lagunitas. Obrien has autonomy to design his own displays as well. "It's like I'm running my own store within a store," he explains.
Mariano encourages an entrepreneurial spirit among all his upper-level employees, including beer and cider manager Ron Cizek and wine and spirits manager Joe LaPinske. "I want my people to take chances," Mariano says. "I tell them not to be afraid of mistakes. If you never make mistakes, then you aren't trying hard enough. In this business, you learn from your failures."
Customer Focus
Mariano may have Nordstrom ambitions, but he's also careful to offer a full range of good, better and best choices in order to reach shoppers at all income levels. "We're big believers in special events and tastings here," he says. "We're trying to show people why they should spend their money on something like Silver Oak." The 2010 Silver Oak Cabernet Sauvignon sells for $70 a 750-ml. bottle.
An old-fashioned merchant in many respects, Mariano has doubts about new-age grocery merchandisers who spend all their time tracking sales item by item on computers. "Computers will merely give you today's performance, which is a very passive barometer," he says. "The numbers aren't enough. I like to get out on the sales floor and talk to consumers themselves. That gives me the best idea of what we can sell tomorrow."
The company isn't afraid to invest money in its beverage departments. Mariano's sends its most promising alcohol salespeople to Level 1 sommelier classes. "This investment brings dividends. We're trying to add a level of professionalism to our wine sales," Mariano says.
Grocery consultant Bishop has noticed the advantage. He's visited the Mariano's chain and its local competitors for wine samplings and thinks the Mariano's events come off as more professional with better salesmanship. Bishop believes that the convenience of buying food and beverages together will steer an increasing number of shoppers to buy their alcohol from chains like Mariano's.
"In supermarkets, wine and spirits are probably the fastest-growing category in terms of both unit and dollar sales," Bishop says. "Sure, a liquor superstore may have 30,000 square feet of wine and spirits, while Mariano's has closer to 3,000 feet. But I only shop 3,000 square feet of a superstore anyway, so the convenience is compelling. And so is the synergy of food and beverage in the same place."
Mariano's has been an expensive startup for Roundy's Inc., but the retailer ignores much of the chatter from Wall Street about earnings. "We're building a company for the long term," Mariano says. "That will take time. We think we're on the right path for now."