With the Bourbon boom dominating the whisk(e)y conversation for years now, other whiskies—perhaps especially Bourbon's close cousin rye— are oft-overlooked. "The fact that Bourbon is immediately what comes to a lot of peoples' minds when they think of a whisk(e)y cocktail gives the spirit a leg up and has left rye in the dust for a long time," says Andrew Erickson, bar manager at Fable Lounge in Nashville. 
But it certainly wasn't always this way. "Historically, rye was extremely popular in North America leading up to Prohibition," notes James MacInnes, beverage director at Kaori in Miami. "After America's 13-year hiatus from drinking, the category as a whole was left behind. But rye has had a huge resurgence in the past decade—what was once a forgotten bottle on the back bar is now a go-to flavor profile for a wide range of cocktails." 
Austin Carson, co-owner and bar manager of the Denver restaurant Olivia, also acknowledges this uptick in rye fanfare. "Of the classic drinks in today's canon that call for whiskies, I'm finding folks requesting rye more often than in the past," he says. "I think it's fair to say that this is because rye typically has a little more personality than many of its contemporaries." 
Erickson has also noticed guests requesting whisk(e)y cocktails with rye more and more frequently, even in place of beloved Bourbon. "The popularity of rye-based cocktails has grown as palates stray further away from sweet drinks," he says. "Rye's revival has been a long time coming and is a welcome trend."
Spice Is Nice
Many bartenders today remark on the U.S. palate's movement away from sweet drinks, and rye whiskey has benefitted greatly from this trend. "So often I hear the words 'not sweet' from guests, and rye gives us the ability to create a whisk(e)y cocktail from a less-sweet start," says Doug Fisher, beverage director at Morris American Bar in Washington, D.C. "One way I describe the difference between Bourbon and rye is to imagine the difference between cornbread and rye bread. Both are delicious, but sometimes you prefer one over the other." 
Indeed, while Bourbon and rye are closely related, rye offers a whisk(e)y fan something with a little more kick. "Considered the drier and spicier cousin of Bourbon, rye allows bartenders to retain the bite that a true whisk(e)y cocktail should have," says Kaori's MacInnes. "I always reach for rye when making classic stirred cocktails. Bourbon can become overly sweet if you aren't careful with your sugar ratios, but rye has an uncanny ability to shine through in various classic formats." He adds that a guest favorite at Kaori is a drink called the Monte Carlo. "This classic cocktail from Dave Embury's 1948 groundbreaking cocktail guide The Fine Art of Mixing Drinks is a fantastic substitute for an Old Fashioned," he says. "I think this cocktail is an organic transition for people who normally wouldn't dabble in the rye category." The drink ($15) blends Redemption rye, Bénédictine herbal liqueur, and Angostura bitters.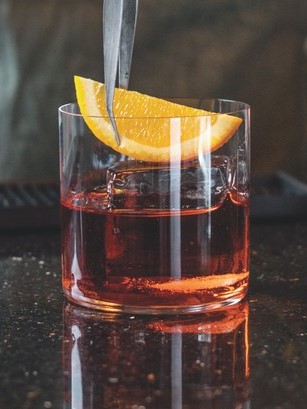 "I really like the spiciness and herbality of rye—other whiskies bring different things to the table but I've always enjoyed rye's edginess," Olivia's Carson says. "When mixing with rye I tend to follow the general paradigms of classic American whiskey cocktails just knowing that the use of rye will change the personality a bit. Rye slides quite easily into many classic recipes." Indeed, Carson's rye cocktails at Olivia all follow the basic guidelines of classic recipes but with his own added flair: His Black Manhattan ($15) features Woodford Reserve Rye, Giffard Banane du Bresil banana liqueur, Amaro di Angostura, and clarified coconut water, all of which have been infused with Earl Grey tea; his Boulevardier ($15) comprises Peanut Butter-infused Rittenhouse Rye, strawberry- and vanilla-infused Campari aperitif, Montenegro amaro, and house-made dark chocolate bitters; and his Pumpkin Spiced Pumpkin Seed-Infused Rye Boulevardier ($15) mixes Woodford Reserve rye, Campari, Carpano Antica Formula sweet vermouth, Averna amaro, and water, all of which has been infused with housemade pumpkin spiced pumpkin seeds. Another a twist on the Boulevardier is the Bienville Bitter ($12) at Squid Ink Eclectic Eats and Drinks in Mobile, Alabama, featuring Rittenhouse rye, Campari, Luxardo Maraschino liqueur, and rose-infused Dolin Blanc vermouth. "The Boulevardier is one of my favorite cocktails, and this riff, with the floral vermouth and nutty Luxardo liqueur, creates a well-balanced, feminine and masculine cocktail," says bar manager Katie Ryan, who created the drink. 
Charles Bement, beverage director at the Chicago-based B. Hospitality Co., notes a preference for working with rye over Bourbon because it usually has a stronger nose and palate. "Compared to Bourbon, rye has less vanilla and caramel apple flavor and more cinnamon and candied orange," he says. "That makes it a fun spirit to work with." Bement's Perfect Pear ($16) is a take on the Perfect Manhattan that he's planning to offer at Formento's this fall and comprises Sazerac rye, St. George Spiced Pear liqueur, Meletti amaro, Gran Bussano Bianco and Carpano Antica Formula vermouth, garnished with a dehydrated orange slice that's been steeped in Angostura bitters. At Morris American Bar, Fisher's Perfect Manhattan ($15) uses Laws Whiskey House San Luis Valley Rye. "We keep several varieties of rye at Morris, but we really love the San Luis Valley rye and it works well in our Manhattan-style drinks," Fisher says. "But if someone is looking for a rye cocktail that's shaken with some citrus, I often turn to the 1930 Harry Craddock classic the Scofflaw." The drink ($15) mixes Laws Whiskey House San Luis Valley rye, Dolin dry vermouth, lemon juice, house-made grenadine, and Angostura Orange bitters. 
At Fable Lounge, former bar manager Ellen Talbot's Her Majesty ($16) is a play on the traditional Sherry Cobbler, featuring Wild Turkey 101 Rye, Bodegas César Florido Cruz del Mar Amontillado Sherry, Demerara simple syrup, and muddled orange. "Wild Turkey 101 builds up the alcohol content in the drink and creates a firm structure on the palate, and its caramel and baking spice notes play off the nutty flavors found in the Sherry," Erickson says. "Rye whiskey's bold taste can hold up to the addition of big flavors and won't be masked easily—this makes it a must-have for any home bar where you enjoy making Manhattans, Boulevardiers, Sours, and Sazeracs."
Strong Presence
Erickson notes that he appreciates rye's ability to stand out even in cocktails that have many ingredients. "It can be a great focal point in classic, spirit-forward drinks with fewer ingredients but its bold flavor can hold up to the addition of juices, syrups, liqueurs, and shrubs as well," he says. Proving that rye can indeed shine even when paired with other bold flavors, Erickson's Café Old Fashioned ($13) features Standard Proof Red Eye rye, Old Forester 100 Proof Rye, cold brew coffee, Demerara simple syrup, Regans' No. 6 Orange bitters, and a dash of saline, while his False Shadow ($15) comprises Old Forester 100 Proof Rye, Don Ciccio & Figli Mandarinetto liqueur, Campari, and Carpano Antica Formula sweet vermouth. "Rye whiskey's versatility and strong backbone of flavor make crafting cocktails with it so much fun," Erickson adds. "With all of the different flavor profiles you can find across different brands of rye it's easy to see why so many new and interesting rye cocktails are appearing on menus." 
At Fine & Rare in New York City, beverage director Young Kim's Smoking Old Fashioned ($20) features Old Overholt rye, Demerara simple syrup, and Angostura bitters, and is infused with smoke from the guest's choice of wood chips. "When working with other ingredients, rye stands out as the main character rather than being lost within the cocktail," she says. "Rye works well with any ingredients from the basic sugar, water, and bitters to fruits and creams. Creative bartenders from all around the world are incorporating exotic ingredients like coconut cream, lychee, spices, and herbs to add body and flavor to their drinks while ensuring the rye is dominant." At Barn8 Farm Restaurant & Bourbon Bar in Goshen, Kentucky, bar manager Randi Densford's Cowgirl Coffee ($10) is a warm cocktail of Rittenhouse rye, coffee, house-made spiced coconut cream, and housemade spiced walnut syrup.
"Traditionally, you'd only ever find rye whiskey in Old Fashioneds or Whiskey Sours, but now you'll see this beloved spirit incorporated into every format possible," Kaori's MacInnes says. Indeed, although rye whisky is most commonly associated with these classic recipes from years past, today's bartenders look to practically every edible thing in the kitchen as a potential cocktail ingredient, and so rye-based cocktails are getting more and more creative. At Gadabout in Chicago, beverage manager Josh Martinez's Rye to Perdition ($13) mixes Maplewood Rye to Perdition rye whiskey, Batavia-Arrack van Oosten, St. Elizabeth allspice Dram, Averna amaro, pineapple purée, coconut milk, lime juice, house-made red cabbage shrub, and house-made orgeat syrup. "The idea with this drink was to make a tiki cocktail with rye whiskey that was more savory in nature and thus able to satisfy a discerning palate," Martinez says. "The red cabbage shrub gives it nuance, depth of flavor, and a style all its own without being overly vegetal, thus maintaining its approachability." 
At the High West Distillery Saloon in Park City, Utah, the company's rye expressions are featured in various unique concoctions such as the Koji Collins ($15), created by bartender Josh Novaski, featuring High West Rendezvous rye, Plantation Stiggins' Fancy pineapple rum, Montenegro amaro, house-made miso syrup, and lime and yuzu juices, and the Blackthorn ($15), created by bartender Wade Williams, blending High West Double Rye!, Avua Amburana Cachaça, Yellow Chartreuse liqueur, The Perfect Pureé Guava pureé, lime juice, and soda water. "Rye is a surprisingly versatile spirit," Morris American Bar's Fisher says. "There are so many Old Fashioned-style cocktails that feature rye, but a rye Gimlet is fantastic too. Try adding some orange bitters to a rye gimlet, or a couple of slices of orange to a rye-based Collins in summer or some apple cider to a rye-based Collins in autumn. Rye plays very with Yellow Chartreuse, Bénédictine, honey, and myriad other ingredients as well." His Harvest Collins ($15) comprises Laws San Luis Valley Rye, lemon juice, house-made cinnamon syrup, honeycrisp apple cider, and club soda, while his Best Friend ($15) features Laws Whiskey House San Luis Valley rye, Yellow Chartreuse, honey, and Angostura bitters. "Rye has a glorious past with cocktails and a brilliant future," Fisher adds. "The grain-to-glass and locality of rye make it desirable to many, and working it into a variety of cocktails is easy. The possibilities are endless."