Nerello Mascalese, Nerello Cappuccio, Frappato, Nero d'Avola, Catarratto, Grillo. These aren't varietal names that roll easily off the tongues of American wine consumers, but they're slowly gaining recognition as Sicilian wines edge into the spotlight.
After decades of little volume and less cachet in the U.S. wine market, Sicilian wine producers have shifted gears over the past five or six years. They're emphasizing more upscale labels and are making inroads in the U.S. market—primarily at the super-premium and luxury tiers. Volumes are still relatively small, but Sicily has become a favorite category among sommeliers, and consumers are increasingly willing to explore what this Italian island has to offer.
"A big differentiator for Sicily as a wine region is its indigenous grapes—the most well-known being Nero d'Avola and Grillo," says Antonio Rallo, co-owner of Sicilian wine producer Donnafugata and president of Sicilia DOC, the biggest appellation in southern Italy. "In addition to these two popular varieties, innovative Sicilia DOC winemakers have also created blends with an assortment of indigenous grapes and international varietals. Those blends have shown the versatility of Sicilian grapes, but our winemakers also remain rooted in the indigenous flavors that set Sicily apart from other wine regions."
Setting themselves apart wasn't always a goal for vintners in Sicily. The region and its indigenous grapes once were relatively obscure, as vintners sought to produce international varietals like Chardonnay and Cabernet Sauvignon that were exported mostly to northern European markets, according to Giacomo Turone, senior vice president of brand development for Palm Bay International. "Sicilian winemakers still had this incredible heritage of native varietals that they never abandoned, but it's only in the past 15 years that they have re-evaluated it," Turone says. "Grillo, for example, was slightly forgotten. But as the Sicilians went back to look at old and native varietals, they figured out how to grow it, where to pick it, and how to make it last longer in the bottle and be a viable alternative for the discerning wine consumer."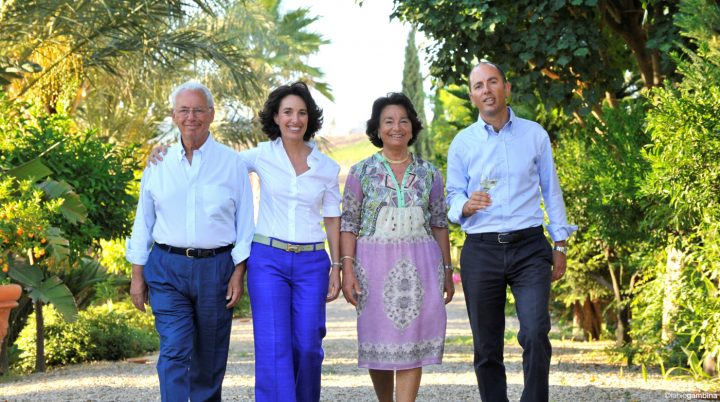 Rallo says the indigenous grapes are attractive to sommeliers and consumers looking for something different. Ted Campbell, senior vice president and general manager of Winebow's LLS division, agrees. "Sommeliers love unique varietals and areas," he says, adding that Sicilian wines have captured the attention of gatekeepers in the on-premise. "Because the varietals are new to consumers, they like the opportunity for trial. Right now, we're not seeing it translate into massive retail growth. There's a lot of on-premise and independent retail. But if you go into national accounts, the amount of Sicilian wine is limited because, without the appropriate educators to talk about the wines, people are still not that familiar with some of these varietals."
Jeff Cirace, co-owner of Boston retail store V. Cirace & Son, Inc., is one of those independent retailers who's keen on Sicilian wines and spreading that enthusiasm to his customers. "The region is new to people, and it's exciting when I sell them a bottle," Cirace says. "Consumers now know what Frappato is, whereas 20 years ago it didn't even exist in the American market. It's exciting for me because it's not just another Tuscan blend, Chianti, or Valpolicella."
Pietro Caldarelli, beverage director at New York's Feroce Ristorante and Bar Feroce, is also excited about the island's unique offerings. "In Sicily, there are a lot of blends of Cabernet Sauvignon and Nero d'Avola, or Syrah and Petit Verdot with Nero d'Avola," he says. "We find that guests lean toward those international varietals when ordering on their own. However, Sicily's diversity allows a sommelier to provide an array of recommendations. There's a growing consumer interest in a variety of reds that are common in Sicily, like Nerello Mascalese, Nerello Cappuccio, Frappato, and Nero d'Avola, as well as the white Zibibbo grapes, but there are other bold flavors that can satisfy any palate."
In the heartland, that consumer interest is still nascent. Evan Danielson, beverage director at City Winery in Nashville, says interest in Sicilian wines is "occasional" and limited mainly to travelers from other parts of the country or world. But, he says, curiosity is growing. "As people learn more about what Sicily has to offer, they're becoming more interested in its native grapes, because that's something different," he adds. City Winery offers three Sicilian wines, but the venue recently hosted a Mediterranean wine tasting that included ten selections from Sicily. "We saw a lot of interest and I'm hoping to bring a few more bottles on," Danielson adds. Currently, the Iniceri Abisso Catarratto is offered by the glass for $15.
The Etna Draw
The most prominent wine region in Sicily is Etna, a DOC on the northeastern corner of the island that blankets the lower slopes of Mount Etna, an active volcano that still erupts occasionally. The resulting volcanic soil is a key differentiator for the wines made from Etna grapes. Etna's popularity has helped push Sicilian wines to the fore. The quality of the wines, coupled with the stories that back key brands emerging from the region, is a big draw for consumers, says Gregory Doody, president and CEO of Vineyard Brands. "It's volcanic soil, and there's a lot of interest in that and in the indigenous grape varietals that are on the mountain," Doody notes. "I don't think consumers necessarily have to know the varietals or be able to pronounce them. The name Etna gets them to drink the wine." Vineyard Brands imports the Etna-based Tenuta di Fessina, which mainly produces Nerello Mascalese, Nerello Cappuccio, and Carricante.
Nerello Mascalese, the most prominent grape varietal from the Etna region, is "the hot varietal and what you might call the flavor of the month," according to Bob Calamia, a wine buyer for Binny's Beverage Depot in Illinois. He says same-store sales for all Sicilian wines are up about 15% over last year, with most of the growth coming from wines that retail for $20 or more. Tenuta delle Terre Nere, an Etna wine, has "surged in sales," he says, along with Donnafugata, which has vineyards in Etna and elsewhere in Sicily.
Zev Rovine, owner of Brooklyn-based importer Zev Rovine Selections, says Etna offerings add another layer of interest for wine drinkers. "I think the fact that it's an active volcano is interesting to people, both from a soil perspective and the spectacle of this thing erupting all the time," he says. Rovine imports wines from Frank Cornelissen, whose Susucaru Rosato (around $30 a 750-ml.) is in high demand. "Before it arrives it's sold out, and we get quite a lot of it," Rovine says. "It's the wine that people fight for the most in our entire portfolio." More generally, Rovine says winemakers on Mount Etna are constantly upping their game. "They've done a lot of work on Etna to find single-vineyard parcels," he says. "They want to be perceived as a terroir-driven wine region."
At Mille Lire, an Italian restaurant in Dallas, winemakers' efforts are being recognized by the venue's discerning customers, according to general manager and in-house sommelier Roger Bissell. "Customers are refined and are seeking more knowledge of Etna Rossos and Etna Biancos," he says. Mille Lire counts two Etna Biancos and three Etna Rossos among the 13 Sicilian selections on its wine list. "Etna Rossos and Biancos appear to be skyrocketing in price, but they're still over-delivering in value when compared to other wine regions of the world," Bissell adds. His lowest-priced Etna wine is the 2016 Tornatore Etna Bianco at $52 a 750-ml., while the 2016 Graci Etna Rosso occupies the high end at $79.
Premiumization Push
Etna wines might be leading the pack on pricing, but wines from other regions of Sicily have moved markedly upscale over the past several years. Vittoria, a town in southeastern Sicily, is home to well-known producers including Valle dell'Acate, COS, and Occhipinti. The city of Noto, also in the southeast, is home to such producers as Planeta, Zisola, and Feudo Maccari. Meanwhile, wine district Faro, located in the northeast, is emerging as a small but powerful player in the luxury realm.
Naturally, there are many other wine regions in Sicily that have met with varying degrees of success. But Palm Bay's Turone and others note a cooperative atmosphere in bringing Sicilian wines to the fore. "Sicily has an abundance of territories dedicated to vineyards, so the volume can reach the consumer in multiple ways with multiple stories," Turone says. "And the Sicilians are working in a very collaborative way in terms of communicating about their wines. They're not fighting with one another. They're actually working together to invest in that message and in being present together in the market with their diverse set of offerings."
Part of that cooperation is investing in quality. "Most producers have walked away from the $10-and-under business," Winebow's Campbell says. "You can still find it, but it's such a competitive category around the world that it's just not where their focus is right now." Instead, he says, the dynamic sector within Sicilian wines is firmly in the super-premium-and-above pricing band. "With the mono-varietals, you'll see prices at anywhere from $15-$20," he adds. "The Etna wines are at an ultra-premium price, closer to $30 at retail."
Some producers are pushing boundaries. Mandrarossa, produced in Menfi and imported by Palm Bay International, will be testing upper-end resistance on two new wines, a Grillo and a Nero d'Avola, later this year and into 2020, according to Turone. "They've identified a specific village that makes exceptional Grillo and a specific village that makes exceptional Nero d'Avola," he explains. "The Grillo is going to retail for about $25, maybe more. We haven't yet defined this, but it's new territory. Right now, Grillo is a $10 bottle of wine. The idea is to continue exploring the potential of these grapes. Sicilian wineries are digging deeper. They want to show everybody that they can make wines that are just as good as the Piemontese, the Veronese, or the Tuscans, as well as wines from other parts of the world."
As a retailer, Cirace sees a willingness among his consumers to embrace the higher-end offerings when the quality is there. "People are willing to spend $30 for a bottle of Sicilian wine, whereas 30 years ago you could have bought six bottles for that price," he says.
Binny's sells the largest volume of Sicilian wines in the $8-$15 price band, in line with its trends for most wine regions. Yet sales are warming up. "Three years ago, you'd have to go 12-15 wines deep into a sales report for Sicily to find one that retailed at $20," says Calamia. "Now our No.-4 Sicilian wine is $20."
Coupled with the attractive price-quality ratio, Sicilian wines also have an edge in sustainability. Sicily accounts for 38% of organic wine production in Italy, according to Rallo of Sicilia DOC. "Sicily's climate makes it perfect for organic farming," he says. "It has roughly 300 days of sunshine per year, temperate Mediterranean influences, island winds that protect against frost and mildew, and one of the longest harvests on the planet, lasting more than 90 days. Knowing that consumers in the U.S. have placed a greater emphasis on well-being and environmental sustainability, we believe we're on track to see continued growth and demand among sustainable wine production in the coming years."
Rovine of Zev Rovine Selections doesn't underestimate the impact of such practices. He says that consumers of Sicilian wines tend to be millennials who have shown interest in and regard for companies that make sustainability a centerpiece, noting, "The organic aspect seems like another wave vintners can ride to keep Sicilian wines relevant and prosperous."