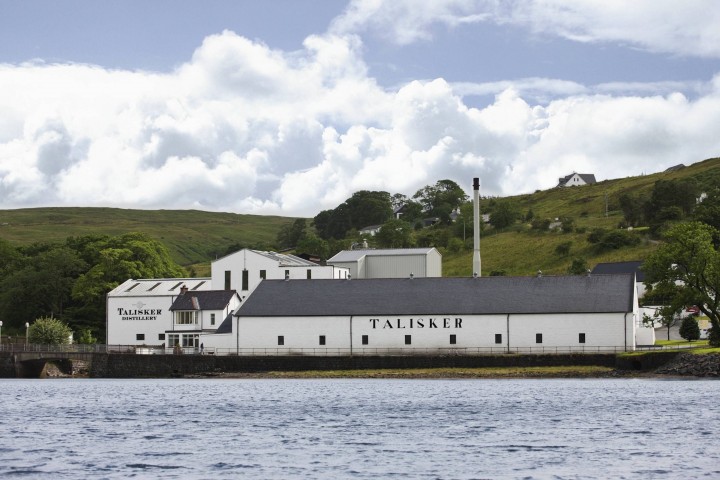 A year ago, Diageo North America released its first single malt Scotch without an age statement, and despite fears from some marketers, the world did not come to a halt. The product, called Talisker Storm, retails at $66 a 750-ml. bottle, and sales have been robust.
Diageo is further pushing the envelope this fall with the rollout of its Mortlach brand to a wide market for the first time. Tellingly, two of the line's key expressions have no age statement—the Mortlach Rare Old ($130) and the Special Strength, which isn't currently available in the United States. Says one executive at a rival distillery: "Diageo is asking consumers to buy Rare Old purely on faith, with no age and no track record. They couldn't have pulled off something like that in the single malt market a decade ago."
Maybe not, but more and more single malt Scotch today is coming in something other than a 12- or 18-year-old guise. As older whisky stocks have been depleted, master distillers have increasingly invested in better and more potent wood finishes in the barrels housing their young liquid. Critics are impressed by the fresh direction. Talisker Storm garnered the "Highlands/Islands Single Malt of the Year" award from Market Watch sister publication Whisky Advocate, while other non-age-statement labels, such as The Macallan Ruby and Kilkerran Work in Progress 5 Sherry Wood, also received honors—"Speyside Single Malt of the Year" and "Lowlands/Campbeltown Single Malt of the Year," respectively.
The evidence thus suggests that this rising trend isn't dumbing down the single malt category or just giving distilleries a shortcut to greater profits. "Lack of an age statement is less of a concern to consumers today than it once was," says Brian Radics, director of Scotch whisky for Diageo North America. "It frees up master distillers to create the flavor profile they want by using a wider selection of barrels of all ages." He adds that the company's master distillers have never liked the idea of having to declare an age on a bottle. "They don't like being pigeonholed," Radics explains. "It seems fairly certain that you'll see more products from us in the future with no age on the label."
Of course, it seems that every year distillers complain about vanishing stocks of old whisky and then dig deeper into their inventories to find a few barrels that are truly age-worthy. Just as it was offering up Talisker Storm, for instance, Diageo also began marketing the Port Ellen 34-year-old ($2,000 a 750-ml. bottle) and the Brora 35-year-old ($750), among other collectibles. The talk about moving beyond age statements goes only so far because the big Scotch houses still like to show off special releases.
Edrington Americas is also climbing on the no-age bandwagon. In September, the company launched a new Highland Park single malt called Dark Origins ($80), aged in twice as many first-fill Sherry casks as the 12-year-old. In September, Edrington also released to limited markets The Macallan Rare Cask ($300), a new expression that's aged in the top 1 percent of the company's Sherry barrels.
Edrington Americas president and CEO Paul Ross says the company has no intention of turning its back on the core age range. But Edrington has been successful at managing its production of barrels in recent years and is now prepared to lay down Scotch in newer and better wood. "It's all about selecting the casks at the right time and place and giving our master distillers permission to select casks when they're ripe instead of when they've already fallen to the ground," Ross explains. "It's putting creativity back into the whisky-making process. There's a growing realization that a 21-year-old Scotch from inferior wood may not taste as good as a 3-year-old from first-fill Sherry casks. There's no smoke or mirrors at work here. Consumers will tell us pretty quickly whether they like our new products or not."
So far, consumers like what they see. The Macallan has been the most forthright of all Scotch brands in raising prices in the past couple of years. Ordinarily such increases would put a dent in demand. Not for The Macallan, however: Its sales leapfrogged 20 percent last year to 186,000 nine-liter cases in the United States, according to Impact Databank. That growth rate more than doubled the pace of the entire category, which advanced 9 percent to 1.27 million cases in 2013.
Focus On Finish
It's no surprise that a Bourbon specialist like Beam Suntory is engaging in its own age-free experiments. In September, the company introduced a new expression with no age statement dubbed Laphroaig Select ($55 a 750-ml. bottle) that's advertised as a blend of 10-year-old, Quarter Cask, PX Cask and Triple Wood (European oak casks). In short, the peat is subtler than it is in the Laphroaig 10-year-old ($50), and there are discernible oak and sweet notes on the palate. Also, Beam Suntory is undercutting its Bowmore 12-year-old, priced at $46 in the United States, with a new expression called Small Batch, retailing at $40. The company's Glen Garioch, which features an entry-level 12-year-old at $65, now has an expression called Founder's Reserve at $45, with no age specified.
Claire Richards, brand director of whiskies and Cognac for Beam Suntory in the United States, believes that consumers are hungry to try new styles of Scotch. "The Scotch connoisseur is on a whisky journey. Innovation is important," Richards says. "Age will always play a role in Scotch, but we have been thinking about how we should innovate beyond age. Looking at different woods and casks and how they interact with the liquid is what we're experimenting with."
With such expressions as Lasanta ($63), Astar ($100) and Signet ($230), Glenmorangie has done as much in recent years as any brand in breaking the hammerlock of age statements. The approach by parent company Moët Hennessy USA seems to be working well, as depletions in the United States jumped 17 percent in 2013 to 108,000 cases. Glenmorangie's Private Edition series whiskies, which are introduced each year with no age statement, have been particularly successful. The latest was Companta, aged in a combination of Burgundy wine casks and other French oak and priced at $100.
Glenmorangie brand director Maxime Balay notes that casks have become steadily more expensive—a rising cost that Moët Hennessy is passing onto consumers. Overall prices in the line were up about 6 percent last year. The Glenmorangie Nectar D'Or Sauternes Cask single malt—priced at $65 as recently as two years ago—is now retailing for $70 or even $80 in most venues. "Sauternes casks are on strict allocation, and what casks we can get are significantly more expensive," Balay explains. "We've been cautious in not wanting to take our prices up, but at this point we're being forced to take action."
Glenmorangie has invested aggressively in its marketing. Its "Unnecessarily Well Made" campaign has promoted the company's special stills and its practice of never using a cask more than twice. The brand has been a sponsor of the British Open golf tournament since 2011 and more recently signed on British golfer Nick Faldo as a brand ambassador, putting him to work headlining high-profile tastings and dinners at such luxe restaurants as Le Bernardin in New York. Ads continue to run in Wine Spectator and Cigar Aficionado, and the brand has also invested in magazines like Golf and Golf Digest.
There's a different kind of age statement that Glenmorangie has trumpeted of late—vintage dating. Releases have included Glenmorangie 1963 at $2,600, Glenmorangie Pride 1978 at $5,800 and Glenmorangie Pride 1981 at $3,600. "These vintage dates are our way to showcase our old whiskies," Balay says. "They create a luxury halo over the rest of our portfolio."
Pricing Push
Like Moët Hennessy, William Grant & Sons USA has boosted prices on many of its labels, which may explain why sales of its Glenfiddich brand increased less than 2 percent to 132,000 cases last year. The Balvenie—another William Grant brand—is performing better, with sales up almost 16 percent to 73,000 cases in 2013. The label is stealing a page from Bourbon country and offering single barrel expressions in both a 12-year-old ($70) and a 15-year-old Sherry Cask ($100). This fall, a 25-year-old Single Barrel will be introduced at $500. All the single barrels are non-chill-filtered and are bottled at higher proofs than the brand's core variants.
The Balvenie also offers a 50-year-old for a suggested retail price of $38,000. The brand has experimented with non-age-statement expressions in recent years, but Andrew Nash, category marketing director for Scotch at parent company William Grant & Sons Ltd., is skeptical about any new trend taking hold. "In our core range at both The Balvenie and Glenfiddich, we continue to use age statements," Nash says, noting that a lot of the competitors' products don't have sufficient stocks on hand to meet the demand. "It's easy to argue that age statements are becoming irrelevant if you don't have enough older whisky in the first place."
The Glenlivet, Pernod Ricard USA's category-leading single malt, grew at a nearly 7-percent pace to 385,000 cases last year, according to Impact Databank, putting it for the first time slightly ahead of its blended stablemate, Chivas Regal. Higher prices for The Glenlivet 12-year-old, which has increased from $36 to around $40 in many key markets, may have slowed sales a bit. "It's never easy to take more price," says brand director Laurent Cutier. "Nobody likes it. But people in the trade realize we didn't take any new price for a few years after the recession and they're being understanding about it."
The Glenlivet could also use a new line extension, and it's getting just that this fall: The Glenlivet Nàdurra Oloroso Sherry Cask ($80), bottled with no age statement at 48-percent alcohol-by-volume (abv). Cutier calls another Pernod single malt line, Aberlour, its craft brand. It starts with the 12-year-old at $52 and goes up to the 18-year-old at $105. But the company is staking a lot on Aberlour non-age label A'bunadh (meaning "the origin" in Gaelic), bottled at cask strength and priced at $82—filling a void between the Aberlour 16-year-old ($72) and the 18-year-old. "The A'bunadh is made from an old recipe that should appeal to connoisseurs," Cutier says.
At Anchor Distilling Co. in San Francisco, non-age-statement expressions are currently all the rage. Through Anchor, the revived Glenglassaugh distillery is introducing a label called Revival at $65, employing whiskies between 4 and 6 years old. "They're using a very high percentage of first-fill wood casks, so the Revival tastes more mature," says Anchor president David King. The Revival, of course, carries no age statement and neither does another Anchor offering, The Glenrothes Select Reserve, containing whiskies aged for eight to 15 years and priced at about $50. King admits an 8-year-old age statement won't resonate with U.S. customers, adding that "it would be counterproductive."
Anchor's BenRiach brand is now available in a dizzying array of 20 expressions, some with age statements and some without. Retailers can't be expected to carry all or even most of them, of course, but King is unfazed. "In craft spirits today, consumers are saying they want more choice. My job is to give it to them," he says.
Having It Both Ways
Other importers are playing both sides of the Scotch age divide. Impex Beverages, for instance, imports the Kilchoman line, including a single barrel cask-strength expression priced around $120, with no age statements at all. Then there is the Chieftain's brand, including a 30-year-old priced at $230, and all the whiskies carry age statements. The company is also offering private or custom casks to big retailers around the country.
International Spirits and Wines is importing bespoke barrels for its best customers too. "We like this service because retailers then have a stake in the brand and are sure to get behind it," says national brand director Brad Jarvis. "On the custom casks, we take less margin and we ask both wholesalers and retailers to cut their margins a bit too. That results in a nice, special product for the store or the bar."
Merchant bottlers continue to be a force in the single malt category. Many are introducing bottlings of extraordinary age from their own stocks. Martignetti Cos.' Classic Imports division has The Glenlivet 70-year-old at about $27,000 and Mortlach 70-year-old at $26,000. Big hotels in Las Vegas are typically the most interested buyers of such esoterica, notes Chris Riesbeck, a Classic Imports senior brand ambassador. "We're not seeing any downtrend in the appetite for luxury bottlings," he says. "If anything, it's increasing."
Retailers and bar owners are divided on the future for age statements in Scotch. Lawrence Daniel, the managing partner of the recently closed Downing Street Pub in Houston, says that for years, customers grew comfortable with the classic concept of entering the single malt category first at the 12-year-old level. "People grew comfortable with The Macallan 12-year-old and then ascended the vertical in a predictable fashion from there," he says. "We had things like The Balvenie 40-year-old here for $250 a pour that sold like wildfire. A lot of faith was attached to the age statement."
Andrew Abrahamson, the general manager of the Seven Grand Whiskey Bar in Los Angeles, says that his customers "still look at age as a barometer to justify the price. They're willing to experiment if the bartender has the time to step in and explain the story behind a Scotch with no age statement." Abrahamson, who oversees a back bar of 250 single malts, is more concerned at the moment about escalating prices. The Macallan 18-year-old is currently priced at $34 a 1¾-ounce pour at Seven Grand. A few years ago, it was closer to $25. "Every time we order, it seems the prices are going up," Abrahamson says. "We don't want people to think that we're the ones raising prices all by ourselves."
Much has been made of the rise of Bourbon and Irish whiskey in the past couple of years and the challenge that trend poses for Scotch. But Alpana Singh, co-owner of the Boarding House restaurant in Chicago, notices that single malt has one powerful advantage in the competition. "People drink Bourbon in cocktails before dinner and maybe with dinner," she says. "Yet Scotch is replacing Cognac as a digestif after the meal. Bourbon isn't as much about ending a meal. Scotch is rapidly taking on the role once played by Cognac." And Cognac, she adds, has done just fine for centuries with age statements rarely splashed across the front label.