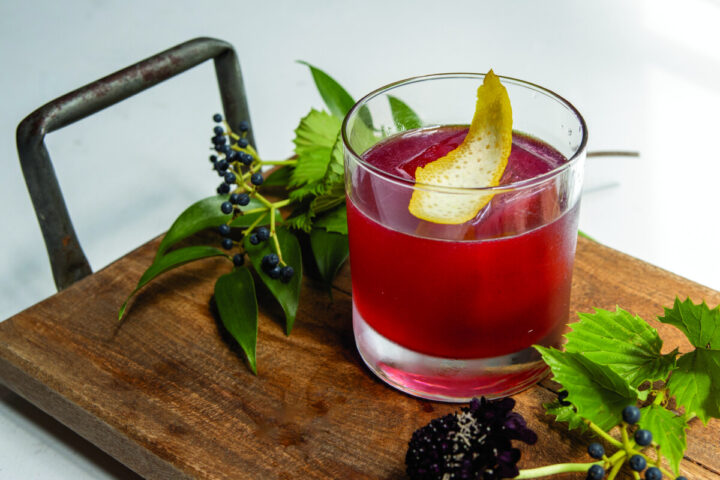 It may be hard to believe now, but it wasn't all that long ago that Bourbon and rye were thought of as "something only your grandpa would drink," notes Adam Morgan, bar manager of Husk in Nashville, Tennessee. Thankfully, the story is very different today. "Now they've evolved into mainstays on all cocktail menus," he notes. 
Keith Ervin, food and beverage director at Elm Street Cask & Kitchen in Dallas, similarly notes American whiskey's former identity as a certain type of older gentleman's drink. "But these days, Bourbon and rye are trendy, and restaurants and bars are very competitive in developing unique and tasty cocktails with these spirits as the showpiece," he says. "I think Bourbon and rye are so popular because of their higher quality, higher proofs, and exclusivity—there's evident pride in ordering a cocktail made with America's homegrown spirit." 
Em Sego, beverage manager for Hotel Genevieve in Louisville, Kentucky, recalls that in the early 2000s, the popularity of TV shows like "Mad Men" helped increase the demand for Bourbon by portraying it as a sophisticated and stylish drink. "Around this time, the Old Fashioned and Manhattan grew in popularity in bars everywhere, and let's not forget to mention that craft cocktails and craft cocktail bars themselves were rising in popularity around this time as well," she says, adding that craft Bourbon producers started emerging too, which made high-quality Bourbon more widely available. 
Sego points out that the Bourbon boom paved the way for rye to take off in a big way as well. "My prediction is that eventually rye whiskey will be produced at the same rate Bourbon is being produced now," she says. "It's been a really beautiful thing to watch evolve; living here in Louisville, I'm fortunate to watch the expansion of the Bourbon boom take off right in my backyard." She adds that Bourbon- and rye-based cocktails in particular have grown in exciting ways. "I'm seeing Bourbon and rye being used in cocktails in ways I never would have imagined," she says. "We may still be drawing inspiration from classic cocktails, but we've come a long way from the standard Old Fashioned and Manhattan." 
The Bolder The Better
Sego notes that although Bourbon and rye are versatile enough to work in any style of cocktail, stirred cocktails remain very popular with these spirits, as they allow their textures and mouthfeels to shine. "Rich, silky flavors and ingredients are often incorporated to enhance those maturation notes like vanilla, caramel, butterscotch, maple, marshmallow, and toffee," she says. "Nutty notes like walnut or almond marry incredibly well with both Bourbon and rye. I like to pair them with earthy and sweet notes like mushroom and maple or camp fire and burnt sugar." Her A Lasting Impression ($15) at Hotel Genevieve's speakeasy Lucky Penny is a cherry wood-smoked cocktail comprising Castle & Key Small Batch Bourbon, house-made cinnamon demerara syrup, Fee Brothers Turkish Tobacco bitters, and The Japanese Bitters Umami bitters. 
Similarly a bold and smoky take on the Old Fashioned, the C&K Smoky Old Fashioned ($15) at Elm Street Cask & Kitchen is a maple wood-smoked drink featuring Knob Creek Maple Bourbon, smoked maple syrup, and smoked Angostura bitters. "There's a feel of sophistication that comes with sipping a Bourbon or rye cocktail," Ervin notes. "When guests are dining out, it's often a treat or a special event worthy of a luxurious and posh cocktail. Higher proofs, aging, and rare vintages dictate cost, and guests seek that opportunity to indulge a bit and have the flavor experience be worth it." 
Zach Weinstein, food and beverage manager for the Beacon Grand hotel in San Francisco, notes that as the craft Bourbon and rye market has become saturated, the public has acquired a more nuanced palate. "I think it's hard not to get behind distillers who are passionate about bringing the land out in their spirits," he says. "Gryphon & Grain California Bourbon, with grain sourced from Northern California, is a favorite of mine—it makes an amazing Old Fashioned." At the hotel's Beacon Lounge, bartender Anson Stahl's Bartenders' Old Fashioned ($21) mixes Gryphon & Grain California Bourbon, 7 spice-infused agave nectar, Regans' No. 6 Orange bitters, Angostura bitters, and Peychaud's bitters.
At Market Table in New York City, mixologist Kelsey Owens' That'll Do ($19) features bacon-washed Great Jones Bourbon, Giffard Abricot du Roussillon apricot liqueur, house-made Ajika-spiced peach molasses, Fee Brothers Black Walnut bitters, and Angostura bitters. "With Bourbon, it's easy to pick and support a distillery you want to highlight that has a story, and we absolutely adore Great Jones—they were the first distillery to open in New York City after Prohibition and their whiskey is beautifully bottled, delicious, and dynamic," says Lisa Komara, beverage director for Market Table parent company Blackfoot Hospitality. "The rise of artisanal spirits has broadened Bourbon and rye's reach; they go hand in hand."
Sego favors Castle & Key whiskies from Frankfurt, Kentucky. "This brand is just absolutely killing it—their approach to distilling is so unique and full of history," she says. "I typically like to use spirits that are 50% abv or greater when it comes to cocktails because they don't get lost in the mixers. Castle & Key Restoration rye comes in at 51.5% abv, and Castle & Key Bourbon Batches are between 50%-51.5% abv, making these whiskies ideal for cocktailing." At Lucky Penny, her All Aboard The Restoration Train ($15) is a take on the Paper Plane, blending equal parts Castle & Key Restoration rye, Aperol aperitif, Montenegro amaro, and house-made super lemon juice. Sego notes that over the last two years she's noticed the American palate leaning toward more bitter flavors over sweet. This can certainly be seen in the explosive popularity of Italian amari in recent years, which Sego notes pair well with both Bourbon and rye, but particularly the latter due to the baking spices present in both rye and amaro.
Husk's Morgan also notes an appreciation for pairing whiskey and amari. "The beauty of Bourbon and rye is that it can be applied in any manner and will still shine, but I tend to lean into the accenting underlying spice notes with an arsenal of amari." His Cask Of Amontillado ($32) comprises Husk's private barrel pick of Bardstown Bourbon, Cocchi Barolo Chinato, Clear Creek Pear brandy, Valdespino Amontillado Sherry, saline, and Boker's bitters.
"Big, bold flavors usually play well with Bourbon and rye, but keeping the sugar content low is important," says Sam Levy, bar manager at Fern Bar in Sebastopol, California. His Night Walker ($15) leans into strong flavors, blending Buffalo Trace Bourbon, coffee brewed with Cocchi di Torino sweet vermouth, Purkhart Nux Alpina walnut liqueur, and Aperol.
Maddie Kaye, bartender at Bern's Steak House in Tampa, Florida, says that as consumers have grown more educated on Bourbon and rye, they're looking for cocktails that are a little different but still spirit-forward. "The days of Jack and Coke are over, thankfully," she says. "I find that combining Bourbon, which brings sweetness and depth, with another spirit that supplies a more bitter flavor usually creates something delicious." Her Emergency Exit ($16) does just this, mixing Buffalo Trace Bourbon, Cocchi Barolo Chinato, Rosen Bitter Rosa Alpina liqueur, and Marcati limoncello.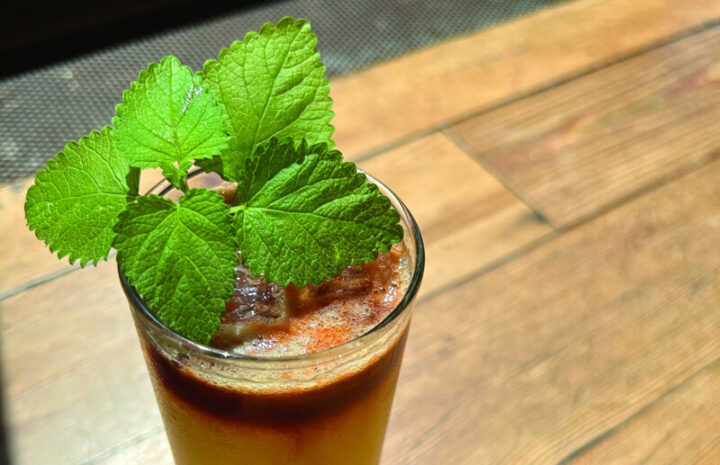 Brighter Blends
Kaye adds that when approaching making cocktails with Bourbon or rye, her mind splits into two different camps. "I can make a build that's inspired by a Prohibition-style combination, or something with citrus and other more 'poppy' ingredients to make something really bright and effervescent," she says, noting that rye tends to have more flexibility for creating the latter style. "Rye holds its own to citrus better than Bourbon, in my opinion," she says. "Mixing ryes with something balmy like orgeat or amaretto provide sweetness and texture to a cocktail that can blow people away." Her Rye, I Oughtta! ($16) features Sazerac 6-year-old rye, Nonino amaro, Chinola passion fruit liqueur, Giffard Orgeat syrup, fresh lime juice, and Angostura bitters. 
At Beacon Lounge, Weinstein's Trinidad Sour ($24) comprises Old Potrero 6-year-old rye, Braulio amaro, and Angostura bitters—the three of which have been washed with coconut oil—plus house-made avocado orgeat, fresh lemon juice, Bitter Queens Norcal Nancy Eucalyptus bitters, and Fee Brothers Fee Foam. "This Trinidad Sour riff has a higher proportion of rye than the original recipe calls for, and then I split the Angostura with Braulio and add an avocado orgeat for smoky richness," Weinstein says. "The traditional classics are great, but what I'm most interested in is the forgotten ones—it's fun to do a bit of digging." He notes that he has a sour palate, preferring to use wine-based modifiers in his whiskey drinks over syrups. His Allegheny ($19)—a take on the lesser known cocktail from the '70s—blends equal parts Old Potrero 6-year-old rye and Dolin Dry vermouth, plus Cappelletti Pasubio Vino amaro, and fresh lemon juice. "Both of these whiskey cocktails of mine are fresh, bracing drinks that move people away from the customary, spirit-forward expressions everyone is used to," Weinstein adds.
At Elm Street Cask & Kitchen, the C&K Paloma ($15) is a twist on the classic Tequila-based cocktail, featuring Four Roses Bourbon, honey, lemon juice, and Fever-Tree Sparkling Pink Grapefruit soda. "Few drinks can beat the Old Fashioned—it's the most popular Bourbon-based cocktail we serve—but gaining in popularity are Sours, Juleps, and Smashes," Ervin notes. Indeed, though bold and warming American whiskey cocktails will always be popular, brighter, citrusy ones also have their place. At Bern's Steak House, Kaye's Hye Tea ($16) features Garrison Brothers Bourbon and a drop of honey, which are poured over a large ice cube with Earl grey tea, simple syrup, lemon juice, and pink peppercorns frozen inside. At Husk, Morgan's Paging Dr. John ($15) mixes Old Forester 100 Proof Bourbon, Blandy's Rainwater Madeira, lemon juice, and house-made chamomile sorghum shrub, topped with soda water and an Angostura amaro float.
"Utilizing Bourbon and rye in cocktails that are not an Old Fashioned can be tricky at times since it seems that guests at every bar will order some type of Old Fashioned these days," notes Brian Christie, assistant general manager at Union New American in Tampa, Florida. "We wanted to make a drink that every guest would enjoy but also keep it classic—the result was the Shady Grove, which is approachable to new Bourbon and rye drinkers but also enticing to whiskey connoisseurs." The drink ($18) blends Buffalo Trace Bourbon, Licor 43, house-made orange sherbet, Lemon Sour AF, egg white, and Regan's No. 6 Orange bitters. "The notes of citrus in the Buffalo Trace are really enhanced when mixed with the orange sherbet, with added caramel and vanilla hints from the Licor 43," Christie adds.
Blackfoot Hospitality's Komara notes that while Old Fashioneds and Manhattans saw a significant resurgence in the 2010s, experimentation has flourished since then, to delicious results. "Consumers became more adventurous and educated and were open to trying drinks with different flavor profiles to grow beyond the classics, and with the growth of smaller distilleries, specialty cocktails grew," she says. "Spirits trends and cocktail trends are synergistic, so the development and availability of the spirits led to more experimentation and popularity of the cocktails featuring them." At Blackfoot Hospitality's The Mary Lane, bar manager Alex Mace's Perpetual Jam ($17) comprises Old Forester 86-proof Bourbon, John D. Taylor's Velvet Falernum, and house-made lemon blueberry shrub.
"House-made infusions and purées are now the standard here in California, where neighborhood restaurants have talented scratch bartenders," Fern Bar's Levy says, adding that in addition to the Old Fashioned build, Whiskey Sours and Whiskey Smashes are his "main squeezes" when it comes to Bourbon and rye cocktails. "A fresh blackberry Whiskey Smash? A white peach Whiskey Sour with a spicy element? Can't go wrong," he says. His Up In Smoke ($15) blends Redwood Empire Emerald Giant rye, lime juice, and house-made smoked blackberry jam, while bar manager Matt Katzin's Teaches of Peaches ($15) features Redwood Empire Pipe Dream Bourbon and Emerald Giant rye, fresh peaches, simple syrup, lemon juice, house-made chipotle tincture, and egg white. "Straight whiskey isn't everyone's cup of tea, so we like surprising people with a new realm of cocktails that can keep them excited about new things," Levy adds.