The recent success of hard seltzers in Delaware's Kreston Wine & Spirits stores has given rise to an emerging category, for which co-owner Jeff Kreston sees expanding opportunity. Packaged hard teas, led by Boston Beer Co.'s Twisted Tea brand ($16 a 12-pack of 12-ounce bottles or cans), are surging at the two-unit business, Kreston notes. "Twisted Tea is hotter than ever," he says of the top-selling hard tea. "No matter the package it's in—bottles, cans, bag-in-a-box—it does well." 
Hard teas are indeed trending, with both IRI and Nielsen reporting double-digit gains in 2021 year-to-date dollar sales through October 5. The surge follows similar gains in recent years by other spiked RTD products born of non-alcoholic brands, such as hard seltzers and hard lemonades. "Consumers who drink hard seltzers are looking for bigger flavors and are branching out," says Kyle Ingram, brand director at Sierra Nevada Brewing Co., which began testing Tea West hard tea in three markets last year, with plans to expand to ten more states, including California and Florida, in the spring. Yet, those consumers are still interested in many of the qualities they've found in hard seltzers, namely, reduced sugar and alcohol content, and no gluten. That makes spiked teas an ideal choice, adds Paul René, vice president of operations at Geloso Beverage Group, marketer of the Clubtails line of FMBs, which includes a Long Island iced tea variant. "Tea is a popular beverage so it makes sense that it would translate to hard teas," René says. "Consumers have been drinking teas and lemonades for decades, and now the industry is combining these traditional beverages with alcohol to fulfill a need." 
Maria Littlefield, co-founder of Owl's Brew, marketer of the eponymous "boozy tea" brand, says that while hard teas have been available for some time—Twisted Tea launched 20 years ago—they haven't latched on until recently. "It's an iteration of the better-for-you movement," Littlefield says. "Hard seltzer was first. Hard tea is next."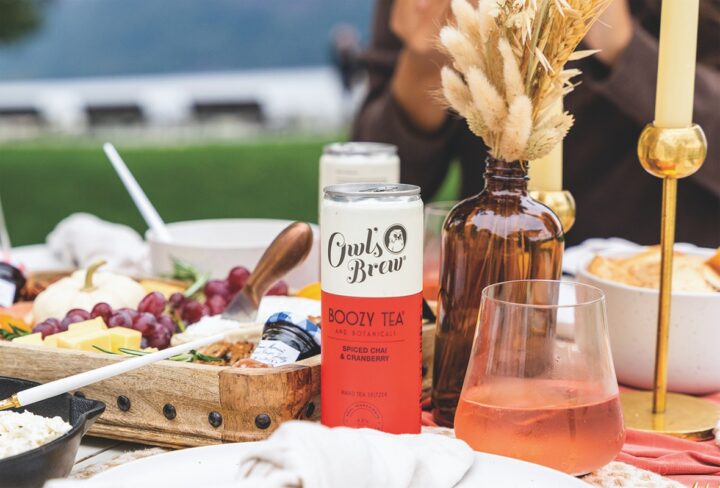 New Entries Abound
Category pioneer Twisted Tea, a consistent Impact Hot Brand honoree in recent years, is far and away the largest hard tea brand. According to IRI, Twisted Tea Original volume jumped 28% to 8.7 million (2.25-gallon) cases for the 52 weeks ended December 27, 2020, and that growth rate continued through the first three quarters of 2021. Twisted Tea Original, which clocks in at nearly 200 calories per 12-ounce serving, is now joined by brand mates that include Twisted Tea Half & Half, Twisted Tea Light, and Twisted Tea Slightly Sweet. Marketer Boston Beer expanded its investment in the category last year by leveraging its popular hard seltzer product with the launch of the less caloric Truly hard seltzer iced tea. Other similar hard seltzer line extensions introduced last year included Mark Anthony Brands' White Claw hard seltzer iced tea and Anheuser-Busch InBev's (A-B InBev's) Bud Light seltzer iced tea. 
In fact, A-B InBev is betting that hard teas have breakout power. Its Brewers Collective subsidiary has introduced a couple of hard teas in recent years, and in late 2021, A-B InBev acquired the Ocean City, Maryland-based Hoop Tea brand. The company's Blue Point Brewing leveraged its Long Island, New York origin with the introduction of Blue Point Long Island iced tea hard tea seltzer in 2020, which, according to brewery general manager Carrie Shafir, is available only in New York. Sister brewery Cisco Brewers of Portsmouth, New Hampshire, meanwhile, launched Cisco hard tea last year throughout New England. "Consumer response has been overwhelmingly positive," says senior director of sales and marketing Matt O'Neill, noting that consumers have responded positively to the product's "subtle sweetness and low calories." The acquisition of Hoop Tea by A-B InBev's Beyond Beer portfolio continues its investment in the emerging category. In announcing the deal, Beyond Beer president Fabricio Zonzini said he looked forward to "developing and growing the brand to its full potential." Hoop Tea offers a variety of SKUs, including single-serve cans, variety packs and "ready-to-share pouches," according to the company. 
Owl's Brew's Littlefield says she sees opportunity for her brand in being marketed as a "clean, boozy beverage." Noting that the brand is made from fresh-brewed organic tea, with no artificial ingredients, and is gluten free, Littlefield says, "We felt the next building block to hard seltzers was to offer real ingredients." In the wake of the Covid-19 pandemic, "there's been more of a shift toward health consciousness," she notes. With sales in 18 states, "our message is resonating," Littlefield says. Owl's Brew is available in five year-round flavors, while a seasonal variety, spiced chai cranberry, is available through February. 
Crook & Marker Spiked Iced Tea also launched two years ago, and according to chief sales officer Ray Faust, "consumer response has been extremely positive." He notes that the brand—which is available in chains including Total Wine & More, Buy Rite, H-E-B, Safeway, and Wegman's—is low in sugar, gluten, and calories, and is also non-carbonated, "so consumers can enjoy the smooth taste of classic iced tea without it being mixed with seltzer like many other brands." 
Newer entries into the hard tea segment include Tea West—which is available in three flavors in 6-packs of 12-ounce cans—and Jiant Hard Tea from the marketers of Jiant Hard Kombucha. According to Jiant co-founder Larry Haertel, Jr., the tea is produced in three flavors in 8-pack cans and can be found in national retailers including Whole Foods, Trader Joe's, Total Wine, and BevMo. And more hard teas are on the way. René reveals that Geloso will unveil Buzz Tea in March. "It's one of our main priorities for 2022, and we're very excited for the launch," he says.
Female Favorite
So far, the typical hard tea consumer skews female, marketers and retailers say. "The Tea West consumer slants about 60/40 female and is ethnically diverse, social, and adventurous," says Ingram. He and others also point to millennials and legal-aged Generation Z consumers as among those attracted to hard teas. "Our core demographic is millennials and Gen Z consumers who prioritize better-for-you ingredients and transparency, but don't want to compromise on great flavor," notes Crook & Marker's Faust. 
With hard teas still a fledgling category, retailers appear to be largely positioning the products within their RTD sets, and not in any carved-out space. At Kreston, hard teas are also promoted in end-aisle displays, such as at the end of the vodka aisle, Kreston says. He notes that while Truly hard seltzer iced tea received a lot of interest from consumers when it was first introduced, attention has since fallen off. "We're not seeing as much success with the tea seltzers as with brands like Twisted Tea," he adds. 
At the Raley's grocery chain—with stores in California and Nevada—category manager Cody Thornhill says hard teas are merchandised within the FMB section. As a grocer, he's seen the growth of RTD non-alcoholic teas in the center store department, and he isn't surprised by the emergence of spiked varieties. "The majority of the larger brands are always in search of growth," Thornhill explains. "They saw the success of Twisted Tea and a category that isn't saturated. It was only a matter of time before RTD teas became a popular alcohol category." Raley's offers 15 hard tea SKUs, priced from $3 for a 24-ounce can of Twisted Tea to $20 for a 12-pack of Truly hard seltzer iced tea. 
Owl's Brew's Littlefield believes hard teas afford retailers the opportunity to build incremental sales. "The category is growing faster than competitive sets," she says. "There's a lot of innovation and the opportunity to build dollar sales."
Incremental Sales Opportunity
While marketers and retailers see incremental sales opportunity for hard teas, it's unlikely the products will rival hard seltzers in overall volume sales anytime soon. Thornhill says that while he doesn't see the emerging segment replicating the success of spiked seltzers, "I can see it becoming a legitimate share of the FMB category." 
Kreston and others see the greatest opportunity for hard teas marketed as low-calorie, low-sugar, and gluten-free drinks alternatives, and as part of the overall better-for-you movement. "We believe the spiked tea category has been long overdue for a better-for-you makeover," says Crook & Marker's Faust, noting that the latest wave of new products are lower in calories and sugar than early entries. Aaron Telch, Jiant's co-founder, agrees, noting that tea's versatility, coupled with low calories and no added sugar, offers fresh options for today's RTD consumer. "Consumers today are so curious and knowledgeable about where their food and drinks come from, and are thirsty for what's new," he says. Ingram is particularly bullish on hard tea's prospects. Noting that non-alcoholic RTD tea is a $5 billion business, the Sierra Nevada executive says that hard teas can easily build upon non-alcoholic tea's popularity, just as hard seltzer has done with its non-alcoholic counterpart. The emerging category, it seems, can be anyone's cup of tea.