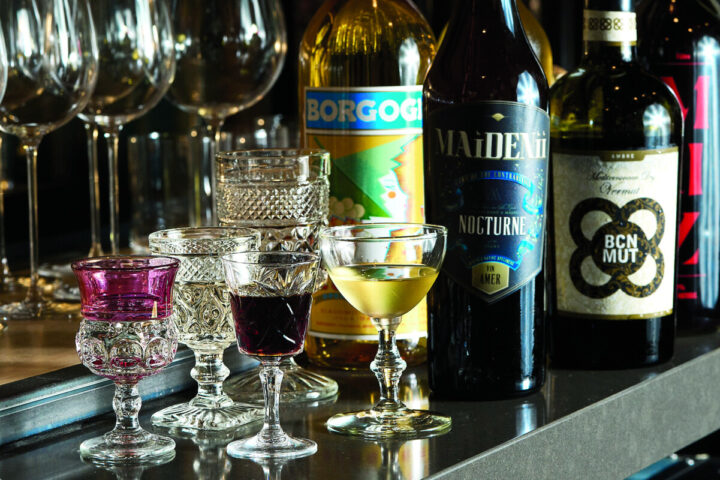 The aromatized fortified wine vermouth is undeniably linked to cocktails, but even so, it hasn't always been appreciated for the crucial role it plays in many drinks. "Until recently, most bars stocked just one kind of dry vermouth and one kind of sweet vermouth for Martinis and Manhattans, and in general vermouth had a reputation for just not being very tasty," says Sonya Znati, assistant general manager at Bar Spero in Washington, D.C. "Most Americans' familiarity with vermouth was the old bottle of not-so-good quality that sat unrefrigerated in their grandparents' liquor cabinet. But in the past couple of years, professionals and guests are starting to recognize the versatility of vermouth both in cocktails and as a stand-alone beverage. More and more, people are recognizing how much vermouth can change the flavor profile of something as simple as a Negroni."
Chad Matson, bar manager for the Houston restaurant March, also notes vermouth's former reputation as a "mysterious ingredient that only gets pulled out to make your grandma's Martini." But the rise in popularity of classic cocktails has changed that. "Cocktail culture has played a huge role in vermouth becoming cool again," he says. 
Plus, vermouth is simply a useful and necessary part of many cocktails, from classic to modern, notes Matthew Brodbine, beverage director for Pasjoli in Santa Monica, California. "Vermouth is used to accentuate or elevate a composed drink—it's a versatile tool for a bartender to elevate acidity or sweetness," he says. "Depending on the brand and how it's used, vermouth can add a subtle or strong note to a cocktail without adding too much alcohol content, and it can act as a binder of flavors."
Supporting Role
The most common way that vermouth is used in a cocktail is as a modifier—that is, a half ounce or so added to a drink to complement the base spirit. Znati notes that in this role, vermouth adds depth and structure to a drink. "Vermouth provides an easy way to add some complexity to a cocktail that might be a little flat; it can impart or highlight citrus notes, florality, spice, minerality, or herbaceousness," she says. "I think vermouth is really popular in cocktails because it adds those secondary and tertiary notes from the aromatics in addition to a structural element like acid, sugar, and alcohol." Znati adds that vermouth works especially well in spirit-forward cocktails, like the classics she features on the menu at Bar Spero: Her Old Pal ($15) features Roulette rye, Dolin Dry vermouth, and Campari aperitif; while her Perfect Manhattan ($17) blends Roulette rye, Tximista Bianco vermouth, Tximista Rojo vermouth, and Angostura bitters; and her El Presidente ($16) comprises El Dorado 8-year-old rum, Tximista Dry vermouth, Pierre Ferrand Dry curaçao, and Jack Rudy grenadine.
"Blanc and dry vermouths generally work with clear spirits like vodka or gin, while rouge or sweet vermouth is commonly used with brown spirits—but that isn't a strict rule; for example, rouge vermouth is found in a Negroni, which is made with gin and Campari," Brodbine notes. "The general rule is always balance: At our bar we'll make one version of a cocktail and add and subtract the base spirit, vermouth, and bitters until we find the right combination. Because vermouth brands are different from one another, we'll often swap those out when looking for a particular note to the cocktail that otherwise wouldn't be present with another brand." Pasjoli's lead bartender Simona Topuzovska uses Cap Corse Blanc vermouth in her take on a classic Gibson called Gibson de Simona ($26), which also features Sorgin gin, Helix vodka, house-made barrel-aged burnt onion syrup, and saline.
Jacopo Rosito, director of operations for Montesacro in San Francisco, considers vermouth to be the No. 1 ingredient for cocktails. "Before vermouth arrived in the U.S. most of the classic cocktails were just spirit, bitter, and sugar—vermouth is a key ingredient of the most important classic cocktails that we're drinking now," he says. "It's so versatile and depending on the style that you use, it can give the drink different characteristics." His Elderflower Gimlet ($19) mixes Hendricks gin, Mancino Secco vermouth, St-Germain liqueur, and house-made citrus cordial, while his Antartide ($19) blends cocoa butter-infused Bacardi Superior rum, Mancino Ambrato vermouth, clarified coconut milk, house-made peppermint syrup, and citric acid.
At March, Matson makes his own blended vermouth each season, using a 3:1 blend of Dolin Dry vermouth to Dolin Blanc that's been infused with different herbs and ingredients based on the season. This past winter, the infusion included cucumber, Greek mountain tea, mint, and lemon balm, and was used in Matson's March Martini ($24), which also featured Tanqueray No. Ten gin, Reisetbauer Blue gin, olive oil-washed Stray Dog Wild gin, and Scrappy's Black Lemon bitters. This past fall, the vermouth blend was infused with cantaloupes, mint, sage, and thyme, and featured in Matson's Armier Bay ($18), which also comprised Hayman's Old Tom gin, house-made honey and whey syrup, lemon juice, and lemon verbena leaves. "It's hard to put vermouth into a box because it's an ingredient that really spans across all cocktail styles, regardless of spirit base," Matson says. "It can lift or make silky a tall citrusy cocktail, richen and ground a stirred boozy classic, or just stand on its own. Vermouth is a unique product that can adapt to pretty much whatever you throw at it."
David Kupchinsky, bar director at Bar Moruno in Los Angeles, notes that wine producers have clearly taken notice of the rising popularity of vermouth, as there are new vermouths on the market every year. Indeed, although most vermouth on the U.S. market historically has come from Italy, France, and Spain, there are plenty now being made in the U.S. "There are so many great vermouths being produced now that don't follow any of the traditional profiles and are really great in Spritzes and modern cocktails—as well as some that are just really delicious to sip on their own," Kupchinsky says. His Bamboo ($15) features Lustau Vermut rosé, Vermina vermouth (produced in Santa Barbara, California), Cruz Vieja Fino En Rama Sherry, and Miracle Mile Castilian bitters.
"I like that vermouth on its own is a class act but can be used as an elevated sweet component with a rojo, or a fortified balancing act with a dry, and anything in between," says Derek Tormes, general manager and beverage director of Joliet and Tropezón in Miami. At Joliet, his Herbed Cucumber ($14) comprises Widges gin, Bordiga Extra Dry vermouth, lime juice, and Q Elderflower tonic water. Chris Kyles, bartender at Cindy's, the rooftop bar of the Chicago Athletic Association hotel in Chicago, similarly appreciates that vermouth is already itself a mixed drink of sorts. "Vermouth has all the elements that make up a cocktail: bitter, sweet, strong, and weak," he says. "Adding vermouth into a cocktail gives those drinks more depth and complexity, along with an explosion of additional flavor components."
Znati points out that vermouth is indeed unique as a cocktail ingredient because, as a fortified wine, in a way it's both a wine and a spirit. "And then the aromatization process sets it apart from other fortified wines like Sherry or Port," she adds. "These qualities allow it to either play a supporting role in a cocktail or be the star of the show."
Star Of The Show
Bethany Heinze, beverage director at Vern's in Charleston, South Carolina, has used vermouth as a base ingredient in cocktails more often in recent years. This has coincided with the low-abv cocktail movement, since vermouth offers a lighter base than a traditional spirit. "In years past, vermouth may have been seen solely as a component of a classic Martini, but it can really shine on its own," she says. "Dry vermouth tends to work best with herbal, aromatic, or floral cocktail builds that are light and refreshing—we usually have a Vermouth Highball of sorts with a citrus, herb, and a little sparkling water. Sweet or bittersweet vermouth has a deeper flavor and color, so we've treated it like a brown spirit in shaken and stirred cocktails. And all vermouths can be utilized in a Spritz format, simply mixed with sparkling wine over ice." Vern's doesn't have a liquor license, so vermouth has been a great tool allowing the staff to get creative with their cocktails, Heinze adds. The F&T ($13), which Heinze created in collaboration with Vern's manager Leah Highfield, mixes fennel-infused Cocchi Americano vermouth, Bittermilk Charred Grapefruit tonic, Maldon Salt saline solution, and Fee Brothers Rhubarb bitters. Their Espresso Sour ($13), meanwhile, blends Cocchi Dopo Teatro Amaro vermouth, Angostura bitters, and espresso, plus Liber & Co. almond orgeat syrup and fresh lime juice.
"The rise in popularity of Spritz cocktails has given vermouth a new way to shine in the market," notes Kyles of Cindy's. "Spritz cocktails featuring vermouth as a modifier or even the focus are appearing on more beverage menus nationwide, meaning more venues carry vermouth." Kyles doesn't shy away from using vermouth as the base of his cocktails: His Chrysanthemum ($15) features Dolin Dry vermouth, Bénédictine herbal liqueur, and a few dashes of La Muse Verte absinthe; his Vermouth Cocktail ($15) comprises Carpano Antica Sweet vermouth, Luxardo Maraschino liqueur, and simple syrup; and his Plane Jane ($15) mixes Dolin Dry vermouth, Nonino amaro, and house-made grapefruit oleo saccharum. "The Plane Jane takes inspiration from elements I enjoy in a modern classic cocktail called the Paper Plane," Kyles says. "The grapefruit oleo and amaro add fruity and nutty flavors while allowing the dry vermouth to shine."
Tormes of Joliet and Tropezón notes a rise in lower abv versions of classic cocktails, many of which make use of vermouth. At Tropezón, his Vermouth Sangria ($16) blends El Bandarra Rosso vermouth, St. George Pear brandy, passion fruit purée, and pineapple and lemon juices. "With vermouth becoming a more common item among industry and non-industry crowds, it's becoming more frequently used in cocktails beyond just the Negroni and its family," he says. "I've even done variations of tiki cocktails that are vermouth-based. In my opinion vermouth is on the rise and will continue to be—so much so that we're starting to see vermouth drinkers and not just people who are okay with it in a cocktail."
Bar Moruno's Kupchinsky similarly feels that vermouth is "much more accepted by consumers now than it ever has been before." He also attributes this to the rise of low-abv cocktails, plus the rise of aperitivos and amari. "The popularity of the Aperol Spritz has really helped to drive the low-abv trend and now you're seeing more Vermouth Spritzes on menus," he says. "At Bar Moruno we actually feature vermouth pretty heavily and use nine different vermouths in cocktails on our menu, plus six that we serve by the glass on the rocks with an orange wedge and some olives." His Passion of the Spritz ($16) comprises Lo-Fi Sweet vermouth, Chinola passion fruit liqueur, Dolin Génépy le Chamois liqueur, Blume Marillen apricot eau de vie, Mercat Cava, and Vichy Catalan sparkling mineral water, while his 50/50 Martini ($15) mixes equal parts Lacuesta Extra Dry and Atxa Blanco vermouths, plus Mulholland gin and Miracle Mile Cucumber Orris Root bitters.
At Pasjoli, Brodbine notes that the bar team receives a fair amount of Martini requests with little to no vermouth—but that this request generally comes from people of an older generation. "Just the other night we had multiple Martini orders come in wanting no vermouth, all from an older generation, whereas we had a group of younger patrons who all wanted our PJ Martini, which has ¾ ounce of blanc vermouth." The drink ($24) features Magellan Blue gin, Dolin Blanc vermouth, and a couple dashes of orange blossom water, while bartender Alex Kaberg's En Cours ($25) is vermouth-based, featuring equal parts Dolin Blanc and Rouge vermouths, plus Delord Napoleon Armagnac, Cynar amaro, and Pierre Ferrand Dry curaçao.
At March, the classic vermouth cocktail Adonis ($16) blends Otto's Athens Sweet vermouth, La Cigarerra Manzanilla Sherry, and a spritz of Verino Tentura Antica liqueur. "I think we'll see more people getting creative with vermouth, and that includes it becoming more commonplace as a base ingredient on cocktail menus," Matson says. "Maybe Vermouth and Soda is the new Vodka Soda?"
Bar Spero's Znati similarly believes vermouth's future at the bar is bright. "I think we're going to see a lot of vermouth pop up on cocktail menus in the next few years, similar to how amaro exploded on the scene over the last decade or so," she says. "I also think there's going to be a lot more intentionality behind the vermouth selection in bars and restaurants. Instead of selecting just one type of sweet and dry vermouth to use in cocktails, I think we're going to see more thought being put into how a particular vermouth plays in a particular cocktail."