Few families have a history that can compete with the Taubs, even if that history had some colorful beginnings. For decades, Marc Taub, current and third-generation president and CEO of the Taub Family of Cos., was told that his grandfather, Martin, and Martin's brothers, Jacob and Abner, got into the spirits rectifying business in 1933 after the repeal of Prohibition. It wasn't until 2012, almost 80 years later, that Marc discovered Jacob and Abner had been working on bootleg brandy prior to Prohibition's end, and received a presidential pardon from Franklin D. Roosevelt issued in 1935. The pardon—now a treasured piece of Taub family history—is proudly on display in Marc's office.
In the decades following Prohibition, Martin launched a successful spirits rectifying business and then got into wine and spirits wholesaling in New York. His son David—Marc's father—joined the family business in the 1960s and eventually founded the wine import company Palm Bay International to bring Italian wines into the United States. Three decades later, in the 1990s, Marc came aboard. He worked to expand the company's wholesale footprint and wine import business and eventually took an interest in wine and spirits production, bringing the family business full circle to its earliest roots in the supplier tier. Marc's son, Jake, works for the family business now too—in its newest wholesale venture, Independence Wine & Spirits.
Marc knows all about the family business. A third-generation entrepreneur, he's following in his father's and grandfather's footsteps and welcoming his son, and hopefully his daughter too, into the fold at the Taub Family of Cos. He literally grew up in the beverage industry, from working in the wholesale warehouse as a pre-teen so he could spend time with his dad to living with the Gallo family for the summer between high school and college. Marc has watched the drinks business grow and mature around him, all while embracing the changes needed to maintain success after nearly a century in operation. From spirits producers to wine importers and distributors and back to the supplier tier, the Taub family has transitioned through the building blocks of the three-tier system.
"The Taub Family of Cos. is special, and I think we're still in the infancy of where we can go," Marc says. "This company has made the transition from generation to generation. I never thought about doing anything else." Marc adds that his work experience in both the wholesale and supplier tiers has afforded him an unmatched view of the beverage business. "We take a 360-degree view of the industry and what it can be, and our place as a company in it," he explains. "That comes from being a wholesaler and representing great products and families, which allows you to understand that one company can do a lot of different things. We became a great supplier because we were a great wholesaler."
The Taub family's history is intertwined with some of the wine and spirits world's biggest players—Gallo, Cavit, Jim Beam, Bacardi, the Rothschilds, and the Trimbachs, to name a few. The Taubs have represented these names as wholesalers, distributors, or importers at various points in their 80-plus year history, and today they're making new history with some of their own brands, including wines under the Taub Family Vineyards and Saracina labels and Jacob's Pardon whiskey—named for the aforementioned family legacy.
The Taub Family of Cos. has four main arms: wine and spirits importer and distributor Palm Bay International; fine wine importer and distributor Taub Family Selections; wine producer Taub Family Vineyards, which includes its eponymous label, Saracina wines, and Jacob's Pardon whiskey; and the New York and New Jersey wholesaler and distributor Independence Wine & Spirits. Overall, the company's revenue reached $440 million last year and the Taub Family of Cos. moved 6.2 million 9-liter cases of wine and spirits.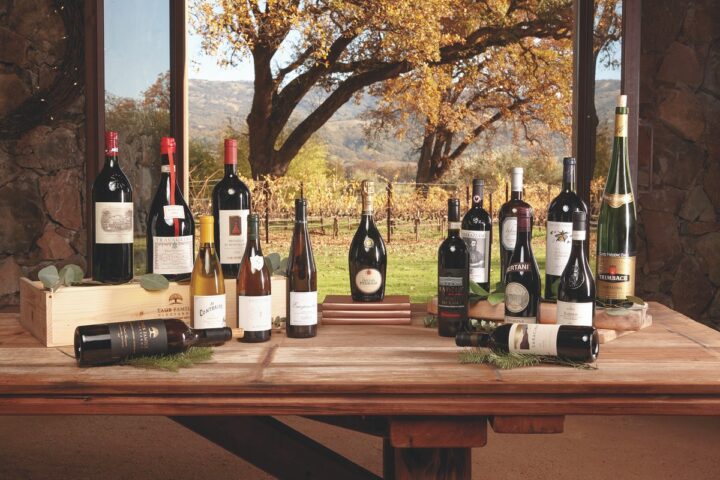 The Origin Story
Officially, Martin Taub launched his brandy rectifying business on December 6, 1933, the day after the repeal of Prohibition. This was the Taub family's legal start in the beverage industry, even though Jacob and Abner had been working  during Prohibition. Marty's rectifying company quickly grew to three brands—Lafayette Brandy, Gordon O'Neill gin, and Baltimore Club whiskey—starting from a facility in Brooklyn, New York, eventually moving into Manhattan, and then to a larger space in Jersey City, New Jersey. Baltimore Club whiskey is the ancestor and inspiration for the current Jacob's Pardon whiskey label, which Marc makes with spirits guru Paul Pacult. But Lafayette Brandy is the offering that really helped shape Martin's future business.
As the story goes, a young Ernest Gallo visited New York City in the mid-1930s, hoping to establish his name and a brand-new wine venture. While surveying the marketplace, he kept seeing bottles of Lafayette Brandy in stores, so he tracked down its producer—Martin Taub and his brothers—and paid them a visit. "Ernest went to my grandfather's office down on 17th Street in Manhattan and said he and his brother were making brandy out in California," Marc says.
"Marty invited him in, poured him some Lafayette Brandy and told Ernest if that he could make brandy like this and get them a good price, they'd consider doing business. So Ernest swirled it and tasted it, looked around the room, grabbed the garbage can and threw the brandy out, and then said 'I don't think I can make it this bad.' With that, he walked out with a 500-barrel order from my grandfather. I still have the contract hanging in my office. It's pretty amazing."
That order became the first of many between the Taubs and Gallos, and that initial meeting ultimately sparked a lifelong friendship between Martin and Ernest—one that would play a defining role in shaping Martin's business going forward. In 1951, after Gallo's then-New York distributor lost his license, Ernest asked Martin to take over representing the brand. Martin agreed, starting the company Gallo Wine Distributors of New York in 1952, marking the Taub family's shift from supplier to distributor. Jacob and Abner Taub never joined the distributorship, but Larry, the fourth and youngest brother in this Taub generation, was a sales rep in the distribution company for a long time. In addition to their business relationship, Martin and Ernest would go on vacations together, and David and Marc both worked for and lived with the Gallos before officially joining the Taub family business.
"My grandfather and Ernest became really close friends," Marc recalls. "They both shared a passion for the water and loved boating. They went on trips around the world, and they'd rent boats and sail all over with their wives. Marty was a salesperson and a family man. He was a big guy and had a big personality, he was a storyteller and a joke teller."
Marc describes his father, David, in a similar fashion. "My dad had a big personality and he instantly connected with people," Marc says. "My dad was a relationship guy. As a wholesaler, he got to know his customers. He didn't build his business from behind his desk." David started working in the industry in the early 1960s. After college he moved to Los Angeles and worked for the Gallos for a couple years, and then moved back to New York in 1963, married Linda in 1964, and started expanding Marty's business quickly.
"My dad had a vision for where the business could go and how it could develop to be more than a single-supplier wholesaler," Marc says. "If there was a fine wine market back then, it was in New York. My dad saw opportunities with imports, and initially the thought process wasn't about what the company would need on a national basis, but rather how they could round out their portfolio in New York, and how we could establish ourselves in fine wine. Then he saw an opportunity to round out the portfolio with spirits."
Branching Out, Adding Brands
David launched Palm Bay Imports in 1977 with his father, with the goal of helping to expand and diversify their existing business. The pair focused first on Italian wine, specifically Cavit from Trentino, bringing in their Principato Pinot Grigio label. At the time, it was unheard of in the United States and consumers couldn't pronounce the brand name or the varietal—the Taubs put the phonetic spelling on the label to ease its U.S. introduction. But the wine was well received and helped launch what became a hugely successful import for the Taub family.
"The import business at the time was primarily generic wine," Marc explains. "Principato very quickly became a strong player. It was sold in magnums and 3-liter bottles. We've adapted our company to live through various time cycles. With Cavit, we started in 1977 and it's still vibrant today. We've changed the packaging and created new iterations and varieties." Cavit was the Taubs' first million-case brand, and it's joined now by Roscato, which surpassed 1 million annual cases in 2019. The Cavit portfolio spans 12 labels today, from Pinot Grigio and Riesling to Merlot and Cabernet Sauvignon to blends like Select Red and Sweet Red.
Following their success with Cavit, the Taubs expanded further into Italy, adding a number of Italian labels to the Palm Bay portfolio, from Altemasi in Trentino and Batasiolo in Piedmont to Mandrarossa in Sicily and Rocca delle Macìe in Chianti. In all, Palm Bay International handles wines from more than 15 Italian producers, spanning 100-plus labels. These join a full global portfolio that also includes labels from Spain, France, Germany, Israel, Australia, New Zealand, Argentina, Chile, and the United States. Beyond Cavit, Principato, and Roscato, some of Palm Bay's other notable brands include Bode- gas Salentein from Argentina and Yealands from New Zealand. "Palm Bay oversees our largest brands, those that we feel have the scalability to really handle large distribution around the country," Marc explains. "Palm Bay has been on an accelerating growth trend for the last couple of years."
More boutique players are placed into the Taub Family Selections fold, such as Chianti Classico label Castello di Verrazzano. Taub Family Selections has its own robust Italian wine offerings, spanning 25 winemakers, including Bertani in Veneto, Planeta in Sicily, Col d'Orcia in Montalcino, and Mastroberardino in Campagna. These join wines from ten other countries, from Old World nations like France, Austria, and Spain to New World players like the United States, Chile, Argentina, Australia, New Zealand, and China.
Marc says Taub Family Selections aims to highlight top wines from any given region, pointing to examples like the Trimbach portfolio from Alsace and Château Lafite Rothschild Bordeaux—wines he gained by acquiring the Pasternak portfolio in late 2016. "Taub Family Selections is our fine wine business," he adds. "It speaks to our family's move toward the best players, those businesses that are primarily family owned and multi-generational. We share our love and passion for wine here and we have very little duplication."
The two businesses—Palm Bay and Taub Family Selections—work together to make a wine portfolio with complexity and a broad reach, offering approachable wines alongside niche players. "We look at the world like a wine list and decide how we want to develop our own," Marc says. "Our focus has always been on getting authenticity and depth from the right vineyard holdings to have sustainable growth. That's how we look at the rest of the world. We look for producers who represent the essence of a region and who can amplify the region's potential."
That's an outlook Marc inherited from his father. "Fine wine was different in the 1960s, but there was always an interest in diversity of opportunity," Marc says, pointing to some of David's early Spanish labels, like Bodegas Faustino and Siglo Rioja. This is another example of work-meeting-home life too, as Marc's first dog, an Old English Sheepdog, was named Siglo. "My dad wanted to bring in other portions of the business," Marc adds. "He added Taylor Wines (from the New York Finger Lakes region) to the business, it was the first bonded winery in New York. My dad saw the transition and watched it all the way through. He had the generic wine business with Gallo, Carlo Rossi, and Taylor Wines, and he had Upstate New York offerings like Lake Niagara wines and Rieslings."
Growing Up
Marc joined the family business full time in the early 1990s, after graduating from Arizona State University and living in San Francisco for a couple years to go through the Bay Area Gallo training program. He's the middle son for David and Linda. Marc's older brother, Andrew, had no desire to join the beverage industry and instead took an interest in music. He currently manages a recording business in New York City. Marc's younger brother, Joshua, followed in Marc's footsteps, intending to work in California for Gallo for a couple years and then come back East to the family business. However, Joshua ended up staying in California and taking a job in the video game industry, and today he's the COO at Activision. Marc, however, never wavered.
"I got to see everything firsthand and work my way up through the operational side," Marc says. "For me, it was about spending time with my dad. He could have easily been characterized as a workaholic. Family was important to him, but he loved what he did and was drawn to being a part of this industry. I learned a lot from him."
Now, Marc is hoping to pass that same knowledge on to his children, Jake and Chloe. Jake has already joined the company and is working as the director of business development for the Taub Family of Cos. distributorship Independence Wine & Spirits. Meanwhile, Chloe is in her senior year of college and has expressed interest in joining the business too, though she plans to go to law school first and come at it from a different perspective. "I'd be excited to be the first one to have both my kids work for the business," Marc adds.
Independence Wine & Spirits is the New York and New Jersey distributor for much of the Taubs' fine wine and spirits portfolio, as well as several products from other importers. The company, which launched in 2010, represents more than 100 producers. The move to launch Independence was nostalgic for Marc, as his first job for his dad was working at Premier Wine & Spirits of New York in 1991. Premier was the Taubs' wholesale company at the time. The family sold their original distributorship to Southern Wine & Spirits in the early 2000s and Marc started the new one roughly a decade later.
"When we got out of the wholesale business, we looked at what we do best at one time and we saw the opportunity to take on and expand our national footprint by focusing exclusively on imports," Marc explains, adding that it was a tough decision, but the right one for his family and the overall company. Returning to the wholesale tier, though, was also important to him. "One of the things we've been very good at is seeing potential future trends and where the market is going, and the best way to do that is from being in the wholesale tier," Marc says. "As a wholesaler, you see what's happening with retail partners and on-premise accounts. It gives a true pulse of what's happening in the marketplace from day to day, what competitors are doing, and what new categories are doing well. Being back in the wholesale business is essential for us to have that pulse and to ensure we see the stars of tomorrow."
Marc says Independence is an exciting business. He recently hired former Frederick Wildman & Sons executive John Sellar to serve as the distributorship's vice president and general manager, and Marc's son, Jake, leads its business development. The company does work in New York and New Jersey, representing the Taub family's brands and forging partnerships with suppliers like Kendall-Jackson and the Staglin family in Napa.
"We love the way Independence is developing," Marc says. "We're selectively adding new brands on a regional basis and we're seeing tremendous growth on our own brands. I think Independence can grow outside of New York, but we need to get the organization focused first and get our customer service to the highest level. We have great distributor partners in so many states that we're in no rush to move Independence out of New York."
Spirited Successes
While the Taub family has earned a reputation for its wine portfolio, the company got its start with spirits and has worked with some of the biggest players in that segment of the industry. David added Jim Beam to his wholesale fold in the late 1980s and went on to distribute spirits from Barton brands, Heaven Hill, and Bacardi. Today, Marc has a variety of spirits in the Palm Bay import portfolio. The company represents United Kingdom vodka and gin producer Chase Spirits, Spain's Dos Maderas rum collection, Ireland's Drumshanbo Gunpowder Irish gins and whiskey, Scotland's Wemyss Malts whiskies, and Mexico's Tequila Bribón and Gracias A Dios portfolios of Tequilas and mezcals, as well as the Taub's own Jacob's Pardon whiskies and New York-based Tommyrotter Distillery's range of gin, whiskey, and vodka.
"We have a special group within Palm Bay for spirits," Marc says. "The last couple of years have been amazing for growth in spirits. We've built great partnerships for the long term." He adds that these days, he finds people aren't drinking their fathers' drinks, but rather their grandfathers' drinks, which makes the Jacob's Pardon project even more special since it's named after Marc's great uncle. "It has a Prohibitionist-era feel and look," Marc explains. "We don't distill it; we buy the whiskey and rectify it. Paul Pacult is doing our blending and barrel selecting. We're getting barrels from our partners around the world, including Col d'Orcia, Mastroberardino, and Château Greysac. It creates synergies among the portfolio and it's super exciting."
The Drumshanbo spirits and the Gracias A Dios mezcals are also garnering a lot of attention. Drumshanbo includes its original Gunpowder Irish gin, as well as a Sardinian Citrus flavor extension and single pot still Irish whiskey, while Gracias A Dios encompasses a full range of wild agave-based Mezcals and two varieties of gin. Drumshanbo will add a vodka to its lineup this year, made from the sausage tree plant, and Marc looks forward to introducing it to U.S. consumers.
Beyond new spirits, Marc's passion going forward centers around his wine projects, specifically his ventures at Saracina Vineyards, which he purchased from John Fetzer a few years ago, and Heritance, a brand he bought in 2013. The Saracina estate sits on 400 acres, with 110 acres of vineyards, and it also has olive vines. It complements the Heritance property, which Marc purchased soon after his father passed away and renamed Taub Family Vineyards.
"Taub Family Vineyards represents the best vineyards in Napa, with a great winemaker and grapes from great estates," Marc says. "We make our Taub Family Vineyards wines there and our Au Contraire brand. At Saracina, we're replanting most of the vineyards and adding more wine caves—it's the only site in Mendocino with wine caves. We're transforming it from an estate property to one that represents the best of what Mendocino has to offer from all around the county. We're bringing our Sonoma and Mendocino production onto the property. We're excited for what this property can and will represent."
Even with all of these new endeavors, the Taubs are committed to their wine import business and to nurturing Independence Wine & Spirits on the wholesale side. Wines in the Palm Bay portfolio fared well over the last two years of the Covid-19 pandemic and Marc says his company's marketing efforts over the last several decades helped make many of those wines household names, which had a big influence on their recent success, as consumers who were nervous during the pandemic turned to brands they knew and trusted.
"Cavit had its biggest growth year of the last five years during Covid," Marc says. "Roscato, which has been on a growth trend for many years, broke through the 1-million-case mark during Covid. Even our spirits business was amplified." However, Marc adds that the fine wine segment, and many of the labels in the Taub Family Selections portfolio, saw declining sales last year. Marc estimates that on-premise sales make up 35%-65% of sales for Taub Family Selections wines, and those sales came to an abrupt halt during the Covid-19 closures and quarantines. "Covid-19 impacted that more than anything else," he explains. "But as the world is opening up and evolving, we're seeing those trends reverse. Many of our fine wine brands are now on track to outperform 2019." The challenge now, Marc notes, is dealing with supply chain problems. His team has to plan as far as nine months out to compensate for supply and shipping issues.
Looking ahead, Marc says European wines are poised for major growth as American consumers expand their knowledge base and look for value outside of the United States to combat rising prices in California wines. Marc says imported wines priced higher than $25 have shown big growth, which bodes well for his large Italian and French portfolios. Along with this, Marc projects continued success with Sauvignon Blanc and Pinot Grigio, and he notes the increasing demand for sweet wines. Palm Bay is taking advantage of the sweet wine trend by adding new entrants to its Roscato line and its new Confetti! brand, which it recently launched in conjunction with Darden restaurants. Confetti! is adding the new flavors Summer Peach and Pink Grapefruit soon.
With all of this, family remains at the forefront for the Taubs—both within their immediate family unit and the larger network of family suppliers and producers they work with. "My dad always said standing still is moving backwards," Marc recalls. "We create our own potential. We run a family business that has spanned generations, and one that is intricately tied to other family businesses. The close relationships we hold in such high regard have created a greater universe of family that we cherish and those bonds are deep. As a result, the ideas of family and business are very much intertwined. Growing up watching my grandfather and dad, I never imagined doing anything else, and I know the same is true for my son, Jake. The passion runs through our veins. Our family's history in this business has shaped our present and future."